Improving Your Verizon Jetpack & MiFi Mobile Hotspot: Signal Booster Guide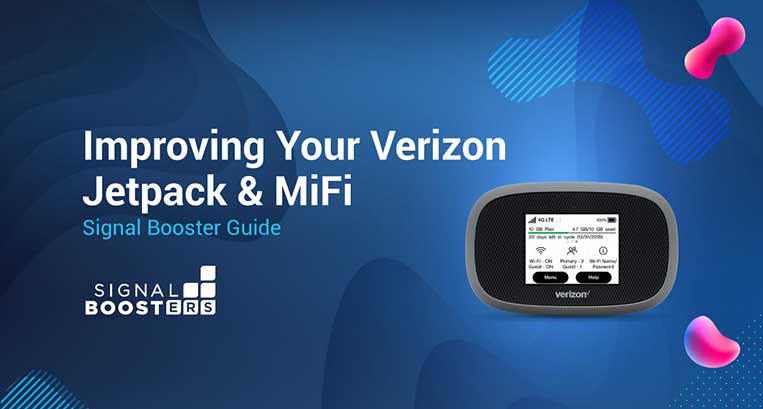 Today's smart devices bring us loads of benefits to enjoy life at its best. However, the growing number of telecommunication devices facilitating our lives can be overwhelming. For instance, have you heard about Verizon Jetpacks? If so: do you know how they work? Engaging with product information is helpful to avoid unexpected experiences and get the most of our technologies at home. We've sorted this out for you. Find out here what a jetpack is and how you can use it like a pro!
We offer complete cell phone signal booster kits for any situation:
Attention business & property owners, installers and integrators
Take advantage of our system design and installation services. Learn more or call us for a free consultation: 1-800-969-8189.
What is the difference between a Verizon Jetpack and MiFi?
The main difference is that "Jetpack" is a brand name given by Verizon to a mobile hotspot, whereas a MiFi device is a brand name given by Inseego Corporation to the same type of device, even though they are also sold by Verizon. However, from a user's point of view, there are more common features than differences.
Basically, in terms of technology experience, both MiFis and Jetpacks are 4G LTE internet devices that provide Wi-Fi connections through the use of cellular connection, which is excellent for people in areas where landline internet service is limited or for those who are always on the go.
How do MiFi and Jetpacks work?
Verizon Jetpacks and MiFi devices are basically cell phones without the functionality. They pull in cellular signals from the nearest source then become a portable Wi-Fi router for smartphones, tablets, computers and notebooks -and yes, even gaming devices!-.
Most Verizon MiFi and Jetpack devices grant internet access up to 10 appliances at a time. The access depends on the signal quality where you're located, and the technical characteristics of the mobile hotspot you're using. The exact capacity of internet access can be confirmed in the manufacturer's manual.
Imagine you're heading to a business meeting far away from the office or store, and commuting is time-consuming. Besides your daily takeaway cappuccino, high-speed internet can make the journey more efficient. Just so that you can be up to date with colleagues and clients.
How about living in the countryside, where landline internet is not part of the rural experience? There are plenty of situations that make a mobile network vital. That's what these Verizon Hotspot devices are for, to make life easier for those with difficult connectivity.
---
What accessories can improve Verizon MiFi and Jetpack devices?
Along with the convenience that Verizon Hotspot appliances bring to our everyday life, there's another element to consider. In order to ensure proper performance, we need exceptional, reliable cellular signal.
Since Verizon MiFi and Jetpack devices work as cell phones do, their network is fed from the nearest cell tower, hence why long distances and dense areas like buildings or valleys can reduce the coverage. That's when a signal booster comes in: to sort out the weak signal. Our full range of products can boost cell signal to ensure a reliable WiFi signal through your Jetpack.
We have prepared a list of solutions which strengthen the celluar signal reaching your Verizon Jetpack and MiFi appliances. We've tried to make it easy to choose the right one tailored to your current needs.
GO X Overview:
For large homes or very weak signal areas
Boosts Verizon signal up to +100 dB
Long-term investment - Can change carrier boosted if you decide to change carriers, keeping your booster relevant
The Cel-Fi GO X is the most powerful consumer single-carrier signal booster on the market. It will provide your large home or weak signal area with strong Verizon goodness.
In addition, the GO X also provides flexibility. Should you decide to leave Verizon for another carrier, you can change which carrier receives a boost with the Cel-Fi WAVE app.
Fusion Professional Overview:
Professional grade signal booster for Verizon
Boosts Verizon signal up to +72 dB
Improves cell signal in areas up to 8,000 sq. ft
The SureCall Fusion Professional is a powerful booster for medium to large homes or offices. With its 2XP technology, you are guaranteed to receive double the Verizon signal power, providing your Jetpack with a reliable connection in rural, suburban, and urban areas. Not only will it improve your Verizon signal, but it's compatible with all US carriers and devices. No one in your household or office will have to deal with poor reception and slow data speeds again.
Home MultiRoom Overview:
Boosts signal across all carriers up to +65 dB
Covers areas up to 5,000 sq. ft.
Cheaper and more versatile than Cel-Fi GO X, but less powerful.
While not as powerful as the single-carrier options, the weBoost Home MultiRoom provides a solid, relatively inexpensive option for getting a reliable Verizon signal. It has a few advantages over the Cel-Fi units, namely an aesthetically pleasing look built for home decor, and the ability to boost the signal of all major North American carriers simultaneously. It works well if you frequently entertain, as you and all your guests will receive boosted signal as opposed to just Verizon.
GO+ Overview:
Most powerful single-carrier signal boosters for vehicles
Boosts up to +70 dB for Verizon
Switch boosted carrier with the Cel-Fi Wave App
Excellent for those who are always on the go. The Cel-Fi GO+ is designed to provide you with the best possible signal on the road. If you are ever using your Jetpack to conduct business in your vehicle or sharing the internet with other passengers, you won't have to worry about experiencing inconsistent connections.
The booster is designed to improve one carrier's signal at a time. If you ever wish to amplify another carrier's signal, use the Cel-Fi Wave app to change which carrier receives a boost.
Drive Reach Overview:
Versatile vehicle unit with long range
Great for weak signal areas
Boosts up to +50 dB for Verizon
Even though the Drive Reach is not as powerful as the Cel-Fi GO+, it's one of the most popular and strongest vehicle signal boosters available. It's designed for cars, SUVs, trucks, RVs, fleet vehicles, and boats. Due to its increased uplink output, the booster can send and receive a signal from towers that are 2x further for twice the signal strength.
With the Drive Reach, you will be able to boost any carrier's signal for up to 4 devices.
See? It's easy to see the difference between Verizon MiFi and Verizon Jetpacks: it's just the trademarks. They're separate devices that provide internet access to your smartphone, laptop, or tablet, and use mobile networks to make it possible. If you want to have high-quality reception, count on our SignalBoosters.com expert team who will find the perfect booster for you.
Related article: Best Smartphone Apps to Find Your Cell Signal Strength: 2019 Edition
---
Contact Us
We're here to assist with any issues you might be experiencing with both Verizon signals and your Verizon signal booster. Contact us today.