Best Cellular Antennas: Buying Guide 2023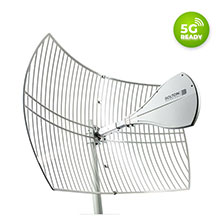 Best Directional Cellular Antenna for Homes & Offices
View Details
Cellular antennas are essential components of cell phone signal boosters and cellular routers They capture existing cell signal and broadcast a stronger one where you need it. To maximize your system's performance, having the right set of outside and inside cellular antennas is key.
We Fix Poor Cell Signal! See Complete Signal Booster Kits for Your Situation:
Attention business & property owners, installers and integrators
Take advantage of our system design and installation services. Learn more or call us for a free consultation: 1-800-969-8189.
Best Outdoor Antennas for Homes and Businesses
Most Powerful Cellular Antenna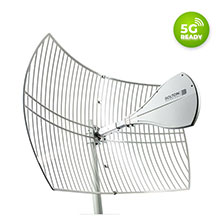 Buy Now: $199.99
Best For:
Rural areas where receiving a consistent cellular signal feels impossible.
Urban areas plagued with lots of radio frequency noise for consistently crisp signal.
The Long Ranger is one of the big boys, large in size and power. Being a parabolic, it's extremely directional. Its radiation cone is about 10°. This can make installation a bit difficult. The feedhorn needs to be pointed EXACTLY at your closest cell tower for optimal results, which might take some time. Laser focus beam allows for a crisper cellular signal even in areas with tons of noise pollution.
Featuring max gain of +28 dBi, Long Ranger has an insane range of up to 20 miles. This makes it a phenomenal performer in rural areas with an exceptionally weak signal. If you don't get any signal after installing this baby correctly, then you're probably in a large dead zone.
t's compatible with all cell signal boosters, mobile hotspots, and cellular WiFi routers. They are also capable of being used for MIMO applications if you buy two. Terminated with an N-Female connector, an adapter may be needed in some situations. As a cherry on top, it covers all 5G bandwidths.
Easiest Cellular Antenna to Install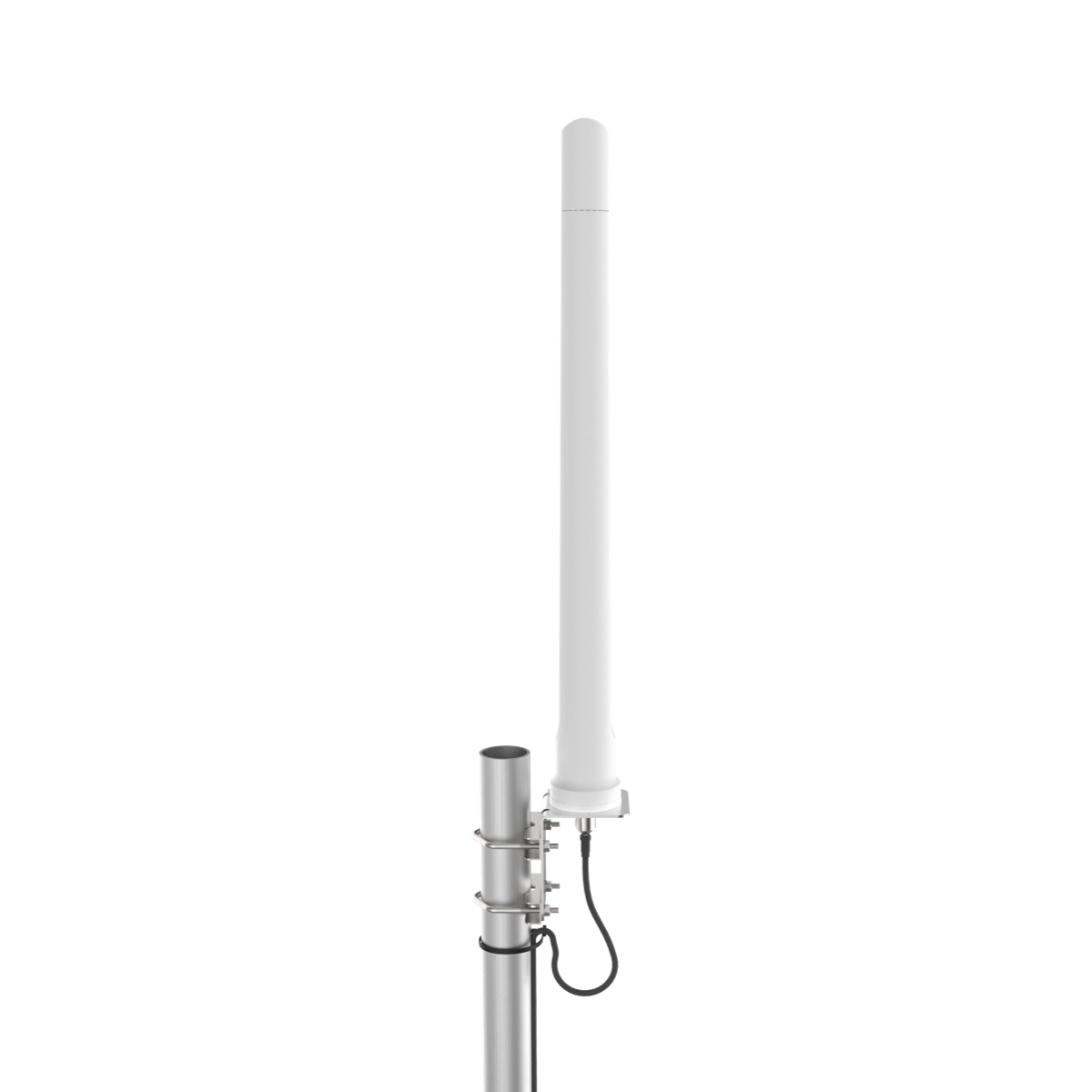 Buy Now: $191.08
Best For:
Amplifying multiple carriers simultaneously.
Areas with decent cell signal and some rural areas.
Areas with multiple cellular towers nearby.
The Poynting Omni-293 is more powerful than other omnidirectional cellular antennas on the market. Ultra-wideband, it captures 5G, 4G, and LTE frequencies, including Band 71. With 9 dBi of gain, it can deliver significantly stronger signals from multiple carriers to your cellular booster or cellular router.
Installation is easy-peasy. All you have to do is find the area on your roof with the strongest signal, set it, and forget it. Built with an N-Female connector, it pairs best with N-Male coax cable. Once installed, it'll capture cellular signals from every direction from all cellular towers within range. Since it does not point at a particular tower, the Omni-293 is not as powerful as its directional counterparts. Thus, it works best in areas with decent outside cellular reception but will also work in some rural areas.
Best Indoor Antennas for Homes and Businesses
Deliver Strongest Cellular Signal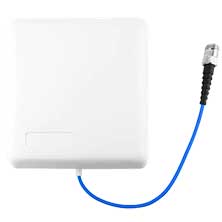 Buy Now: $61.95
Best For:
Hallways, small rooms, spaces with high ceilings, & anywhere you need stronger signal.
Maximizing indoor coverage in areas with strong and weak outside signal.
The Indoor Board is an ultra-high quality and good-looking directional panel antenna. The design is simple, compact, and will camouflage wherever you decide to mount it.
Improved cellular signals radiate in a 60-75° directional beam. Indoor Board can be installed on ceiling or wall. The front of the antenna needs to point in the direction that you want better signal. It's great for long hallways and small rooms. If installed on the ceiling, it can blanket a large room and possibly cover multiple floors.
With up to 8 dBi of gain, it broadcasts the strongest cellular signal possible across all supported frequency bands. A stronger signal allows for greater coverage, even in weak signal environments.
It's available with an N-Female connector for 50 Ohm systems or a F-Female connector for 75 Ohm systems.
Most Discreet
Buy Now: $179.99
Best For:
Homes and offices with low ceilings.
Homes and offices with open-concept layouts.
Homes and offices with minimal indoor building material interference.
Equal signal distribution in all directions.
For those wanting an aesthetically pleasing omnidirectional antenna with great gain, then the Wilson Low-Profile Dome is a no-brainer.
As the name suggests, this antenna is very low-profile and unassuming. Most dome antennas need access to a crawl space or attic for proper installation. With the hard ceiling mounting hardware, you're able to easily install it in a lot more places.
There are two versions of this Low-Profile Dome antenna. One includes a reflector while the other one does not. The Low-Profile Dome antenna without a reflector offers up to 6 dBi of gain. Adding the reflector gives you a max gain of 7 dBi. With the reflector, more signals can be pushed down toward the floor where your cellular devices are located. It's only available with N-Female connectors.
To get the most coverage out of this antenna, it works best in buildings with low ceilings, open-concept layouts, and minimal indoor interferences. They do not offer the best coverage in weak signal areas. For those situations, we recommend panel antennas.
Best Outdoor Antennas for Vehicles
Universal Application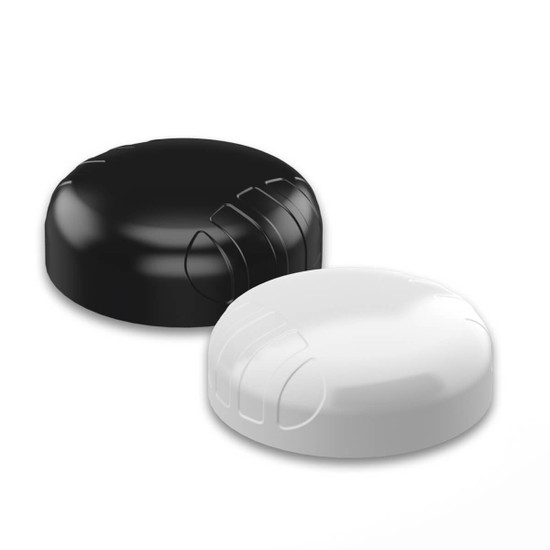 Buy Now: Starting at $61.12
Best For:
Urban, suburban, and rural driving.
IoT and M2M signal boosting applications.
In-Vehicle signal bootstring applications.
Continuous telematics connectivity.
The Poynting PUCK is an all-purpose mighty omnidirectional antenna. It fits any vehicle (from cars, to RVs, to fleets) and even IoT machines. Small and sleek design ensures antenna does not stand out. With gains up to 7.5 dBi, it works where many other vehicle omnidirectional antennas can't. It can be magnet-mounted, hard-mounted, or pole mounted.
There are multiple PUCK antenna options available, all with SMA-Male connectors. They're compatible with vehicle cell phone boosters, IoT cell phone signal boosters, MIMO cellular routers, cellular hotspots, and telematics gateways.
Trucking, RVing, and Off-Roading Applications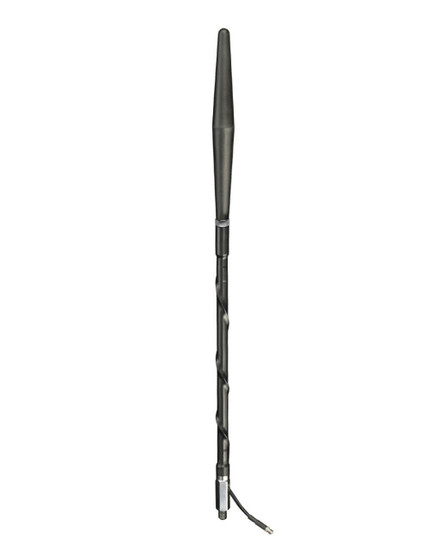 Buy Now: Starting at $99.95
Best For:
Camping in urban or remote campgrounds.
Driving through rural, suburban, and urban roads.
Getting the best cellular signal in difficult environments.
The Bolton Blade is a unique, heavy-duty, cellular antenna for semis, RVs, and overlanders with the right antenna mount. It's terminated with an SMA-Female connector.
Almost two feet tall, the Bolton Blade can rise above surrounding obstructions, allowing it to capture the best cellular signal possible. Sturdy mast ensures antenna remains vertical even when driving at high speeds to minimize swaying and improve performance. That coupled with up to 4.4 dBi gain, which is higher than most, it's able to send and receive the strongest cell signal. While zooming down the highway, the exclusive whistle-free wrap eliminates annoying whistling that is common among other OTR antennas.
While on or off the road, vehicle cell phone signal boosters paired with the Bolton Blade deliver great amplification relatively anywhere work or life takes you.
Best Indoor Antennas for Vehicles
Low-Profile Set Up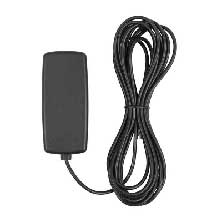 Buy Now: $24.99
Best For:
Enhancing coverage inside cars, trucks, and SUVs.
RVs who only want coverage in the cockpit.
The Wilson Low-Profile Antenna is a discreet, compact, and effective antenna for vehicle signal boosters. It's terminated with an SMA-Male connector. With up to 3.4 dBi, it can broadcast enhanced cellular reception throughout most of a car's cabin when connected to a weBoost unit.
Installation is very simple. It can be velcroed to a seat or dash. For optimal results, make sure the front of the antenna faces your cellular devices.
Since it's a vehicle antenna, its broadcasting zone is much smaller than a home unit. In areas with cell reception on the weaker end, you may need to position your cellular devices closer to receive a consistent connection.
Flexible Coverage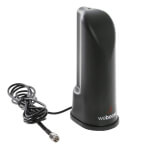 Buy Now: $22.95
Best For:
Enhancing coverage inside any RV.
Improving reception while stationary or camping.
The weBoost Desktop Antenna is an indoor wideband antenna best suited for RVs. Rather than getting the most reliable reception in the cockpit, like with the Low-Profile antenna, this antenna offers more flexible coverage. It can cover the mid-cabin and/or the rear living area with improved cellular signal. The 13 ft coax cable with an SMA-Male connector allows you to easily move the antenna as needed.
Its sleek design makes it so that you can install it anywhere inside your RV without compromising your décor. Simply place it on any flat surface and ensure it faces the area where most cellular activity takes place.
Best Cellular Antennas for Hotpots and Cellular Routers
MIMO Capabilities
Buy Now: $189.95
Best For:
Improving cellular broadband connections when WiFi or wired internet isn't available.
Improving cellular broadband connections when building material blocks incoming signals.
The Crossbow 5G is a cross-polarized MIMO antenna designed for cellular broadband routers, modems, and hotspots.
This antenna features up to 11 dBi of gain and can communicate with cellular towers located up to 5 miles away. This makes the Crossbow perfect for rural areas where cell towers are far and signal is weak. When tested, we saw significant improvements in upload and download speeds in an area with non-existent outside signals. If you have RF noise or building material issues, the antenna's coaxial cables and 45° cross-polarized directional beam will solve them.
The Crossbow is available in two versions. The most popular version includes a 16 ft Twin HDF-195 cable with SMA-Male connectors. Great for SMA-Female cellular routers or hotspots, as well as TS-9 routers or hotpots with the use of an adapter. The second version comes with twin N-Female ports without cables, allowing you to choose a longer cable for long cable runs.
Both versions are 5G capable and are backward compatible with 4G/LTE/3G/2G signals.
Most Compact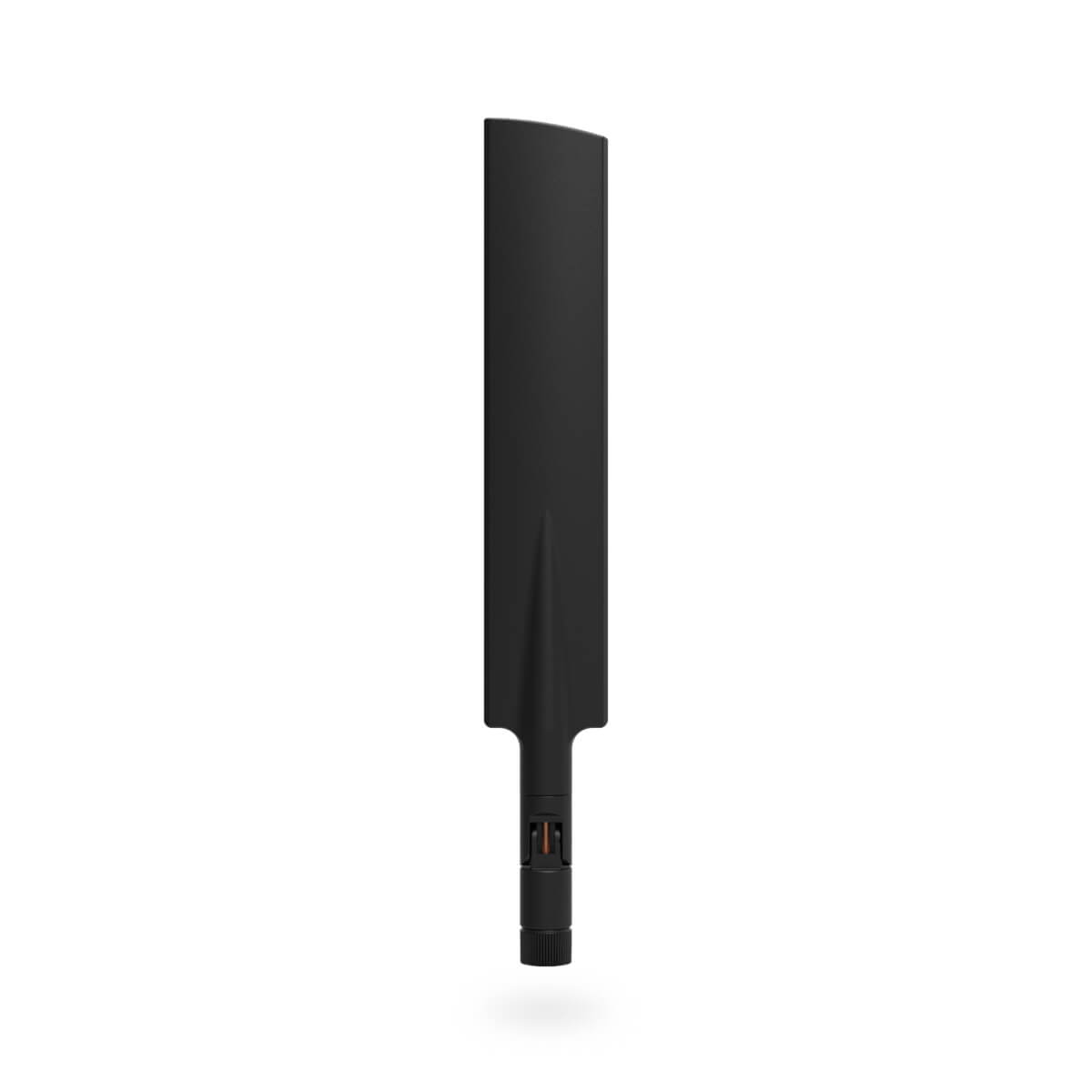 Buy Now: $17.40
Best For:
Increasing cellular router performance.
Directly connecting to cellular routers.
Less coaxial cable use.
The Poynting Omni-85 is an upgrade to the standard whip antennas included with cellular routers, cellular hotspots, and cellular modems. Featuring up to 3.5 dBi, which is more than the standard, your unit will receive and deliver a stronger connection.
Direct connect, you won't need to mount it or run cable. Just set it and forget it. Though, if building material is the culprit behind poor performance, this antenna will not help. We'd recommend an outdoor MIMO antenna for those situations.
Whip antennas are designed for cellular routers with an SMA-Female connector. Though, with an SMA to TS9 adapter, it can also fit TS-9 cellular routers.
6 Things to Consider Before Buying a Cellular Antenna
Here are some things to understand before buying one or multiple cellular antennas for your cell phone signal booster, cellular router, or cellular hotspot.
1) There are Different Types of Cellular Antennas
As you probably already saw from our recommended cellular antenna list, there are various types of cellular antennas, and we didn't even cover all of them.
Whether for outdoor or indoor use, all cellular antennas fall within two categories: omnidirectional and directional.
Outdoor Omnidirectional Cellular Antennas
These antennas capture incoming cellular signals from every direction. They are typically used for multi-carrier solutions as they can communicate with multiple cellular towers simultaneously. This limits their range. Thus, they are best for areas with strong to moderate cellular signal strength. They are also the best option for improving cellular connectivity on the go. Unlike their directional counterparts, omni antennas don't have to point at cell towers. This allows them to quickly adapt to cellular signal changes on the road.
Types of outdoor omnidirectional cellular antennas:
Standard Omni – Most common type of antenna used on buildings with decent outdoor cellular reception. Can also be installed on RVs and boats. They are cylinder shaped and vary in height. You'd mount them on the roof where the strongest cellular signal is present. Out of all outdoor omni antennas, these are the most powerful.


MIMO Omni – Features multiple input, multiple output technology. Antenna is built with multiple transmitters and receivers allowing it to send and receive more data at any given time. Basically, MIMO Omnis can transmit two or four simultaneous streams of signal, depending on configuration. This improves performance, data speeds, and transmission data capacity for MIMO-enabled devices. They are more commonly used with MIMO cellular routers, hotspots, and modems.


Magnet Mount Omni – Standard antenna included with mobile cell phone signal boosters for everyday vehicles. It's also coupled with IoT cellular boosters. Easy to install, it sticks to the roof of vehicles or IoT units without requiring a fixed installation. Because it's magnetic, it's not recommended for vehicles that venture on rougher terrain, like RVs, semis, overlanders, and the like. Antenna height can range from 4 inches to 12 inches. The former option offers minimal gain, while the latter offers a tad bit more gain.


OTR (Over-the-Road) Omni – Designed for semis and RVs, but can also be used with trucks and large SUVs. Requires a fixed installation ensuring antenna remains in place when driving on tough terrain. Usually more powerful and taller than Magnet Mount Omnis. Their height allows them to rise above surrounding obstacles to capture the strongest cell signal available.


NMO (New Motorola) Omni – Used to deliver improved cellular reception to fleet vehicles. Offers more gain than a standard magnet-mount antenna. Requires a permanent installation to vehicle's roof. Though, with the correct mount, NMO antennas can be installed via magnet to avoid drilling holes.


PUCK Omni – Looks like a hockey puck. While small, it has great gain. It can be used on any type of vehicle and IoT machine relatively anywhere. Versatile, one single PUCK can support cellular, WiFi, and GPS. There are SISO and MIMO options available. They are compatible with cell phone signal boosters, cellular routers, and cellular gateways.
Outdoor Directional Cellular Antennas
These cellular antennas pull cell signals from one direction. They must point at your carrier's closest cell tower for best results. With a more focused signal, the antenna has greater reach to cell towers and can deliver the strongest signal possible. This makes them more powerful than omnidirectional antennas. Due to their directionality, a single directional antenna will not provide a multi-carrier solution. They tend to only capture cellular signals from one or two carriers at a time.
Types of outdoor directional cellular antennas:
Yagi – Most common type of antenna used in areas with poor cellular reception. With a radiation beam ranging from 121° to 79 °, it's the easiest directional antenna to aim. Under optimal conditions, it could reach cell towers located up to 5 miles away. Real-world results will vary due to signal strength and antenna's unique specs.


Log Periodic – More directional than a Yagi. Its radiation beam ranges from 60° to 38°. Such a narrow beam makes pointing at the antenna a bit more challenging. Though, it enhances reach to cell towers. Under optimal conditions, they could reach cell towers located up to 10 miles away. Real-world results will vary due to signal strength and antenna's unique specs.


Parabolic – Most directional cellular antenna available. Its radiation beam is like a laser pointer, ranging from 20° to 4°. It must point at cell towers with such accuracy for optimal results. Will take some time to set up, but it's totally worth it, especially for those with extremely weak cellular reception. Under optimal conditions, they could reach cell towers located up to 20 miles away. Real-world results will vary due to signal strength and antenna's unique specs.


XPOL MIMO – Is a cross-polarized antenna, meaning it sends and receives cellular signals in an "X" pattern. A single housing contains multiple antennas to transmit more data at any given time, improving speed and performance. Directional, they have greater reach and can deliver a stronger signal than a MIMO Omni. They are commonly used with MIMO cellular routers, hotspots, and modems. You can mount them on a pole or a wall.
Indoor Omnidirectional Cellular Antennas
These antennas broadcast and receive cellular or WiFi signals from every direction. The coverage they can provide depends on incoming cell phone signal strength.
Types of indoor omnidirectional antennas:
Dome – Are typically ceiling mounted. Usually need access to a crawlspace to install. Best used in open layouts.


Desktop – Can easily be placed on any flat surface wherever better cell signal is needed most. They are mainly used for single-room to spot coverage or high-ceilinged rooms.


Whip – Directly connect to cellular routers or cellular amplifiers.
Indoor Directional Cellular Antennas
These antennas broadcast and receive cellular or WiFi signals from a single direction. They must point in the direction of the area you're trying to cover. Being able to push out a stronger cell signal, they do a better job at penetrating indoor obstacles.
Types of indoor directional antennas:
Panel – Can be ceiling-mounted or wall mounted. Depending on the manufacturer, radiation beam can range from 40 to 60 degrees. They help get the most out of your cellular signal booster system in weak signal areas.


Patch – Designed to be mounted on the dash of vehicles. Looks like a snack-size Hershey bar. They are the standard type of indoor cellular antenna included with mobile cell phone signal boosters. It has enough power to cover most of a standard car's cabin. Though, the weaker the outside signal, the closer devices will need to be to the antenna.
2) Cellular Antenna Gain Can Make a Difference
The power of a cellular antenna is expressed as gain, measured in dBi. It represents how much power the antenna can transmit in a single direction.
The higher your outdoor antenna's gain, the better it can focus on incoming signals and, in turn, send stronger signals to your cellular booster or router. Indoor antennas with higher gain can deliver a stronger signal across a wider area.
If trying to reach distant cell towers or get the best possible indoor coverage, high-gain antennas will usually deliver better results. To prevent oscillation or overload in areas with moderate to strong outside signals, medium to low-gain antennas are the best option.
3) Be Mindful of Cellular Antenna Connectors
Cellular antennas are terminated with different types of connectors. The connectors allow you to connect the antenna directly to an electronic system or coaxial cable. To get the most out of your cell phone signal booster or cellular router, you want to keep the connector types consistent. Here are the most common type of connectors:
N-Type – Is a medium size connector used to join coaxial cable. They are common amongst cellular antennas used with 50 Ohm commercial systems.


F-Type – Is a smaller connector than N-Types. These are the most common connectors used in 75 Ohm residential applications. That includes cable TV, satellite TV, CATV, cable modems, and home cell phone signal boosters.


SMA – Stands for Subminiature Version A. Are also known as SMA Plug connector. They are common amongst cellular antennas for vehicle cellular boosters and cellular routers.


FME – Is a miniature connector, making it easy to fit in tight places. It's commonly used for mobile cellular antenna applications.
With the use of an adapter, you can easily connect an N-Type antenna to an F-Type coaxial cable and so forth. However, adding adapters to your setup can introduce signal loss, preventing you from getting the best possible performance. It's best to stick to a single connector type when possible.
Note: None of the cellular antennas we carry have a TS9 connector. If you have a cellular router with TS9 antenna ports, you'll need an adapter. The most commonly used is the TS9-Male to SMA-Female adapter.
4) Supported Frequency Band
Cellular antennas are designed to send and receive specific cellular frequencies. You should look for an antenna that supports the cellular frequencies you need to improve. For example, most cell phone signal boosters amplify 5G, 4G, and LTE bands ranging from 698 to 2100 MHz. When looking for a new antenna, make sure it supports those bands. For 5G cellular routers, go for an antenna that supports 5G frequencies as well as 4G and LTE.
5) When to Buy Multiple Indoor Cellular Antennas
This point mainly applies to cellular antennas for home and office cell phone signal boosters.
In some instances, to get wall-to-wall coverage, multiple antennas are needed. Building materials like brick chimneys, metal walls, thick wood walls, multiple floors, and other internal obstacles prevent boosted cell signals from reaching every room. Extra antennas will help refocus the boosted signal on the other side of the barrier. But multiple antennas are only a good idea in certain circumstances. Here are a few questions to ask yourself to see if multiple indoor antennas are a good fit for you:
#1. Can the Cell Phone Signal Booster Handle Multiple Indoor Antennas?
All signal booster units have a maximum amount of amplification ability, expressed in dB (decibels). We don't recommend getting multiple antennas for cellular boosters with less than 65 dB gain. We've found that 65 dB systems and up are better suited to handle multiple interior antennas.
#2. How Strong is Your Outside Signal?
A signal booster's performance depends on outside signal strength. In strong signal areas, inside antennas receive a stronger signal and can deliver wider coverage. The opposite occurs in weak signal areas. To use multiple indoor antennas, there needs to be enough signal to feed them all with the splitter we now need to integrate.
A splitter is an accessory that allows you to split the boosted signal equally between two or more indoor antennas. The reason we talk about having enough signal is because two things happen when using a splitter:
Splitters, like many other connectors and adapters, have a certain degree of signal loss associated with them. It can be as low as 0.4 dB like the SureCall 2-Way Splitter, or as high as 6 dB like the weBoost 4-Way Splitter. Note that dB is measured on a logarithmic scale. Every 3 dB of signal loss means you're cutting down half of your signal strength, and every 6 dB means you're decreasing your coverage area by half.
Using a splitter to accommodate multiple indoor antennas doesn't mean that more coverage is being produced. It just means that more areas of your building will receive coverage. For example, if you're getting about 500 sq ft of coverage with a 65 dB unit, adding a second antenna will not duplicate those results. The splitter is going to split the signal equally between the two antennas. As a result, instead of 500 sq ft of coverage at each indoor antenna, you might get 200 sq ft at each point after losing a bit of signal.
Before considering having multiple indoor antennas, your outside signal needs to be decent. Otherwise, the splitter (depending on make and model) will degrade the boosted signal even more. This will leave you with less than optimal coverage and signal strength at each indoor antenna point.
We recommend starting with one antenna when your outside signal is less than great. If you get good results because the exterior antenna is receiving a stronger signal than expected, then additional indoor antennas can be added.
#3. Indoor Cellular Antenna Range Limitations
Inside antennas have a maximum amount of range. On average, we've found that dome antennas can cover about 3,000 to 4,000 sq ft with perfect outside signal, open concept, and no walls. Basically, a warehouse in the middle of the city. Panel antenna manufacturers estimate their antennas can cover about 5,000 sq ft.
If your signal booster unit can cover more ground than what the indoor antenna can provide on its own, then having more than one antenna will help provide wider coverage.
Take the SureCall Fusion5s 2.0, as an example. It's capable of covering up to 10,000 sq ft. With one antenna, you won't achieve such coverage because of its limitations. In this case, using multiple antennas would be a good idea if you have the signal strength.
6) When to Buy Multiple Outdoor Antennas
You should only consider multiple outdoor antennas if utilizing a directional antenna for your home or business booster, and want to boost more than one carrier.
Remember, directional antennas can only receive cellular signals from the direction in which they are facing. Most of the time there is only one cell tower within its range, and in some cases, there are two.
If you're trying to pull in AT&T and Verizon, or T-Mobile signals, for example, but the cell towers are located on opposite sides, two directional antennas will be needed. Keep in mind, though, that most signal boosters will require you to use splitters and additional coaxial cable to connect all outdoor antennas to the booster. This leads to some signal loss.
The signal loss associated with using multiple outdoor antennas isn't too much of an issue when you have reliable outside signal. However, if you have weak outside signal, utilizing multiple outdoor antennas is not recommended.
Need Help Finding the Best Cellular Antenna for Your Needs? Contact Us Today!
SignalBoosters is a leading provider of cell phone signal boosters for homes, vehicles, and commercial buildings. We specialize in consumer-friendly kits as well as customized RF systems for cellular, public safety two-way radio, DAS, and WiFi.
We're here to assist with any issues you might be experiencing with poor cell service. Contact us today, or call us at 1-800-470-6777.
Interested in Learning More? Check Out Our Cellular Info Hub / WiFi Info Hub