Best 5 Smartphone Apps to Test Your Cell Signal
Are there any apps out there that can boost your cell reception?
Sadly, there are none. Nevertheless, we can recommend some outstanding smartphone apps that can tell you precisely how good or bad your reception is. You can even find where your nearest cell tower.
This kind of information is extremely important if you want to address your lousy cell reception with a cell phone signal booster. Depending on what kind of phone you have, your smartphone itself can even provide more exact information about your signal strength, far more exact than bars.
The Truth About Cell Phone Bars
The cell phone bars reading on your phone isn't reliable. That's because they vary, depending on the model of your phone and your cell phone carrier. One bar on AT&T could mean full bars on T-Mobile, which could be two bars on Verizon.
It's totally arbitrary, and this is true for both 5G and 4G. More bars do usually mean more signal, but there's no real standard . Fortunately, there is a way of knowing the exact number of decibels (dB) you're getting, for a more precise reading.
We offer complete cell phone signal booster kits for any situation:
Attention business & property owners, installers and integrators
Take advantage of our system design and installation services. Learn more or call us for a free consultation: 1-800-969-8189.
How To Fix Bad Cell Signal
If you do have poor cell signal, try one of these cell phone signal boosters to improve it.
Cel-Fi by Nextivity GO X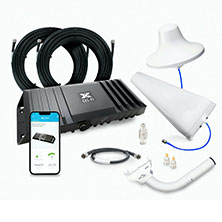 Buy Now: Starting at $1,099.99
Best for:
Large homes and offices
Weak signal environments
Boosting one carrier at a time
Designed to amplify one carrier at a time, the GO X is our most powerful signal booster. It can boost signal up to +100 dB, making it +30 dB or up to 1000x more powerful than multi-carrier boosters. Under perfect conditions, it offers up to 15,000 sq ft of coverage. It's perfect for large homes as well as weak signal areas. With the Cel-Fi WAVE app, you can choose which carrier to boost and monitor performance.
---
SureCall Fusion4Home
Buy Now: Starting at $299.99
Best For:
Mid-size homes and offices with strong outside signal needing total coverage
Small homes and offices with weak outside signal needing spot coverage
Those who want a versatile, scalable booster with strong upgrade options
Boosting multiple carriers at the same time
The Fusion4Home is our most popular self-install booster for small to medium homes. Like the Installed Home Complete, it has a max gain of +72 dB. That's about +7 dB more than other units in its class. Depending on your signal environment, the Fusion4Home can cover up to 4,000 sq ft with crisp signal. SureCall's unique SureIQ technology really maximizes performance. With multiple antenna confutations, it fits any setting. Omni antenna kits are best for those with strong outside signal, while Yagi antenna kits are best for those with weak outside signal.
---
weBoost Drive Reach
Best for:
Any vehicle type
Urban and rural driving
Boosting multiple carriers at a time
Delivering strong cell signal to multiple devices at the same time
The Drive Reach is the most powerful multi-carrier vehicle booster available. It features +50 dB gain and 2x more uplink than other boosters in its class. This allows farther reach to towers and great signal amplification. It'll keep all cellular devices across any carrier connected relatively everywhere. You can easily install it on a car, SUV, overlander, truck, or boat.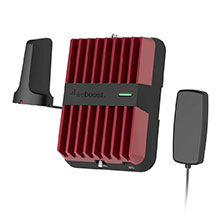 Buy Now: $499.99
---
What are Decibels?
Mobile signals are measured in decibels (dB) -- a logarithmic unit - while signal strength is measured in decibel-milliwatts (dBm). Decibels measure AM/FM radio waves, which are excellent at traveling long distances, but are easily blocked and can become patchy.
dBm interpretations are a consistent unit of measurement. They aren't one-sided and can't be tampered with by your phone manufacturer or carrier. dBm readings will be between -50 dBm to -120 dBm, with –50 being full signal and –120 being a dead zone.
Typically:
-50 means outstanding signal (your phone is probably almost touching the cell tower)
-65 to -50 means you have very good signal
-80 to -65 means your signal is good
-100 to -80 means your signal is below average
-100 to -80 means your signal is below average
-120 to -100 means your signal is weak
---
How Do You Check Cell Signal Strength?
There are two main ways to check cell signal strength: the field test method and cell signal apps.
The field test method will differ depending on your operating system.
How to Find Precise dBm Readings on Your iPhone
The Field Test menu has had some variations on each iPhone version; nevertheless, this mini-guide should work on most iOS systems. Note that it may not work on every phone however.
Open the Control Center (or go the Settings app). Remember to turn off your Wi-Fi
After you've done this, open the Phone app and insert the following, exactly as you see it: *3001#12345#*
Press call and you will see the Field Test menu.
Select LTE from the list and then click on "Serving Cell Meas". Then look for either "rsrp0" or "rsrp1". One of those should have a negative number, which means your signal strength in decibels.
If this doesn't work, your phone is one of the unfortunate ones that has no real way of measuring its dBm reading.
How to find a precise dB reading on your Android
Field test mode on Android varies by phone model and Android OS version. However, you can generally find it under the Settings menu.
Typical sequence:
Tap Settings
Tap About Phone
Tap Status or Network
Tap SIM Status
Your dBm is under Signal strength
Got your dBm reading through Field Test mode or an app? Walk around inside and outside the perimeter of your home. Make note which areas get the best dBm reading. This will show you the general direction of your cell tower and which rooms inside your home have the best reception.
Best Apps to Find your Signal Strength for Android and iPhone
LTE Discovery
This app has a band identifier, automated visual logger, advanced LTE, 4G, 5G, CDMA data analyzer, among other features. It measures dB level and your nearest cell tower. Unfortunately, this one is only compatible with Android.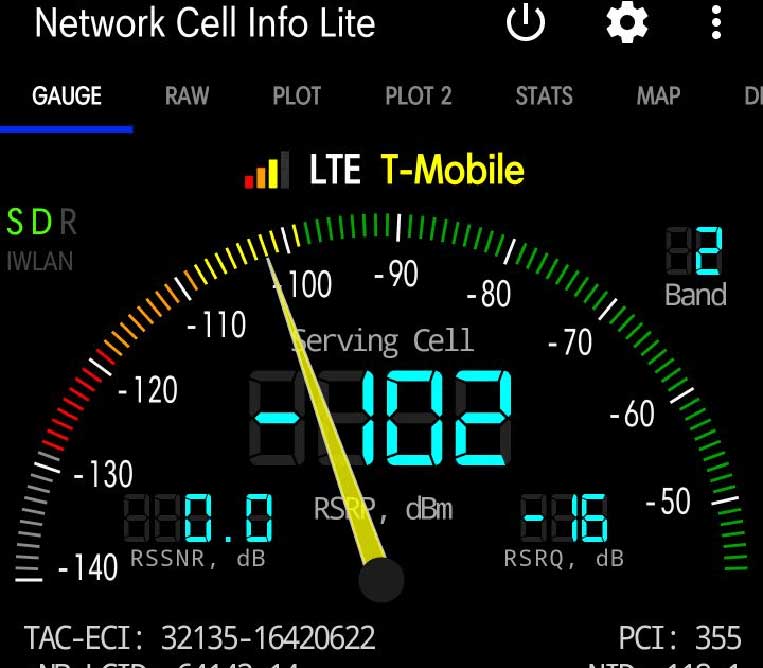 Network Cell Info Lite
Network Cell Info covers all cellular networks including LTE, HSPA +, HSPA, WCDMA, EDGE, GSM, CDMA, EVDO. The color-coded map indicates sent and received signal. Green is good, red or white show connectivity problems. It also shows RSSNR (Reference Signal to Noise Ratio) which measures the noise of the mobile line in dB.
Open Signal
OpenSignal has several maps with information about the coverage of various networks including 3G, 4G (LTE) and 5G. Open Signal is available in App Store (Mac) and Android's Play Store.
Network Signal Pro
This app shows a summary of your mobile network as well as current coverage and signal strength in percentage. dBm and antenna or tower location is shown along with the tower's individual connection strength.
Root Metrics
RootMetrics uses user information by testing network performance when consumers use their mobile phones. It can give you dBm readings and shows cell performance on a map. It's available in both the Mac App Store and Android's Play Store.
---
Contact Us
We're here to assist with any issues you might be experiencing with both poor cell signal. Contact us today.
Interested in Learning More? Check Out Our Cellular Info Hub / WiFi Info Hub