Cellular Vs WiFi Router: Which Do You Need?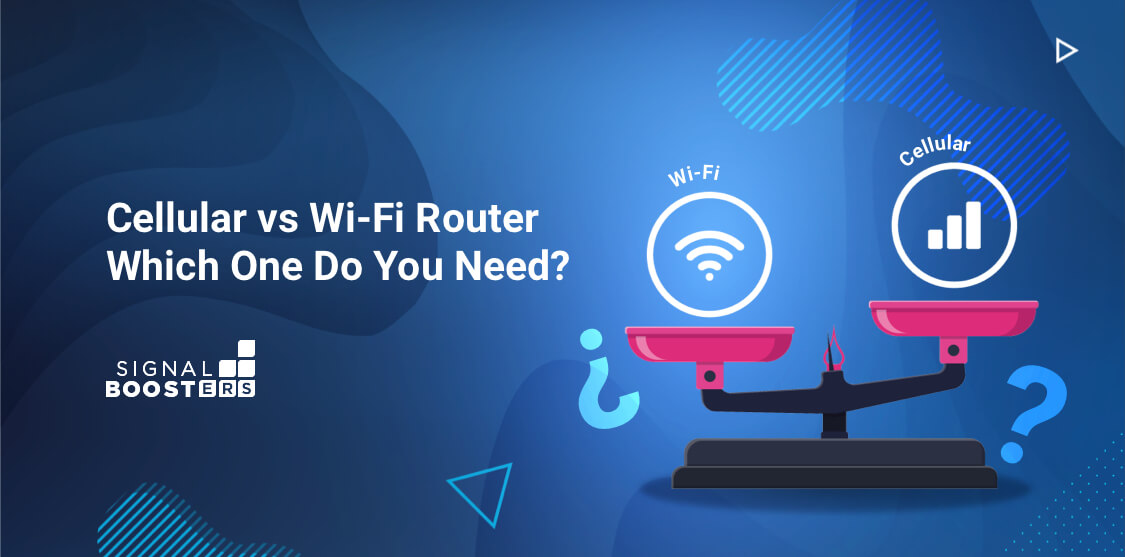 Everyone needs a reliable internet connection. Knowing what a WiFi router vs what a cellular router does will make choosing the right connection for you much easier. The main difference between a WiFi and a cellular router is what kind of signal they receive. Choosing the right one for your situation will depend on a few factors, like where you are, what you need to do with your internet, and how much data you want to use.
We Fix Poor WiFi! Shop WiFi for Your Situation:
Attention Business & Property Owners,
Installers and Integrators
Take advantage of our system design and installation services. Learn more or call us for a free consultation: 1-800-969-8189
What is a WiFi Router?
A WiFi router takes radio waves and sends it to your devices. Its strength will depend on how strong the signal it gets is, as well as what technology is being used. WiFi 6 is the newest technology and is much better than the first little bunny-eared routers we used to join the magical world of the internet.
The first WiFi tech had speeds of up to 2Mbps. A YouTube video today streams up to 51Mbps for a 4K video, which is a whopping difference to the first WiFi technology's abilities. Today's WiFi routers can do all sorts of neat things like beamforming, better security settings and much higher speeds. All of this adds up to a good choice for an internet connection.
What Is A Cellular Router?
A cellular router is like a WiFi router. They also take in radio waves and broadcast them to your devices. The big difference here is a cellular router gets its signal from cell carriers, such as Verizon. They are often a better choice if you live in a rural area or are on the move. Cellular routers can be improved with various extras such as bigger antennas and range extenders.
Pros and Cons of WiFi Routers
Every technology has its good and bad points. WiFi is a stable, reliable link; so long as you have either a cable such as fiber, or good LTE coverage. WiFi routers can also be linked to form a mesh network. This will give more coverage for bigger areas such as big houses or offices. WiFi routers can be linked to more devices and can also bring faster data streaming speeds than cellular routers. WiFi providers are cheaper to use than cellular providers and offer data packages for streaming as well as online gaming.
The main drawback of using WiFi routers is where they can be used. Unless you have a range extender, the signal doesn't go far. WiFi routers cover a small area, and you need to have a connection to a network via an antenna. WiFi routers will not work for moving spaces such as RVs or trucks.
Pros and Cons of Cellular Routers
Cellular routers are best for moving areas like trucks, or where you can't get cabled internet access. Cell signal is almost everywhere and have a good track record with lots of carriers to choose from. It's able to be picked up by any device with a SIM card and can be boosted with cell phone signal boosters and a transmitter if it is too weak. You can also create moving hotspots with either a mobile device or a jetpack. It can also be safer for checking important information.
The snags of using a cellular router are cost and how much data can be streamed. With 4G available across the country, and 5G being rolled out in many places, data streaming speed is not an issue. This is limited to your signal strength, however. The weaker your signal, the slower your data will transfer. The amount of cellular data that you can use is often limited depending on which plan you have chosen from your carrier. Streaming or gaming can use data up quickly.
You also must be within range of a cell tower to use a cellular router and the further away from a tower you are, the weaker the signal will be. A weak signal can be fixed with a signal booster, however, if you are completely out of range of any towers then you will not receive any signal at all. A SIM card is vital to use any cellular connection, as well as either data or airtime with a cell carrier.
Knowing Your Situation Will Help You to Pick the Best Router
So how do you choose which is the best router for you? If you are in a city, with either fiber or LTE connectivity, then a WiFi router is your best bet. If you want to stream lots of data or use a video streaming service, then a WiFi router is also your best bet. This is best when you have your own private WiFi connection. If you only have access to a public WiFi network, then using a cellular router will give you more privacy and improved cyber security.
If you are on the move or live somewhere remote, then a cellular connection is your best bet. Don't worry if your cell signal isn't strong enough, you can always use a signal booster kit such as the weBoost Home Multiroom cell phone signal booster kit. These kits are easy to install and come with everything you need to improve your cell signal across all phones and carriers. If you spend much of your time on the go, you can try the Cel-Fi Go+ vehicle smart signal booster. This super little device keeps you connected and in touch even on forgotten backroads.
Let Us Help You Choose the Best Router for Your Devices
Of course, if you are at all unsure about which router may be best for you, we are always at hand with professional advice. Signal Boosters have many years of experience in improving WiFi signals and cellular signals. Don't let dropped calls and buffering ruin your day. Contact us today, or call us on 1-800-470-6777. and get the top router choice for you.
Interested in Learning More? Check Out Our Cellular Info Hub / WiFi Info Hub