Best Cell Phone Boosters for Overland and Off-Road Vehicles
How to Boost Your Connection when Overlanding and Off-Roading
Overlanding and off-roading have become very popular ways to seek new adventures. However, exploring remote areas and driving on challenging terrain often results in unreliable cell phone reception. For some, that is the goal, but for those who want to keep connected, it's a real inconvenience. With a cell phone signal booster optimized for overlanders or off-roaders, you can enjoy reliable talk, text, and data even off the beaten path.
We Fix Poor Cell Signal! See Complete Signal Booster Kits for Your Situation:
Attention business & property owners, installers and integrators
Take advantage of our system design and installation services. Learn more or call us for a free consultation: 1-800-969-8189.
What is a Cell Phone Signal Booster for Overlanding and Off-Roading?
Cell phone boosters are designed to enhance 4G and 5G cell signals for improved talk, text, and data anywhere you need. Those for overlanding and off-roading are optimized to keep you connected in remote areas and rugged terrains where cell signals may falter.
They are composed of:
A rugged outside antenna to capture available cell signals.
An amplifier to boost the signal.
An indoor antenna to broadcast the boosted signal.
And coaxial cable to relay the signals between all components.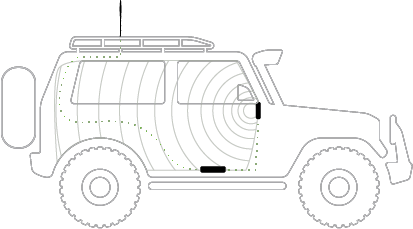 A sliver of cellular reception is needed for them to keep you connected on and off the road. The frequency and duration of dead zones on your way to and from your destination will significantly decrease. You and all your passengers will be able to keep connected in places where you couldn't before.
Benefits of Cell Phone Boosters in Overlanders and Off-Roaders
1) Safety
Anything can happen when driving on rugged terrain – breakdowns, accidents, and the like. In addition to radio and satellite communication devices, reliable cell phone reception serves as an extra precaution. With an overland cell phone booster or off-road cell phone booster, you'll have the connectivity you need to call for help.
2) Reliable Talk and Text in Remote Areas
Dead zones and spotty cell reception are a common occurrence when exploring the world in your rig. This hinders your ability to send and receive calls or texts from friends, family, and even work.
Cell phone signal boosters can pick up cell signals from and send cell signals to cell towers located miles away. While the signal may be too weak for your phone to pick up on its own, the booster will deliver it even stronger in your vehicle for reliable talk and text. It may even help extend your phone's battery life.
3) Increased Data for Added Entertainment
Not only do cell phone boosters improve talk and text, but they also enhance data speeds. You can share pictures and videos through your social channels, take video calls, stream music, watch movies, look up nearby attractions, and so much more, making your trip more enjoyable.
What are the Best Overlanding and Off-Roading Cell Phone Boosters?
Our top two picks for overlanding and off-roading enthusiasts are the Bolton Technical Velocity Off-Road and the weBoost Drive Reach Overland. Both can be used for off-roading and overlanding.
Up to 50 dB Gain with 29 dBm Uplink
Rugged, Whistle Free Outdoor Antenna
Near Infinite Adjustable Mount
Quick Disconnect Features for Convenience
Easy to Install
Works with ALL Cellular Devices and Carriers
The Bolton Technical Velocity Off-Road significantly improves talk, text, and data across frequency bands 689 to 2155 MHz with up to 50 dB gain. Boasting 29 dBm uplink, it can communicate with distant cell towers from any carrier, ensuring increased connectivity on the roads less traveled for all.
Kit includes:
| | |
| --- | --- |
| Bolton Blade Outdoor Antenna | The Blade is built tough to stand up to the rigors of any environment, making it perfect for overlanding and off-roading. Featuring up to 4.4 dBi gain, it outperforms other antennas in its class. Unique design ensures antenna does not whistle or swing around when driving at high speeds. Terminated with a quick disconnect SMA-Female coax cable it's easy to remove. |
| Bolton B-Flat Indoor Antenna | The B-Flat antenna is a high-performing, unobtrusive antenna designed to be placed on your dash, air vent, or seat. With 3.3 dBi gain, it delivers powerful reception inside your vehicle. Its longer surface allows for a wider in-vehicle coverage area than others. |
| Antenna Mounts | Available mounting options feature near-infinity adjustability. You can easily set up the antenna however you need it to accommodate your gear and low overpasses. Choose from an M8 Rail RAM mount or Basket Clasp RAM mount. |
| Quick Disconnect Attachment | If you need to remove the Blade from your rig at any moment, the Quick Disconnect Antenna Mount attachment allows you to easily do so within seconds. Simply, push, twist, and remove. |
| Power Supply | The 12V/5A DC power supply plugs into vehicle's auxiliary power or cigarette lighter outlet. When the Velocity Off-Road is not in use, you can easily power it down via the power switch. |
Up to 50 dB Gain with 26.9 dBm Uplink
Durable Outdoor Antenna
180° Adjustable Mount
Easy to Install
Works with ALL Cellular Devices and Carriers
The weBoost Drive Reach Overland was the first cell phone booster designed for overlanding and off-reading vehicles. It allows you to camp, travel, and explore the backcountry without a worry.
Like the Bolton Velocity Off-Road, this unit also covers frequency bands 689 to 2155 MHz with up to 50 dB gain. Featuring up to 26.9 dBm uplink, it does a great job at keeping you connected relatively anywhere adventure takes you. Compatible with all cellular providers, no device gets left behind.
Kit includes:
| | |
| --- | --- |
| Overland Outdoor Antenna | The Overland Antenna is weBoost's most durable omnidirectional outdoor antenna for vehicles. It offers up to 4.3 dBi gain. Meeting US Military 810H and NEMA IP66 standards, it's ideal for all-terrain vehicles. It can withstand high-wind gusts, low tree branches, rain, dust, dirt, and more. With the 13-inch mast, you can extend height to 20.5 inches to minimize obstructions. |
| Low-Profile Indoor Antenna | weBoost's Low-Profile Antenna delivers great cell reception and coverage inside vehicles. Offering peak gain of 3.4 dBi, it is 0.1 dBi stronger than the Bolton Blade. It can be placed vertically or horizontally on your dash or seat. |
| Overland Antenna Mount | Expertly engineered for overlanders, the Overland Antenna Mount offers installation flexibility. It supports T-track, pole, or fixed installations. You can adjust it 90 degrees in both directions for optimal setup. |
| Power Supply | The 12V/1.8A DC power supply plugs into vehicle's auxiliary power or cigarette lighter outlet. When the Drive Reach Overland is not in use, you can easily power it down via the power switch. |
Take Your Adventures to the Next Level
Signal Boosters is the leading provider of cell phone signal boosters for homes, vehicles, and commercial buildings. We'll help keep you in touch with civilization when exploring new terrain. If you have any questions, give us a call at 1-800-470-6777 or email us at sales@signalboosters.com.
---
Interested in Learning More? Check Out Our Cellular Info Hub / WiFi Info Hub