WiFi vs. MiFi: 7 Things You Didn't Know but Should
Among the different types of internet communications we have today, WiFi and MiFi are amongst the most popular buzzwords. You've probably heard these terms thousands of times and depend on them, but do you know what they are and their differences? Here's what you need to know about WiFi vs. MiFi.
---
Shop WiFi
Attention Business & Property Owners,
Installers and Integrators
Take advantage of our system design and installation services. Learn more or call us for a free consultation: 1-800-969-8189
---
1. WiFi is a Technology
When you hear WiFi, you probably think "wireless internet". Well, WiFi isn't internet per se.
WiFi is a wireless networking protocol based on IEEE 802.11 standards. It's the technology that allows cell phones, tablets, laptops, and other WiFi devices to wirelessly connect to the internet.
Without WiFi, we'd still have access to the internet, but via ethernet cables.
2. MiFi is A WiFi Device
MiFi. WiFi. Except for one letter, they look and sound similar, which confuses many.
Unlike WiFi, MiFi is not a technology. MiFi is a device with built-in WiFi tech. It's a portable internet hotspot that uses the cellular network to create an ad hoc WLAN.
WiFi-enabled devices can enjoy wireless intent connectivity while on the go and in areas with lacking broadband infrastructure.
Without WiFi technology, mobile internet wouldn't be possible.
3. WiFi Does Not Stand for Wireless Fidelity
Despite what many sources say, WiFi is not an acronym. It does not stand for Wireless Fidelity, Wireless Fiber, or anything at all really.
Before the standard for wireless networking could be adopted, it needed a name that was memorable and intuitive to understand. IEEE 802.11 would not do. The branding firm Interbrand picked WiFi because many customers said the similarity to HiFi (High Fidelity) helped them understand the concept.
WiFi simply stands for WiFi.
4. MiFi is Used as an Umbrella Term for Portable Hotspot Devices
The term MiFi was coined in 2009 by Novatel Wireless, now known as Inseego. It's what they named their portable WiFi devices.
Nowadays, the name is often used interchangeably with all types of potable hotspot devices, such as cellular routers and mobile hotspots.
5. MiFi Tends to be Slower than a Traditional WiFi Connection
Because MiFi devices rely on cellular networks, they can be slower than a traditional WiFi network serviced by an ISP. Things like geography, tower congestion, weather, and building material affect the signal MiFi devices receive. As you move from place to place, results will vary.
With 5G, however, MiFi speeds can rival broadband intent. Though, ultra-fast 5G isn't available everywhere.
On average, MiFi speeds are close to the speeds you can get on your phone:
| | | |
| --- | --- | --- |
| Carrier | Avg 4G LTE Download Speeds | Avg 5G Download Speeds |
| T-Mobile | 79.5 Mbps | 186.3 Mbps |
| Verizon | 31.3 Mbps | 84.9 Mbps |
| AT&T | 38.2 Mbps | 71.1 Mbps |
Opensignal's 2023 Mobile Network Experience Report & 5G 2023 Mobile Network Experience Report
Most MiFi devices average 4G LTE speeds or slower. While they are great for working and streaming in a pinch, they may not be the best for gaming or anything that needs lots of fast data transfer. Data intense applications often need broadband internet as it offers more bandwidth and faster speeds. In situations where your traditional WiFi connection shuts down or overloads, MiFi can serve as a backup for continuous uptime.
6. MiFi is a Good Home Internet Solution
Wireless connectivity via broadband internet is the standard for homes and businesses. No doubt about it. However, some people don't have access to broadband internet at all. In some areas, prices are too high for what you get.
MiFi is a good home internet alternative. It's affordable and works anywhere cell signal is available.
You just need to get a data plan with a carrier of your choice, insert the SIM card in the MiFi unit, and connect. Though, it's not ideal for every home because of data, speed, and bandwidth limitations.
Below are most popular MiFi devices for cellular based home internet. You can even install them in your vehicle to stay connected on the road.
Best Home Signal Booster Kits
For Small to Medium Size Homes and Offices
Covers Up to 4,000 Sq Ft
Up to +72 dB Gain
Up to 26 dBm Uplink Power
Supports All Carriers Simultaneously
The Bolton Victory Yagi/Panel cellular booster is our top pick for rural areas. Under optimal conditions, it can blanket up to 4,000 sq ft with stronger cell reception, which is more than enough for most people. Featuring up to 26 dBm uplink and up to 72 dB gain, it has incredible reach and can significantly amplify your existing weak cellular signal.
Strategically paired with the Bolton Quicksilver Outdoor Yagi Antenna, it works wonders in remote locations. This antenna is designed to draw in signals from cell towers up to 5 miles away. Distance from the signal source will no longer be a problem.
While capable of boosting multiple carriers at the same time, you may only receive improved cell reception from one or two carriers. This is because the antenna is directional and needs to point at the closest cell tower that's powered by your preferred carrier. If boosting multiple carriers is more important than coverage area, consider the Bolton Velocity Omni/Panel Cellular Signal Booster.
Pros:
Cons:

Meets most people's coverage requirements.
Offers max gain allowed by the FCC for multi-carrier boosters, maximizing amplification.
Has incredible uplink, allowing greater reach to cell towers.
Equipped with powerful Yagi antenna that outperforms the competition.

Can only boost one or two carriers at a time because of directional antenna.
Will not cover your entire home if the outdoor signal is extremely weak.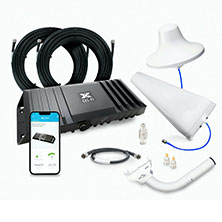 Buy It Now: Starting at $1,099.99
For Large Homes and Offices
Covers Up to 15,000 Sq Ft
Up to +100 dB Gain
Amplifies One Carrier at a Time
The GO X by Nextivity is the most powerful cell phone signal booster for remote areas available. It's designed with up to 100 dB gain, the highest on the market. This unit can seriously make all your signal woes disappear. The caveat is that it can only boost one carrier at a time. Though, through the Cel-Fi WAVE app, you're able to switch between carriers as you need.
Super customizable, you have multiple outdoor antenna options to really maximize the amplifier's reach to your closest cell tower. You can reach cell towers located up to 5 miles away with the Quicksilver Yagi, up to 10 miles away with the Bolton Arrow LPDA, or up to 20 miles away with the Bolton Long Ranger. No matter how weak your cellular reception is, any of these configurations will keep you connected, that is unless you're in a total dead zone.
Rated to cover up to 15,000 sq ft, it's best for large homes and small businesses. Indoor coverage will vary based on the strength of your outside signal.
Pros:
Cons:

Capable of providing whole-home coverage.
Features highest amplification gain on the market.
Is extremely customizable to fit any signal environment.
Comes with an app that lets you monitor and manage performance.

On the pricier side.
Only amplifies one cellular provider at a time.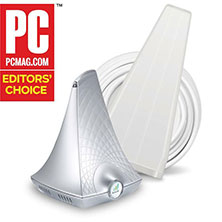 Buy It Now: $299.99
For Small Homes or Spot Coverage
Covers Up to 3,000 Sq Ft
Up to +72 dB Gain
Up to 26 dBm Uplink
Supports All Carriers Simultaneously
2-in-1 Amplifier/Indoor Antenna Combo for Ease of Installation
The SureCall Flare 3.0 cellular booster packs a signal punch for the price. It includes a Yagi antenna, which is ideal for rural areas, and a sleek amplifier. The indoor antenna is built into the amplifier, making the Flare 3.0 one of the easiest units to install yourself.
With up to 72 dB gain and 26 dBm uplink, it offers good amplification and reach to distant cell towers for a booster of its kind. While power is similar to that of the Bolton Victory, the Flare 3.0 offers less coverage and a less powerful Yagi antenna. It's rated to cover 3,000 sq ft, but will likely only provide multi-room to spot coverage.
Pros:
Cons:

Budget-friendly.
Offers max gain allowed by the FCC for multi-carrier boosters, maximizing amplification.
Has incredible uplink, allowing greater reach to cell towers.
Features 2-in-1 Amplifier/Indoor making installation a breeze.

Paired with Yagi antenna that's slightly less powerful than the competition.
Can only boost one or two carriers at a time because of directional antenna.
Best Cell Phone Boosters for Vehicles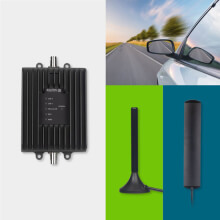 Buy It Now: $399.99
For Cars, Trucks, and RVs
Up to 50 dB Gain
Support Multiple Carriers Simultaneously
Easy Install
The Velocity Vehicle is carefully crafted to keep drivers and passengers connected in the most difficult environments. It's built with the highest gain and uplink. No matter where you drive, as long as there is a sliver of cellular signal, the Velocity Vehicle will keep all devices connected.
This particular model comes with a magnet mount antenna, making it ideal for your everyday cars, SUVs, and trucks. Installation is a breeze. For semis and heavier-duty trucks, consider the Velocity Trucker. It includes a tough OTR outside antenna featuring great reach, heavy-duty construction, and whistle-free wrap.
Pros:
Cons:

Affordable yet powerful.
Sleek design.
Offers max gain allowed by the FCC for multi-carrier vehicle boosters, maximizing amplification.
Has incredible uplink, allowing greater reach to cell towers while on the go.

This configuration is not ideal for semis, heavy-duty trucks, RVs, or overlanders. Though, optimized kits for those vehicles are available.
For RVs, Cars, Trucks, and Boats
Up to 50 dB Gain
Support Multiple Carriers Simultaneously
Easy Install
The weBoost Drive Reach is weBoost's most powerful in-vehicle cell signal booster for cars, SUVs, trucks, and minivans. Features increased uplink than previous generations, users can get signal that is 2x farther from towers for twice the signal strength. Dropping calls and losing navigation connection will all be a thing of the past while driving on remote roads or highways.
Cellular antennas will vary depending on the Drive Reach configuration that best meets your needs.
We wouldn't recommend anything weaker than the Drive Reach for rural areas.
Pros:
Cons:

Sleek design.
Offers max gain allowed by the FCC for multi-carrier vehicle boosters, maximizing amplification.
Features higher gain than previous weBoost generations.

This configuration is not ideal for semis, heavy-duty trucks, RVs, or off-roaders. Though, optimized kits for those vehicles are available.
SKU: SC-NRange2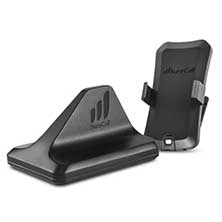 Buy Now: $199.99
For Any Vehicle Type
Single-user Booster
Up to 23 dB Gain
Easy Installation
Works with All Phones and Carriers
The N-Range 2.0 is an affordable vehicle booster for a single device. Your MiFi must be placed in the adjustable cradle to receive the boosted signal. It'll hold cellular hotspots from any carrier. With up to +23 dB gain and Extended Range Technology, it provides the most reliable communication possible between your phone and the cell tower. Easy to install, your MiFi will provide greater performance within minutes.
Pros:
Cons:

Affordable.
Supery easy to install.
Idea for hands-free navigation

Only works with one device at a time.
MiFi Cellular Antennas
The following antennas are MIMO antennas. They can be directly connected to a MiFi cellular router to improve their performance.
SKU: BT-THE-CROSSBOW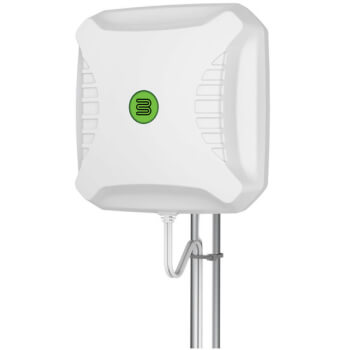 Buy Now: $199.95
The Crossbow is a cross-polarized MIMO antenna for cellular hotspots. It's compatible with SMA-Female MiFis, but will fit TS-9 MiFis with an adapter. It can communicate with cell towers located up to 5 miles away and apply 11 dBi of gain to captured signal. Upload and download speeds are sure to increase. Antenna is designed for home MiFi internet applications. Will not work on the go.
SKU: PY-PUCK-0001-V1-01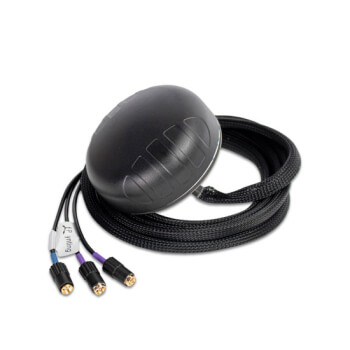 Buy Now: $55.56
The Poynting's PUCK antennas are high-performing omnidirectional antennas with up to 7.5 dBi gain. It easily mounts to the roof of any vehicle. When connected to a compatible MiFi, it delivers a stronger cell signal directly to the device. There is a PUCK antenna for any cellular router. Depending on configuration, antenna can support 5G, LTE, CBRS, WiFi, and GPS. SISO and MIMO options available.
FAQs
How Does WiFi Work?
WiFi tech is built into access points (I.e. WiFi routers, cellular hotspots, and internet gateways) and client devices (I.e. laptops, tablets, watches, appliances, etc.).
Wireless internet connectivity is established through a WLAN created by an access point. Information is wirelessly transferred via 2.4 GHz, 5 GHz, and 6 GHz (with select models) frequencies. Wireless coverage and speed depend on router capabilities, connection strength, and other factors.
All WiFi client devices within the access point's coverage area can easily access social media, stream videos, and more without the use of wires. You can also extend your WiFi connection with a Mesh Network or Long-Range Network to remain connected throughout.
Here is our most popular mesh system:
SKU: TDEX12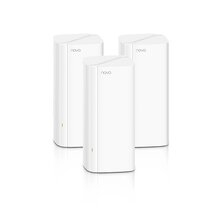 Buy Now for $235.99
The Tenda EX12 AX300 can help extend your home WiFi network to every corner. It includes a router and two nodes. Connect router to your broadband modem and place nodes in different rooms. They work together to create seamless WiFi connectivity throughout. It's capable of keeping up to 160 devices connected with blazing concurrent speeds of up to 3000 Mbps.
For more information, visit:
How Does MiFi Work?
MiFi devices are comprised of a cellular modem and a WiFi router within a single casing. The modem part establishes an intent connection using 5G, 4G, and LTE data networks. The modem part provides WiFi connectivity. Rather than creating a WiFi network through fixed broadband, like a traditional WiFi router, MiFi devices do so using SIM cards.
Much like mobile devices, some MiFi models are rechargeable and last for hours. Other models require a consistent power source to keep you online. Supported devices, speed, and coverage all depend on the MiFi's capabilities and your cellular provider.
What Does MiFi Stand For?
MiFi is thought to stand for "My WiFi" or "Mobile WiFi". Though, it hasn't been confirmed.
Is MiFi Better than WiFi?
We can't say MiFi is better than WiFi because they are not the same. WiFi is a technology, while MiFi is a cellular device with built-in WiFi.
Comparing MiFi to broadband WiFi is a different story. If broadband internet infrastructure is lacking in your area or you need mobile internet, MiFi wins. Though, broadband WiFi is faster and offers much greater capacity than MiFi.
Is MiFi the Same as Mobile Hotspots?
Yes. While MiFi was originally a brand name for Inseego's portable internet devices, it is now also used to refer to all types of mobile hotspots.
Is MiFi the Same as A Jetpack?
MiFi is a brand name given by Inseego to mobile hotspots. Jetpack is a brand name given by Verizon to mobile hotspots. While the naming convention is different, the device is the same. Like MiFi, Jetpack is often used to refer to all types of mobile hotspots.
See here for more information about Verizon Jetpacks.
What are the Benefits and Limitations of MiFi?
MiFi Benefits:
Access to a private internet connection anywhere you have cell signal.
No need to rely on public WiFi networks.
Can be used as home intent for areas with little to no broadband infrastructure.
Portable. Some models can even be carried in your pocket.
Support multiple devices at the same time.
Can keep travelers online in other countries with a SIM card from a carrier in said country.
Saves your phone's battery.
MiFi Limitations:
WiFi coverage and speed provided depend on cellular signal strength.
Multiple connected devices can decrease internet speed for all.
Cellular signal is necessary for MiFi devices to work.
Comes with data usage limits.
What's the Difference Between MiFi and WiFi?
Simply put...
WiFi is a technology that makes wireless intent connectivity possible. It's built into many devices, such as traditional internet routers, cellular routers, mobile hotspots, MiFis, phones, and the like. A WiFi network can be established through an internet service provider or cellular network. It all depends on your main WiFi access point.
As mentioned, MiFi is simply a device with built-in WiFi. There is a wide variety of MiFi models available to fit your needs. They're able to connect WiFi-enabled devices to the internet using the cellular network. This makes MiFi devices highly portable. You can take them with you anywhere and stay connected when away from your regular WiFi network. Cellular signal is needed for a MiFi to work. Weak cell reception will impact data speeds for all connected devices.
Signal Boosters is a leading provider of signal boosters, cellular routers, and cellular antennas for homes, vehicles, and commercial buildings. Our products can help your MiFi device receive consistent signal for reliable WiFi connectivity anywhere you need it. We specialize in consumer-friendly kits as well as customized RF systems for cellular, public safety two-way radio, DAS, and WiFi.
We're here to help with any connectivity issues you might be experiencing. Email us at sales@signalboosters.com or call us at 1-800-470-6777 with any questions you may have.