WiFi vs MiFi: 5 Things You Didn't Know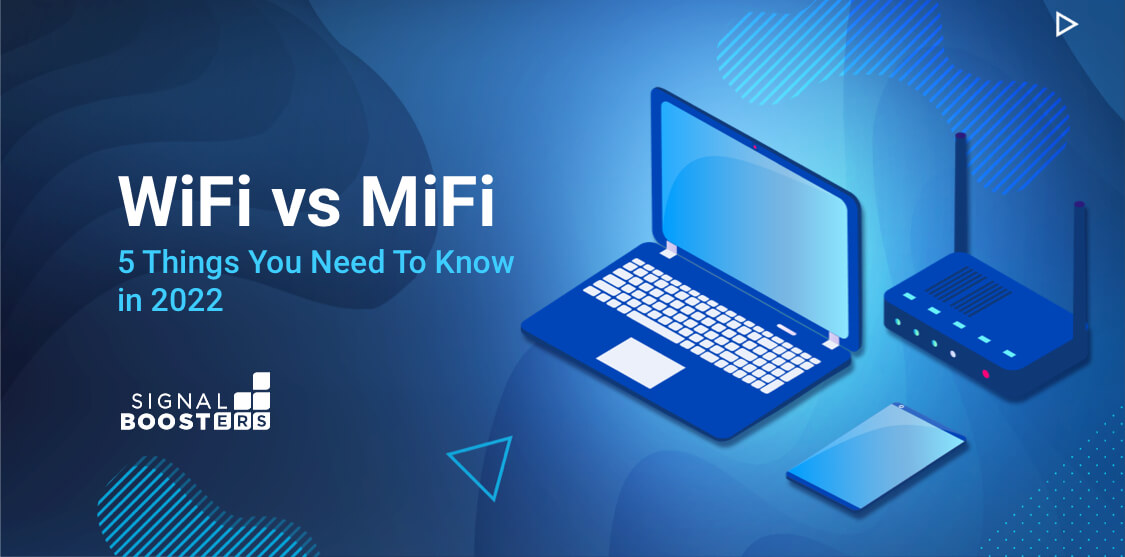 Wifi vs MiFi
Among the different forms of data communication that we have today, one of the most popular is WiFi. You've probably heard this term thousands of times and depend on it, but do you know what it is? You may also have heard of MiFi, but even if you know what this new-fangled technology does, you might not know what the difference between them are. In this article, we will explain both these terms thoroughly.
Where do you need to boost your cell phone signal?
Attention business & property owners, installers and integrators
Take advantage of our system design and installation services. Learn more or call us for a free consultation: 1-800-969-8189.
How are MiFi and WiFi different?
It's very simple: your WiFi connection is supported by a router that has a fixed cable connection.
In the case of MiFi, we're talking about a router that works through a mobile connection (a SIM card, for example).
Now let's get more specific.
WiFi is a system allowing different electronic devices to connect to communication networks through a wireless network access point, also known as a hotspot. It was born from a growing interest in establishing a wireless connection mechanism, which was compatible between different devices and networks. This mechanism can connect several devices though local area wireless networks. It's also based on IEEE 802.11 standards and is fully compatible with all services of wireless local cable networks (WLAN).
A WiFi network is simply the link between a fixed data network and a series of devices that operate wirelessly. Say those devices want to connect with any user, portal, or computer that is nearby, or on the other side of the planet. Nonetheless, they don't want to use the traditional mobile operators' networks (with the corresponding costs and fees). What's most pragmatic here is a WiFi network. This network has one or more access points, which capture the signal from the devices and then channels it to the fixed network, or vice versa.
You could add more access points to generate networks with broader coverage or connect larger long-range WiFi antennas that amplify and extend the signal. You could also use a signal booster to extend the coverage of a weak signal. In the case of smaller networks (home or small office), the critical element is the WiFi router, which acts as a hotspot. The provider of the fixed broadband network is usually the one that provides the WiFi router. The router may have the second option of sending the signal by cable or wirelessly within that house or premises.
What is MiFi?
Are you traveling and need to be online without spending your data plan or without searching for a public WiFi network? Do you need to connect several devices from anywhere? Then knowing about MiFi could change your life.
When we talk about MiFi, we're referring to a portable device that offers connectivity through a procedure called 'tethering'. This device creates an ad-hoc WLAN network you can carry any place. It also gives you the possibility of connecting several devices to a wireless router. In this way, you can access the internet without looking for public WiFi and exposing yourself to its risks. The term MiFi was coined in 2009 by Novatel Wireless, which launched the first MiFi router to the market that year. Some say that MiFi is an abbreviation of My WiFi, but this isn't official.
These routers stand out for their design. They are much more compact than the traditional WiFi router you might have at home. Much like a mobile device, you can plug it into a wall for charging. They have a battery that allows you to use them for hours before needing to be recharged. Depending on the model you choose, you can connect to 4G LTE, 3G, or 2G networks. You can also link several devices at the same time (the range varies between 5 and 10 devices).
What Are Some of the Advantages of a MiFi Router?
It lets you have an internet connection anywhere in the world. This is an exciting option if you work outside the office or travel regularly and need or want a permanent internet connection.
Through a MiFi router, you can connect several devices at the same time to the internet. This option is especially useful for users who don't want to acquire a new SIM card to connect.
One of the advantages of these router models is that they stand out for their small size and weight (some even fit in your hand). This means they are perfect to put inside a backpack, suitcase, or other carry on. You'll be able to move wherever you want without losing your connection.
There are a wide variety of router models and rates, but they will always provide more autonomy and cost control than a new data plan.
If you travel abroad regularly, you should consider going for MiFi routers that don't have geographical restrictions and don't belong to any telephone company. That's because you will be using it by adding a SIM card from companies in the country you are present in.
All you have to do is insert the SIM card of the foreign company in your free MiFi device. This way, you'll have connectivity in any country to which you travel.
Types of Networks
Generally, the MiFi option with two types of 2G and 3G connections will be a better option for most people. Not only are they cheaper, but they cover more geographical areas and there are fewer requirements to use it. You can find a lot of MiFi options on the market. Remember to buy free terminals... you can choose the one you like best. The only real downside is that the data speeds are far slower, but certainly adequate for sending and receiving email and browsing the web. If streaming video is your priority, however, go for a 4G capable MiFi device.
How can I boost my MiFi connection?
Cell Phone Signal Boosters
There are several ways you can optimize the mobile signal on your MiFi device. The best option is buying a cell phone signal booster. These take existing weak cellular signal from the outside and amplify it up to 32X for any phone, MiFi device, or carrier across a wide range of frequencies.
They:
Improve 4G, 4G LTE & 3G for any phone, tablet, MiFi device, etc. on any carrier
Amplifies cell phone signal to AND from the cell tower
One-time purchases with no monthly fees
No need to be connected to internet or WiFi to work
All boosters sold by Wilson Amplifiers are pre-approved by the FCC & all carriers
These are definitely your best option if you live in a weak signal area and are having trouble with slow MiFi connection, as they boost cellular signal directly. There are also vehicle versions, so you can enjoy consistent internet while on the road. Best of all, they work not only with your MiFi device, but it eliminates dropped calls and gives you faster data speeds for all your cellular devices. Highly recommended.
An Outdoor Antenna
Another option is installing an outdoor cellular antenna, such as a yagi or omni, on your roof. These can be connected to a signal booster first, and piped into your MiFi device to provide boosted signal, or run directly to your device. This is much cheaper than buying a full cell phone signal booster kit, but you're unlikely to see much difference.
You'll need:
An outer antenna adapter or average connector
Cellular transmitter
Coax cable
---
Contact Us
We're here to assist with any issues you might be experiencing with both Verizon signals and your Verizon signal booster. Contact us today.