WiFi vs MiFi: Five Things You Didn't Know But Should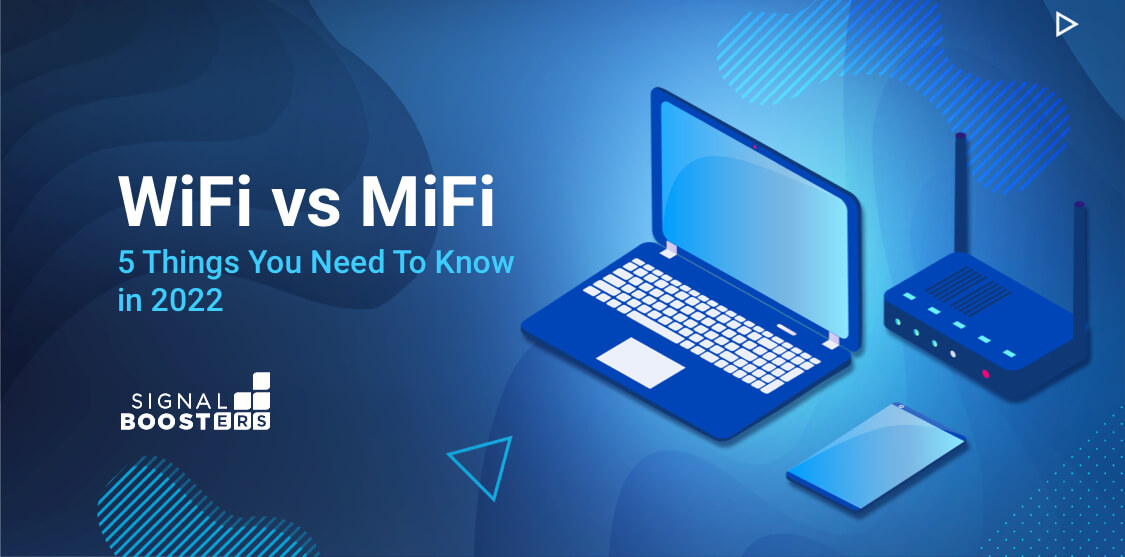 If we made a list of the five most important items in today's world, WiFi would be near the top. Maybe before healthy food, especially if you are a teenager. A stable internet connection is not just important, it's essential. There are two main ways that one can have this connection: WiFi or MiFi. Both connect your devices, but don't work in the same way.
MiFi was an important buzzword a few years ago, but is it still as important today, and how does it stack up against WiFi?
Shop WiFi
Attention Business & Property Owners,
Installers and Integrators
Take advantage of our system design and installation services. Learn more or call us for a free consultation: 1-800-969-8189
What's the Difference Between MiFi and WiFi?
WiFi is a connection that uses a router. The router must be powered at all times. The router also must connect to a modem which is in turn connected to an antenna. The antenna receives radio waves that it translates into electrical signals.
MiFi (Mobile Wireless Fidelity) is a connection using a cellular SIM card. You then connect your devices to the network that is created by the MiFi device. It's much more portable than a regular WiFi device and doesn't need a constant power source.
Let's go a bit more in-depth.
1. What is WiFi?
WiFi is a wireless technology that allows devices to connect to each other via the internet. It's the lifeblood that gives us social media, cloud based apps, the ability to shout at people across the world and so many more amazing things. WiFi uses radio waves on certain frequencies to allow devices to talk to each other. These frequencies are usually 2.4GHz or 5GHz for signal, although as technology improves that may be changing.
6GHz and WiFi 6 is an exciting new WiFi technology that will be available soon. Once those radio waves have been received by the modem, they are then converted into electrical signals and broadcast by a WiFi router
Remember those old dial up modems that used to make terrible sounds? Those sounds were electrical signals being translated into radio waves. Today, we have sleek new technology that does that so quickly you don't even notice it.
A router can connect several devices though local area wireless networks. It's also based on IEEE 802.11 standards and is fully compatible with all services of wireless local cable networks (WLAN). WiFi can also be sent long distance. You can add more access points to build networks with broader coverage or connect larger long-range WiFi antennas that amplify and extend the signal.
Tenda Wi-Fi 4G+ LTE AC1200 Dual-Band Router
Provides 2.4GHz & 5GHz WiFi connectivity
Download speeds pp to 1200Mbps (300Mbps/2.4GHz, 867Mbps/5GHz)
Supports up to 64 connected devices
Supports any ISP up to 1GB
Doesn't need cable or fiber internet to work
Features Beamforming+ technology
The Tenda 4G09 is a hassle-free plug-and-play router. Dual band allows you to make the most of both frequencies, meaning a stronger, more stable signal even through obstacles. Simply attach the antennas, insert an active SIM card, plug it in, and voila, instant internet access for all devices. Easily configure the network to meet your needs via the Tenda WiFi app.
---
Tenda Wi-Fi 6 AX3000 Dual-band Gigabit Router
Features WiFi 6 (802.11AX) Technology
Provides 2.4GHz & 5GHz Connectivity
Ideal for Bandwidth Intensive Environments.
Dual-Concurrent Data Speeds up to 2976Mbps (574Mbps/2.4GHz, 2402Mbps/5Ghz)
Supports Up to 64 Devices
Equipped With a 1.6GHz Dual-Core Processor
IPv6 Supported
The Tenda RX9 Pro is everything you need for a safe, reliable, and fast WiFi connection for your home or office. With WiFi 6 and dual-band you can get speeds up to 3000Mbps, as well as enjoy a more reliable signal even through obstacles. Control the RX9 remotely with the Tenda app and keep an eye on your network from wherever you are.
---
2. What is MiFi?
MiFi is a personal internet connection. It is based on cellular signal. A MiFi device is a small, portable router that connects via Bluetooth to your laptop or computer wherever you are. The great benefit of this is that you can take it anywhere, without having to look for a public WiFi connection. It allows you to create an ad-hoc WLAN that you can connect a few devices to. MiFi connections are limited to 5 to 10 devices, however.
3. Benefits of MiFi
Creates an internet connection anywhere in the world, as long as you have cell signal.
Lightweight, portable and can be carried in your pocket.
You can choose from a wide variety of router models that will give you better cost control and security.
Not bound to one carrier. You can use them all over the world with any carrier just by putting in an active SIM card.
4. WiFi is a Technology. MiFi is a Device.
MiFi is a device. That means that it is the name of a router that connects to the internet via cell signal. You take that device with you when you need to connect away from your regular WiFi network. If you are travelling somewhere that you have weak cell signal, your MiFi device may not be able to connect. You can improve cell signal by using a cell signal booster. Together the MiFi device and cell booster will keep you connected even in rural areas.
Boosts 4G LTE indoors
Coverage up to 13,000 sq. ft.
Works for all phones on AT&T
Complete kit, easy install
No monthly fees, no wifi needed
Unlike multi-carrier signal boosters with a limit of +70 dB, Cel-Fi's single-carrier solution can boost signal up to +100 dB. That's a difference of +30 dB or up to 1000x more power compared to multi-carrier boosters.
Eliminate dropped calls, slow data, and poor AT&T signal from your life with a Cel-Fi PRO Smart signal booster.
or Verizon and T-Mobile coverage, check out the Cel-Fi DUO.
---
PLUG & PLAY: If you can use an electrical outlet, you can easily install this kit
Boosts In-building 4G/LTE Signal
Works for all phones on T-Mobile & Verizon
The Cel-Fi DUO+ Smart Signal Booster for Verizon and T-Mobile by Nextivity is part of the next generation of intelligent signal boosters. All Cel-Fi products are designed and developed using the most advanced radio frequency and signal processing technology.
It greatly enhances 4G and LTE cell service for all your wireless devices (smartphones, notebooks, hotspots, etc.) on Verizon and T-Mobile for any home or office up to 13,000 sq. ft.
---
WiFi is a technology. That means that it is a way of receiving radio waves and connection to the internet. It consists of many devices all working together to create a network. If you are wanting to create internet connectivity in your home or office, you need a WiFi network. It does not work off cellular signal.
5. MiFi is Slower Than WiFi
MiFi is not designed to be a long-term solution. It's a lot slower than WiFi. You can also only expect speeds of up to 70Mbps with most 4G WiFi devices. That means that although it works for working and streaming in a pinch, it's not the best for gaming or anything that needs lots of fast data transfer. If you are looking for a good internet connection for a home or office, and you want to connect a lot of devices, you need WiFi. The speeds you get with WiFi allow you to stream 4K video and game without hassles.
6. Mifi Dongle or Stand Alone
MiFi devices come either as a dongle or a stand-alone router. A dongle needs to be physically connected to your computer via USB. A stand-alone device doesn't need to be connected and works via Bluetooth.
A dongle can only be connected to a laptop or computer which is not much good if you need to connect a phone or tablet. Dongles can also be jostled and lose connectivity. USB connections are limited as to the amount of data that they can transfer at a time.
A stand-alone MiFi device can be carried in your laptop bag or even in your pocket. It allows many devices to connect at the same time, for example smart watches. It has its own battery and doesn't rely on a computer as a power source. In general, these are more practical than a dongle.
MiFi vs WiFi
So, to sum up, if you need a portable connection for short term use, get a WiFi device. If you need to create a stable and fast internet connection in your home or office, get a WiFi system. MiFi is still relevant and useful in 2022, especially if you need to connect a few devices no matter where you are. It important to remember that MiFi does need a SIM card and a data plan with a carrier to work though.
Contact Us
Signal Boosters is a leading provider of signal booster solutions for homes, vehicles, and commercial buildings. They specialize in consumer-friendly kits as well as customized RF systems for cellular, public safety two-way radio, DAS, and WiFi.
We're here to help with any issues you might be experiencing with poor cell service. Contact us today, or call us at 1-800-470-6777.