Can Cellular Data Replace Your Home or Office WiFi?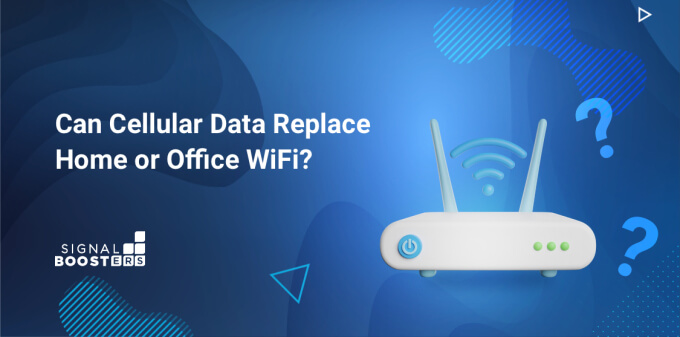 How to Use Cellular Data for Your WiFi Hotspot
Having a home or office WiFi network is essential. Did you know you can use cellular data instead of a regular ISP for your WiFi? How? What's the difference? Do you need a cell phone signal booster to make the most of it?
Read on to find out about an affordable alternative to traditional ISP internet connections.
We offer complete cell phone signal booster kits for any situation:
Attention business & property owners, installers and integrators
Take advantage of our system design and installation services. Learn more or call us for a free consultation: 1-800-969-8189.
What is WiFi?
WiFi is a wireless local network. It has a specific range and allows devices like phones or laptops to connect wirelessly and communicate with each other through a router. The router then connects to the internet through an internet service provider (ISP) or cellular data.
What is Cellular Data?
Cellular data or mobile data is provided by a carrier like AT&T or Verizon. It is available anywhere cell towers exist. Mobile devices can access mobile data via different networks, like 5G or 4G, depending on their nearest tower and signal availability. The speed of your connection will depend on your signal strength and network access. To access cellular data you need a data plan from your chosen carrier, which usually comes with regular cell phone plans.
WiFi vs. Cellular Data
Although both options allow you to connect to the internet, they have some significant differences. WiFi is usually provided through a router that is wired to a wall. If your WiFi router is portable, it is called a MiFi router or hotspot. To access a WiFi network you need the password, network name, and to be near enough to the router to get a signal.
Cellular data is accessible to anyone with a data plan, anywhere in the country. You can connect to the cell network on the move and don't need to be near a router. When you connect to cell towers the amount of data you use is then deducted from the total allowed on your plan. Some plans offered by carriers are uncapped, however, meaning that you can use as much data as you wish.
There are a few differences between ISP WiFi and cellular data.
How many actual gigs can be used
How much your connection costs
How fast the connection is
For these reasons, people have historically relied on cable from a local ISP. It provided the fastest speeds with the most throughput at the lowest cost.
But with new technology, that gap is closing. In many cases, cellular data provides faster speeds at a cheaper price with more reliable throughput. This is especially true in rural areas or places with poor wired infrastructure.
Benefits of Using Cellular Data for WiFi
There are many reasons to consider a cellular data plan as your long-term WiFi Solution:
More affordable
Accessible almost everywhere
Many plans to choose from
Superfast 5G to WiFi 6
Is Cellular data More Expensive than ISP internet?
No. Cabled internet in the US is some of the most expensive in the world. Often the plans offered by ISPs will be cheap at first, and then go up after a few months. 5G and 4G plans from cell carriers are cheaper or similar in price to cabled ISPs, depending on which plan you choose.
How Easy Is It to Set Up a Cellular Data Internet Connection?
Setting up a cellular data connection for your home WiFi is simple. You first need to buy a data plan from a carrier, then a cell-enabled router. Install the SIM card in your router as per the instruction manual. From there you can use your carrier's app or router's app to set up your connection.
Is Cellular data as fast as ISP internet?
Yes, it is. Even in rural areas that get 4G, you can have fast WiFi. A strong 4G signal is fast enough to stream 4K on, or game with no lag. To do this properly though, you need a strong stable signal throughout your office or home.
The Key to Good Cellular Data: Cell Phone Signal Boosters
Cellular data can provide everything you need for home or even office WiFi, but weak indoor cellular signal will affect your WiFi speed causing lag, buffering, and slow data rates. An all-around nightmare when you need a reliable internet connection. There is a perfect solution for weak indoor signal, however: the cell phone signal booster. With one of these paired with your WiFi router, you can enjoy a great internet connection for less.
There are many, many kinds of cell phone signal boosters available for all sorts of situations. The main considerations are how much area you want to cover, and how strong your outside signal is. The weaker your signal, the stronger your booster will need to be.
Our Best Cell Phone Signal Boosters for Home
Boosting cell signal in your home can be essential to get a strong stable signal where you need it. In terms of home WiFi, you need to make sure your router always has full bars. We offer a range of cell phone signal boosters, covering from one room to an entire medium-sized house. These are our chosen boosters to always keep your WiFi router online.
SKU: BT459600-YP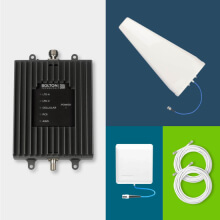 Buy Now For $499.99
Cover up to 4,000 square feet
Up to +11 dBi gain outdoor Yagi antenna
Best for weaker outside signal
Boost 4G LTE signal
Simple installation
Works with all North American wireless carriers
The Bolton Technical Victory Yagi/Panel home cellular signal booster is one of the most powerful boosters in its class. With the included Quicksilver Yagi antenna, it provides phenomenal amplification and reach to cell towers. Thus, if you live in a more rural setting with weaker outside signal, and no access to cable internet, this is your answer. Depending on your outside signal, it can deliver up to 4,000 sq ft of coverage. For those with decent cellular reception outside, the Victory Omni/Panel may be a better option for you.
SKU: CEL-FI-GO-X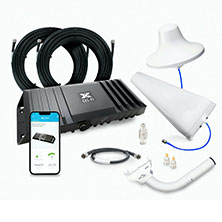 Buy Now Starting at $1099.99
4G/LTE/5G coverage up to up to 15,000 sq ft
Boost one carrier at a time
Most powerful amplifier
Multiple antenna options for any signal situation
The Cel-Fi GO X is the most powerful cellular booster you can get to enhance your cellular WiFi experience. Since it can only boost one carrier at a time, it features the highest gain on the market, up to 100 dB gain. Even with weak outside cell signal, your cellular WiFi unit will receive the strongest cell signal possible and deliver reliable WiFi for multiple devices to enjoy. Super customizable, you can pair it with different cellular antennas to maximize performance in any signal environment.
SKU: WA470144
Buy Now For $569.99
Best unit for midsize homes and offices
Highly customizable
Multiple antenna options for any interior
The Home MultiRoom is great at boosting signal for WiFi in mid-sized homes. It is easy to install and offers coverage of up to 5,000 square feet. With uplink of up to 21 dBm and downlink of up to 12 dBm output power, and 65 dBm of gain, you can boost signal to your router almost anywhere.
Our Best Cell Phone Signal Boosters for the Office
Cellular data can work for your office WiFi too. Cell phone signal boosters for work can cover much larger areas and have more components. If you want to cover a small office or home office with a great cell signal for your WiFi, we have several affordable options for that too.
SKU: WA460230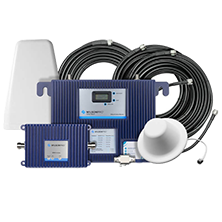 Contact Us for Best Price
4G/LTE/5G coverage up to up to 35,000 sq. ft.
Works for all device types & US carriers
In-line signal booster with unique capabilities
Contact us about professional installation
The Wilson Pro 1050 is an advanced commercial cell phone booster designed for large enterprise spaces like warehouses, small hospitals, and retail. It can provide your bigger enterprise space with good coverage, linking several routers to the internet. Cover up to 35,000 sq. ft with up to +70 dB gain. It works with any carrier and is a serious option for enterprise WiFi for those who can't access traditional cable internet.
SKU: WBFB-200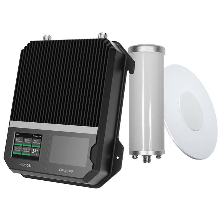 Buy Now For $1,699.99
Cover between 12,000 and 35,000 sq. ft.
Fully customizable – with manual control of frequency bands
FCC-approved and 5G capable. Works on all US carriers
Comes in 50 Ohm or 75 Ohm
Build the perfect office space with the weBoost Office 200. Powerful enough to always connect your business, it covers between 12,000 to 35,000* sq. ft in-building. If your outside signal isn't great, expect to cover less space, but the kit is customizable. You can add extra indoor and outdoor antennas for better signal. Keep your router online and your business connected no matter where you are. For some serious juice consider an Ultra High Gain or LPDA antenna.
Best Cellular WiFi Routers
Now that we have covered the best boosters for cellular data, we need to pair them with some great routers. Home cell routers need to provide good WiFi and be able to connect several devices. Peplink has routers for all situations, from enterprise to home, to IoT applications.
SKU: 80MAX-BR2-PRO-5GH-T-PRM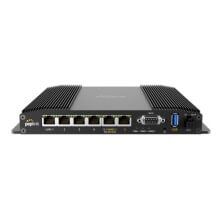 Buy Now For $2,899.99
Multi-Core CPUs
2x 5G cellular modems
Seamlessly integrates into existing SD WAN
Built-in eSIM and SIM Injector support
2.5 Gbps LAN port with PoE
Dual Ethernet WANs, Dual 5G/LTE, USB WAN, and Wi-Fi WAN
The Peplink MAX BR2 Pro is a cellular modem designed to use outside 5G signal, turning it into WiFi 6 for connected devices. It offers 400Mbps uplink and 200Mbps downlink, making it a great choice for offices and homes. Dual-band WiFi 6 connects up to 150 devices with less lag and interference. With all the WAN ports you could need, as well as a 2.5 Gbps LAN port with PoE, you can connect all sorts of devices to your network. A whopping eight cellular antennas and two cellular modems with four sim slots offer failovers for your failovers. This is a great router for a business with more advanced needs.
SKU: 80MAX-BR1-PRO-GLTE-S-T-PRM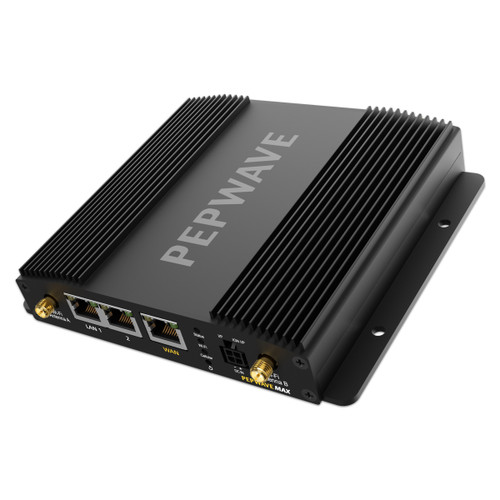 Buy Now For $849.99
Multi-Core CPUs
CAT 20 Modem
SpeedFusion access
Built-in eSIM and SIM Injector support
Connect up to 150 devices
The MAX BR1 Pro CAT 20 is a fast LTE WiFi 6 router that will convert 4G signal. It will work as a home or office network solution in areas where you cannot get 5G. The single CAT 20 modem connects up to 150 devices in WiFi 6 and offers two LAN ports and one 2.5Gbps WAN port. Connect mobile devices as well as wired ones like TVs, smart boxes, and printers. Because it works on 4G and LTE, you know that it will stay relevant for several years to come. Take it with you if you want to set up a WiFi network in a second home or even on the go.
SKU: 80MAX-BR1-PRO-5GH-T-PRM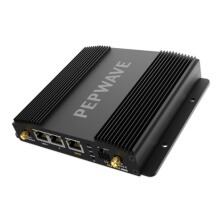 Buy Now for $999.99
Multi-Core CPUs
5G to WiFi 6 cellular modem
800% faster speeds than the original BR1 Classic
The Peplink MAX BR1 Pro 5G is a slightly more budget-friendly option than the BR2 Pro. It also offers gigabit speeds and 5G to WiFi 6 but has half the ports. It is faster than the BR1 Cat 20 where 5G is available and steady. If there is no 5G, it will use 4G or LTE. Either way, the BR1 5G offers a real alternative to a cabled ISP connection.
Best Data packages For Cellular WiFi
5G Home Internet & 5G WiFi | Verizon
Verizon's home internet option starts at $25 a month. Both packages have a price lock for a minimum of two years. Your monthly cost depends on which 5G Home plan you pick and if you are combining it with a Verizon Mobile plan. Typical upload speeds for this plan are between 6 Mbps and 23 Mbps. There are no data caps on the Verizon 5G Home Internet service. It is important to note that you need to combine this plan with a Verizon cellular plan to get the discount. Otherwise, it can cost up to $70 a month.
High-Speed 5G Home Internet Service Plans | T-Mobile 5G Home Internet
The T-Mobile Home Internet plan is $50 with AutoPay, and $55 without. They promise typical download speeds between 33-182 Mbps, dependent on location and signal. It works on both 4G and 5G signal and will swap between the two depending on which signal is stronger. You don't need a T-Mobile voice plan to sign up for their home internet.
Recommended Add-Ons
To make your home WiFi even better, we suggest adding one or more of these extras. Everything is better with extras! A great antenna, for example, can boost your cell signal in spotty areas. Make the most of your outside signal to improve your speeds and reliability.
SKU: BT512389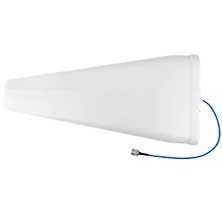 Buy Now For $60.95
Yagi directional outdoor antenna
For 50 Ohm Signal Boosters
High efficiency and compact design
Up to +11 dBi gain
This antenna will greatly boost the power of your amplifier. When combined with a good cellular router it can help you to make the most of the outside signal and give you good indoor WiFi. Works with 50 Ohm devices such as the WilsonPro Enterprise 4300/R. Improve signal booster effectiveness and coverage area in weak outside signal areas.
SKU: BT-THE-CROSSBOW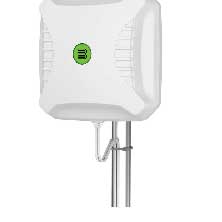 Buy Now For $199.95
2 X 2 High Gain MIMO Antenna
Ideal for direct connection to a MIMO cellular router, modem, or hotspot
5G Ready: Covers 617-3800 cellular frequencies
Up to +11 dBi of gain
Supercharge your 5G connection no matter where you are. If you are rural and need a line to your nearest 5G tower, this is the antenna you have been looking for. Harness the speeds of 5G for your home WiFi, and stream, game, work or play to your heart's content.
SKU: BT974082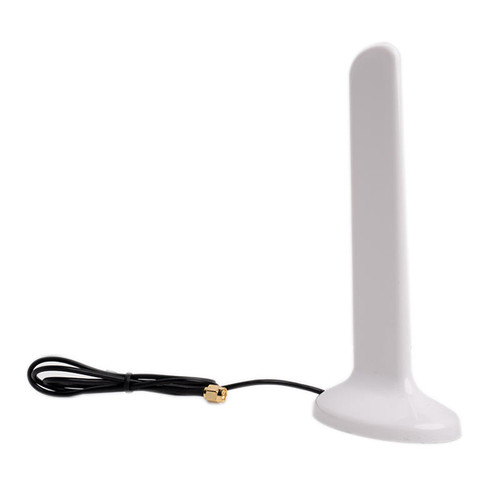 Buy Now For $21.95
Desktop Antenna for SMA signal boosters
Best for small home units, vehicles, or RV signal boosters
Upgrade for any vehicle
Up to +3.4 dBi gain
Get the signal to your router, no matter where in your building it is. With this handy desktop antenna, you can set up a great source of cell signal right next to your router. Connect it to any signal booster for better spot coverage.
If you need help deciding which booster or router is best for you, how to install it, or simply want to chat about cell phone signal boosters, WiFi, and cell signal, we can't wait to hear from you! Give us a shout on 1-800-470-6777 or email sales@signalboosters.com.
Interested in Learning More? Check Out Our Cellular Info Hub / WiFi Info Hub