7 Reasons You Have Bad Cell Reception (and How to Fix It)
Why is My Signal so Low?
Dropped signals have a way of showing up to interrupt life during the least opportune moments. Nine times out of ten, something is coming between your cell phone and the cell tower that's broadcasting its signal. We've identified the top 7 reasons why your cell phone loses signal, none of which are a match for a cell phone signal booster.
We offer complete cell phone signal booster kits for any situation:
Attention business & property owners, installers and integrators
Take advantage of our system design and installation services. Learn more or call us for a free consultation: 1-800-969-8189.
#1: Building Materials

Steel, concrete, and even Low-E glass can obstruct cell signals and leave your phone disconnected or running painfully slow. The list of building materials interfering with cell signals is long and includes just about everything it takes to keep a roof overhead. While metal may block out signals completely, materials like drywall might just weaken your reception.
Truth is, if you're indoors, there are plenty of potential signal-blocking culprits.
Download PDF
PRO TIP: Try moving toward a window or door, or take a walk outside to see if your signal improves. If so, your building is likely to blame for your dropped calls and weak signal. Fortunately, a cell phone signal booster makes it easy to amplify your signal in any home, office, or building.
#2: Geography

Much like the many man-made structures that can interfere with cell reception, Mother Nature's creations also make cell signals go bad.
While mountains and hills make for lovely views, they are potential signal killers, especially in the lush valleys at their feet. If your phone loses signal in rocky terrain, there's a good chance your nearest cell phone tower is on the opposite side of the peak. Even trees are known to cripple cell signals.
PRO TIP: It's not so easy getting around natural obstructions. While you can cut down trees if on your property, moving hills and mountains out of the way is a little more difficult. A cell phone booster can help strengthen the weakened signal and deliver it stronger wherever needed. You don't have to go out of your way to remove natural barriers or change locations.
#3: Inclement Weather

Snow days slow down every aspect of life, and poor cell service is no different. Because cell phones utilize electromagnetic waves, weather can easily interfere with their reception. Meteorological anomalies don't have to be particularly severe to cause phones to lose signal either. Everything from thunder, lightning, and rain to humidity and clouds can affect cell phone signal strength.
It's not just your run-of-the-mill rainy day that interferes either: add cosmic events to that list, too. In rare cases, solar flares have been known to produce shock waves that disrupt the Earth's magnetic fields, and mess with your cell signal.
PRO TIP: Weather conditions are out of your control. Regardless, a signal booster can help improve the degraded signal. Before, during, and after inclement weather strikes, you'll continuously enjoy smooth, reliable talk, text, and data.
#4: Heavy Cellular Traffic

Cell phone towers do have a maximum capacity, and when that number is reached, excess calls are redirected. This means that areas where more people are accessing the network at the same time are likely to get clogged. Like cars on the road, each cell phone tower can only handle so much traffic at once. Thus, signals may crawl slowly along or stop altogether in complete gridlock.
PRO TIP: Your data plan and carrier determine your priority over the network. Users with higher, more expensive plans have greater priority than those with lower ones. Similarly, users subscribed to the big three – AT&T, T-Mobile, or Verizon – have greater priority than those subscribed to MVNO providers such as Mint Mobile, Straight Talk, Boost Mobile, and more.
For a more consistent connection, consider switching plans or carriers. A signal amplifier can also help by strengthening the connection between your closest tower and cellular devices. A more solid connection ensures better reception even during heavy cell traffic.
#5: Distance from Cell Tower

All traffic aside, if you expect to receive any signal at all, you must be within range of your carrier's closest cell tower. Distance from a cell tower directly impacts the strength of the signal you receive. The further away you are, the worse your signal reception.
PRO TIP: Unless you physically move out of those dead zones and closer to the nearest cell phone tower, the best solution is a cell signal repeater. They're equipped with powerful cellular antennas designed to communicate with distant cell towers.
#6 Low Battery

While many bad cell signal culprits are beyond our control, there is one small controllable action that can help stretch your connection. That is to simply keep your phone charged.
Bad signals drain batteries while they search… and search… and search. Low batteries don't allow your phone to function at its optimal performance. It's a vicious cycle.
PRO TIP: Keep a charger or portable battery pack handy.
#7: Blocked Antenna

While small, all cellular-enabled devices use antennas. Because cell phone antennas no longer stick straight up, yours can be more difficult to locate. Once you do, it's important to ensure that you're not blocking it when in use. This will degrade the signal your device receives.
PRO TIP: Cell signal may instantly improve by removing your phone case. Some cases block out cell signals, especially metal ones.
Best Way to Get Better Cell Reception in Your Home, Office, or Vehicle
A study conducted by the Pew Research Center confirms it: access to the digital world improves lives. But it's only as helpful as your signal allows. Avoiding the plethora of cell phone signal busters is a delicate dance, but easily evaded with a cell phone signal booster.
Cell phone signal boosters capture existing 5G/4G/LTE signals, amplify them up to 32 times, and broadcast them straight to your cellular devices. Talk, text, and data will run smoother than ever.
Our wide selection of cell phone signal boosters makes it easy to equip your vehicle, home, or office with fast, uninterrupted cell service. With options for small houses, large offices, cars, boats, RVs, and more, you won't have to make excuses for poor cell phone service ever again. Turnkey installation services are even available with enterprise signal boosters.
Here are our top cell booster recommendations:
Best Home Signal Booster Kits
Overview of the Bolton Victory Yagi/Panel:
For Small to Medium Size Homes and Offices
Covers Up to 4,000 Sq Ft
Up to +72 dB Gain
Up to 26 dBm Uplink Power
Supports All Carriers Simultaneously
The Bolton Victory Yagi/Panel cellular booster is our top pick for rural areas. Under optimal conditions, it can blanket up to 4,000 sq ft with stronger cell reception, which is more than enough for most people. Featuring up to 26 dBm uplink and up to 72 dB gain, it has incredible reach and can significantly amplify your existing weak cellular signal.
Strategically paired with the Bolton Quicksilver Outdoor Yagi Antenna, it works wonders in remote locations. This antenna is designed to draw in signals from cell towers up to 5 miles away. Distance from the signal source will no longer be a problem.
While capable of boosting multiple carriers at the same time, you may only receive improved cell reception from one or two carriers. This is because the antenna is directional and needs to point at the closest cell tower that's powered by your preferred carrier. If boosting multiple carriers is more important than coverage area, consider the Bolton Velocity Omni/Panel Cellular Signal Booster.
Pros:
Cons:

Meets most people's coverage requirements.
Offers max gain allowed by the FCC for multi-carrier boosters, maximizing amplification.
Has incredible uplink, allowing greater reach to cell towers.
Equipped with powerful Yagi antenna that outperforms the competition.

Can only boost one or two carriers at a time because of directional antenna.
Will not cover your entire home if the outdoor signal is extremely weak.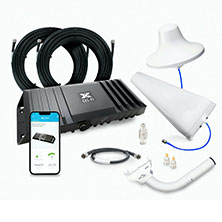 Buy It Now: Starting at $1,099.99
Overview of the Cel-Fi GO X:
For Large Homes and Offices
Covers Up to 15,000 Sq Ft
Up to +100 dB Gain
Amplifies One Carrier at a Time
The GO X by Nextivity is the most powerful cell phone signal booster for remote areas available. It's designed with up to 100 dB gain, the highest on the market. This unit can seriously make all your signal woes disappear. The caveat is that it can only boost one carrier at a time. Though, through the Cel-Fi WAVE app, you're able to switch between carriers as you need.
Super customizable, you have multiple outdoor antenna options to really maximize the amplifier's reach to your closest cell tower. You can reach cell towers located up to 5 miles away with the Quicksilver Yagi, up to 10 miles away with the Bolton Arrow LPDA, or up to 20 miles away with the Bolton Long Ranger. No matter how weak your cellular reception is, any of these configurations will keep you connected, that is unless you're in a total dead zone.
Rated to cover up to 15,000 sq ft, it's best for large homes and small businesses. Indoor coverage will vary based on the strength of your outside signal.
Pros:
Cons:

Capable of providing whole-home coverage.
Features highest amplification gain on the market.
Is extremely customizable to fit any signal environment.
Comes with an app that lets you monitor and manage performance.

On the pricier side.
Only amplifies one cellular provider at a time.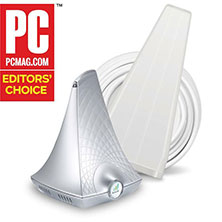 Buy It Now: $299.99
Overview of SureCall Flare 3.0:
For Small Homes or Spot Coverage
Covers Up to 3,000 Sq Ft
Up to +72 dB Gain
Up to 26 dBm Uplink
Supports All Carriers Simultaneously
2-in-1 Amplifier/Indoor Antenna Combo for Ease of Installation
The SureCall Flare 3.0 cellular booster packs a signal punch for the price. It includes a Yagi antenna, which is ideal for rural areas, and a sleek amplifier. The indoor antenna is built into the amplifier, making the Flare 3.0 one of the easiest units to install yourself.
With up to 72 dB gain and 26 dBm uplink, it offers good amplification and reach to distant cell towers for a booster of its kind. While power is similar to that of the Bolton Victory, the Flare 3.0 offers less coverage and a less powerful Yagi antenna. It's rated to cover 3,000 sq ft, but will likely only provide multi-room to spot coverage.
Pros:
Cons:

Budget-friendly.
Offers max gain allowed by the FCC for multi-carrier boosters, maximizing amplification.
Has incredible uplink, allowing greater reach to cell towers.
Features 2-in-1 Amplifier/Indoor making installation a breeze.

Paired with Yagi antenna that's slightly less powerful than the competition.
Can only boost one or two carriers at a time because of directional antenna.
Best Cell Phone Boosters for Vehicles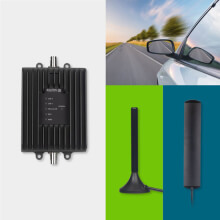 Buy It Now: $399.99
Overview of the Velocity Vehicle:
For Cars, Trucks, and RVs
Up to 50 dB Gain
Support Multiple Carriers Simultaneously
Easy Install
The Velocity Vehicle is carefully crafted to keep drivers and passengers connected in the most difficult environments. It's built with the highest gain and uplink. No matter where you drive, as long as there is a sliver of cellular signal, the Velocity Vehicle will keep all devices connected.
This particular model comes with a magnet mount antenna, making it ideal for your everyday cars, SUVs, and trucks. Installation is a breeze. For semis and heavier-duty trucks, consider the Velocity Trucker. It includes a tough OTR outside antenna featuring great reach, heavy-duty construction, and whistle-free wrap.
Pros:
Cons:

Affordable yet powerful.
Sleek design.
Offers max gain allowed by the FCC for multi-carrier vehicle boosters, maximizing amplification.
Has incredible uplink, allowing greater reach to cell towers while on the go.

This configuration is not ideal for semis, heavy-duty trucks, RVs, or overlanders. Though, optimized kits for those vehicles are available.
Overview of the weBoost Drive Reach:
For RVs, Cars, Trucks, and Boats
Up to 50 dB Gain
Support Multiple Carriers Simultaneously
Easy Install
The weBoost Drive Reach is weBoost's most powerful in-vehicle cell signal booster for cars, SUVs, trucks, and minivans. Features increased uplink than previous generations, users can get signal that is 2x farther from towers for twice the signal strength. Dropping calls and losing navigation connection will all be a thing of the past while driving on remote roads or highways.
Cellular antennas will vary depending on the Drive Reach configuration that best meets your needs.
We wouldn't recommend anything weaker than the Drive Reach for rural areas.
Pros:
Cons:

Sleek design.
Offers max gain allowed by the FCC for multi-carrier vehicle boosters, maximizing amplification.
Features higher gain than previous weBoost generations.

This configuration is not ideal for semis, heavy-duty trucks, RVs, or off-roaders. Though, optimized kits for those vehicles are available.
Best Enterprise Signal Booster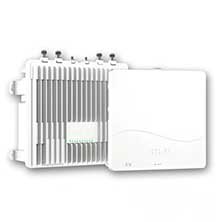 Get a Quote
Overview of the Cel-Fi QUATRA 4000C:
Coverage up to 200,000 sSq Ft
+100 dB Gain for All US Carriers
Innovative Network/Coverage Unit Setup for Maximum Coverage
CBRS Private Wireless Network Capable
The QUATRA 4000c is the most advanced multi-band cellular signal booster available for businesses. It's a scalable, all-digital, hybrid DAS signal booster system capable of covering up to 200,000 sq ft. With up to +100dB of gain, it's more than +30 dB or up to 1000x more powerful than other enterprise boosters. It'll blanket an entire large enterprise building with strong cell signals from up to four carriers.
Contact Us to Fix your Bad Cell Signal ASAP!
Signal Boosters is a leading provider of cell phone signal boosters, cellular routers, and accessories. We're here to assist with any questions you may have. Contact us today via phone (1-800-470-6777) or email (sales@signalboosters.com).
Interested in Learning More? Check Out Our Cellular Info Hub / WiFi Info Hub