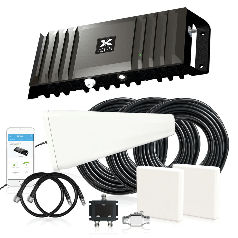 Cel-Fi GO X (Cel-Fi G32) Featured Review
"Well worth the price! Yes it's expensive, but it works even better than I hoped. We tried 2 other boosters that didn't work. This one works great! It does take a bit to install and tweak to get the best experience. Don't expect to get this working well in an hour. But if you put some time in, you'll be more than happy.
Now we finally have cellular signal and LTE internet! This booster literally has changed our lives. We work from home and live in a rural area with only slow DSL, but now we can use our LTE modem (T-mobile) for internet with speeds of 35 up and down. Phones and tablet have even better reception and speeds with 30 ping and jitter under 10. In short, it's expensive, but it's worth it and works exceptionally well. I highly recommend this booster for rural areas. That's simply amazing!"
- Brian H.
Cel-Fi GO X Smart Signal Booster Owner
Your Best Chance at Stronger Cell Signal - Period
Struggling with weak signal problems? Whether you are rural, isolated, have a metal building or a log cabin, the Cel-Fi GO X (a.k.a. Cel-Fi G32) is your best shot at solving weak cellular signal issues. This system amplifies 5G, 4G LTE, and legacy 3G cellular signal both to and from the cellular tower.
With single-carrier capability, the amount of potential dB gain improves dramatically to 100 dB. Operating for a single carrier at a time removes restrictions that are placed on signal boosters that are rated to work for multiple bands and carriers simultaneously.
If the Cel-Fi GO X (G32) does not give you noticeably improved cellular performance, nothing will.
Unmatched Versatility & Configuration Options
The unmatched power gains of the Cel-Fi GO X make it ideal for expansion and upgrades. You can choose to upgrade your coverage area even further with the addition of the Bolton Long Ranger parabolic outdoor cellular antenna or Bolton Arrow LPDA outdoor cellular antenna.
Our Long Ranger parabolic antenna can provide an extra +28dBi of gain in the right conditions and the Bolton Arrow LPDA antenna can boost signal up to +12 dBi. Even if your existing signal is extremely weak, these custom antenna options will produce impressive results. Please keep in mind that you MUST have some existing outdoor cellular signal available to benefit from it.
Cel-Fi GO X: The World's Most Powerful Single Carrier Signal Booster with up to +100 dB gain!
The Cel-Fi GO X (model G32) is the most advanced, powerful single carrier signal booster in the world since it operates boosting a single carrier at a time. Immediately improve your 5G and 4G LTE signal for all wireless devices and hotspots simultaneously for any single carrier.
You can select the carrier you need in the Cel-Fi WAVE app settings. Choose from Verizon, AT&T, T-Mobile or Verizon. The system provides interior coverage up to 15,000 sq. ft. in any building based on the outdoor signal strength.
Amazing Versatility - Use the powerful GO X At Home Or On The Road
The Cel-Fi GO X, as configured, is ready for use in buildings, homes, and barns. However, with the addition of vehicular cellular antennas, sold separately, and a 12V DC power cord, the GO X can be used in a vehicle, truck, big rig, or RV for maximum signal - even while on the road.
If you want to watch a short video about changing between mobile and stationary modes, click here.
The Cel-Fi GO X is truly the only signal booster you will ever need regardless of your location or requirements - at home or on the road.
Who is this for?
Live or work in extremely weak signal areas and want the best performance possible.
Have a residential, commercial, industrial, or multi-story building needing full single-carrier coverage.
Your total indoor coverage will vary depending on the outdoor signal strength, the outdoor antenna selected, and the number of interior antennas desired for your building
Want free advice to guide you through the selection process? That's what we're here for! Get free configuration assistance with one of our GO X product specialists.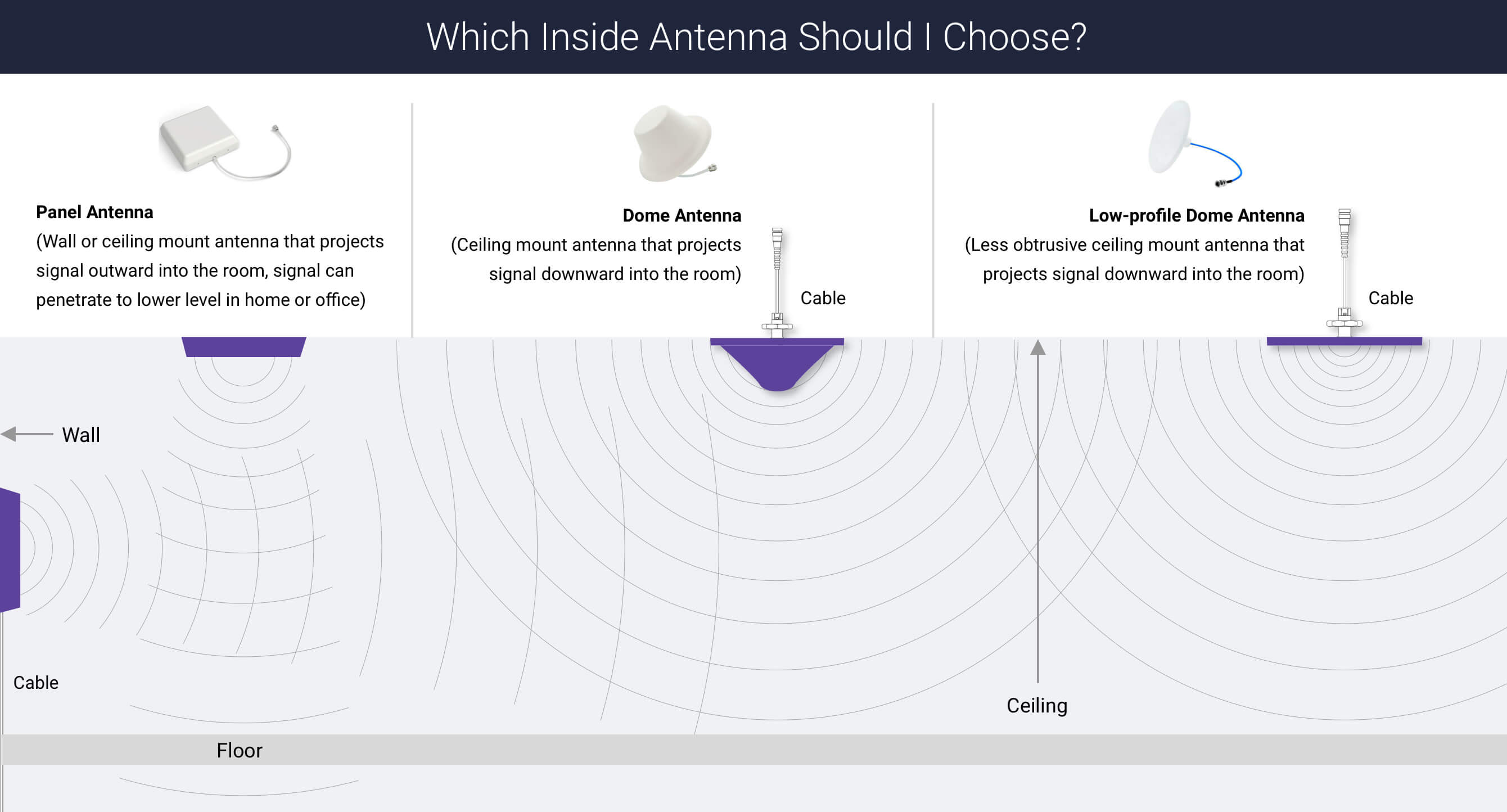 Cel-Fi GO X Signal Booster Kit
Make your house your home. Ensure you have the best cellular coverage with a Cel-Fi GO-X cell phone signal booster.
The Cel-Fi GO-X is the most advanced carrier-specific signal booster in the world, greatly enhancing 5G, 4G and 3G cell service for all your wireless devices (smartphones, notebooks, hotspots, etc.) for any single carrier - including Verizon, AT&T, T-Mobile, and US Cellular. Provides coverage up to 15,000 sq. ft. in any building.
It features:
More Coverage: Up to 15,000 sq ft, 2x more coverage compared to the competition's best home booster.
More Power: +100 dB gain compared to +70 dB gain of other commercial boosters.
Better Monitoring: Cel-Fi Wave App allows for remote monitoring, carrier-switching, and easy installation.
Boosts 5G, 4G, 3G for any home or office up to 15,000 sq. ft. with options for 1, 2 or 4 inside antenna kit.

Works for all phones & cellular devices, AT&T, Verizon, or T-Mobile.

Complete kit: all parts included, easy install.

No monthly fees, no need to be connected to WiFi, it just works.

Cel-Fi Wave App: Easy installation, monitoring, and carrier switching
More Coverage
The Cel-Fi GO-X is a three-part cellular repeater system featuring an outside yagi antenna, +100 dB amplifier, and inside dome or panel antenna (from 1, 2 to 4 inside antennas) for coverage up to 15,000 sq ft. While open spaces (like a warehouse) can get great 5G and 4G coverage with one inside antenna, buildings with many rooms, thick walls, and/or multiple floors may need 2 to 4 antennas to get reliable coverage.
With the downloaded Cel-Fi Wave App, the Cel-Fi GO-X can also be used in a stationary vehicle with additional accessories. Tough NEMA 4-rated design allows for outdoor installation and is weather-resistant against water, dust, and dirt.
More Power
Unlike multi-carrier signal boosters with a limit of +70 dB, Cel-Fi's single-carrier solution boosts signal up to +100 dB for a difference of +30 dB or up to 1000x more power compared to multi-carrier boosters.
Better Monitoring
The free Cel-Fi Wave App allows for easy installation and monitoring for your 5G or 4G signal booster. It also allows for carrier-switching to boost AT&T, Verizon, T-Mobile, or US Cellular for a single carrier at a time.
Cel-Fi's mobile app also allows you to connect to the device over bluetooth and see detailed diagnostic information, including measures of signal strength (RSRP), gain, and signal quality (SINR).
More bars instantly.
Technical Specifications
Nextivity Cel-Fi GO-X Smart Signal Booster
Model
G32-2/4/5/12/13X
Frequencies - Uplink
Band 2, 1850-1910 MHz; Band 4, 1710-1755 MHz; Band 5, 824-849 MHz; Band 12, 699-716 MHz; Band 13, 777-787 MHz
Frequencies - Downlink
Band 2, 1930-1990 MHz; Band 4, 2110-2155 MHz; Band 5, 869-894 MHz; Band 12, 729-746 MHz; Band 13, 746-756 MHz
Max Gain
100 decibels (dB)
Antenna Connectors
SMA-Female
Power
9.6 – 16.5V, 2A current draw, 16W nominal power consumption
Dimensions
10.73 x 3.8 x 1.71 in / 27.25 x 9.65 x 4.35 cm
Weight
1.87 lbs / 0.85 kgs
FCC NOTICE:
This is a CONSUMER device. BEFORE USE, you MUST REGISTER THIS DEVICE with your wireless provider and have your provider's consent. Most wireless providers consent to the use of signal boosters. Some providers may not consent to the use of this device on their network. If you are unsure, contact your provider. You MUST operate this device with approved antennas and cables as specified by the manufacturer. Antennas MUST be installed at least 20 cm (8 inches) from any person. You MUST cease operating this device immediately if requested by FCC or a licensed wireless service provider.
Kit Includes
Inside Dome Antenna(s): 1, 2, or 4 depending on configuration
Splitter: 2-way or 4-way depending on configuration
Lightning Surge Protector
2x 30 ft LMR400 Cable depends on configuration
SMA Male to N Female Connector
2ft SMA-Male to N-Male Cable
*NEW* - 10" pole antenna mount for simplified installation
Installation
Installing any consumer signal booster setup is fairly simple, but can be a pain. The results, however, are worth it.
Install Outside Antenna.
Connect to the Amplifier.
Install Inside Antenna.
Connect all with cables.
Power on.
You'll need some general handyman skills but nothing too specialized. If you prefer having someone else do the job, you can also contact your local general contractor, electrician, or anyone who's installed a satellite TV dish.
Find The Best Outside Signal: Begin by finding the best signal outside your house. This is done by walking around the perimeter of your home and either using the number of bars on your phone (ok method), smartphone apps (good method), or Field Test Mode (great method) to find the best location. Pro tip: Locating the side of your home getting the best signal is the MOST CRUCIAL step of the installation process.
Install Yagi Antenna: The area with the best signal is where you will mount the yagi antenna. Place the antenna as high up as possible, ideally on the roof, although the fascia or gable is acceptable. It's important that the outside antenna should be on or near the edge of the roof pointing away from the house to the cell tower and NOT pointing across the roof since it may cause interference with the inside antenna. Point the yagi antenna at your nearest cell tower.
Connect to Amplifier: Once the yagi antenna is mounted, connect the included RG-6 cable to the yagi antenna and to the "outside antenna" port on the amplifier. Some run cable into the attic, others prefer using the window-entry cable. It's all a matter of preference and aesthetics and where you want to locate the amplifier. Pro tip: The amplifier does all the heavy lifting for boosting signal and will get warm. Keep it in a well-ventilated area.
Install Inside Antenna: Once the cable is connected to the "Outside Antenna" port of the amplifier, do the same for the "Inside Antenna" port. Some prefer having the antenna mounted on the ceiling, others prefer the wall. Again, it's all a matter of preference, and use case. If you have a panel antenna, they generally perform best on the wall, and if you have a dome antenna, they usually perform best on the ceiling. If you have multiple antennas, you will need to use a splitter to divide the cable runs, and then place each antenna where you'd like them. Pro tip: Having enough separation between the two antennas prevents oscillation. Make sure there is at least 20 feet vertical or 50 feet horizontal distance between the two.
Power on: Plug in the power supply to the Amplifier and to the wall outlet. The amplifier will sync up and if you see all green lights, then green means GO! Check to see near the inside antenna how much better signal you're getting. Pro tip: Any post-installation adjustments like relocating the Omni Antenna will require rebooting the amplifier. Simply unplug the power supply for 5-10 seconds and replug to reboot the system.
The Nextivity Cel-Fi GO-X is easy to install. Everything is included in the kit. Our trained product specialists can also assist if you have any questions. Call 1-800-470-6777 or email sales@signalboosters.com.
Frequently Asked Questions
How Do I Set the Cel-Fi GO X Up?
Setting up the Cel-Fi GO-X can be broken down into two sections: physical installation, and activation via the WAVE app.
Installation steps will vary depending on the antenna package you purchase.
Attach SMA to N-F Connectors to each booster output.
Connect 2ft jumper cable to the connector on the Antenna side, and attach the surge protector to it.
Run 30 ft of cable to where you plan to set up your outside antenna, attaching the yagi antenna to the 30ft cable.
For Single Indoor Antenna Setups
Run 30ft of cable to where you plan to set up your indoor antenna. Attach panel or dome antenna.
For Dual Indoor Antenna Setups
Connect the second 2ft jumper cable to the connector on the Phone side, and attach to the single-port side of the splitter.
Attach 30ft cables to the multi-out side of the splitter. Run them to where you plan to set up your indoor antennas.
Attach the panel or dome antenna to the end of the 30ft cable to complete the set up.
Setting up with the App
Now that you've physically set up the GO-X, you'll need to activate it with the Cel-Fi WAVE app.
Register your booster. This is a legal step and will tie your app to your booster.
Choose which carrier to boost. The Cel-Fi GO-X works with all major American carriers.
Enjoy your boosted signal!
The app has many other features, allowing for remote monitoring, optimal antenna setup, and more – however, these features are all optional.
Please call us at 1-800-470-6777 for a free consultation and answers to any other questions you might have.
Will the Cel-Fi GO X Work With 5G?
The Cel-Fi GO X currently boosts low-band 5G on the DSS n2 and n5. When set to Verizon it will amplify both these bands. When set to AT&T, it will focus on n5. Even when set to T-Mobile, it will not boost 5G except on specific DSS-hybrid channels.
A software update is required to take advantage of the DSS 5G/4G hybrid channels boosted by the Cel-Fi GO X.
Is There a Limit to How Many Antennas a Cel-Fi GO X Can Support?
We wouldn't recommend more than 4 antennas for the GO-X, but it's also worth noting that areas with very weak outside signal should consider using fewer antennas.
How Can I Configure the Cel-Fi GO X for Multiple Carriers?
Using the Cel-Fi WAVE app, you can choose which carrier to use. The GO-X only boosts signal for one carrier at a time.
Can I Use the Cel-Fi GO X Without Downloading the WAVE App?
For a basic setup of the Cel-Fi GO-X, use of the WAVE app is required. Once the booster is registered and the carrier chosen, you no longer need the app if you do not want to take advantage of its enhanced features.
How Long Can the Cable Run be Between the Amplifier and the Antennas? Is there a Difference if More (3-4 total) Indoor Antennas are Installed?
The length of cable runs will vary depending on the type of cable used. The 400-grade cable included in our kits are pre-cut to 30 feet, but such cable can realistically go to around 100 feet if you're running only one antenna.
For a little more information: 400-grade cable gives around .45 dB of loss in the 800 MHz range and .7 dB of loss in the 1900 MHz range per 10 feet. As a general rule, the more you split the signal, the shorter you'll want the cable run. If you have 4 antennas, try to keep the individual cable runs to shorter than 60 feet at absolute maximum – the shorter, the better.
What is the Return Policy?
We provide a 30 day money back guarantee and a two-year warranty on all Cel-Fi GO-X units.
Please call us at 1-800-470-6777 for a free consultation and answers to any other questions you might have.
Customers Are Also Buying: