AT&T Signal Booster Guide: Recommended Products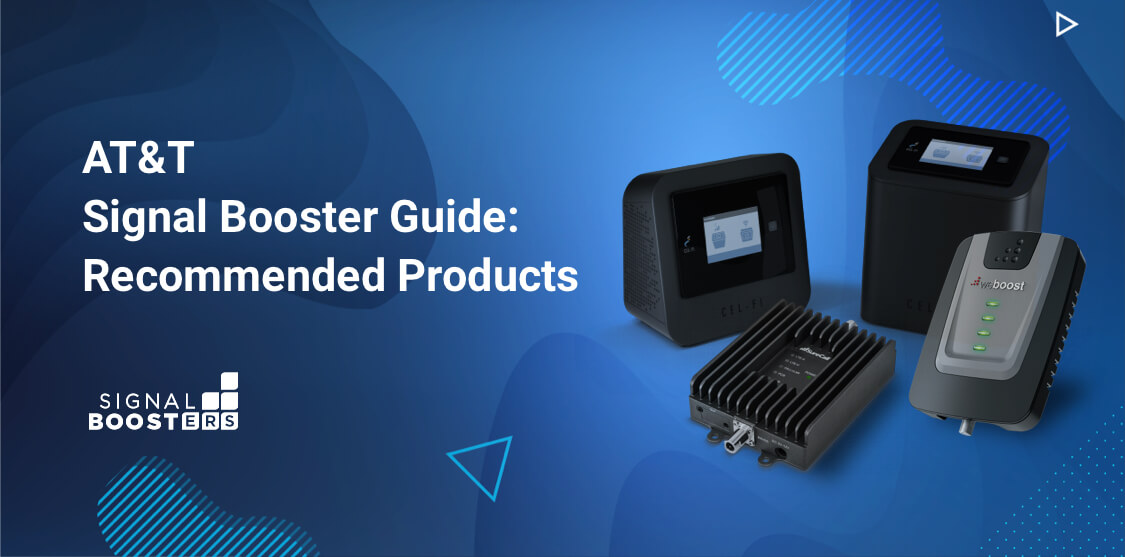 AT&T is one of the largest cell networks in the US. But that doesn't mean it isn't vulnerable to outages or common obstacles. If you experience dropped calls or frequent outages, a cell phone signal booster can help
Distance from cell phone towers and nearby natural and manmade obstructions can all affect call quality and data speeds. These include, but are not limited to:
Outside interference: Mountains, hills, tall trees, and buildings
Inside interference: Metal, glass, concrete and bricks.
To make the most of your AT&T signal you can use a signal booster. The strength of your needed booster will depend on how much outside signal you have.
Signal boosters work by amplifying existing signals to help prevent dropped calls, unsent texts and emails. You can get specific ones for homes, offices and even vehicles.
After 100,000 solutions supplied nationwide, we've made a list of the best signal boosters for improving your AT&T service.
If you are looking for a device such as the AT&T Smart WiFi extender, have a look at our Tenda EX6 WiFi 6 Mesh System for Home.
We Fix Poor Cell Signal! See Complete Signal Booster Kits for Your Situation:
Attention business & property owners, installers and integrators
Take advantage of our system design and installation services. Learn more or call us for a free consultation: 1-800-969-8189.
---
Best AT&T Signal Boosters for Home
Best AT&T Consumer Signal Booster for Home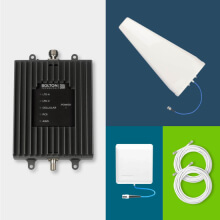 Buy Now For $499.99
Best for small to midsize homes
Boosts talk, text, and 4G/5G data
Up to 4,000 sq ft coverage
Up to +72 dB gain
The Bolton Technical Victory is the most powerful multi-carrier cellular booster in its class. It features up to 72 dB gain and incredible uplink power. Your AT&T signal will significantly improve wherever you need it. Under best conditions, it can blanket up to 4,000 sq ft with strong, reliable AT&T reception. Equipped with the highest quality cellular antennas and cables, it delivers the strongest possible cell signal for multiple carriers, including AT&T.
There are two versions of this kit. One comes with a Yagi outdoor antenna and the other with an Omni outdoor antenna. The Victory Yagi/Panel dominates in areas with weak outside signals and fewer towers. The Victory Omni/Panel is the perfect choice for areas with strong outdoor signals and those wanting multi-carrier coverage. It's also easier to install.
Best Premium Signal Booster For AT&T at Home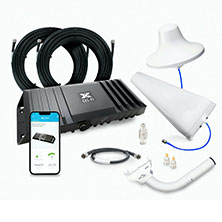 Buy Now Starting at $1,099.99
4G/LTE/5G coverage up to up to 15,000 sq ft
Boost one carrier at a time
Most powerful amplifier
Multiple antenna options for any signal situation
The Cel-Fi GO X is the most powerful AT&T cellular booster you can get. Since it can only boost one carrier at a time, it features the highest gain on the market, up to 100 dB gain. Even with weak outside cell signal, your cellular devices will receive superior AT&T connectivity. Super customizable, you can pair it with different cellular antennas to maximize performance in any signal environment.
Best Budget Signal Booster For AT&T at Home
Boosts 4G LTE indoors for all carriers
Up to 1,500 sq ft coverage
Up to +60 dB Gain
The Home Room is a fantastic choice for those looking to boost signal in 1- 2 rooms. Best for areas no larger than 1,500 sq ft. It's not the cheapest, nor the most expensive in the small home category, but it is the most popular.
The Home Room is flexible and easy to set up. It comes with a flat window cable so that you don't have to drill holes on your walls, great for those small apartments. The outside antenna comes with different mounting options, including a suction mount to install it on a window. best for those looking for a budget friendly and strong signals.
Best Professionally Installed Signal Booster Kit For AT&T at Home
Enhances cellular coverage up to 7,500 sq. ft.
Up to 4 bars amplified signal depending on outside coverage
FREE professional installation
The weBoost Installed Home Complete (474445) is the perfect signal booster if you need powerful inside AT&T service. Professional next day to three days installation is free of charge with the receipt. It covers up to 7,500 sq ft under best conditions. With 72 dB in max gain, the Installed Home Complete offers residents the most reliable cell signal possible on all available network speeds. Generating up to 24 dBm in uplink-output power, it is by far the most powerful cellular signal booster for homes.
Best AT&T Signal Boosters for Vehicles
Best Premium Signal Booster Kit For AT&T in your Vehicle
Boosts 4G LTE for AT&T
For any car, truck, RV, and boat
Up to +70 dB Gain
With gains of over +70 decibels (compared to the +50 or so for the competition. The GO+ is the most powerful car signal booster available for customers on the AT&T network. It gets over +70 decibels, compared to the +50 or so for the competition. The GO+ is carrier specific, meaning only one carrier, AT&T for example, can be amplified at a time.
You choose your carrier when you buy the booster but can always change it later. The Cel-Fi Wave app is the best way to change carriers or keep an eye on your booster remotely.
Best All-Carrier Signal Booster Kit For AT&T in your Vehicle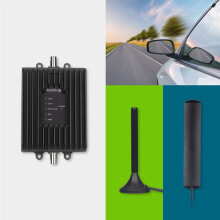 Buy Now For $399.99
Boost talk, text, and 4G/5G data
For everyday cars, trucks, and SUVs
Up to +50 dB gain
Simple installation
Works with all North American wireless carriers
The Velocity Vehicle cellular signal booster is one of the best all-carrier vehicle signal boosters around. With high gain and high-quality cellular antennas, it gets you better AT&T reception in your vehicle anywhere on the road. Passengers who don't use AT&T will also enjoy a more reliable connection.
While this particular kit is best for your everyday vehicles, additional configurations are available to fit any vehicle.
Best Cradle Signal Booster Kit For AT&T in your Vehicle
Boosts 4G LTE for all carriers
For any car, truck, and RV
Up to +23 dB Gain
This weBoost Drive Sleek comes with a cradle mount to for a wider range of smartphone and tablet sizes. It's great for a hands-free experience with strong AT&T signal.
It can be used in rural settings, but consumers tend to get more bars and better coverage in urban areas. With gains of more than +23 decibels gain, the device works in cars, trucks, and RVs
Best AT&T Signal Booster for Commercial Buildings
Best Premium Signal Booster Kit For AT&T for Office
Boosts 5G & 4G LTE indoors for AT&T
Up to 200,000 sq ft coverage
Up to +100 dB Gain
Hands down, AT&T's most powerful signal booster for commercial buildings. AT&T single carrier boosters offer gains of up to +100 decibels compared to all carrier booster's +70 decibels. That's about 1000x stronger!
The Cel-Fi QUATRA can cover up to 200,000 sq ft in strong AT&T signal.
Best All-Carrier Signal Booster Kit For AT&T for Business
Supercharge your small business with improved indoor cell signal
Cover between 12,000 and 35,000 sq ft
Fully customizable – with manual control of frequency bands
FCC-approved and 5G capable. Works on all US carriers
Comes in 50 Ohm or 75 Ohm
Get superior AT&T signal throughout your building with the weBoost Office 200. Choose to install it yourself or have it professionally installed for free. No matter if you are in the country or the city, this sleek amplifier will bring existing signal indoors to give you more bars. The Office 200 is powerful enough to connect your business at all times. Cover between 12,000 to 35,000* sq ft in-building.
* Effective coverage area depends on quality and strength of outside cellular signal, internal building materials, and antenna configuration.
Best Budget Signal Booster Kit For AT&T for Office
For midsize homes or offices with strong outside signal.
For small homes or offices with weak outside signal, or spot coverage.
Great coverage on a budget.
The HiBoost 10K Smart Link is a great choice if you need stronger AT&T coverage for a mid-sized buildings but are on a budget. It can cover up to 10,000 square feet if you have perfect outside signal. Weaker outdoor signal can result in much lower coverage. This is the least expensive cell signal booster you should buy if you have bad signal outdoors.
It comes with a panel antenna and a Yagi directional antenna. It reaches far away cell towers well. It can be linked and monitored via HiBoost's Signal Supervisor app.
What Building Materials Will Affect My AT&T Signal?
Most cell phone use is indoors. Because of this we often struggle with dropped calls, bad voice quality and slow internet. While some of this is because of AT&T's network coverage, another major factor is your home & building. Specifically, your building material.
Cell tower distance and objects like trees, mountains, and tall structures all affect your cell service. Let's explore the top culprits:
Metal: Metal is the #1 disrupter of cellular signal. Aluminum, brass, copper, steel, iron, tin, etc. all affect signal. Any type of metal is capable of messing with your cell service.
Low-E- Glass: Green-rated buildings are great at saving energy but are also great at blocking out cell signals.
Brick/Concrete: Brick and concrete are robust materials that weaken or block service as it passes through.
Plaster /Drywall: Although it doesn't completely shut out service, it does weaken it as it passes through.
Wood: Depending on the thickness of the wood, it's capable of absorbing cell signal.
Thick Walls: Thick walls hamper cellular reception, especially as it tries to reach the center of the building.
Electromagnetic Interference: Any machine or device emits electric signals that could disrupt cell service.
What Frequency Bands does AT&T Use?
These are the known major frequency bands AT&T uses across the nation. Local & state-wide frequency bands will be updated as they come out.
| NETWORK | BANDS | FREQUENCIES |
| --- | --- | --- |
| 5G | n5, n77, n260 | 850MHz (low), 3.7GHz (mid), 39GHz (mmW) |
| 4G | 2, 4, 5, 12, 14, 17, 29, 30, 66 | 1900, 1700/2100, 850, 700, 2300 |
How Do I Find My Nearest AT&T Cell Phone Signal Strength & Cell Tower Location?
There are a few ways to read your cell phone signal strength. How many bars you have is a good way to judge your signal, but it isn't always truthful. This is because different carriers use signal bars in different ways. The best way to check your signal is by looking at the dBm. Cell phone signal is measured in dBm, -50 dBm is great signal (full bars) and -120 dBm is poor signal.
Try these methods to check your phone's dBm:
Field Test Mode (Using Your Cell Phone)
For iPhone Users:
If you're an AT&T customer with an Intel chipset for iPhone, You can find your dBm by:
On phone mode, call: *3001#12345#*.
If you see the following options: Device Info, LTE, UTMS, and GSM, congrats, you can find your dBm.
Now:
Tap on LTE.
Tap on Serving Cell Mea.
The number next to RSRP0 is your dBm reading.
If you can't find your dBm using this method, try our recommended smartphone apps below.
For Android Users
To find your dBm on most android phones:
Access your Settings.
Tap on About phone.
Tap on Status.
Tap on SIM status.
Your dBm reading is under Signal strength.
Smartphone Apps
Downloading apps are a great way of finding your nearest cell tower and dBm readings. There are countless cell signal apps, luckily, we've curated a few we use regularly.
Below is our recommended apps for testing your cell phone signal speeds:
For iPhone Users:

Because Apple has hidden dBm readings, the next best thing to is to measure your internet speed which the following apps can do:

For Android Users:

These are comprehensive apps not only show your dBm but also noise (RSSNR) and quality (RSRQ).

Network Cell Info (Highly Recommended)

LTE Discovery (Highly Recommended)
We offer complete cell phone signal booster kits for any situation.
Need to Boost Signal for Another Carrier? Have a look at the Verizon Signal Booster Guide.
Contact Us
SignalBoosters.com is your go-to for the best range of cellular signal boosters, WiFi routers, range extenders and more. We specialize in custom made, consumer friendly kits, RF systems for cellular, public safety two-way radio, DAS, and WiFi. If you have any questions, or want to find out more about routers or signal boosters, don't hesitate to contact us at 1-800-470-6777.
If you have any questions, or want to find out more about C-Band, don't hesitate to contact us at 1-800-470-6777.
Interested in Learning More? Check Out Our Cellular Info Hub / WiFi Info Hub