iPhone Signal Boosters: How to Boost Your Signal
iPhones are arguably the most popular mobile phone brand in the US. As of May 2023 there are just under a whopping 150 million active iPhone units, taking up 30.4% of the market share across the 50 states. That's all very well, but if your iPhone can't get cell reception, then it's about as useful as a paperweight.
To make sure that your iPhone runs at is best in weak signal areas, you need a cell phone signal booster. These neat devices give the best chance at strong reception by boosting the signal outside your home, office, or vehicle.
We Fix Poor Cell Signal! See Complete Signal Booster Kits for Your Situation:
Attention business & property owners, installers and integrators
Take advantage of our system design and installation services. Learn more or call us for a free consultation: 1-800-969-8189.
---
Why Does My iPhone Have Bad Signal?
Cellular signals are radio waves, just like the AM/FM kind. Before they reach your iPhone, they can run afoul of all sorts of issues. Here are a few reasons why your iPhone may have poor reception.
Heavy cellular traffic: Congestion from high user volumes slows down data speeds and causes dropped calls.
Cell tower distance: Signal strength weakens as you move farther away from the carrier's tower.
Building materials: Materials like metal, concrete, and low-e glass interfere with cell signals indoors.
Natural barriers: Trees, hills, and valleys degrade signal strength, resulting in poor performance.
Weather conditions: Rain, humidity, and lightning can decrease iPhone reception.
Interference: Other devices, overlapping signals, and electrical interference disrupt cell signals.
How Do I Get Better Signal on My iPhone?
There are good practices to improve cell phone reception.But when comes down to the best option, it's a no-brainer: a cell phone signal booster.
90% of the Americans own a cell phone and 72% of them experience frequent dropped calls and disconnected service. Doesn't matter if you own an iPhone 6, 20, or whatever. Like an expensive car without gasoline. No matter how nice it looks or powerful it runs, without a drop of gas, it's stationery. No signal to your phone means you've got an expensive music player and calculator.
This isn't what you're paying your monthly bills for.
A cell phone signal booster is an FCC-certified device that takes weak cell signal, amplifies it, and rebroadcasts the signal to an area in need inside a home or car.
A cell phone signal booster is an FCC-certified device that takes weak cell signal, amplifies it, and rebroadcasts the signal to an area in need inside a home or car. 
Signal boosters work with all and 4G LTE networks on all iPhones and other smartphones, too. They work on all carriers (AT&T, Verizon, T-Mobile, and many more). All voice traffic is currently over 4G. 5G handles only data. Where 5G is not available data is transferred using 4G. Cell signal boosters will boost all 4G LTE and currently some 5G frequencies. They are one-time investments with no monthly fees, nor do they need landline broadband internet to work.
Do Those Cell Phone Booster Stickers or Apps Work?
No.
Repeat after me: No.
Putting an Apple logo sticker on a Dell doesn't make it a MacBook. Using a sticker or an app will not magically get you better signal. This is not a smartphone issue. This is about getting stronger incoming signal from the cell tower.
Will the "Secret" *3370# Code Boost My iPhone Signal?
The rumor goes that if you type *3370# or #3370# into your iPhone's keypad your signal will improve. Unfortunately, it is just that, a rumor. There are no secret codes that magically improve cell reception. The rumored codes are number sequences used to activate Enhanced Full Rate Codec for better sound quality on certain devices.
How Does a Cell Phone Signal Booster Work, Exactly?
Cell signal boosters get you better signals via three components:
The Outside Antenna pulls in your existing poor celluar signal.
The Amplifier (or Repeater) boosts cell signal with patented technology.
The Inside Antenna rebroadcasts the enhanced signal to an area in need. More bars to you.
Simply put, if there is any outside signal, a booster kit will amplify that signal and broadcast it throughout your home or office. The two main caveats are that it must be indoors, and there must be at least a sliver of signal outside. We wrote a comprehensive blog on how a signal booster works if you'd like a more detailed explanation, but if not, know that they will improve the reliability of your iPhone's signal.
What Are the Benefits of Signal Boosters?
The obvious benefit of installing a cellular amplifier is better reception. Aside from that you will enjoy whole bunch of extra advantages:
Eliminates dropped calls
Crystal clear voice quality
Quickly delivered texts
Faster uploads & downloads (streaming)
Reliable connection
Improved reception
Wider coverage
Reduced dead zones
More bars
Longer battery life
Just How Poor is My iPhone's Signal?
Believe it or not, there's no industry standard for cell phone bars. What is 1 bar or dot on Verizon might be 3 bars on AT&T, 2 or full bars on T-Mobile despite receiving the exact same signal and downloading and uploading at the exact same speeds. Each carrier has their own interpretation.
However, cell phone signals are accurately measured in decibel (dB) reading. Cell phone signals are radio waves (the AM/FM kind) and operate at a frequency of -50 to -110 dB. -50 dB is great signal, full bars. -110 dB is poor signal, a near dead zone.
How Do I Get Better Signal On My iPhone?
There are several ways to improve your signal, but the best is still a cell signal amplifier. That being said, you can try:
Toggle Airplane Mode
WiFi Calling
Update Your iPhones iOS and Carrier Settings
Remove Your iPhone Case
Switch to 4G Only
Change Carriers
Upgrade Your iPhone
We wrote a blog about how to improve your cell signal overall. Whatever you choose, a good outside antenna, an inside antenna, decent cabling and of course a strong cell signal booster will undoubtedly give you super cell signal reception boost. Our kits do just that!
What is included in a Cell Phone Signal Kit?
All iPhone signal booster kits are sold with everything you need to get better signal. They include:
An outdoor antenna communicates with faraway cell towers and refines the received signal.
Coaxial cables help bypass obstructive building materials.
An amplifier greatly enhances the signal.
Indoor antenna(s) then broadcast the amplified signal to provide improved coverage wherever needed.
Can iPhone Signal Boosters Boost iPhone 5G Signals
Kind of. 5G signal boosters boost certain 5G frequencies that operate on the 4G spectrum. Mostly these are the lower bands which don't have great data speeds. Mid- and high-band 5G, frequencies ranging from 1 GHz to 39 GHz, are the "good parts" of 5G. Currently a cell phone signal booster for an iPhone won't increase your data speeds dramatically.
That's not to say they never will. Although the odds of that happening soon are pretty slim. Most likely it will take several years for cell signal boosters to be able to boost 5G.
Do iPhone Cell Signal Boosters Work?
Yes. Real, FCC approved cell signal boosters or amplifiers work, if there is outside signal. We wrote a whole article on how and why cell phone signal boosters work. In fact, you can even get some amazing boosters for your car, truck or even boat. Good iPhone cell boosters will work with all apple devices that use cell signal, like iPads or even Macs if they take a SIM card. It will boost reception for any cellular device, across all US carriers (depending on the booster chosen).
Best iPhone Cell Signal Boosters for Homes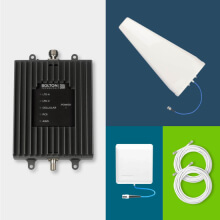 Buy It Now: $499.99
Overview of the Bolton Victory Yagi/Panel:
For Small to Medium Size Homes and Offices
Covers Up to 4,000 Sq Ft
Up to +72 dB Gain
Up to 26 dBm Uplink Power
Supports All Carriers Simultaneously
The Bolton Victory Yagi/Panel cellular booster is our top pick for boosting iPhone signal. Under optimal conditions, it can blanket up to 4,000 sq ft with stronger cell reception, which is more than enough for most people. Featuring up to 26 dBm uplink and up to 72 dB gain, it has incredible reach and can significantly amplify even weak cellular signal.
Strategically paired with the Bolton Quicksilver Outdoor Yagi Antenna, it works wonders in all sorts of locations. This antenna is designed to draw in signals from cell towers up to 5 miles away. Distance from the signal source will no longer be a problem.
While capable of boosting multiple carriers at the same time, you may only receive improved cell reception from one or two carriers. This is because the antenna is directional and needs to point at the closest cell tower that's powered by your preferred carrier. Regardless of carrier, it is the perfect companion to any iPhone with reception problems. If boosting multiple carriers is more important than coverage area, consider the Bolton Velocity Omni/Panel Cellular Signal Booster.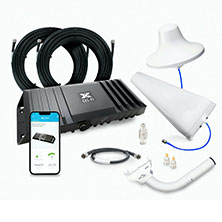 Buy It Now: Starting at $1,099.99
Overview of the Cel-Fi GO X:
For Large Homes and Offices
Covers Up to 15,000 Sq Ft
Up to +100 dB Gain
Amplifies One Carrier at a Time
The GO X by Nextivity is the most powerful songle carrier cell phone signal booster available. It's designed with up to 100 dB gain, the highest on the market. This unit can seriously make all your signal woes disappear. The caveat is that it can only boost one carrier at a time. Though, through the Cel-Fi WAVE app, you're able to switch between carriers as you need.
Super customizable, you have multiple outdoor antenna options to really maximize the amplifier's reach to your closest cell tower. Reach cell towers located up to 5 miles away with the Quicksilver Yagi, up to 10 miles away with the Arrow, or up to 20 miles away with the Long Ranger. No matter how weak your cellular reception is, any of these configurations will keep you connected, unless you're in a total dead zone.This is a gteat option is you live remotley and need better signal for your iPhone in your home.
Rated to cover up to 15,000 sq ft, it's best for large homes and small businesses. Indoor coverage will vary based on the strength of your outside signal.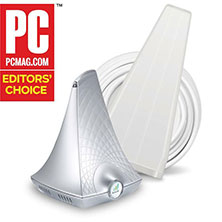 Buy It Now: $299.99
Overview of SureCall Flare 3.0:
For Small Homes or Spot Coverage
Covers Up to 3,000 Sq Ft
Up to +72 dB Gain
Up to 26 dBm Uplink
Supports All Carriers Simultaneously
2-in-1 Amplifier/Indoor Antenna Combo for Ease of Installation
The SureCall Flare 3.0 cellular booster packs a signal punch for the price. It includes a Yagi antenna, which is ideal for rural areas, and a sleek amplifier. The indoor antenna is built into the amplifier, making the Flare 3.0 one of the easiest units to install yourself.
With up to 72 dB gain and 26 dBm uplink, it offers good amplification and will work in bothe rural and urban settings. While power is similar to that of the Bolton Victory, the Flare 3.0 offers less coverage and a less powerful Yagi antenna. It's rated to cover 3,000 sq ft, but will likely only provide multi-room to spot coverage.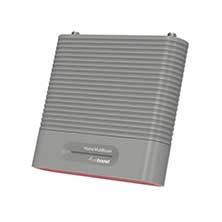 View Product Details
Overview of weBoost Home MultiRoom:
Boosts signal across all carriers up to +65 dB
Covers areas up to 5,000 sq. ft.
Cheaper and more versatile than Cel-Fi GO X, but less powerful.
The weBoost Home MultiRoom covers up to 5,000 square feet if your outside signal is perfect. Best for areas with good outside signal but need better signal indoors. Wth up to +65 dB of gain, its is not the most powerful init on the market, but it is very budget freiondly. If you are only needing spot coverage for
Best iPhone Cell Signal Boosters for Office Spaces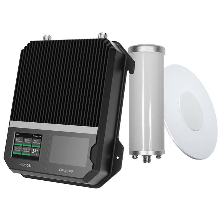 Buy Now For $1,699.99
Cover between 12,000 and 35,000 sq. ft.
Fully customizable – with manual control of frequency bands
FCC-approved and 5G capable. Works on all US carriers
Comes in 50 Ohm or 75 Ohm
Build the perfect office space with the weBoost Office 200. Powerful enough to always connect your business, it covers between 12,000 to 35,000* sq. ft in-building. If your outside signal isn't great, expect to cover less space, but the kit is customizable. You can add extra indoor and outdoor antennas for better signal. Keep your router online and your business connected no matter where you are. For some serious juice consider an Ultra High Gain or LPDA antenna.
Best iPhone Cell Signal Boosters for Vehicles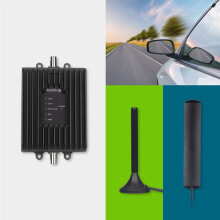 Buy Now For $399.99
For everyday vehicles
Up to +50 dBi gain
Includes Mighty Mount outdoor antenna
Boost 4G LTE signal and 5G ready
Simple installation
Works with all North American wireless carriers
The Velocity Vehicle cellular signal booster kit gets you better reception in your car anywhere on the road. This kit will boost 4G LTE cellular voice and data for every carrier. It is designed for all vehicles, from hatch backs to minivans to pickups. The included antennas increase the power of the cellular signal booster inside your car.
This particular model comes with a magnet mount antenna, making it ideal for your everyday cars, SUVs, and trucks. Installation is a breeze. For semis and heavier-duty trucks, consider the Velocity Trucker. It includes a tough OTR outside antenna featuring great reach, heavy-duty construction, and whistle-free wrap.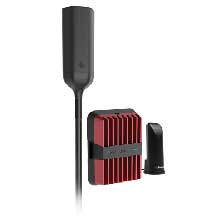 Buy Now For: $519.99
4G LTE Coverage for Entire RVs, tiny buildings, and multiple users
Works for all phones & cellular devices, all major US carriers.
Complete kit: all parts included, easy install
Up to 50 dB (decibels) gain and 29.5 dBm in uplink-output
This is a great option for both RVs and small buildings. It comes with everything you need to set it up (except a pole), which should take only a few minutes. The outside antenna can be mounted on a pole or any round pole-like structure.
Call Us for Better iPhone Reception
For best results, email us today (sales@signalboosters.com) and explain your situation and a certified signal booster expert will figure out the best options to help you. Or call us 1-800-568-2723 and listen to our sweet Texan accent.
And if you'd like to read more information about cell phone antenna repeaters check out our Support Center.
Interested in Learning More? Check Out Our Cellular Info Hub / WiFi Info Hub