Verizon Signal Booster Guide: Only The Best Products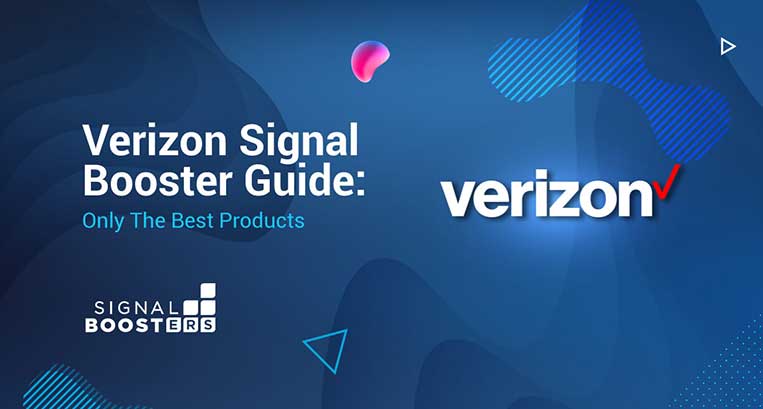 Is There A Problem With Verizon?
Verizon consistently ranks among the best networks in the nation. However, no matter how strong Verizon's signals may be, it is possible for them to weaken due to factors beyond their control.
Obstructions both manmade and natural can lead to disruptions to your service, impeding your access to the cellular service needed to get through the day. These include, but are certainly not limited to, the following factors:
Inside interference: Glass, metal, bricks, concrete, etc.
Outside interference: Buildings, tall trees, mountains and hills, etc.
At their worst, these obstacles can even lower your bars to zero! This happens with pretty much any service provider, though, due to the way signals work, so consumers shouldn't be too hard on their carriers when it happens.
For moments like these, it's a good idea to get a third party signal booster. Don't lose bars because of nearby structural issues blocking your ability to access your texts and emails or make phone calls. There are plenty of cell phone signal boosters out there to meet your home, office, or vehicle needs.
How You Can Improve Your Verizon Signal
There's no magic to a signal booster. They work by amplifying existing signals, making it easier for you to take care of everything you need to do with little worry. The strongest devices are carrier-specific, however, all-carrier models provide flexibility.
We've done all the research needed to find the best of the best signal boosters to help keep your Verizon service running smoothly. What follows is a listing of our recommendations for home, office, and vehicles.
---
Verizon Signal Booster for Home
Boosts 3G & 4G LTE indoors for Verizon
Up to 13,000 sq ft coverage
Up to +100 dB Gain
Easily the strongest Verizon signal booster available for your home.
Cel-Fi is the ONLY manufacturer that has carrier-specific models, which makes their devices provide the best and biggest coverage, with gains of +100 dB versus the +70 dB gains from their nearest competitors. A +30 dB gain difference is exponential in the world of radio frequency with power at 1000x!
One of the best features of the Cel-Fi is its lack of cables and wires, which makes setting up the two involved wireless units a breeze. Place one near a window for bringing in the signal, and the other on the opposite side of the house for broadcasting throughout the home.
As mentioned earlier, this device only works with the Verizon network. If you think you might change carriers at any point, you'll need to pick up a Cel-Fi unit for the new provider. Alternately, you can also get a less-powerful model that works with any carrier.
Boosts 3G & 4G LTE indoors for all carriers
Up to 8,000 sq ft coverage
Up to +72 dB Gain
Under perfect conditions, the Fusion Professional can provide you with whole building coverage in homes and offices up to 8,000 sq ft. Keep in mind that the in-building coverage area will vary based on your outside signal's strength, which is impacted by inside and outside interferences. To improve the communication between your devices and the Verizon tower, the Fusion Professional can double the signal power that is being transmitted through its unique 2XP technology.
If you're looking for an all-carrier signal booster rather than a carrier-specific one, SureCall offers among the best devices. It's a great investment for those who might be changing providers in the future.
Boosts 3G & 4G LTE indoors for all carriers
Up to 1,500 sq ft coverage
Up to +60 dB Gain
The Home Room is a great choice for spot coverage, apartments, or small homes and offices. If you have perfect signal outside your home, you can expect the booster to provide you with 1,500 sq ft of coverage. Most people who don't have perfect outside signal, get an average of 200 to 500 sq ft of coverage.
The kit includes an inside desktop antenna for a fast installation, a flat window cable so that you don't have to drill holes on the walls, and an outside panel antenna with multiple mounting options. One of those options includes an optional suction mount, allowing you to place the antenna on your window. Such flexibility makes this the perfect booster for people who can't drill holes through the wall and can't install an antenna on the roof.
---
Verizon Signal Booster for Vehicle
Boosts 3G & 4G LTE for Verizon
For any car, truck, RV, and boat
Up to +70 dB Gain
The GO+ is easily the strongest Verizon car signal booster on the market, providing gains of up to +70 dB. By contrast, the competitors usually only hit around +50 dB. With the download of the Cel-Fi Wave app, you're able to switch to another carrier such as AT&T, so you don't have to worry about replacing this device if you ever leave Verizon.
Boosts 3G & 4G LTE for all carriers
For any car, truck, and RV
Up to +50 dB Gain
The Fusion2Go Max is one of the top all-carrier vehicle signal boosters available to consumers. It features a durable, all-metal design, which makes heat dissipation a snap. Not to mention, the Fusion2Go Max uses Extended Range Technology™ (ERT) to maximize the communication between the devices inside the vehicle and the cell towers. You and your passenger will no longer have to worry about dropped calls, unsent text messages, an unresponsive GPS, and slow data
Boosts 3G & 4G LTE for all carriers
For any car, truck, and RV
Up to +23 dB Gain
When you're on the road, you definitely want to be as hands-free as possible if you have to communicate via smartphone. The weBoost Drive Sleek comes with a cradle mount, and it's capable of holding a variety of devices, including some tablets. In general, you should see gains of about +23 dB, so you can use this in most cars, trucks, and even RVs.
In general, you're going to see the best results when you use this signal booster in urban areas, but it'll still get the job done if you need to drive somewhere rural.
---
Verizon Signal Booster for Commercial Buildings
Boosts 3G & 4G LTE indoors for Verizon
Up to 200,000 sq ft coverage
Up to +100 dB Gain
The best, strongest Verizon signal booster for commercial buildings is roughly 1000x more powerful than the comparative leading all-carrier booster - a difference from +70 dB to +100 dB, in fact.
This model is made up of two parts:
A network unit (NU), which boosts existing signals for up to four coverage units.
A coverage unit (CU), which broadcasts these boosted signals signals in an area of up to 50,000 square feet. If you fully stack your Quatra, you're looking at a possible coverage of around 200,000 square feet.
Also of note, rather than coax cables, the Cel-Fi Quatara instead requires power of ethernet (PoE) Cat5e cables to enhance the quality of digital signals, as well as keep them running for longer than they would with analog equipment. Cable runs are about 3x the size of RG-6, LMR400, and similar cables.
Boosts 3G & 4G LTE indoors for all carriers
Up to 35,000 sq ft coverage
Up to +70 dB Gain
The WilsonPro 1100 is perfect for large homes and commercial buildings in extremely rural or urban areas. It's able to communicate with far distanced cell towers to provide you with the best possible signal no matter your location. In addition, the WilsonPro 1100 features XDR technology, which allows the booster to automatically adjust itself to current signal conditions to prevents it from being overloaded. With the WilsonPro 1100, you and your loved ones, guests, customers, or employees will never have to deal with poor cell phone signal indoors.
Boosts 3G & 4G LTE indoors for all carriers
Up to 25,000 sq ft coverage
Up to +70 dB Gain
The WilsonPro 70 Plus is one of the most popular commercial signal boosters available. It's designed to improve the cellphone signal in commercial offices and buildings up to 25,000 sq ft. But, don't let the fact that it's a commercial booster fool you into thinking that only businesses can take advantage of this powerful unit. The WilsonPro 70 Plus is also a great option for those who have large homes in rural, suburban, or urban areas.
---
Why It's Not 100% Verizon's Fault, It's Also Your Building Material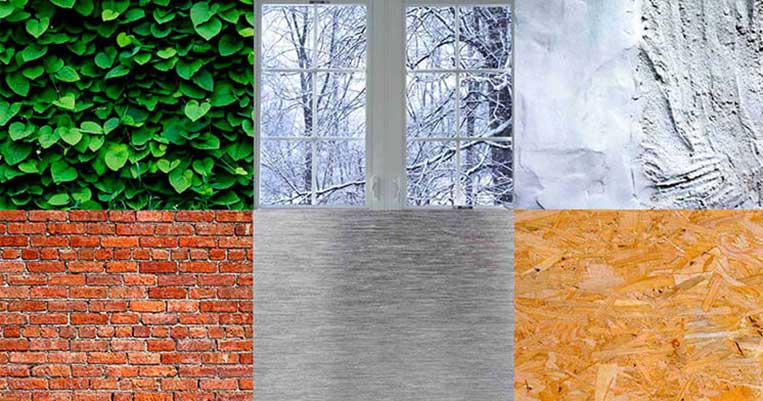 Indoor cell phone use accounts for the highest rate of dropped calls, given that 80% of all calls are made indoors. In fact, over 72% of instances of smartphone use indoors contends with some form of dropped calls, issues with voice quality, and/or slowed down internet.
The reason why?
Pretty much any network, Verizon included, can take a dip in quality because of the materials making up your home or commercial building. Distance between you and a cell tower will always be a factor in call, text, and internet quality, but outside obstructions like trees, tall buildings, mountains, and others can also lead to issues. The top reason why your calls are dropping is building materials and the layout of the building you're in, though.
The following are the 7 most common materials that can compromise your cellular access' quality:
Metal: Most types of metal will be problematic to your signal. The most common metals used in building - in no particular order - are brass, copper, aluminum, steel, iron, tin, etc.
Low-E- Glass: Although a great choice for making a building energy efficient and eco-friendly, it's also a major reason why you might deal with signal issues indoors.
Brick/Concrete: The thickness and durability of brick and concrete are capable of weakening - if not outright blocking - your service.
Plaster /Drywall: Although less of an issue than brick and concrete, plaster and drywall can still dampen your ability to make calls and texts.
Wood: Thicker plans of wood can function similarly to plaster and drywall when interacting with cell signals.
Thick Walls: Thick walls are at their most annoying nearest the center of the building.
Electromagnetic Interference: Standing too close to wireless machines, TVs, computers, and other devices that emit RF noise may also cause disrupts.
You could be standing immediately next to a cell tower and still experience some hiccups on your service due to these and other building materials. A signal booster is a worthwhile investment in most situations.
Verizon Frequency Bands
The following are the major Verizon frequency bands. Understand that local and statewide service can be updated.
Verizon Frequency Bands
Band 17
700 MHz
Band 13
700 MHz
Band 5
850 MHz
Band 4
1700-2100 MHz
Band 25
1900 MHz
---
Finding Your Verizon Cell Phone Signal Strength & Cell Tower Location
Bars are often your first indicator of cell phone signal strength, but they aren't always the most reliable. But they aren't the exclusive way to gauge access.
dBm is actually your best bet in seeing just how strong your cell phone is; this is the metric by which signals are measured. -50 dBm is the ideal, and should show up as full bars, and -120 dBm is the poorest possible signal.
Use the following methods to find your dBm :
Field Test Mode (Using Your Cell Phone)
For iPhone Users:
Thanks to Apple's removal of easy access to your dBm in Field Test Mode, it's a little harder to get a reading - especially since there's two different chipsets, Intel and Qualcomm.
This is how to find the dBm of your iPhone with the Qualcomm chipset for Verizon customers:
On phone mode, call: *3001#12345#*.
If you see the following options: 1x EV-DO and 1x, congrats, you can find your dBm.
Tap on 1x EV-DO.
The number next to RX AGC0 is your dBm reading.
Don't fret if you're unable to find your dBm this way. There are plenty of smartphone apps that can reliably give you all the info. Scroll below for a list.
For Android Users
Thanks to Android's open system, it's a little easier to find your dBm. Keep in mind that, despite these being general instructions, the details can vary based on who manufactured your phone. Luckily, hewing closely to these will still get you to where you need to be.
Access your Settings.
Tap on About phone.
Tap on Status.
Tap on SIM status.
Your dBm reading should be under Signal strength.
Smartphone Apps
Apps are extremely beneficial when you need information about the closest cell phone tower and dBm readings. Which ones to pick is another story, though. We have our favorites, though. You can't go wrong with any of the following apps to test your cell phone or smartphone signal speeds:
For iPhone Users:
For Android Users:
---
We offer complete cell phone signal booster kits for any situation:
Attention business & property owners, installers and integrators
Take advantage of our system design and installation services. Learn more or call us for a free consultation: 1-800-969-8189.
Need to Boost Signal for Another Carrier?
---
Contact Us
We're here to assist with any issues you might be experiencing with both Verizon signals and your Verizon signal booster. Contact us today.