Moving Past Bars: How to Get Exact Signal Readings in Five Minutes or Less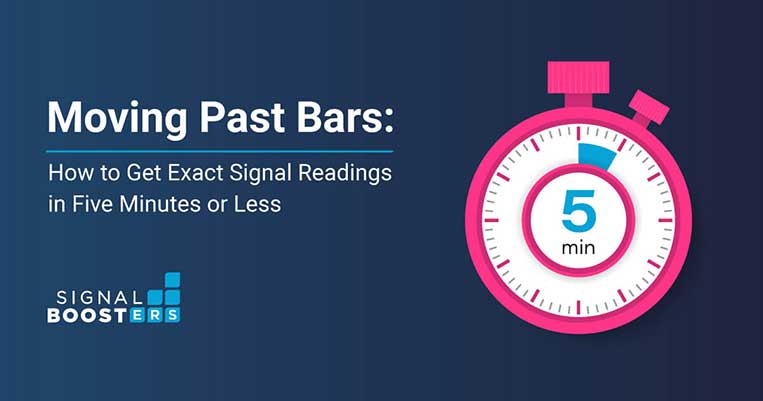 Trust Those Bars at Your Own Risk
We worship at the altar of strong and steady bars just as much as the next person. Signal strength is life! But for those moments when you want to get really technical and sound like a true scholar of the cell phone signal sciences, there is a better way.
We can improve your in-building cellular signal in any setting.
Attention business & property owners, installers and integrators
Take advantage of our system design and installation services. Learn more or call us for a free consultation: 1-800-969-8189.
---
Wait, so Signal Bars Don't Work?
The bars that measure signal strength on your cell phone aren't necessarily wrong, they're just not the most accurate, objective reading of the available signal. Why? Because they represent whatever measurement the carrier and/or phone manufacturer likes best.
Yep, they're totally subjective, which is why your T-Mobile friend might have 3 bars and your AT&T acquaintance has 4, while your Verizon phone says you're allowed no more than 2. This doesn't necessarily mean that any one of you has a better or worse signal, you're just being graded on a spectrum that's governed by aesthetics (or whatever else drives the phone people to make these decisions).
---
So Signal Bars are Liars, Now What?
First things first, if you're getting a signal, that's great news! But if your signal is weak or say, you're looking to install a cell phone signal booster somewhere in your home, office, or vehicle and want to pinpoint the best location, then the decibel reading is your best bet.
---
Measure Your Signal in Decibels (dBm)
Across all carriers, decibel readings, measured in decibel-milliwats (dBm) are the same, regardless of the way they choose to represent them as "bars". Cell phone signals are radio waves, travelling along certain frequencies, just like your favorite sports talk radio show.
In the realm of cell phone signal boosters, a dBm measurement can tell you the exact strength of a signal at any given location, which can be helpful when determining the amount of power an antenna is capable of amplifying.
A cell phone signal will fall within the range of -50 to -120 dBm.
A signal with a -50 dBm reading is excellent. We're talking full bars, however your carrier/phone manufacturer chooses to present it. -120 dBm, on the other hand, is basically a dead zone. I'd tell you to call for help, but it's not like your phone is working anyway, sorry.
---
How do I Measure dBm on my Phone?
Methods vary from phone to phone, so read on to find step-by-step instructions for your device.
iOS Users
iPhone with Intel chipset (iOS 11, iOS 12, iOS 13, and iOS 14)
Dial *3001#12345#*
Tap "LTE" on iOS 11-13 or "Menu" on iOS 14
Tap "Serving Cell Meas"
Your dBm is read as "rsrp0"
iPhone with Qualcomm chipset (iOS 11 & 12)
Dial *3001#12345#*
Tap "1xEV-DO"
Your dBm is read as "RX AGC0"
For any iPhone pre-iOS 11
Dial *3001#12345#*
Swipe down on the notifications bar
Your dBm can be found in the upper left-hand corner of the screen
If you're working with iOS 11 and 12, dBm readings have been hidden in iPhone field test mode. Depending on your iPhone chipset (Intel or Qualcomm) and your carrier (Verizon, AT&T, T-Mobile, or Sprint), you still may be able to find your dBm readings using this method. If you can't find your dBm using this process, then your carrier and chipset are likely incompatible. We'll keep you posted when new workarounds become available.
Android Users
The field test mode for Android devices varies by phone model and OS version, but it can usually be found under the Settings menu.
Typical sequence:
Tap "Settings"
Tap "About Phone"
Tap "Status" or "Network"
Tap "SIM Status"
Your dBm can be found under "Signal strength"
---
Have a phone that's not an iPhone or Android?
If you need help finding dBm values on your phone, call us at 1-800-470-6777 or send an email to sales@signalboosters.com.
---
What Do I Do With my dBm?
Once you've tracked down your dBm reading, it's time to start exploring your surroundings. Take your time walking around the property you're looking to assess. dBm readings can take up to 30 seconds to refresh, so don't rush.
The dBm should change based on your location, so keep track of which areas receive the best signal. This information can help you figure out the general direction of your nearest cell phone tower, and pinpoint the rooms inside your building that get the best reception.
Here's a general breakdown of common dBm signal ranges (and their possible bar assignations, depending on carrier/phone manufacturer):
Great: -50 to -79 dBm (4 to 5 bars)
Good: -80 to -89 dBm (3 to 4 bars)
Average: -90 to -99 dBm (2 to 3 bars)
Poor: -100 to -109 dBm(1 to 2 bars)
Very Poor/Nonexistent: -110 to -120 dBm(0 to 1 bar)
Hopefully, you can find a spot or two that are close to -50 dBm!
---
What if My dBm is Lower than -95?
Please accept our condolences for your weak signal. Fortunately, we can direct to a wide selection of cell phone signal boosters to get your phone and smart devices back on track! The right signal booster can capture your weak signal, amplify it, then broadcast that newly boosted signal straight to your phone and devices for crystal clear coverage.
---
Contact Us
Signal Boosters is a leading provider of cell phone signal boosters for homes, vehicles, and commercial buildings. We specialize in consumer-friendly kits as well as customized RF systems for cellular, public safety two-way radio, DAS, and WiFi.
We're here to assist with any issues you might be experiencing with poor cell service. Contact us today, or call us at 1-800-470-6777.