A Guide To Our Best T-Mobile Signal Boosters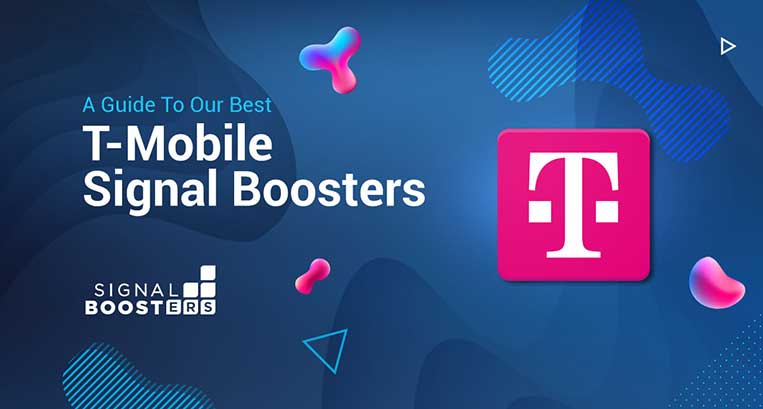 T-Mobile, the nation's only Uncarrier Service, provides low-cost cell phone plans for the masses (regular people like you and me). But even with some of the most affordable rates in America, if you're not getting any signal on your cell phone, then no T-Mobile pricing plan is cheap enough.
And it's not entirely T-Mobile's fault. Here's an explanation:
Cell phone signals are radio waves, the AM-FM kind. They work wonders by covering long and far distances, but they're easily stopped by, well, almost anything.
First it has to fight through outside obstructions such as tall trees, hills, mountains, and tall structures such as buildings and other urban development.
Then it has to squeeze through building material such as thick concrete, wood, brick, metal glass, radiant barrier (aka energy efficient material), and other conductive material.
So by the time your signal reaches your smartphone, it's weak. This leads to poor reception and coverage, low bars, and you holding up your phone in the air.
But everything changes with a T-Mobile Signal Booster.
They're cell phone signal boosters that pull in your existing weak cell signals, amplifies it, and then rebroadcasts the stronger signal to an area in need. So instead of missing out on potential signal, you're getting back the signal strength and more bars you're already paying for and should be getting.
We offer complete cell phone signal booster kits for any situation:
Attention business & property owners, installers and integrators
Take advantage of our system design and installation services. Learn more or call us for a free consultation: 1-800-969-8189.
>
And just because you're close to a T-Mobile cell tower doesn't guarantee better signal either. Because it still has to enter your home and many of today's energy-efficient homes use material that block or reduce cell signal. And course, if you have any significant distance from a cell tower, then you're praying for that one bar of 4G or 5G to get you through the day and night (if you get any signal at all).
That's why a T-Mobile Signal Booster from weBoost is your all-in-one solution for more bars, better connection, and constant signal.
They're state-of-the-art FCC-devices that boost LTE & 4G LTE signals your home or car, extending your T-Mobile cell phone coverage. It's that reliable and easy.
Our cell phone signal boosters are approved for us by T-Mobile. Even better, they are also compatible with AT&T, Verizon, and other major carriers in case you change carriers in the future. They work on ALL phones ( iPhone, Android, Samung, LG, etc.). In fact, they work with all cellular devices. If it uses LTE, 4G, or 5G a signal booster will do the job.
If you're terribly suffering from dropped calls, missed calls, poor call quality, and dreadfully slow internet, then it's time to invest in your convenience, play, business, and even emergencies. Invest in yourself.
Whether you're in a remote rural area or the big city, our recommended T-Mobile cell phone boosters get the job done. They'll extend your T-Mobile network signal for 1-2 rooms up to commercial coverage (10,000 sq ft) depending on your model and outside signal. From low cost to pro grade, from cars to whole home coverage, there's a solution for everyone.
A T-Mobile booster from weBoost is the one T-Mobile customers buy and recommend. A trusted and award-winning brand for over 10 years. Whether it's a cabin or farm in the valley surrounded by mountains, whether it's a multistory metal building in the big city, or maybe just an RV in the park, weBoost cell phone signal boosters are a necessity when you need to know how to boost your cell phone signal.
Signal Boosters is here to help you select the right T-Mobile signal booster. There's absolutely no risk to you. Free consultation (ask us anything) with our US-based customer support (sales@signalboosters.com). Free shipping. 30 Day test drive. If you're not happy with your T-Mobile cell booster, simply call or email us, and you'll get your money back. Guaranteed.
If you are satisfied, we provide lifetime technical support and a 2 year warranty. And again, our US-based customer support is second to none. We understand there's no one-size-fits-all strategy and we listen to all the details before suggesting ways to get you better signal.
Below are the six most popular T-Mobile signal boosters, ranged from good, better, and best. These are ranked in two categories, cell phone booster for home and cell phone booster for car. Why be a servant to the cell tower? Bring the cell tower inside your home!
T-Mobile Cell Phone Signal Booster For Homes and Offices
The Bolton Technical Victory Yagi/Panel is the most powerful multi-carrier cellular booster in its class. It features up to 72 dB gain and incredible uplink power. Your T-Mobile signal will significantly improve wherever you need it. Under best conditions, it can blanket up to 4,000 sq ft with strong, reliable T-Mobile reception. Equipped with the Bolton Quicksilver outdoor antenna, it absolutely dominates in areas with weak outside signals and few towers. Its sister, the Victory Omni/Panel, is better for those with decent outside signal and multi-carrier coverage needs.
Overview of the Victory Yagi/Panel
Best for small to midsize homes
Boosts talk, text, and 4G/5G data
Up to 4,000 sq ft coverage
Up to +72 dB gain
Includes highest quality cellular antennas and cables
$499.99
The Cel-Fi GO X is the most powerful T-Mobile cellular booster you can get. It's capable of covering up to 15,000 sq ft with reliable T-Mobile reception. Since it can only boost one carrier at a time, it features the highest gain on the market, up to 100 dB gain.That's about 1000x more powerful than the competition. Even with weak outside cell signal, your cellular devices will receive superior T-Mobile connectivity. Super customizable, you can pair it with different cellular antennas to maximize performance in any signal environment.
Overview of the Cel-Fi GO X
4G/LTE/5G coverage up to up to 15,000 sq ft
Boost one carrier at a time
Most powerful amplifier
Up to 100 dB gain
Multiple antenna options for any signal situation
Starting at $1,099.99
The HiBoost Home 4K is a great investment for spot coverage or whole building coverage in homes or offices no larger than 4,000 sq ft. The amount of coverage the booster provides will vary based on the strength of your outside signal. Under perfect conditions, it can cover areas up to 4,000 sq ft, but in areas with ok to weak signal, you can expect about 2,500 to 1,000 sq ft of coverage. Not to mention, it features the HiBoost Signal Supervisor app, which allows you to easily monitor the booster's performance and troubleshoot it from the palm of your hand.
Overview of the SureCall Home 4K:
Boosts 4G/LTE/5G Indoors for All Carriers
Up to 4,000 Sq Ft of Coverage
Up to +60 dB Gain
$399.99
T-Mobile Signal Boosters For Car
The Velocity Vehicle cellular signal booster is one of the best all-carrier vehicle signal boosters around. With high gain and high-quality cellular antennas, it gets you better T-Mobile reception in your vehicle anywhere on the road. Passengers who don't use T-Mobile will also enjoy a more reliable connection.
While this particular kit is best for your everyday vehicles, additional configurations are available to fit any vehicle.
Overview of the Velocity Vehicle
Boosts talk, text, and 4G/5G data
For everyday cars, trucks, and SUVs
Up to +50 dB gain
Simple installation
Works with all North American wireless carriers
$399.99
Hands down, the Cel-Fi GO M is the most powerful T-Mobile vehicle cell phone signal booster available. Most vehicle signal boosters provide gains up to +50 dB, this model provides gains up to +70 dB, making it an excellent performer in rural and urban areas. However, it is carrier-specific, meaning only one carrier can be boosted at a time. If at any point in time you want to temporarily or permanently change the carrier that is being boosted, simply download the Cel-Fi Wave app to help you do just that.
Overview of the Cel-Fi GO+:
Boosts 4G/LTE/5G for T-Mobile
For Cars, Trucks, RVs, and Boats
Up to +70 dB Gain
$599.99
The weBoost Drive Sleek is the most cost-effective vehicle signal booster for single users. It features an adjustable cradle designed to be used with any sized smartphone or small table, making it perfect for hands-free calling and a consistent GPS connection while on the road. Your device must be sitting in the cradle to receive a signal boost. With its maximum gain of +23 dB, you are guaranteed to experience fewer dropped calls and maintain a reliable internet connection on the go.
Overview of the weBoost Drive Reach:
Boosts 4G/LTE/5G for All Carriers
For Cars, Trucks, and RVs
Up to +23 dB Gain
$199.99
T-Mobile Signal Boosters For Large Building
The Cel-Fi QUATRA is the most powerful T-Mobile signal booster for commercial use. Not only will it improve T-Mobile signals, but it's also compatible with AT&T, Verizon, and/or Sprint. Through the Cel-Fi Wave app, you can manage the cell phone carriers you want to boost – all carriers, one carrier, or a mixture of carriers. Signal boosters that work with multiple carriers tend to only provide gains of around +70 dB, whereas this single or multi-carrier unit will provide gains up to +100 dB. That's about 1000x more powerful! Keep in mind, though, that each carrier has a dedicated maximum gain when multiple carriers are being boosted simultaneously.
Unlike most commercial signal boosters, the Cel-Fi QUATRA come in two parts:
Network Unit (NU) – Boosts existing signals. 1 NU supports up to 4 coverage units to provide a maximum coverage area of up to 50,000 sq ft.
Coverage Unit (CU) – Broadcasts the boosted signal. To achieve up to 200,000 sq ft of coverage, 4 NUs and 16 CUs connected to a small cell will be needed.
The Cel-Fi QUATRA uses PoE (power over ethernet) through Cat5e and Cat6 cables rather than coax cables, increasing digital signal quality and sustainability. As a result, you'll get a much more reliable boost than you would with analog cables.
Overview of the Cel-Fi QUATRA for T-Mobile:
Boosts 4G/LTE/5G Indoors for T-Mobile
Up to 200,000 Sq Ft Coverage
Up to +100 dB Gain
Final Price Depends on Your Specific Building Design
The weBoost for Business Office 200 is a powerful signal booster designed to improve T-Mobile, AT&T, Verizon, and Sprint signals simultaneously. It's able to communicate with far distanced towers to provide you with the best possible signal in large residential buildings and commercial buildings no larger than 35,000 sq ft. Not to mention, it features XDR technology, which allows the booster to automatically adapt to any changes in outside signal to prevent it from being overloaded.
Overview of the weBoost for Business Office 200:
Boosts 4G/LTE/5G Indoors for All Carriers
Up to 35,000 Sq Ft Coverage
Up to +70 dB Gain
Custom configuration packages start at $1,699.99
The weBoost For Business Office 100 is the most popular enterprise-level cell phone signal booster capable of servicing offices and commercial buildings up to 25,000 sq ft. Even though it's classified as a commercial booster, it can still be used in residential buildings with poor T-Mobile signal indoors. And with its +70 dB gain of amplification, it can greatly improve your in-building and 4G/5G LTE signals for any carrier.
Overview of the weBoost For Business Office 100:
Boosts 4G/LTE/5G Indoors for All Carriers
Up to 25,000 Sq Ft of Coverage
Up to +70 dB Gain
Starts at $1,199.99
If you are looking for a signal booster for a different carrier, have a look at our Verizon and AT&T Boosters here.
---
Signal Boosters is a leading provider of cell phone signal boosters for homes, vehicles, and commercial buildings. We specialize in consumer-friendly kits as well as customized RF systems for cellular, public safety two-way radio, DAS, and WiFi.
We're here to help with any issues you might be experiencing with poor cell service. Contact us today, or call us at 1-800-470-6777.
Interested in Learning More? Check Out Our Cellular Info Hub / WiFi Info Hub