How to Set Up a Great Cellular Data Network, No WiFi Needed
Setting up a cellular data WiFi network should begin with buying a good cell phone signal booster kit. It is completely possible to have fast, stable, cell-based WiFi if your cell signal is strong. Weak outside signal will result in worse inside signal and will slow data speeds. Let us help you build your cellular data WiFi network correctly, with the best hardware from the beginning, for great signal and super-fast data speeds.
We Fix Poor Cell Signal! See Complete Signal Booster Kits for Your Situation:
Attention business & property owners, installers and integrators
Take advantage of our system design and installation services. Learn more or call us for a free consultation: 1-800-969-8189.
Why Use Cellular Data for WiFi?
In recent years, cellular networks have taken great strides toward becoming viable long-term internet options. Both 4G and 5G are fast and reliable when you have good cell signal strength. 4G is available nationwide and the number of frequencies you can get 5G on is increasing, creating more of a balance between speed and coverage.
Both are great alternatives to traditional broadband internet. When you combine 5G or 4G with WiFi 6, you have a potential gigabit internet connection capable of doing anything you can dream of. Cellular data can provide you with an almost coast-to-coast source of cheap, stable, fast internet.
Cellular data plans with carriers like Verizon or T-Mobile are cheaper than cabled ISP plans, and often more transparent. Because of this many businesses and homes are turning to cellular data as a real alternative to a cabled internet connection. A Verizon study showed that 80% of business decision-makers feel that 5G will help their company to grow and offer new opportunities. However, 5G is still not available country-wide, or on enough frequencies, for many people to be able to use it. If you don't have 5G, 4G is also a perfect choice for fast, cheaper, home or office WiFi.
Cellular vs Traditional WiFi, Which Is Safer?
No one is ever 100% safe from potential hackers, but cellular data WiFi networks are your safest option. Cell carriers use several security measures, like making sure your identity is always authenticated and protected, every time you use the internet. Carriers also employ white hat hackers (ethical hackers) to try and find holes in their security.
Private WiFi networks like the ones you use at the office or home have various encryption layers to protect data. Public WiFi networks are often not encrypted. Encryptions are safety measures used to scramble or change data messages. These protect any information stored on all Internet of Things (IoT) devices. Even though private WiFi uses these encryptions, they are much easier to hack than a cellular network.
How Do You Use Cellular Data For Your WiFi Network?
You can use either 5G or 4G for your SME or home WiFi. To use cellular data for WiFi you will need a data plan from your chosen carrier, as well as some hardware: a cell phone signal booster, a WiFi router, and a good antenna. Once you have improved your inside cell signal with a signal booster, you can then set up the router. Adding a good outside antenna to your system makes sure that you get as much signal to your booster, and in turn to your router, as possible.
First Things First: Signal Boosters for WiFi Networks
The first thing to do before you even begin looking at a cellular data WiFi network is to check how good your inside cell signal is. We all know the frustration of the little spinning circle, frozen zoom calls, and eternally loading websites. Weak outside signal means weaker inside signal and slower connection speeds. Signal can also be weakened further by building materials and the distance to your nearest tower.
To fix this you need a good cell phone signal booster. With a signal booster, you can be further away from your nearest tower and still have great inside cell signal. Our cell phone signal boosters are 5G ready, but where that isn't strong enough, they will switch to the highest 4G signal available.
Begin Building Your Cellular Data WiFi Network with One of These Home Boosters:
Top Home Cell Signal Booster Kit Recommendations
Overview of the Bolton Victory Yagi/Panel:
For Small to Medium Size Homes and Offices
Covers Up to 4,000 Sq Ft
Up to +72 dB gain
Up to 26 dBm Uplink Power
Supports All Carriers Simultaneously
The Bolton Victory Yagi/Panel cellular booster is our top pick for rural areas. Under optimal conditions, it can blanket up to 4,000 sq ft with stronger cell reception, which is more than enough for most people. Featuring up to 26 dBm uplink and up to 72 dB gain, it has incredible reach and can significantly amplify your existing weak cellular signal.
Strategically paired with the Bolton Quicksilver Outdoor Yagi Antenna, it works wonders in remote locations. This antenna is designed to draw in signals from cell towers up to 5 miles away. Distance from the signal source will no longer be a problem.
While capable of boosting multiple carriers at the same time, you may only receive improved cell reception from one or two carriers. This is because the antenna is directional and needs to point at the closest cell tower that's powered by your preferred carrier. If boosting multiple carriers is more important than coverage area, consider the Bolton Velocity Omni/Panel Cellular Signal Booster.
Pros:
Cons:

Meets most people's coverage requirements.
Offers max gain allowed by the FCC for multi-carrier boosters, maximizing amplification.
Has incredible uplink, allowing greater reach to cell towers.
Equipped with powerful Yagi antenna that outperforms the competition.

Can only boost one or two carriers at a time because of directional antenna.
Will not cover your entire home if the outdoor signal is extremely weak.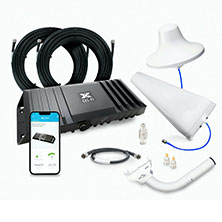 Buy It Now: Starting at $1,099.99
Overview of the Cel-Fi GO X:
For Large Homes and Offices
Covers Up to 15,000 Sq Ft
Up to +100 dB Gain
Amplifies One Carrier at a Time
The GO X by Nextivity is the most powerful cell phone signal booster for remote areas available. It's designed with up to 100 dB gain, the highest on the market. This unit can seriously make all your signal woes disappear. The caveat is that it can only boost one carrier at a time. Though, through the Cel-Fi WAVE app, you're able to switch between carriers as you need.
Super customizable, you have multiple outdoor antenna options to really maximize the amplifier's reach to your closest cell tower. You can reach cell towers located up to 5 miles away with the Quicksilver Yagi, up to 10 miles away with the Bolton Arrow LPDA, or up to 20 miles away with the Bolton Long Ranger. No matter how weak your cellular reception is, any of these configurations will keep you connected, that is unless you're in a total dead zone.
Rated to cover up to 15,000 sq ft, it's best for large homes and small businesses. Indoor coverage will vary based on the strength of your outside signal.
Pros:
Cons:

Capable of providing whole-home coverage.
Features highest amplification gain on the market.
Is extremely customizable to fit any signal environment.
Comes with an app that lets you monitor and manage performance.

On the pricier side.
Only amplifies one cellular provider at a time.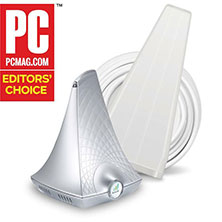 Buy It Now: $299.99
Overview of SureCall Flare 3.0:
For Small Homes or Spot Coverage
Covers Up to 3,000 Sq Ft
Up to +72 dB Gain
Up to 26 dBm Uplink
Supports All Carriers Simultaneously
2-in-1 Amplifier/Indoor Antenna Combo for Ease of Installation
The SureCall Flare 3.0 cellular booster packs a signal punch for the price. It includes a Yagi antenna, which is ideal for rural areas, and a sleek amplifier. The indoor antenna is built into the amplifier, making the Flare 3.0 one of the easiest units to install yourself.
With up to 72 dB gain and 26 dBm uplink, it offers good amplification and reach to distant cell towers for a booster of its kind. While power is similar to that of the Bolton Victory, the Flare 3.0 offers less coverage and a less powerful Yagi antenna. It's rated to cover 3,000 sq ft, but will likely only provide multi-room to spot coverage.
Pros:
Cons:

Budget-friendly.
Offers max gain allowed by the FCC for multi-carrier boosters, maximizing amplification.
Has incredible uplink, allowing greater reach to cell towers.
Features 2-in-1 Amplifier/Indoor making installation a breeze.

Paired with Yagi antenna that's slightly less powerful than the competition.
Can only boost one or two carriers at a time because of directional antenna.
Top Vehicle Cell Signal Booster Kit Recommendations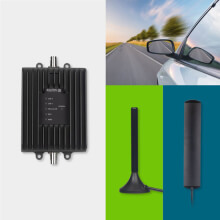 Buy It Now: $399.99
Overview of the Velocity Vehicle:
For Cars, Trucks, and RVs
Up to 50 dB Gain
Support Multiple Carriers Simultaneously
Easy Install
The Velocity Vehicle is carefully crafted to keep drivers and passengers connected in the most difficult environments. It's built with the highest gain and uplink. No matter where you drive, as long as there is a sliver of cellular signal, the Velocity Vehicle will keep all devices connected.
This particular model comes with a magnet mount antenna, making it ideal for your everyday cars, SUVs, and trucks. Installation is a breeze. For semis and heavier-duty trucks, consider the Velocity Trucker. It includes a tough OTR outside antenna featuring great reach, heavy-duty construction, and whistle-free wrap.
Pros:
Cons:

Affordable yet powerful.
Sleek design.
Offers max gain allowed by the FCC for multi-carrier vehicle boosters, maximizing amplification.
Has incredible uplink, allowing greater reach to cell towers while on the go.

This configuration is not ideal for semis, heavy-duty trucks, RVs, or overlanders. Though, optimized kits for those vehicles are available.
Overview of the weBoost Drive Reach:
For RVs, Cars, Trucks, and Boats
Up to 50 dB Gain
Support Multiple Carriers Simultaneously
Easy Install
The weBoost Drive Reach is weBoost's most powerful in-vehicle cell signal booster for cars, SUVs, trucks, and minivans. Features increased uplink than previous generations, users can get signal that is 2x farther from towers for twice the signal strength. Dropping calls and losing navigation connection will all be a thing of the past while driving on remote roads or highways.
Cellular antennas will vary depending on the Drive Reach configuration that best meets your needs.
We wouldn't recommend anything weaker than the Drive Reach for rural areas.
Pros:
Cons:

Sleek design.
Offers max gain allowed by the FCC for multi-carrier vehicle boosters, maximizing amplification.
Features higher gain than previous weBoost generations.

This configuration is not ideal for semis, heavy-duty trucks, RVs, or overlanders. Though, optimized kits for those vehicles are available.
What Does Cell Phone Signal Booster Gain Mean For WiFi?
All the above boosters mention how much gain they have. But what does this mean for a cell-based WiFi network?
Gain is how much a cell phone booster increases signal under perfect conditions. If your signal booster has +72 dB of gain, it can increase your inside signal by up to that much. Imagine your outside 5G signal is -150dB. With a +72dB booster, it can be increased to -78dB. This is a much better signal for a fast WiFi network. So, you need to choose which booster to use depending on how strong your outside cell signal is, and how much gain you need.
Best Wireless Cellular Routers for WiFi
Our next step in building a cellular WiFi network is to choose your wireless router. Routers "rout" internet traffic between your devices and the modem, telling it where to go. For example, if you type in www.signalboosters.com, your router will send a message to the website's server and receive data back. This is how your device connects to the correct site.
A modem is a device needed to create the actual connection. Once the data is routed by the router, the modem sends it on its way via cable, phone line, or cellular connection. Some routers come with built-in modems and are called gateways. We offer several choices of routers to suit your budget, a few with built-in modems and a few as stand-alone devices. Some of our routers boost only 4G or LTE, but most offer gigabit 5G to WiFi 6, making them some of the fastest internet options on the market.
Best Budget Option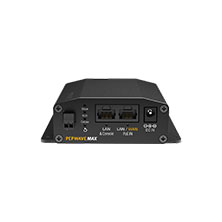 Starting at $349.99
100 Mbps download speed 
Multiple connection options 
Good for home WiFi
Comes in 50 Ohm or 75 Ohm
Choose from CAT7, CAT6, LTE/WiFi, and pure LTE Models. DC and AC power
Best Medium Option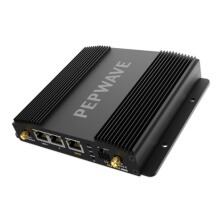 Buy Now for $999.99
Multi-Core CPUs
Gigabit 5G to WiFi 6
Switch 4G where 5G is not available
800% faster speeds than the original BR1 Classic
Several WANs and a LAN port
Best Luxury Power Option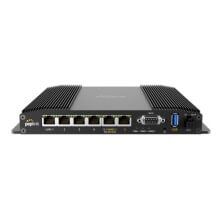 Buy Now For $2,899.99
Multi-Core CPUs
2x 5G cellular modems to dual-band WiFi 6
Seamlessly integrates into existing SD WAN
Get 400Mbps uplink and 200Mbps downlink
Built-in eSIM and SIM Injector support
2.5 Gbps LAN port with PoE
Dual Ethernet WANs, Dual 5G/LTE, USB WAN, and Wi-Fi WAN
Perfect for businesses with more advanced needs
WiFi Add-Ons for Extra Juice
There are several products you can add to your WiFi setup to give you even more power. The most important of these is a great antenna. Most of the time the antennas that come with a router will get the job done, but not in weak signal areas. A good antenna will let you connect to even distant cell towers, and greatly boost the signal strength of closer ones.
Best for Extra 5G Power
2 X 2 High Gain MIMO Antenna
Ideal for direct connection to a MIMO cellular router, modem, or hotspot
5G Ready: Covers 617-3800 cellular frequencies
Up to +11 dBi of gain
Great for 5G home or office WiFi network
Yagi antennas are the perfect way to get good signal down to your booster. They will work in urban, suburban, or rural areas. Watch your internet speeds shoot up when you add one of these to your cellular data WiFi setup.
Best for Suburban and Urban Signal Boosting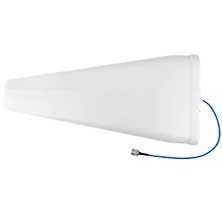 Buy Now For $60.95
Yagi directional outdoor antenna
For 50 Ohm Signal Boosters
High efficiency and compact design
Up to +11 dBi gain
Improve signal booster effectiveness and coverage area
If you are rural and still need a good cell signal, we suggest this bad boy. The Arrow is a powerful LPDA antenna capable of receiving 4G signal from towers over 5 miles away. Keep your WiFi connected even if you live out in the sticks.
Best for Extremely Weak Signal Areas
SKU: BT974921
Over 5 miles of range
Superior gain: up to +12 dB
N-Female connector ports, 50 Ohm
Works across the 698-2700 MHz cellular bands
Weatherproof, all-weather tested
And there you have it. The key to building a strong 5G WiFi network is the right hardware. It's important to remember that the outside signal strength will affect your WiFi's speed, so build your cellular data WiFi network with that in mind.
If you need help deciding which booster, router, or WiFi add-on is best for you, how to install it, or simply want to chat about WiFi, we can't wait to hear from you! Give us a shout on 1-800-470-6777 or email sales@signalboosters.com.
Interested in Learning More? Check Out Our Cellular Info Hub / WiFi Info Hub