5G Migration: Everything That You Need to Know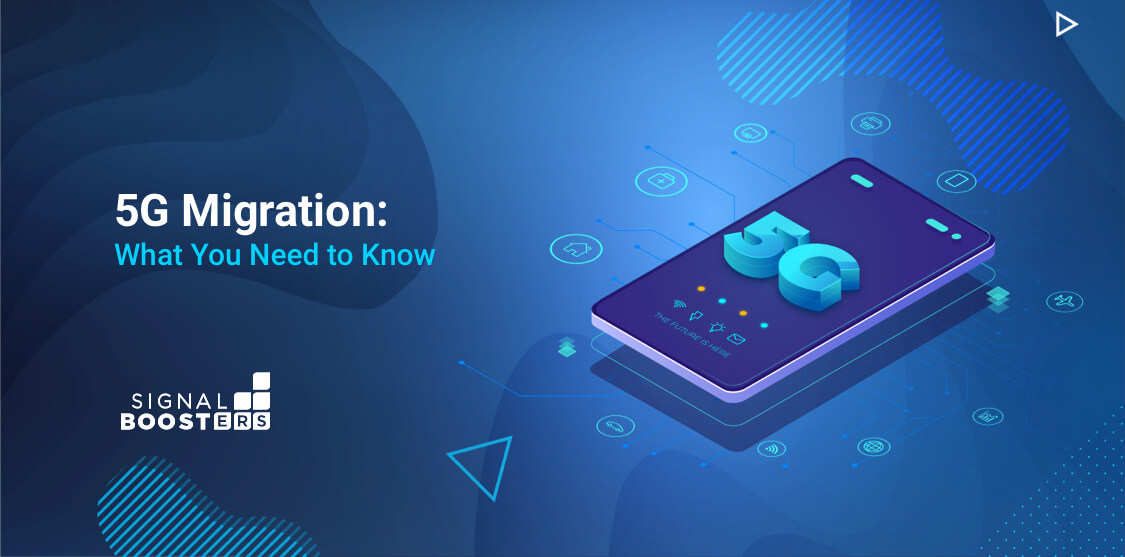 As progress rolls on, we end up using technology that even a few years ago seemed too new and even a bit scary. 5G is one such example. By the end of 2022, 20% of all mobile traffic will be on 5G. How can you get on board cellular's new high-speed data highway? Will my cell phone signal booster continue to work?
We fix poor cell signal! See complete signal booster kits:
Attention business & property owners, installers and integrators
Take advantage of our system design and installation services. Learn more or call us for a free consultation: 1-800-969-8189.
What is 5G?
5G stands for 5th generation mobile network. 1G was introduced in the 1980s and was purely for analog voice traffic. 2G came out in the early 1990s and offered the exciting new world of digital voice. Remember those Nokia phones with Snake, and whose batteries will outlive us all? Those were 2G. Revolutionary at the time, it was the start of commonplace mobile technology as we know it today. Then 3G brought us mobile data in the early 2000's. With it came a slew of message apps like Blackberry messaging and mobile email. 4G followed in 2010, and now, over a decade later, we have 5G.
5G offers the speeds the we need to stream content with no interruptions. Think of 2G like a back country road. Not much traffic can flow along it, and definitely not at a decent speed. 3G offered a two lane highway, 4G six lanes, and 5G is twelve lanes. Data can move on it incredibly fast with reduced latency, opening up exciting possibilities.
5G C-Band
Although 5G is astonishingly fast, its signal is not very strong. 5G signal can be interrupted by buildings, mountains and trees. The farther away from a cell tower you get, the worse the issue. To counteract this, carriers have bought up chunks of what is called the C-Band.
The C-Band is the "goldilocks" of frequencies. Not too high, not too low. Higher frequencies (millimeter waves or Super Data Layer) are very fast, but not very strong, and lower frequencies (called Coverage Area) are strong, but don't carry much data. C-Band falls in between, and can carry 5G farther distances. It will be found in both rural and urban areas, whereas 5G millimeter wave can only be found in urban areas.
How will 5G affect you?
You likely won't even notice that you've switched over if you have a 5G enabled phone. Your phone will automatically use the best signal, be it 5G or 4G LTE. For now, 5G is mostly in urban centers. If you are outlying, you're probably still 4G.
Voice calls are a different story. As yet, Voice over 5G is not supported by carriers, though they tout voice as an essential part of their packages. Voice over LTE (VoLTE) remains the main channel for talking to anyone, no matter where in the country you are. In other words: 5G is data only for now, and you still use 4G to make calls.
Of course, if you don't have a 5G enabled phone, you will need to get one in order to use the network. Many of the major networks such as Sprint, T-Mobile, AT&T and Verizon all have 5G in place already. In 2019, 10 million 5G connections were made. It is expected that by 2023 that number will increase to a whopping 1.01 billion. In the USA alone 5G is expected to be used by 186 million people, totalling 32% of mobile connections by 2023. However, most phones are actually not 5G capable yet, despite what many Americans believe.
What about Carrier 5G Migration?
Carriers have been building their 5G networks for years. A lot of C-Band infrastructure is already in place and just needs to be switched on, with more continuing to be built out. As more phones become 5G enabled, the older generation of networks will be. As it is, 3G no longer exists in America. A lot of this has to do with freeing up frequencies for 5G and other new technologies. There are only so many wavelengths to broadcast on. We don't want to dedicate them to obsolete tech. The rest of the world is following the same blueprint.
IoT devices don't need the super-fast speeds of the 5G network, and still operate mostly on 4G and 4G LTE. LTE stands for Long Term Evolution, and like its name will be around for a while.
The Future of 5G is Bright
With reduced latency on the 5G network, its future is exciting. Latency is how long it takes for a data package to travel between devices. For example, how long it takes for an instruction to reach a drone from your phone. Some uses include remote surgery, autonomous vehicles, and agriculture. Imagine a fleet of unmanned harvesters responding to remote controllers via mobile app. 5G can also support many more devices at the same time.
Getting the Best out of The 5G Network
To make the most of the incredible speeds being offered on 5G, you need to have good signal. As mentioned, 5G signal is not always strong in many areas. Installing a signal booster and a good antenna is the best way to ensure that you stay connected. Signal obstructions can be killers, especially when they affect your business. If you are in an urban area you can get away with a decent signal booster kit that includes an antenna, but if you are rural, a stronger antenna is suggested.
We recommend these antennas:
Perfect for long-range point-to-point and point-to-multipoint networks
Can send and receive a wireless signal from 10+ miles away (under perfect conditions)
Radiation pattern ranges between 4 to 20 degrees
Provides up to +28 dB gain
Sends and receives vertically or horizontally polarized sound waves.
Designed to withstand extreme weather conditions
The Long Ranger is the most powerful directional cellular antenna in the market. It's perfect for rural environments with faraway cell towers. When a standard Yagi can't get the job done, this bad boy will.
This antenna features ultra-high gains of up to +28 dBi, making it extremely directional, which allows for farther reach. It has a radiation beam of about 10°. Thus, installation may take some time because it must be pointing at your closest cell tower with such accuracy for best results. Under perfect conditions, it can reach cell towers found 10+ miles away. That's more than twice as far as a standard Yagi antenna.
Over 5 miles of range
Superior gain: up to +12 dB
N-Female connector ports, 50 Ohm
Works across the 698-2700 MHz cellular bands
Weatherproof, all-weather tested
The Crossbow has around 5 miles of range, meaning that as long as you have some cell signal, you can bring it directly to your hotspot. With up to +11 dBi of gain you'll see a marked difference when comparing it to the standard omni/whip antenna that comes with normal hotspots. This makes The Crossbow ideal for rural areas, as well as inside a metal building or other structure with difficult building materials which kill signal.
We recommend these signal boosters for home: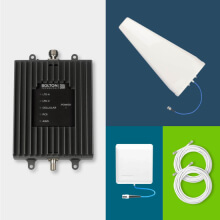 Buy Now For $499.99
Cover up to 4,000 square feet
Up to +11 dBi gain outdoor Yagi antenna
Best for weaker outside signal
Boosts 4G LTE signal
Simple installation
Works with all North American wireless carriers
The Bolton Technical Victory home cellular signal booster Yagi/Panel kit boosts cell signal across 4000 sq feet. Improve reception for all US carriers across multiple devices at the same time. The included Quicksilver Yagi antenna hones in on far away towers to give you up to +11 dBi gain extra. This kit dominates in areas with weak outside signal and fewer towers. If you have good outside signal check out the Bolton Technical Victory Omni/Panel Kit
Indoor cellular coverage up to 15,000 sq. ft.
EXPECTED INDOOR COVERAGE:
5,000 sq. ft. with 1-2 bars(-100 dB) of outside signal
10,000 sq. ft. with 3-4 bars (-90 dB) of outside signal
15,000 sq. ft. with 5 bars of outside signal
The industry's most powerful signal booster
Get 100 dB gain for any cellular carrier
Boosts talk/text/data for Verizon, AT&T, and T-Mobile
Exclusive antenna options for even better coverage
Make your house your home. Ensure you have the best cellular coverage with a Cel-Fi GO-X cell phone signal booster.
The Cel-Fi GO-X is the most advanced carrier-specific signal booster in the world, greatly enhancing 5G, 4G and 3G cell service for all your wireless devices (smartphones, notebooks, hotspots, etc.) for any single carrier - including Verizon, AT&T, T-Mobile, and US Cellular. Provides coverage up to 15,000 sq. ft. in any building.
We recommend this signal booster for vehicles: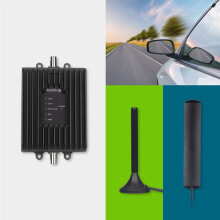 Buy Now For $399.99
For everyday vehicles
Up to +50 dBi gain
Includes Mighty Mount outdoor antenna
Boost 4G LTE signal and 5G ready
Simple installation
Works with all North American wireless carriers
The Velocity Vehicle cellular signal booster kit gets you better reception in your car anywhere on the road. This kit will boost 4G LTE cellular voice and data for every carrier. It is designed for all vehicles, from hatch backs to minivans to pickups. The included antennas increase the power of the cellular signal booster inside your car.
SignalBoosters.com is your go-to for the best range of cellular signal boosters, WiFi routers, range extenders and more. We specialize in custom made, consumer friendly kits, RF systems for cellular, public safety two-way radio, DAS, and WiFi. If you have any questions, or want to find out more about routers or signal boosters, don't hesitate to contact us at 1-800-470-6777.
If you have any questions, or want to find out more about 5G, don't hesitate to contact us at 1-800-470-6777.
Interested in Learning More? Check Out Our Cellular Info Hub / WiFi Info Hub