What's the Difference Between a Modem and a Router?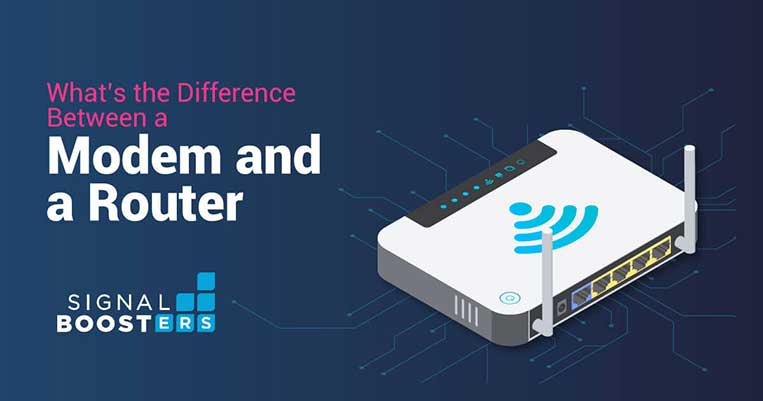 Modem vs Router: Are They the Same Thing?
Many people use the terms modem and router interchangeably. There's a misconception that modems and routers are the same thing. It's very easy to confuse the two - they look similar, they're both rectangular boxes, they both have blinking lights, and they somehow give us internet.
However, modems and routers are not the same - they use different technologies and function differently. So, what's the difference between a modem and a router?
Shop WiFi
Attention Business & Property Owners,
Installers and Integrators
Take advantage of our system design and installation services. Learn more or call us for a free consultation: 1-800-969-8189
What is a Modem?
A modem (modulator-demodulator) is a networking device that communicates with the internet through a broadband connection that's provided by your internet service provider (ISP) - Comcast, AT&T, Suddenlink, Verizon Fios, etc.
Depending on the type of internet you have (cable, DSL, satellite, or fiber optic internet) will determine if your modem will use telephone lines or cable lines to connect to the internet. Modems are used to convert signals into the appropriate language needed for information to travel through a telephone line or cable line.
---
How Does a Modem Work?
Modems will differ based on the type of internet connection you have. There are three types of modems:
Cable:
Cable modems use coaxial cables to connect to the internet. One end of the cable connects to the back of the cable box or the wall, and the other end connects to the back of the modem.
DSL (Digital Subscriber Line):
DSL modems use phone lines to connect to the internet. One end of the phone cable will connect to the phone port on the wall, and the other end will connect to the DSL port on the back of the modem. With DSL, you can talk on the phone and access the internet at the same time.
Dial-Up:
Dial-Up modems also use phone lines to access the internet. Compared to the other modems, they are slower in speed. Unfortunately, with Dial-Up, you are unable to access the internet when the phone is being used. These modems are almost totally phased out these days.
A modem will either be connected to phone or cable lines to tap into the internet. Computers, cable, and telephones use different languages to send and receive information. Computer information is processed through digital signals. On the other hand, phone lines and cable lines use analog waves.
The modem acts as a translator when sending and receiving information. When a file is being sent out, the modem will modulate (code) the information into analog waves to push the file through the phone or cable lines. Once the analog waves reach their destination, they will be met with another modem who will demodulate (decode) the file back to digital signals. Thus, the file will be displayed on the receiving computer screen.
Devices that have an ethernet port (laptops, desktops, and smart TVs) can use ethernet cables to connect to the modem for internet access. Wireless devices, such as tablets and smartphones, will not be able to access the internet through a modem.
---
What is a Router?
Routers are mostly known as the device that gives you WiFi.
A router is a small box that helps "route" traffic between the connected devices (wired or wireless) in your local area network (LAN) and the internet. They manage all of the incoming and outgoing information and direct it to the correct location.
In addition, they facilitate a line of communication between all of the connected devices in your home. For example, if you have a computer and a printer connected to the router, you could print a file without having to physically connect to the printer.
---
How Does a Router Work?
Typically, wireless routers use an ethernet cord to connect to the internet or WAN port on the back of the modem. This allows the router to send and receive information from the internet.
Once the router is connected, you can wirelessly connect your devices to the WiFi network, or you can use ethernet cables to wire your devices to the router. The antennas on the router are what make WiFi signal possible. They broadcast radio waves to communicate with the wireless adapters in your connected devices. If you prefer to wire some of your devices, additional ports are available on the back of the router.
To protect you from online attacks, routers do a lot more behind the scenes.
Routers act as a firewall between the internet and your virtual private network (VPN). The internet is a public wide area network (WAN) that is full of hackers. A firewall is your private network's bodyguard. It reads all of the data packets being received, allowing wanted information to enter your private network and blocking unwanted information.
One of the router's most important jobs is to assign IP addresses to every connected device. The purpose of an IP address is to establish a location on the internet, providing computers and devices a way of finding each other when sending and receiving information. As a result, the information won't be lost or delivered to the incorrect device.
There are two types of IP addresses:
Public IP Address: Used by routers and devices directly connected to the modem.
Private IP Address: Exclusive IP addresses only known to your router and your home devices.
Routers have a public and private IP address. When a private device requests information, it will be directed to the router's private IP. The router will use its public IP to share the request with the internet. Once the internet fulfills the request, it will share its response with the router's public IP. Due to the router, the internet will never deliver data directly to private IPs. After the information has been shared with the router, it will route the information to the corresponding private IP address.
On top of routers providing a WiFi network, they help protect all of the wired and wireless devices in your private network when communicating with the internet.
---
Dual Band Routers
Dual band routers such as the ones mentioned below from Tenda also help you to create a strongler, more stable internet connection. They do this by usinig both the 2.5GHz and 5GHz frequencies to make sure that your devices are always connected to the best option.
Tenda Wi-Fi 4G+ LTE AC1200 Dual-Band Router
Provides 2.4GHz & 5GHz WiFi connectivity
Download speeds pp to 1200Mbps (300Mbps/2.4GHz, 867Mbps/5GHz)
Supports up to 64 connected devices
Supports any ISP up to 1GB
Doesn't need cable or fiber internet to work
Features Beamforming+ technology
The Tenda 4G09 is a hassle-free plug-and-play router. Dual band allows you to make the most of both frequencies, meaning a stronger, more stable signal even through obstacles. Simply attach the antennas, insert an active SIM card, plug it in, and voila, instant internet access for all devices. Easily configure the network to meet your needs via the Tenda WiFi app.
---
Tenda Wi-Fi 6 AX3000 Dual-band Gigabit Router
Features WiFi 6 (802.11AX) Technology
Provides 2.4GHz & 5GHz Connectivity
Ideal for Bandwidth Intensive Environments.
Dual-Concurrent Data Speeds up to 2976Mbps (574Mbps/2.4GHz, 2402Mbps/5Ghz)
Supports Up to 64 Devices
Equipped With a 1.6GHz Dual-Core Processor
IPv6 Supported
The Tenda RX9 Pro is everything you need for a safe, reliable, and fast WiFi connection for your home or office. With WiFi 6 and dual-band you can get speeds up to 3000Mbps, as well as enjoy a more reliable signal even through obstacles. Control the RX9 remotely with the Tenda app and keep an eye on your network from wherever you are.
---
Do I Need a Modem and a Router?
If you don't need WiFi and are just planning to wire one device, a modem will work just fine. On the other hand, if you want to wirelessly connect multiple devices, a modem and a wireless router will be needed. The modem decodes and codes the information being sent and received through the phone or cable lines. The router will provide you with a wireless network and implement additional safety features.
Some people don't like having two separate devices for their home network. Modem and router combos (also known as wireless gateways) are 2-in-1 devices that have the technology to perform both functions.
Modems, routers, or wireless gateways can be rented from your ISP for a monthly fee when you sign up for an internet plan. Or, they can be purchased from Best Buy, Walmart, Amazon, Netgear, etc. Purchasing your own modem, router, or wireless gateway can be cheaper in the long run and can save you money on your internet bill.
---
What is a Wireless Gateway?
Wireless gateways are a combination of a modem and a router; both technologies are incorporated into one device. Rather than having two devices with different jobs, you can have one that achieves the same results.
---
How Does a Wireless Gateway Work?
Similar to the modem, the wireless gateway will be connected to your ISP through a phone or cable line. It will be able to code the digital signals into analog signals when sending information and decode information when receiving it. The router will establish a wireless connection for your devices.
The main benefit of a wireless gateway is the simplicity of only needing to set up one device.
---
Modem Router Combo vs Separate: Which is Better?
Each option has its pros and cons:
Price: Wireless gateways are slightly cheaper to buy because only one device is being purchased. For separate units, you would have to purchase two devices. If you rent the devices, the rental fee might vary by ISPs.
Set-Up Process: Wireless gateways are easier to set up and they take up less space. You have one less device and fewer wires to worry about.
Upgrading: Having separate units can be easier and cheaper to upgrade. When new router technology is released, you will only need to upgrade the router without having to upgrade the modem as well. However, to upgrade a wireless gateway, you would have to replace the whole device which can be more expensive than a standalone modem or router. If you are renting, your ISP can replace the devices.
Control: Stand-alone units tend to have more features and customization options, such as parental controls, device management, usage statistics, and more. When renting a wireless gateway, the customization options can be limited.
Choosing a wireless gateway or separate units is a personal preference. Wireless gateways tend to be better for basic internet users. A separate modem and router give you the freedom to customize the settings, firmware, and take advantage of all the features available.
---
Mesh Networks: The Newest Internet Solution
Mesh networks are similar to WiFi routers, but they work differently. Traditional routers consist of one unit broadcasting sound waves. The waves weaken the farther they travel. Weakened signal results in slower internet speeds and connectivity issues. Mesh networking is designed to solve those problems and provide you with high-speed wireless signal throughout your entire home.
Mesh kits consist of 2-3 nodes. The nodes will work together to extend the WiFi range. One node will be physically connected to the modem for internet access; it will be taking on the role of the router. The remaining nodes will be stationed around your home. The main node will wirelessly share its internet connection with the nodes within its range. Those nodes will then share their internet connection with the nodes within their range. Now, instead of only using one unit to broadcast the internet signal, you have multiple units broadcasting internet signal to provide you with the best home WiFi coverage.
Unlike traditional WiFi extenders, mesh systems create one large seamless wireless network. As you roam around your home, your mobile devices will automatically connect to the node that is closest to it.
---
Tenda EX12 Wi-Fi 6 AX3000 Whole Home Mesh System
Dual-band Wi-Fi 6 with speeds of up to 3000 Mbps
Seamless Roaming
Ultra-penetrating beamforming
Easy installation
Covers up to 7000sq feet with 3 nodes
With the Tenda EX12 Mesh WiFi 6 System you can enjoy a stable internet signal all over your home or office. Connect multiple nodes to form a mesh network that will seamlessly allow your devices to roam from room to room. Total coverage has never been this easy.
---
IP-COM Wi-Fi AC1200 Enterprise Mesh System
Includes an EW9 router and 2 EP9 nodes
Covers up to 6,000 sq ft with 3 units
Expandable up to 9 units to cover up to 18,000 sq ft
Seamless roaming
Beamforming
Dual-Band speeds up to 1200Mbps
Designed for small to medium businesses
App management
The IP-COM WiFi AC1200 EW9 and EP9 units work together to wirelessly blanket offices, hotels, restaurants, and other small to medium businesses with fast, reliable WiFi. It uses an EW9 router and two EP9 nodes. With True Mesh and Beamforming, the units work together to cover up to 6,000 sq ft with reliable WiFi. The IP-COM Enterprise Mesh System can support many devices at the same time without lag. Advanced encryption technology ensures all data and devices are protected from attacks.
Contact Us
SignalBoosters.com is a leading provider of signal booster solutions for homes, vehicles, and commercial buildings. They specialize in consumer-friendly kits as well as customized RF systems for cellular, public safety two-way radio, DAS, and WiFi.
We're here to assist with any issues you might be experiencing with poor cell service. Contact us today, or call us at 1-800-470-6777.