Learn How to Build a Strong WiFi Network for Home or Office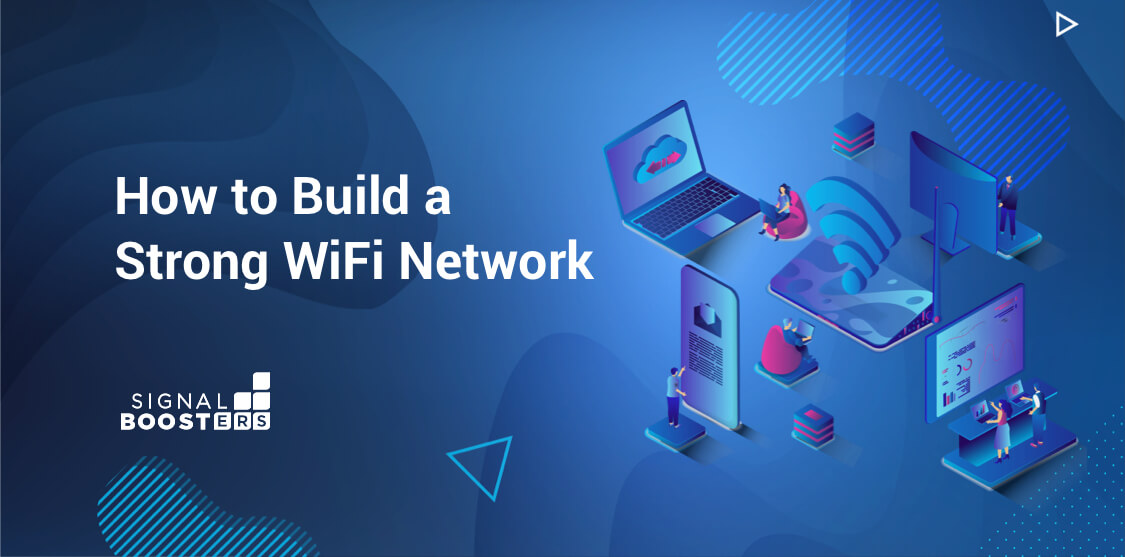 Your home or office WiFi network is your lifeline to the world. build our own WiFi networks. Without it, work can't be done, movies can't be streamed, games can't be played, and there will be lots of unhappy small people in your home. Many of us , but aren't always knowledgeable enough to build the strongest one possible. In this article we look at some tips and tricks to build the best and strongest WiFi network for you.
If you're looking to build a robust cellular network, read about cell phone signal boosters.
Shop WiFi:
Attention Business & Property Owners,
Installers and Integrators
Take advantage of our system design and installation services. Learn more or call us for a free consultation: 1-800-969-8189
Place Your Router Correctly
Where your router sits is the first step toward building an optimal WiFi network. A router sends out WiFi signal in all directions. It needs to be in a central location for best performance. If your device has a direct line of site to the router it will have the best signal. Anything that gets in the way, especially building materials, will have a negative effect on the signal. Placing your router too near a wall, or tucked away in a far room will mean that your signal is weak throughout the rest of the building.
Set up your router in a central location
Make sure it has good line of site to your main devices
Put your router in a higher up place like on a bookshelf.
Keep it as far away from windows as you can. Glass kills signal.
Keep away from metal. Metal reflects and absorbs WiFi signal.
Clear away any other devices such as baby monitors that use the same frequencies as your router and cause congestion.
Don't try and wedge your router in somewhere that it is not meant to go. If it is supposed to be horizontal, don't force it onto a corner where it is vertical, or hang it upside down.
Add Extenders
There are various ways that you can extend your WiFi network. Range extenders and mesh networks are two of the most popular options.
Range Extenders:
A
range extender
is perfect for those people who have large homes with lots of brick. Awkwardly shaped buildings are WiFi signal traps, creating all sorts of dead zones. To get around this you can use a WiFi extender. These neat little gadgets plug into a wall or can sit on top of a solid surface like a desk. They work by creating a new network as an extension of your existing one. When you move from place to place, your device connects to the network that is the strongest. Range extenders are best for smaller areas, typically about 300-2,000+ square feet.
Mesh networks:
Unlike a range extender that creates a new version of your existing network in a new place, a
mesh network
makes your original one bigger. Any devices connected to the mesh network can roam from place to place connecting to nodes as you go. Your device will slip seamlessly from one to the other without you ever knowing. A mesh network is a great option for a larger building like an office or a retail space, about. 2,000-5,500+ square feet. With more mesh nodes, the coverage area can be extended even more.
Tenda Wi-Fi 6 AX1800 Range Extender
Speeds of up to 1775Mbps
Gigabit port for multiple connection options
Best for homes and offices
Superfast WiFi 6
Automatic dual-band broadcasting
Comes with 2 high gain dual-band antennas.
Simple plug and play installation
WPS button for easy connection
The Tenda A27 range extender offers unparalleled signal extension throughout your home or office. Simply plug it into the wall and press a button to connect the range extender to your router. With the A27, you can make sure everyone in your building is always connected to a super-fast, reliable internet signal.
Mesh networks are a group of nodes that work together to blanket your entire home or office with great WiFi coverage. One node will be directly connected to the modem for internet access and the other nodes will be placed around your home. The main node will wirelessly share its internet connection with the other nodes to distribute the WiFi signal into the desired areas. Mesh networks create a seamless connection throughout your entire home. As you walk around, your WiFi devices will automatically connect to the node that is closest to them.
Tenda EX12 Wi-Fi 6 AX3000 Whole Home Mesh System
Whole Home WiFi 6 Coverage
Next-gen WiFi 6
Ultra-penetrating beamforming
Seamless roaming
Simple installation
With the Tenda EX12 Mesh WiFi 6 System you can enjoy a stable internet signal all over your home or office. Connect multiple nodes to form a mesh network that will seamlessly allow your devices to roam from room to room. Total coverage has never been this easy.
---
IP-COM Wi-Fi AC1200 Enterprise Mesh System
Includes an EW9 router and 2 EP9 nodes
Covers up to 6,000 sq ft with 3 units
Expandable up to 9 units to cover up to 18,000 sq ft
Seamless roaming
Beamforming
Dual-Band speeds up to 1200Mbps
Designed for small to medium businesses
App management
The IP-COM WiFi AC1200 EW9 and EP9 units work together to wirelessly blanket offices, hotels, restaurants, and other small to medium businesses with fast, reliable WiFi. It uses an EW9 router and two EP9 nodes. With True Mesh and Beamforming, the units work together to cover up to 6,000 sq ft with reliable WiFi. The IP-COM Enterprise Mesh System can support many devices at the same time without lag. Advanced encryption technology ensures all data and devices are protected from attacks.
Use the Best Tech
When you are building your WiFi network it is important to use the best tech that you can. Many carriers offer modems that do a passable job of supplying WiFi signal, but if you really want a good strong network, you should invest in a decent router. Likewise, make sure that all your cabling, extenders and antennas should be of the best quality that you can get.
Make Sure You Are Up to Standard
The current WiFi standard is WiFi6 or 802.11ax, or 802.11a/x/c called Wi-Fi 6E. Although this sounds confusing, it's just the newest name for a system that has been around and evolving for a while. WiFi 1, or 802.11b came out in 1997. Since then, the network has gotten faster, stronger and more available to everyone. Your router that still loyally works to keep you connected every day may be older and use an older protocol. It's likely that if it is older than a year it's only able to use WiFi 5.
At the same time, it is wise to make sure that your router is dual band. Most WiFi is broadcast on two frequencies, 2.5GHz and 5GHz. As we mentioned earlier, there are a whole bunch of devices that use the 2.5Ghz frequency, which makes it quite congested. Imagine a road with a whole lot of vehicles, all trying to get somewhere. Next to it is another road with only cars, and much fewer of them. 2.5GHz is the road with all sorts of vehicles, and 5GHz is the road with only cars. A dual band router opens up your network for more traffic over faster speeds.
Tenda Wi-Fi 4G+ LTE AC1200 Dual-Band Router
Provides 2.4GHz & 5GHz WiFi connectivity
Download speeds pp to 1200Mbps (300Mbps/2.4GHz, 867Mbps/5GHz)
Supports up to 64 connected devices
Supports any ISP up to 1GB
Doesn't need cable or fiber internet to work
Features Beamforming+ technology
The Tenda 4G09 is a hassle-free plug-and-play router. Dual band allows you to make the most of both frequencies, meaning a stronger, more stable signal even through obstacles. Simply attach the antennas, insert an active SIM card, plug it in, and voila, instant internet access for all devices. Easily configure the network to meet your needs via the Tenda WiFi app.
---
Tenda Wi-Fi 6 AX3000 Dual-band Gigabit Router
Features WiFi 6 (802.11AX) Technology
Provides 2.4GHz & 5GHz Connectivity
Ideal for Bandwidth Intensive Environments.
Dual-Concurrent Data Speeds up to 2976Mbps (574Mbps/2.4GHz, 2402Mbps/5Ghz)
Supports Up to 64 Devices
Equipped With a 1.6GHz Dual-Core Processor
IPv6 Supported
The Tenda RX9 Pro is everything you need for a safe, reliable, and fast WiFi connection for your home or office. With WiFi 6 and dual-band you can get speeds up to 3000Mbps, as well as enjoy a more reliable signal even through obstacles. Control the RX9 remotely with the Tenda app and keep an eye on your network from wherever you are.
---
Get a Better Antenna
No matter what network you are using, you need to be able to receive a signal. Most WiFi routers and modems come with little built in antennas. Some have internal ones that you can't see, and others have whip antennas on the outside. Either way these are far away from what you could be using to get the best WiFi signal in your building. Good WiFi antennas tend to be quite large, especially if you are wanting to get a signal from a faraway WISP station. This is the main reason for people sticking with their little standard antennas. If size doesn't bother you, getting a great WiFi antenna can make all the difference to your network.
The Tenda 5GHz 23dBi 11ac Outdoor CPE
Incredible range up to 12.5 miles
23dBi vertically polarized antenna
Wireless data rates up to 433Mbps
Robust construction
Simple and flexible installation
Uses TD-MAX for greater performance
Centralized management with CPE Assistant
The O8 5GHz 23dBi 11ac Outdoor CPE from Tenda is a high-gain vertically polarized directional antenna designed for long-range P2P and P2MP networking. It has a range of up to 12.5 miles, and +23dBi of gain depending on real world conditions. Extend your WiFi network to distant buildings like sheds, barns or even surveillance camaras. Pair it with another 08 CPE or a WISP station for stable WiFi signal wherever you need it. Snap-lock parts and three-axis alignment make this antenna easy to assemble and point for best performance.
---
Tenda 5GHZ 16dBi 11ac Outdoor CPE
Incredible range up to 6 miles
16dBi dual polarized antenna
Wireless data rates up to 450Mbps
Robust construction
Simple and flexible installation
Uses TD-MAX for greater performance
Centralized management with CPE Assistant
The 06 5GHz Outdoor CPE from Tenda is a very powerful panel antenna that can broadcast WiFi signal up to 6 miles depending on real world conditions. This high-gain dual-polarized directional antenna is designed for long-range P2P and P2MP networking. It allows you to extend your network or communicate with wireless ISPs located miles away. The high-quality waterproof design ensures great performance in any weather.
---
Tighten Security
WiFi leeches are everywhere. Making sure that your network is password protected and encrypted will not only keep it clear of unauthorized traffic but will also help to keep your data safe. If you have a lot of guests on your network, create a separate guest network with a limited range and a different password. Be sure to change both your main network and guests network's password on a regular basis.
When in Doubt, Reboot
Sometime after you have built your perfect WiFi network, you still have weak signal. Your antennas are all aligned, your mesh network is perfectly positioned, and yet your devices still only have a weak connection. The answer may be as simple as rebooting your new router. Turn it off, take 10 long breaths and turn it on. You find that, as if by magic, your carefully crafted network is up to full strength.
SignalBoosters.com is your go-to for the best range of cellular signal boosters, WiFi routers and products, range extenders and more. We specialize in custom made, consumer friendly kits, RF systems for cellular, public safety two-way radio, DAS, and WiFi. If you have any questions, or want to find out more about routers or signal boosters, don't hesitate to contact us at 1-800-470-6777.
Interested in Learning More? Check Out Our Cellular Info Hub / WiFi Info Hub