Signal Booster's WiFi Brands - All You Need To Know
It could be argued that WiFi has become the lifeblood of modern-day living. Being connected to the internet is so much more than just being able to surf the odd site, or Google yourself. These days WiFi means being able to work from home, stay in touch with loved ones across the world, simplify your life with IoT devices, and even the difference between a business flop or flourish.
We Fix Poor Cell Signal! See Complete Signal Booster Kits for Your Situation:
Attention business & property owners, installers and integrators
Take advantage of our system design and installation services. Learn more or call us for a free consultation: 1-800-969-8189.
---
At Signal Boosters we sell a range of WiFi brands and products. Whether you are looking for your next lightning-fast router for lag-free gaming, or an indestructible IoT gateway to keep your unmanned vehicles ticking over smoothly, we have an answer for you.
Inhand Networks have been around since 2001, building router and gateway options for IoT and M2M devices. They focus mainly on helping businesses grow thanks to innovative technology and free support apps. Many of their devices also come with cloud support and can be used to create an SD WAN network. You can manage your entire network from the cloud, wherever you are. Great for enterprises who need free global tech support, remote cloud managed software, and an SD-WAN-based networking solution. Their products integrate 4G, 5G WiFi and VPN tunneling to give you the best options for connection.
Best For
Inhand products are best for unmanned devices like digital signage, access control, ATM's, security systems and vehicle fleets. You can use their products in a home or office just as easily.
Cost
The basic Inhand routers designed for IoT or M2M applications go for around $200. If you are looking to level up, you can get an InVehicle G710 High-Performance Vehicle Gateway for just under $620. Inhand's big boy, the ER800 Cloud Based SD-WAN 5G Router goes for under $1500, and is fully SD WAN capable.
Connectivity
The basic models come with a WAN and a LAN port, as well as a WiFi antenna and SIM slots. The bigger G710 offers 4 gigabit ethernet ports and 2 WiFi antennas and dual SIM. The even bigger ER800 has 4 LAN ports, 1 WAN port, Gigabit ethernet, 2 WiFi antennas, 2 cellular antennas, and dual SIM.
Speeds
InHand products vary in speed from 10Mbps with the CAT1 router, 150Mpbs with the CAT4 router, all the way to Gigabit speeds with the G710 and the ER800.
Installation
Installation depends on where you want to put your products, and which product you choose. Setup and installation of the larger routers in your home is relatively simple and can be done just by following the instruction manual. The more basic CAT routers simply need a SIM card installed, the power connected and the device connected to the Inhand network via its unique wireless name and WiFi password found on the label. If you have any questions or need advice, don't hesitate to contact us at 1-800-969-8189 or email pro@signalboosters.com to learn more.
Extras
Inhand products come with free access to Device Manager | Cloud Services where you can set up, monitor, and manage your devices. They do offer extra subscription software services like the InCloud Manager for the ER800 and InConnect for all the other devices. All of their software gives you cloud access, and in some cases a full SD WAN setup.
Best Sellers
Inhand Networks InRouter302 Compact Industrial LTE CAT1 Router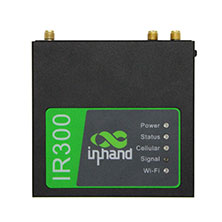 Buy Now For: $176.00
Certified for Use with AT&T, Verizon, & T-Mobile
Speeds Up to 150 Mbps
Dual-Sim Card Capabilities
Remote Device Management
Easy to Install, 3 year Warranty
Pairs perfectly with the weBoost Signal 4G M2M
The IR302 CAT4 from InHand is a great little LTE router that provides steady internet connection for your home, office, or RV. It has two LAN ports as well as two SIM slots. Get up to 150 Mbps download and 50 Mbps upload speeds, perfect for those who need a good internet connection at home or on the move. Simple plug and play installation makes it a breeze to set up.
---
Inhand Networks InRouter302 Compact Industrial LTE CAT1 Router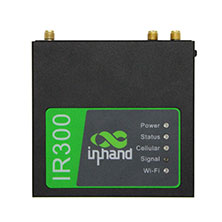 Buy Now For: $164.99
Speeds Up to 10 Mbps download and 5Mbps upload
Good for IoT Management
Remote Device Management
Easy installation
Use with AT&T, Verizon, & T-Mobile
Pairs perfectly with the weBoost Signal 4G M2M
The IR302 CAT1 router is great for IoT devices and machine-to-machine hardware like ATMs, kiosks, and access control. It has an up-speed of up to 10Mbps and keeps all your unmanned devices online easily without any upkeep or input from you. It's not ideal for homes or offices due to its speed. Connect many of these devices together and manage them all from the cloud.
---
Recommended Add Ons
Wilson weBoost Signal IoT 5-Band
Buy Now For: $209.99
4G/5G LTE for any IoT or M2M device
Designed to be attached to a M2M devices
Works for all US carriers
Complete kit: all parts included, easy install.
Boost your cell signal to your router, making it even more efficient. These are great for IoT devices and will work in tandem to make sure that your Inhand device is always online.
---
The Arrow LPDA – High Gain Directional Antenna
Over 5 miles of range
Superior gain: up to +12 dB
N-Female connector ports, 50 Ohm
Works across the 698-2700 MHz cellular bands
Weatherproof, all-weather tested
A good LPDA antenna has a broad bandwidth, which means that it can receive a number of frequencies. It will receive both cellular and WiFi signals. To make sure that your Tenda routers always have signal, even in rural areas, use one of these bad boys.
We know how confusing choosing the right WiFi products and add-ons can be. Give us a shout on 1-800-470-6777 if you have any questions or just need a bit of advice. We always love chatting to you!
Peplink
Peplink has been building durable routers and gateways since 2006. They specialize in WAN bonding technology that allows multiple connections at the same time, as well as SD WAN-capable devices. Their products that we sell are mainly aimed at vehicle application but can be used in both homes and offices as well. They are rugged, vibration-proof, and temperature-proof and can be deployed in all sorts of situations. Peplink products come with a selection of add-on subscription software that can greatly enhance their devices capabilities.
Best For
All Peplink products are best for anyone wanting to set up an SD WAN, either through their own server or using Peplink's own options. Peplink devices can be used almost anywhere, but our selection is best for vehicles and IoT. Most of them allow up to 150 connections, which is great for cruises, busses, or anything that has passengers. The smaller devices like the BR1 Mini and even the UBR LTE are fantastic IoT or M2M devices. They can keep an unmanned station or even vehicle online with little power and can be set up and monitored from anywhere.
Cost
Peplink product differ in cost depending on which add ons your buy. The BR1 Mini is between $480 and $300 standard, with up to an extra $390 for Gold subscription. The rest of their products are all over $1000 without any subscriptions.
Connectivity
Peplink products are all about connectivity. They offer a number of WAN and LAN options depending on the router, as well as LTE and WiFi. Bonding technology bonds different connections into one VPN, creating a failover in case one connection drops. The bigger models like the BR2 has a massive 5 LAN ports, 2 WAN ports. it also has Dual Ethernet WANs, Dual 5G/LTE, USB WAN, and Wi-Fi WAN and MAX Adapter 5G for an instant third 5G.
Speeds
Most of our Peplink offerings have Gigabit speeds, except the BR1 Mini. As it is designed for IoT applications, you can get a maximum of 300Mbps with the CAT 6 option.
Installation
Installation of your Peplink product will depend on where you put it. Much like the InHand routers, you will need to connect it either to a wall socket or a PoE outlet. All of the routers have dual SIM capabilities, some even have 2 redundant SIM slots. You will need to insert your SIM cards into the slots, connect the device to power, and set it up using the Peplink app.
Extras
Peplink has a number of subscription add-ons for all of their products. These products vary in use, from simple monitoring to setting up an entire SD WAN network and cloud access.
Best Sellers
Peplink BR1 Pro 5G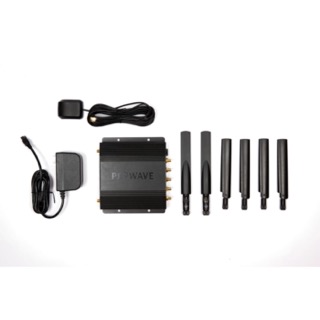 Buy Now For: 1,499.99
Multi-Core CPUs
5G cellular modem
1Gbps download speed
Heat and cold resistant between -40° to +149°F
The Peplink MAX BR1 Pro 5G is an incredibly fast 5G modem designed for both vehicles and building use. With a blistering 1Gbps download speed you can stream, work, or play with no lag or buffering. Harness outside 5G signal and convert it to WiFi 6 for a steady superfast connection. If 5G is not available, the router will use 4G or 4G LTE instead. Connect up to 150 devices wirelessly or use the LAN ports to set up an internal network.
Peplink BR 1 Mini
Buy Now For: $479.00
100 Mbps download speed
Multiple connection options
Choose your BR1 Mini
Best for IoT and home office application
The Peplink BR1 Mini is compact, rugged, and designed to provide stable internet anywhere you need it. Create an always–on hotspot at your home, in your vehicle, or anywhere you go. With 100Mbps download speed you can stream, or game or work with no lag issues. Perfect for harsh environment IoT applications. Heat, cold, vibration, and roll resistant, the BR1 Mini is the ideal choice for connectivity no matter where you are. Choose from CAT7, CAT6, LTE/WiFi, and pure LTE Models. DC and AC power available.
Recommended Add Ons
The Crossbow 5G MIMO Antenna
2 X 2 High Gain MIMO Antenna
Ideal for direct connection to a MIMO cellular router, modem, or hotspot
5G Ready: Covers 617-3800 cellular frequencies
Up to +11 dBi of gain
The Bolton Crossbow has around 5 miles of range, meaning that if you have outside signal, this antenna will find it. Enjoy up to 11dBi of gain across 5G, 4G and 4G LTE. Specifically, The Crossbow will capture all cellular signal within the 617-3800 MHz bandwidths. MIMO technology gives you a better connection both at the source, (the antenna) and the destination (the router). Make the most of your Peplink router's power with the Bolton Crossbow.
All Your WiFi Needs In One Place
At SignalBoosters.com we offer only the best brands. From routers to gateways to WiFi antennas, we offer everything you need to get your WiFi up and going. Let us give you the best advice on increasing WiFi speeds, connecting IoT devices, and which router is best for you. If you have any questions or want to find out more about routers or signal boosters and anything in between, don't hesitate to contact us at 1-800-470-6777.
Interested in Learning More? Check Out Our Cellular Info Hub / WiFi Info Hub