Choosing A Vehicle Cell Phone Booster: 5 Things To Consider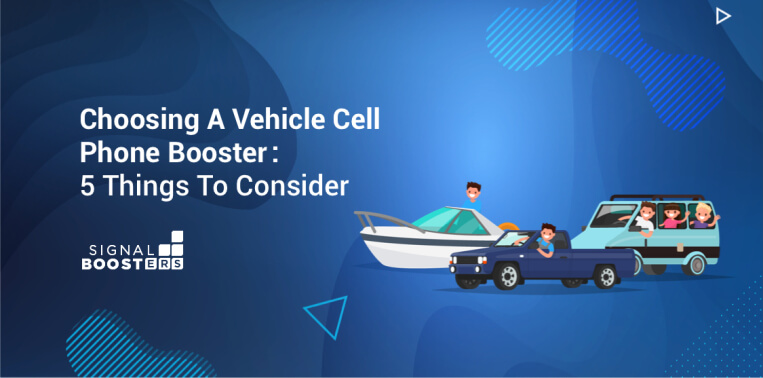 If you're the type of person who travels frequently, you may have experienced unexpected GPS connection issues or drops in the middle of an important call.
This is where a cell phone signal booster comes to the rescue. It'll reduce dropped calls, improve voice quality, and increase data speeds on the road, provided that you still have a faint signal. However, there are hundreds of signal boosters in the market, and each one is different, so picking the right one can be challenging.
But don't fret – we have listed down the five things you should consider before buying yourself a vehicle signal booster.
We offer complete cell phone signal booster kits for any situation:
Attention business & property owners, installers and integrators
Take advantage of our system design and installation services. Learn more or call us for a free consultation: 1-800-969-8189.
1. Vehicle Application
When choosing the right cellular signal booster, it's important to consider which is most suitable for your vehicle.
If you drive a car or SUV, you will probably prefer something that's easy to install, doesn't stand out, and will provide you with the boost you need. These types of boosters feature a mini magnet mount external antenna and a low-profile indoor antenna. One of our most popular car and SUV boosters is the SureCall Fusion2Go Max.
However, it's a little different if you're trying to boost cell signal in an RV or commercial vehicle. RVs and semis are much larger and tend to drive on rougher roads, thus needing a signal booster optimized for RVs or trucks. They are equipped with taller, sturdier, hard-mount external RV or OTR (Over the Road) antennas designed to withstand harsh on and off-road conditions to consistently capture the best cell signal possible. The same goes for large fleet vehicles like EMS, fire, and delivery trucks. Smaller fleet vehicles like police cars, taxis, and the like, can opt for boosters with a magnet mount antenna or a fleet unit with an NMO antenna for a permanent setup.
If you're looking to enhance cell coverage on your boat, you'll need a cell booster that's kitted with a marine antenna. Bodies of water aren't stable and calm all the time; these antennas are sturdy and weather-resistant, ensuring consistent coverage while at sea.
The preferred amplifier for RVs, trucks, semis, fleet vehicles, and boats tends to be the weBoost Drive Reach. It's very powerful and will supply more bars to any cellular device no matter the carrier to help you stay connected with your team at the most important times. It's also extremely customizable and can be paired with different antennas to fit any vehicle application.
2. Number of Users
It's also important to consider the number of people who will be using the booster at any given time.
If you frequently drive alone, whether it's because you work from your vehicle or like to take solo trips, a single-user or cradle booster, like the weBoost Drive Sleek 4G, may be perfect for you. The Drive Sleek enhances talk, text, and data speed for any device nestled in the cradle. Though, it works best in urban and suburban areas.
On the other hand, if you want to provide enhanced cell coverage for more users, like friends, family, or strangers hopping in for a ride, you'll need a multi-user vehicle amplifier. These units use more powerful antennas that can cover bigger spaces and support multiple devices at the same time.
3. Outside Signal Strength
Your outside signal strength will help determine how powerful your signal booster should be.
Cellular coverage differs between urban and rural areas. In rural areas, poor signal, slow data connection, and late messages are common. The landscape in the area also affects the signal quality. In urban areas, cell signal is stronger due to the higher density of cell towers, but coverage challenges still arise.
If you frequently drive on rural or remote roads, your cellular device may have a hard time staying connected, limiting your access to essential services like GPS navigation and emergency services. If this is you, you'll want a booster with higher gain (aka amplification power). The Cel-Fi GO M Vehicle Smart Signal Booster features the highest possible gain (up to 65 dB), making it perfect for vehicles in extremely weak signal areas. It can be customized to fit a car, SUV, RV, truck, semi, or boat. Though, it can only amplify one cellular carrier at a time.
For those who drive in urban or suburban areas, you may not need as much gain to get superior coverage inside your vehicle. In this scenario, the SureCall N-Range 2.0 is a great option for those who only wish to boost one device, while the SureCall Fusion2Go 3.0 is ideal for those who prefer a multi-user amplifier.
4. Cellular Carrier
Do you want to enhance cell service for a single carrier or multiple at the same time? A single carrier booster makes sense for a family that uses the same network carrier. However, if you want to cater to passengers with different cell carriers, then a multi-carrier booster will be a better option.
Most vehicle signal boosters can boost multiple carriers simultaneously. It doesn't matter what kind of phone you or your passengers are using -- you will all stay connected. Single-carrier amplifiers, however, are much more powerful than multi-carrier ones, and some, like the Cel-Fi GO M, allow you to conveniently switch from one network to another.
5. Installation
The last thing to consider is installation. Most cell phone boosters require a DIY installation, while others require a professional installation.
Car and SUV boosters are the easiest to install. They use a magnet mount antenna that you can easily stick on the roof of your vehicle. However, just because they're easy to install doesn't make them the best solution for every vehicle.
Fleet vehicle kits look similar to those for cars and SUVs, but with an external NMO antenna. To install the NMO antenna, a hole will need to be drilled on the roof of your vehicle for a permanent setup, thus requiring a professional installation. This is common for police cars, government vehicles, commercial vehicles, and the like. However, if you don't want to drill holes in your vehicle, a fleet booster is not for you.
As mentioned earlier, RVs, Trucks, and Semis tend to drive longer distances and on more rugged terrain. For these vehicles, you'll want a signal booster that requires a fixed installation. With the included mounting brackets, you can securely attach the outdoor antenna to a mirror bracket or ladder railing. While it might be more cost-effective to purchase a signal booster that features a magnet mount installation, road conditions and low hanging obstacles could cause the magnetic antenna to move, fall, or break, decreasing performance. The same applies to marine vehicle signal boosters.
Our Top Vehicle Cell Signal Booster Kit Recommendations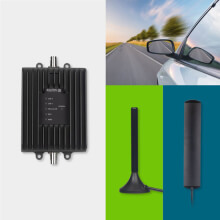 Buy It Now: $399.99
Overview of the Velocity Vehicle:
For Cars, Trucks, and RVs
Up to 50 dB Gain
Support Multiple Carriers Simultaneously
Easy Install
The Velocity Vehicle is carefully crafted to keep drivers and passengers connected in the most difficult environments. It's built with the highest gain and uplink. No matter where you drive, as long as there is a sliver of cellular signal, the Velocity Vehicle will keep all devices connected.
This particular model comes with a magnet mount antenna, making it ideal for your everyday cars, SUVs, and trucks. Installation is a breeze. For semis and heavier-duty trucks, consider the Velocity Trucker. It includes a tough OTR outside antenna featuring great reach, heavy-duty construction, and whistle-free wrap.
Pros:
Cons:

Affordable yet powerful.
Sleek design.
Offers max gain allowed by the FCC for multi-carrier vehicle boosters, maximizing amplification.
Has incredible uplink, allowing greater reach to cell towers while on the go.

This configuration is not ideal for semis, heavy-duty trucks, RVs, or off-roaders. Please see the Velocity Trucker and the Velocity Off-Road for heavy-duty vehicles.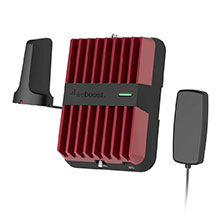 Buy It Now: $499.99
Overview of the weBoost Drive Reach:
For RVs, Cars, Trucks, and Boats
Up to 50 dB Gain
Support Multiple Carriers Simultaneously
Easy Install
The weBoost Drive Reach is weBoost's most powerful in-vehicle cell signal booster for cars, SUVs, trucks, and minivans. Features increased uplink than previous generations, users can get signal that is 2x farther from towers for twice the signal strength. Dropping calls and losing navigation connection will all be a thing of the past while driving on remote roads or highways.
Cellular antennas will vary depending on the Drive Reach configuration that best meets your needs.
We wouldn't recommend anything weaker than the Drive Reach for rural areas.
Pros:
Cons:

Sleek design.
Offers max gain allowed by the FCC for multi-carrier vehicle boosters, maximizing amplification.
Features higher gain than previous weBoost generations.

This configuration is not ideal for semis, heavy-duty trucks, RVs, or off-roaders. Though, optimized kits for those vehicles are available.
---
Contact Us
If you need further assistance in choosing a vehicle signal booster or have unrelated questions, SignalBoosters.com is here to help! Call us at 1-800-470-6777.
Interested in Learning More? Check Out Our Cellular Info Hub / WiFi Info Hub