The Top Sprint Signal Boosters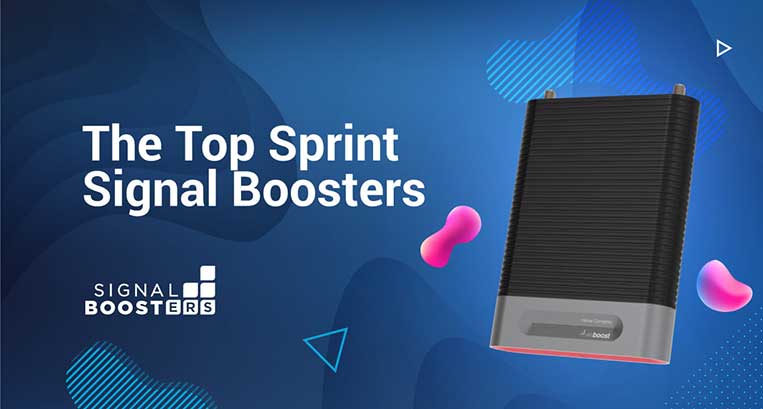 The Sprint brand was officially discontinued on August 2, 2020. For current carrier boosters have a look at our T-Mobile booster page.
Even with the recent T-Mobile/Sprint merger and the massive increase in coverage this promises, when you're not getting any quality signal with your Sprint service, you basically have three options.
1.

Accept the limitations and just deal with spotty reception for the next two years.

2.

Change carriers and pay enormous fees without knowing if service will improve.

3.

Get a Sprint cell phone signal booster and get more bars instantly.
If you're ok with the first two options, then happy trails, friend. But if you're looking to boost your cell phone signal and get reliable 4G LTE cell service, then read on.
First, let's explain why you're getting low bars and poor reception in your home or car.
Cell phone signals are radio waves (AM/FM kind) that cover great distances but are easily disrupted by almost everything under the sun.
A cell signal starts out strong from the cell tower. But it has to deal with outside interference (trees, hills, mountains, and tall structures like buildings and other high urban structures). Then it has slog through building material such as thick concrete and brick, metal, glass, radiant barrier, and other conductive material (electrical or magnetic).
By the time the signal reaches to your cell phone or tablet, it's extremely weak and spotty leading to limited coverage and almost no reception. This is why you're hanging onto one bar and raising your phone in the air.
In this new era of digital life, that's terrible for convenience, business, and definitely for emergencies.
Everything changes with a Sprint Signal Booster.
A Sprint Signal Booster takes the existing weak signal, amplifies it multiple times (up to 32X!), then rebroadcasts the boosted signal to an area in need in your home or car. Stronger signal, more bars, and reliable reception.
A cell phone signal booster enhances your service and coverage and gives back what you're already paying for and should be getting: constant connection.
Sprint cell phone boosters do not require landline internet or monthly landline internet fees. They're FCC-certified and given blanket consent for use in homes and cars. If you're truly looking to cut the cord, a signal booster is your answer.
There are many reputable brands that design and create FCC-certified signal boosters, but one US manufacturer has been a leader in boosting cellular signals. weBoost is the best in the business in in regards to anything cell phone signal boosters. They're the gold standard as a trusted brand for over 10 years.
Getting a Sprint Signal Booster from weBoost is your all-in-one solution for more bars, constant connection, and reliable service.
Besides extending your Sprint cell phone coverage, it'll eliminate dropped calls, stuck text messages, and slow internet. Even better, voice quality is greatly improved so no more repeating. It saves you time and provides you with ultimate convenience and peace of mind.
All weBoost cell phone boosters are approved for use by Sprint. Even better, these cell phone signal boosters are also compatible with Verizon, AT&T, and all Sprint and T-Mobile MVNOs. They work on ALL phones (iPhone, Android, Samsung, LG, etc.).
Whether you're in a remote rural area or the big city, our recommended Sprint cell phone boosters get the job done. They'll extend your Sprint network signal with low cost options for 1-2 rooms up to commercial coverage (10,000 sq ft) depending on your model and outside signal.
Whether it's a cabin or farm in the valley surrounded by mountains, whether it's a multistory metal building in the big city, or maybe just an RV in the park, weBoost cell phone signal boosters are a necessity when you need to know how to boost your cell phone signal.
SignalBoosters.com is here to help you select the right Sprint booster. There's absolutely no risk to you. Free consultation (ask us anything) with our US-based customer support (sales@signalboosters.com). Free shipping. 30 Day test drive. If you're not happy with your Sprint cell booster, simply call or email us, and you'll get your money back. Guaranteed.
If you are satisfied, we provide lifetime technical support and a 2 year warranty. And again, our US-based customer support is second to none. We understand there's no one-size-fits-all strategy and we listen to all the details before suggesting ways to get you better signal.
We offer best and realistic outcomes from years of experience dealing with weak reception and solving tens of thousands of happy customers. Our motto: "Provide solutions. Don't sell boxes." Read real reviews from our customers. It's because of our goal to provide the best Sprint wireless network extenders that have led us to industry-wide recognition and numerous awards.
Below are the six most popular Sprint wireless boosters, ranged from good, better, and best. These are ranked in two categories, cell phone booster for home and cell phone booster for vehicles, including cars, SUVs, and trucks. Why be a servant to the cell tower? Bring the cell tower to you!
Sprint Signal Boosters For Home
This is our most popular Sprint signal booster, due to its good price and strong coverage. It's very customizable, with numerous configurations to allow for any situation. With a Yagi/Panel setup, this is good for up to 4,000 sq ft of coverage - more than enough for any midsize home. The popular Omni/Whip configuartion provides more like desktop to two room coverage. It's a great option for any home, office, or home office, or a small area like a cabin or apartment.
Overview of the SureCall Fusion4Home:
Boosts Talk, Text, Internet, 3G & 4G LTE Data
From 1,000 to 5,000 sq ft coverage (multi-room to whole home depending on configuration)
Up to +65 dB Gain
From $299.99 to $499.99 depending on configuration
The only Sprint signal booster for home that comes with professional installation. The weBoost Installed Home Complete has whole home coverage, and is a particularly strong performer in rural areas. It can cover up to 7,500 sq ft, but you're more likely to get around 4,000 to 5,000. This is only available for residential buildings. Amazing for suburban homes, rural homes, metal buildings, and areas where signal is hard to come by.
Overview of the weBoost Home Complete:
Boosts Talk, Text, Internet, 3G & 4G LTE Data
From 1,500 to 7,500 sq ft coverage (desktop to 1-2 rooms)
Up to +70 dB Gain
$1,299.99
With the Sprint/T-Mobile merger also comes new options for boosting Sprint signal, the Cel-Fi GO X being chief among them. This is the ultimate home booster in terms of coverage area and power, being extremely optimized for really any area. With +100 dB gain, that's up to 1000x more powerful than its wideband competitors. The only downside to the Cel-Fi GO X is that it works only for a single carrier....but since you're with Sprint/T-Mobile, that isn't a problem. By expanding your coverage area with more antennas, the Cel-Fi GO X is capable of covering multiple stories and massive homes with the most powerful Sprint signal possible.
Overview of the weBoost Connect 4G-X:
Boosts Talk, Text, Internet, 3G & 4G LTE Data
From 5,000 to 15,000 sq ft coverage (small home to large home or small building)
Up to +100 dB Gain
$999.99
Sprint Signal Boosters For Cars and Other Vehicles
We recently tried out the HiBoost Travel 4G 2.0 for boosting cell signal while driving, and were very pleased with the results. It strikes an excellent balance between price, performance, and aesthetics, capable of covering the whole interior of any vehicle for up to four devices simultaneously under nearly any circumstance. It might not work on the very fringes of the Sprint/T-Mobile network, but under nearly other circumstance, the Travel 4G will give you the boost you need. It also works for all other major carriers, so if you've got a group of people with you on different carriers than Sprint, it will still work for them.
Overview of the HiBoost Travel 4G 2.0:
Boosts Talk, Text, Internet, 3G & 4G LTE Data
For multiple cell devices
Up to +50 dB Gain
$399.99
Three words: maximum output power. This allows for 30-60% farther reach to the cell tower. Distance from the cell tower is the biggest problem for remote rural areas. So this is definitely aimed for extremely poor signal areas.
Overview of the weBoost Drive Reach:
Boosts Talk, Text, Internet, 3G & 4G LTE Data
For multiple cell devices
Up to +50 dB Gain
Pro Model: 60% More reach from and to cell tower
$499.99
Sprint Signal Boosters For Large Building
The most popular enterprise-level cell phone signal booster. Up to 50,000 sq ft of coverage. Best for the city or urban areas. Has adjustable controls for precise controls for each 5-band frequency. Built-in-signal meter for accurate dB readings. In strong signal areas, is capable of an additional +12 dB boost.
Overview of the Wilson Pro 70 Plus:
Boosts Talk, Text, Internet, 3G & 4G LTE Data
Up to 25,000 sq ft coverage (multi-story office building)
Supports 100+ devices simultaneously
Up to +72 dB Gain
$1,799.99
---
Contact Us
SignalBoosters.com is a leading provider of signal booster solutions for homes, vehicles, and commercial buildings. They specialize in consumer-friendly kits as well as customized RF systems for cellular, public safety two-way radio, DAS, and WiFi.
We're here to assist with any issues you might be experiencing with poor cell service. Contact us today, or call us at 1-800-470-6777.
Interested in Learning More? Check Out Our Cellular Info Hub / WiFi Info Hub