Signal Boosters Launches WiFi for Home and Business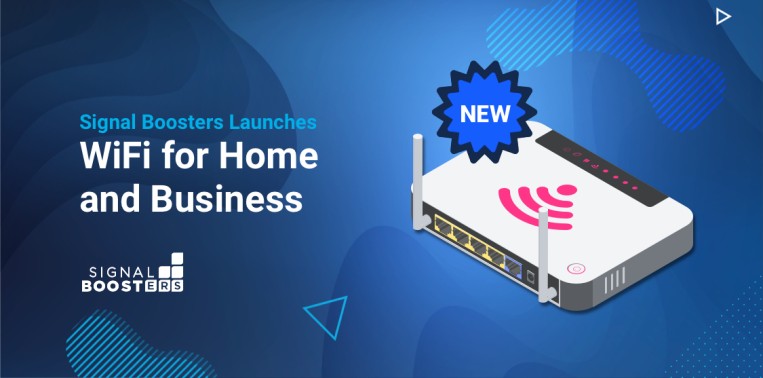 We Have WiFi Solutions for Any Situation
Signal Boosters has made the leap into networking. Not only do we help boost cellular signals, but we now offer extensive WiFi solutions for homes, businesses, and vehicles. If you're looking for a WiFi router, cellular router, range extender, mesh network, indoor/outdoor access point, USB WiFi adapter, SD-WAN router, vehicle gateway, or WiFi antenna, we can help.
Shop WiFi Solutions
Attention Business & Property Owners,
Installers and Integrators
Take advantage of our system design and installation services. Learn more or call us for a free consultation: 1-800-969-8189
WiFi Routers – Improve Your Networks Performance
WiFi routers are the most important devices in any network. They access the internet via a modem and create a safe local area network for multiple wired and wireless devices. Every year the number of connected devices in households and offices increases, causing strain on older generation WiFi routers. This results in slow download and upload speeds for all. If you're battling with this issue, it may be time for a new WiFi router designed to improve capacity, speed, and performance.
Tenda RX9 Pro Dual-Band WiFi 6 Gigabit Router
Buy Now: $129.99
The RX9 Pro is a powerful and affordable WiFi 6 route for homes and offices. Equipped with the latest WiFi 6 technology, it supports up to 64 devices at once and offers fast dual-band speeds of up to 3000Mbps. It also does a great job at transmitting a stronger and more stable signal through walls. It'll provide the best results when connected to WiFi 6 equipment but will still make your network more efficient when connected to legacy devices.
---
Cellular Routers – Access the Internet Anywhere
Unlike WiFi routers that access the internet through cables, cellular routers provide internet access via the cellular data network. They receive cell signals from nearby towers and deliver a reliable internet connection for wired and wireless devices. If you have cellular signal and an outlet, you can keep your cell phones, laptops, tablets, and game consoles connected anywhere.
Tenda 4G09 Dual-Band LTE CAT 6 WiFi Router
Buy Now: $169.99
The 4G09 offers fast, reliable internet access through a SIM card or an internet service provider. With multiple ways to connect, it's perfect for homes without access to wired broadband, RVs, and small businesses. Powered by 4G LTE+ CAT 6, the 4G09 offers speeds up to 300Mbps on the 2.4GHz and 867Mbps on 5GHz for multiple devices to enjoy.
InHand Networks InRouter302 LTE CAT 4 Router
Buy Now: $179.99
The InRouter302 LTE CAT 4 is a small industrial router for home, RV, and high data IoT applications. It has dual-SIM capabilities, ensuring constant network connectivity for all connected devices. Using LTE CAT 4, the IR302 can provide speeds up to 150Mbps on the 2.4GHz band only. Speeds will vary depending on your carrier and signal strength. For low bandwidth consumption IoT sites, consider the InRouter302 LTE CAT 1 Router.
---
WiFi Extenders & Mesh Networks – Enjoy Superior Indoor WiFi Coverage
Traditional WiFi networks consist of a single router keeping all devices in a house or office connected. The further those devices get from the router, the weaker the connection becomes. This results in slow speeds, spotty signal, and dead spots. WiFi extenders and mesh networks eliminate poor connectivity in those hard-to-reach areas.
A WiFi extender is a small device that sits between your router and a dead spot. It wirelessly communicates with your router and extends its reach to outlying areas. They are simple and affordable for WiFi coverage in small to medium spaces.
Mesh networks are whole-building systems. They consist of a mesh router that connects to your modem, and a series of mesh nodes that are placed around your home or business for whole building coverage. Being flexible and scalable, a mesh network can be integrated into any medium to large building no matter its shape. As you, family, guests, or employees wander around, the WiFi devices will connect to the closest node for uninterrupted connectivity.
Tenda A27 WiFi 6 Range Extender
The A27 WiFi 6 Range Extender allows you to extend reliable internet wherever you need it most. Depending on your network's signal strength and building layout, you can cover an entire large room or multiple small ones.
Equipped with two high gain, dual-band antennas, the A27 automatically chooses the best band for all connected devices within its coverage area for optimal performance. Under best conditions, you can enjoy speeds of up to 1201Mbps on the 5GHz band and 574Mbps on the 2.4GHz band.
Tenda EX12 Whole-Home WiFi 6 Mesh System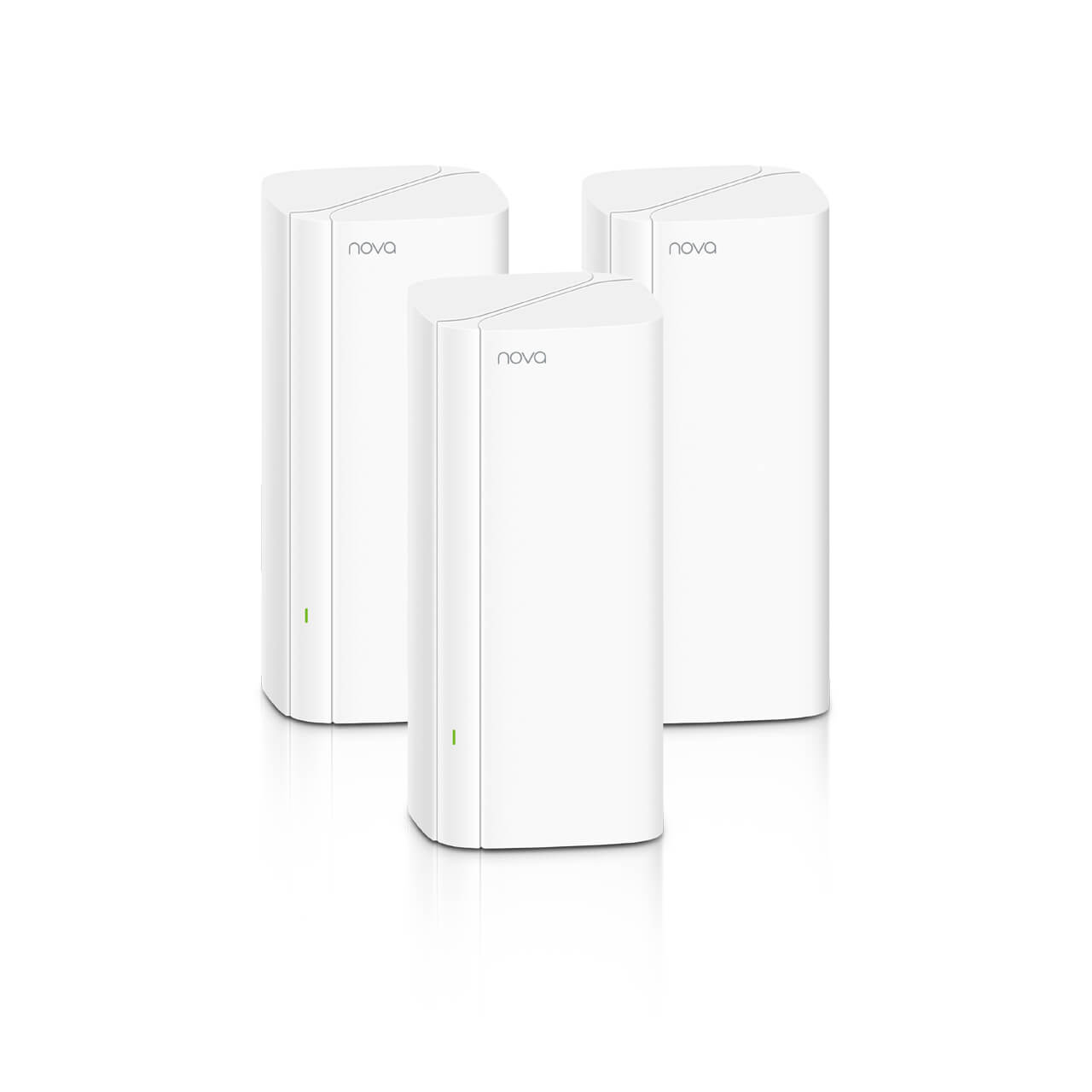 View Product Details
The EX12 is a powerful WiFi 6 Mesh System designed to cover every corner of your medium to large home or office. Cover up to 7000 sq ft under best conditions. The nodes work together to create a large, reliable, seamless WiFi network that can efficiently communicate with up to 160 devices at once.
IP-COM Enterprise Mesh WiFi System
Buy Now: $153.74
To completely eliminate WiFi dead spots throughout small to medium businesses, we recommended the IP-COM Enterprise Mesh WiFi System. The unit comes with three nodes. It can cover up to 6000 sq ft with speeds up to 300Mbps on the 2.4GHz band and 867Mbps on the 5GHz band.
While not as fast as the 3-pack EX12, it's the better option for businesses. It can support up to 9 nodes for even more coverage. Plus, it offers Dual-WAN to keep your business efficiently running during high traffic and outages.
---
Indoor/Outdoor Wireless Access Points – Extend Your Connection Wherever You Need It
While WiFi extenders and mesh networks are great at wirelessly improving in-building coverage, they must be installed in areas with decent WiFi signal.
In some cases, however, the targeted area may be too far from your network's coverage. For those situations, an indoor/outdoor wireless access point is recommended. It connects to your network via an Ethernet cable, allowing you to extend your connection as far as you need. It blankets the area with fast, reliable WiFi signals for many devices to enjoy.
IP-COM Indoor/Outdoo WiFi Access Point
The IP-COM WiFi Access Point can easily extend your network into those hard-to-reach indoor/outdoor areas via Power over Ethernet. Designed for industrial use, it can be installed in harsh environments and provide a maximum coverage radius of 656 ft. Connected devices will receive dual-band speeds of up to 1667Mbps. It's ideal for factories, warehouses, pool areas, and more.
---
WiFi 6 USB Adapters – Enjoy New-Gen Speeds on Legacy Devices
WiFi 6 is the new generation of WiFi. In a nutshell, WiFi 6 networks offer faster speeds and provide greater performance in congested environments for WiFi 6 enabled devices. Older WiFi devices can still connect to a WiFi 6 network but won't be able to take advantage of all its features. If you want to enjoy WiFi 6 speeds without upgrading your laptop or desktop, a WiFi 6 USB adapter is for you. The USB has WiFi 6 built into it. Once connected to a compatible legacy device, it'll make your device WiFi 6 capable.
Tenda U18 WiFi 6 USB Adapter
Buy Now: $64.89
The U18 WiFi 6 USB Adapter is the answer to upgrading your legacy computer's wireless connection. When used with a WiFi 6 router, you can get dual-band speed up to 1800Mbps under best conditions. Once connected, you'll see instant improvement when working, streaming, or browsing the web. Its tiny body allows you to take the power of WiFi 6 everywhere you go.
---
SD-WAN Routers – Simplify the Way Your Business Operates
SD-WAN (Software-Defined Wide Area Network) routers are the future for businesses adopting SaaS and IaaS applications. Traditional business-wide area networks (WANs) backhaul traffic, including cloud-destined traffic, to a hub or data center for secure routing. This often results in delays and a decrease in productivity. Not to mention, it's expensive and time-consuming to manage.
SD-WAN simplifies the process. It creates a centralized platform to intelligently and safely direct traffic across data centers, remote branches, and cloud applications. Deploying and remotely managing cloud applications across a WAN is made significantly easier and more cost-effective. SD-WAN enabled routers leverage cellular, broadband, and other transport services to efficiently connect users to business applications with minimal delay, improving productivity across all branches.
InHand Networks ER800 Cloud-Based SD-WAN 5G Router
Buy Now: $1,149.99
The ER800 is a cloud-based SD-WAN edge router that uses 5G and broadband to provide a convenient, high-quality, and secure network for businesses. With many ways to access the internet, you have multiple failover features for uninterrupted application connectivity.
The centralized cloud management platform enables quick deployment and remote management, saving your company time and money. Various IoT industries, such as retail stores, hospitals, restaurants, and others, can become more productive and efficient with the ER800.
---
Vehicle LTE Gateways – Reliable Fleet Management & Internet on the Go
Vehicle LTE gateways use the cellular network to provide uninterrupted internet access, location tracking, and real-time diagnostics monitoring. This improves driver safety, facilities preventive maintenance, and reduces operational costs. They're a phenomenal networking and managing solution for buses, trains, semis, emergency vehicles, and heavy machinery.
InHand Networks InVehicle G710 Vehicle Gateway
Buy Now: $619.99
The G710 has everything you need to keep your drivers and fleet vehicles connected. It offers high-speed WiFi and Ethernet connectivity for multiple devices. In addition, it uses GPS, CAN bus, and remote analysis software. This allows for accurate, real-time fleet tracking and monitoring. Its industrial-grade design ensures quality performance in even challenging vehicle environments.
---
Outdoor CPE Antennas – Build a Long-Range WiFi Network
Outdoor CPE (Customer Premise Equipment) antennas allow you to bridge your existing network with distant buildings or access one form miles away. Designed for point-to-point (P2P) or point-to-multipoint (P2MP) WiFi networking, they have incredible range and power. You'll be able to enjoy a steady and reliable long-range WiFi connection in your home, barn, warehouse, or anywhere you need without the need for long cable runs, multiple internet lines, or wired broadband.
Tenda O6 Outdoor CPE
Buy Now: $67.00
Featuring 16dBi of gain, the Tenda O6 Outdoor CPE can reach buildings and wireless internet service provider (WISP) stations up to 6 miles away. Actual distance will depend on your network's signal and your outside environment. With Tenda's unique technology, the O6 does a good job at minimizing noise for better throughput and wireless rates up to 450Mbps.
Tenda O8 Outdoor CPE
Buy Now: $109.99
If the building or WISP station you're trying to reach is farther than 6 miles, the Tenda O8 Outdoor CPE is for you. With up to 23 dBi of gain, it can efficiently maintain a long-distance connection up to 12.5 miles away – twice as far as the O6. There is a small tradeoff for more reach. The O8 offers a max wireless data rate of up to 433Mbps, slightly less than the O6. However, that doesn't stop the O8 from being a game-changer for long-range P2P or P2MP networking, especially in rural areas.
---
Contact Us to Help Solve Your Networking Issues
Fast, reliable internet access is a necessity, especially for businesses and those who work from home. No matter where you live or work, Signal Boosters offers WiFi for all situations. If you have questions about any of our WiFi products, don't hesitate to call us at 1-800-470-6777. We're here to help match you with the best solution.
Interested in Learning More? Check Out Our Cellular Info Hub / WiFi Info Hub