Make the Most of Your Glamping Holiday By Staying Connected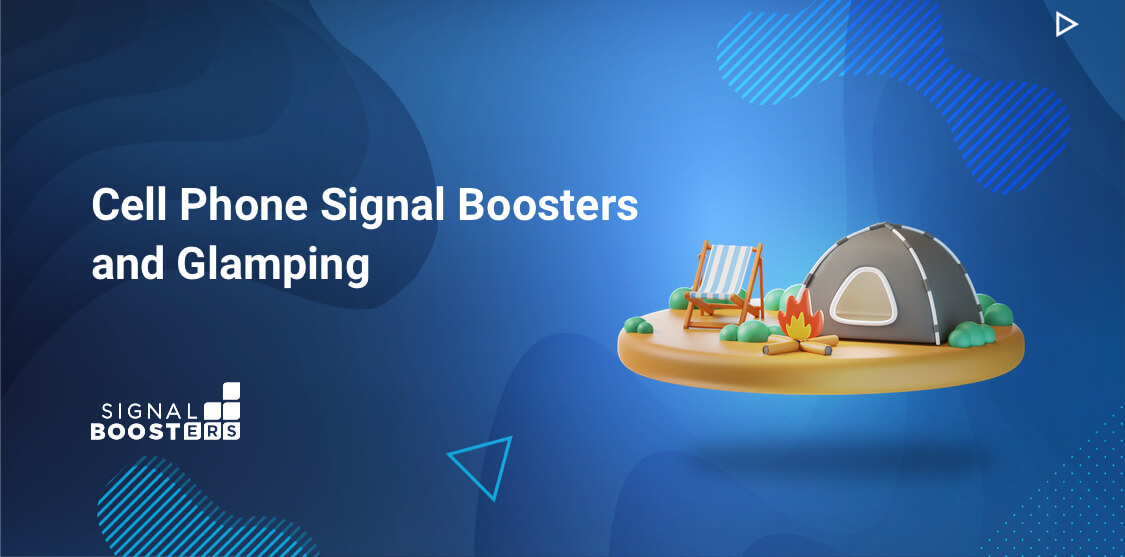 Glamping, or glamorous camping, is becoming increasingly popular. Life today is hectic. It feels like we are always on the go, always trying to do something, get somewhere, or contact someone. Taking a moment to breathe is essential, and one of the best ways to do this is to get out into nature. That means camping right? With tents, bugs, and no toilets? Not necessarily!
If getting that close to nature doesn't appeal to you, try glamping. Glamping is everything camping isn't. It involves beautifully soft beds, mosquito nets, hot showers, flushing toilets, and delicious food. There are a few things you can do to make your glamping trip that much more successful, the main one being to bring a cell phone signal booster.
We offer complete cell phone signal booster kits for any situation:
Attention business & property owners, installers and integrators
Take advantage of our system design and installation services. Learn more or call us for a free consultation: 1-800-969-8189.
What is Glamping?
Glamping is glamourous camping. You can go glamping all over the United States in various national parks, and private retreats. According to a Grand View Research report, the global glamping market is expected to grow at a compound annual growth rate (CAGR) of 10.9% from 2022 to 2030. It was valued at $2.35 billion in 2021 and should reach $2.74 billion in 2022.
Although you get to escape to the wild, with glamping you can still enjoy all the luxuries of a hotel. Some destinations offer cabins, some offer yurts and some even give you the chance to live in a tree house. All of them promise the luxuries that you are used to on a regular vacation like hot water, en-suite bathrooms, soft linen, and even air-con.
Imagine spending the night under the stars. There is a roaring fire in a pit in front of you, the table next to you is groaning with delicious food, and a bottle of wine is chilling in an ice bucket. Behind you, a tiny log cabin gives off a soft welcoming glow. A large bed with a warm duvet is turned down, just waiting for you to slip into it. You may be a few miles from the city, surrounded by the soft sounds of nature, but you have every creature comfort for which you could wish. This is glamping.
Glamping Plus a Cell Phone Signal Booster = The Perfect Combination
One of the main elements of having a comfortable holiday is staying in touch. Whether you want to keep an eye on your family or stream Netflix on top of a mountain, it's essential to be connected. Glamping sites will likely have power, but they may not have cell signal or WiFi.
To keep your bars high, even in the middle of the woods, you can bring a cell phone signal booster along with you. These devices boost bars in most places around the country. If there are any outside bars at all, you can get better signal inside your shack, pod, or cabin. Cell phone signal boosters only work inside buildings, but that makes them ideal for cabins, yurts, tree houses, tiny houses, and cottages. If you have solid walls and a power source, you can stay connected to cell signal for your entire vacation.
Do RVs Count As Glamping?
If you don't have a nearby glamping site or you want more flexibility on your vacation, you can always use an RV. With beds, running water, and the ability to make great food, they definitely could fit into the glamping category. All you need is an internet connection. And the best part? They're mobile. You can take your RV and glamp in a different place every night if you wanted to. Most camp groups for RVs have full power hookups, which is ideal for your cellphone signal booster system. There are also some great signal booster options for other vehicles, like trucks, cars and caravans and even boats.
What Are The Best Cell Phone Signal Boosters for Glamping?
Firstly, you need your booster to be portable, and strong enough to cover your yurt, cabin, or RV. There are several devices made specifically for this purpose that are easy to set up and come with their own antenna.
You can get both stationary and mobile boosters, but we believe that a mobile version is better for glamping. They require less setup and come with both outdoor and indoor omni-directional antennas. To set them up you need to mount your outside antenna, run the included cable down to the inside booster, and connect your indoor antenna. The indoor antenna can be set up on a flat surface and will provide signal in an enclosed space. The outdoor antennas will need to be mounted on a pole, so you need to either confirm that there is a suitable one where you are going or bring your own telescoping pole.
The strength of the signal booster will depend on how strong the signal is outside. If you are planning to go really off-grid, then it's best to get a more powerful booster. You will likely face three challenges in getting good signal when glamping:
Cell Tower Distance – The further you are from a tower, the weaker the signal that reaches you will be.
Outside Interferences – If your glamping site is surrounded by things like trees, hills, mountains, and other natural obstacles your signal will be weaker.
Building Material – Your cabin, tree house, or tiny house may be made of building materials that block signal. Insulation, energy-efficient barriers, glass, and metal can all prevent cell signal from reaching your inside mobile devices, especially if the outside signal is weak to begin with.
We Suggest These Cell Phone Signal Boosters For Your Glamping Trip: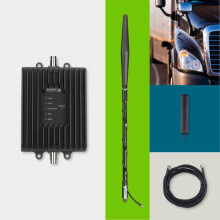 Buy Now For $519.99
For large trucks and RVs
Up to +50 dB gain
Includes Bolton Blade 5G OTR outdoor antenna
Boosts 4G LTE signals and is 5G ready
Simple mirror mount installation
The Velocity Trucker cellular booster has been crafted to keep multiple devices connected in challenging signal situations. While it has trucker in the name, it can also be used on an RV. It boosts 4G and 5G throughout the cab of your glamping vehicle. Everything you need is included in the kit.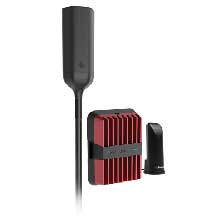 Buy Now For: $519.99
4G LTE Coverage for Entire RVs, tiny buildings, and multiple users
Works for all phones & cellular devices, all major US carriers.
Complete kit: all parts included, easy install
Up to 50 dB (decibels) gain and 29.5 dBm in uplink-output
This is a great option for both RVs and small buildings. It comes with everything you need to set it up (except a pole), which should take only a few minutes. The outside antenna can be mounted on a pole or any round pole-like structure.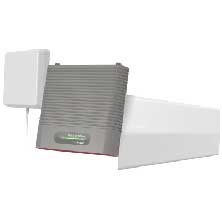 Buy Now For: $649.99
Coverage for Stationary RV and Multiple Devices
Works for all phones & all US carriers
Complete kit: all parts included
Up to 65 dB (decibels) of gain
Although we did say that we preferred mobile cell phone signal boosters for glamping, we wanted to include this model as well. It is a bit more complicated to set up, but it does come with its own telescoping pole. It's also more powerful than the previous two boosters but can only be used if you are stationary.
Get the Best Signal on Your Glamping Trip
Glamping really is fun. It allows you to get off the grid, relax, and forget about your troubles for a while. With budgets becoming stretched to the limit many people are looking for affordable ways to take some time off, and glamping is the answer. Whether you stay in a luxury tiny building like a pod or a treehouse, or just take an RV off into the woods, it's time to get in touch with nature and enjoy a breath of fresh air.
But don't isolate yourself even if you are having some well-deserved time off. Keep in touch, Google your surroundings, or just relax on a soft bed with a great series.
If you need help deciding which cell phone signal booster you need for your off-the-grid vacation or RV, or simply want to chat about signal boosting, we can't wait to hear from you! Give us a shout on 1-800-470-6777 or email sales@signalboosters.com.