Best Devices For A Helium Hotspot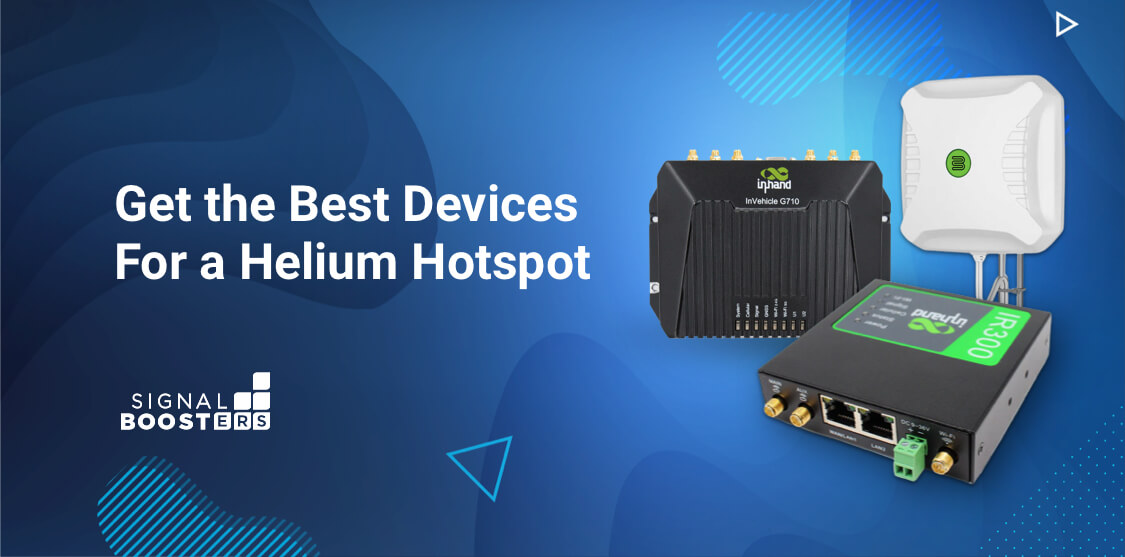 Block chains. Crypto currency. Helium Mining. You may be forgiven for raising an eyebrow at any of those phrases. Understanding how cryptocurrency is mined, and what hardware you need to do it can be beneficial. Gone are the days when you needed a whole bank of servers and a supercomputer similar to Deep Thought from Hitchhiker's Guide. Thanks to a block-chain based crypto currency called Helium, all you need is an antenna, a gateway, a gadget, and an internet connection. Sound confusing? Don't worry, we'll clear it all up for you.
Shop WiFi:
Attention Business & Property Owners,
Installers and Integrators
Take advantage of our system design and installation services. Learn more or call us for a free consultation: 1-800-969-8189
What is the Helium Network?
Aside from being a useful gas for parties, Helium is a global network designed for IoT devices, with the bonus of a block-chain cryptocurrency. It was launched in 2019 with the purpose of decentralizing wireless infrastructure around the world.
Phew. That's a lot of big words.
To simplify: Helium uses WiFi signals in a cheaper way, essentially peer-to-peer. Its main differences from traditional wireless are:
The Helium Network is based in radio Long-Fi, which is different to WiFi.
Better security and advanced privacy sensitivity thanks to enhanced data encryption.
More reliable and scalable without sacrificing safety.
Entire Helium Network is an open-source project. This makes collaborating with it easy.
The Helium block chain product was created from scratch with the intention of allowing anyone with a gateway, internet access, and a mining gadget to get in on the action. The network is designed for the Internet-of-Things (IoT) and based on "nodes". These nodes or hotspots link together and connect to the network to expand it.
Helium speaks about the network as an "Ecosystem"; one web that is made up of millions of individual points, all contributing to the greater whole. The idea is to build a massive network, all over the world, run on hotspots which can be owned by anyone. The best hotspots are placed within line of site of another one, creating an unbroken chain.
Once your hotspot is up and running, and actively contributing to building the Helium network, you get rewarded with HNT coins. The idea behind the network is to build an alternative connection option for IoT devices such as kiosks, access points and vehicle trackers instead of traditional cellular or WiFi. It brings the ability to make money by crypto mining to a whole new chunk of the population, as well as building a global, stable, open-source network for IoT devices.
How Can You Earn Helium (HNT) Coins?
Knowing about the Helium network is all very well, but how does that effect you, a normal Joe who uses the internet?
Simple, it gives you the ability to earn a cryptocurrency with very little input from you. Cryptocurrencies have been around for a while now, and despite some scathing opinions when they initially came out, look set to be a real investment opportunity for a while to come.
HNT coins are one of the newer cryptocurrencies and have a few key differences to other mainstream options. For example, they are limited, which makes them worth more. They also get burned back into the network in certain situations which boosts their worth further.
To earn HMT coins, you need to contribute to the Helium network. It's a win-win situation. Helium gets to build a bigger, stronger network for IoT devices which will eventually lead them to becoming globally recognised network leaders, and you make money. Remember, the whole point of HNT coins is not the actual cryptocurrency itself, it's a reward for building a network.
That sounds easy, right?
Well, yes, it is easy. To contribute to the Helium network, you will need an antenna, a gateway, and a little gadget called a miner. The miner mines the blockchain using a Proof-of-Coverage (PoC) algorithm. To do this is just needs to prove that it is online and active. It will receive "challenges" and have to respond to them. Nearby hotspots or nodes will issue these challenges using radio technology. This is different to older block chain technology that uses high-end, power-hungry GPU's
Your hotspot will answer the challenge by proving that it is online and active, and thus contributing to Helium's network. It also provides network access to potentially thousands of IoT devices with a few mile radius at the same time. For this, you earn HNT coins. In turn, your hotspot will issue challenges to nearby hotspots to make sure that they are online. It can also "witness" challenges issued and answered by nearby hotspots, also earning HNT coins. So, the Helium network is self-sustaining. If your hotspot goes offline, you don't earn anything, so make sure that its always active.
The Helium network is not WiFi, nor is it cellular. It's a completely different form of connection based on radio called Long-Fi. Your hotspot device connects directly to the Helium network using an antenna. The gateway or CAT router that you connect to your device will connect separately to either cellular or WiFi, purely to let you know what your miner is doing. Managing your miner, its connection and your HNT coins is done through an app. The app needs an internet connection from your miner to manage it. You can have just a miner and an antenna, but you won't be able to monitor or manage it.
It's important to note here that your Helium hotspot itself won't access your WiFi network. There is no chance of any of your data being hacked or otherwise compromised. The Helium network is totally separate, which is the whole point of what they are trying to do.
What Can You Do with HNT Coins?
The HNT token or coin began with a decent value of around $0.50 initially. It rose to $2.00 within two months but dropped back to $1.25 one month later. By October 2020 HNT tokens were valued at $2.00 but dropped again to below $1. As of March 2022, they are worth $24.14, which shows that they are increasing in value. This is mostly because there are a finite number of coins, and that some coins get "burnt" during their lifetime.
Trading in HNT tokens is done in the same way as any other crypto currency. You can invest in them, buy a certain amount, and sell them if their value increases. You can also get a crypto wallet from crypto.com which allows you to cash out your tokens or reinvest them in another crypto currency.
What Do You Need for Helium Mining?
To contribute to the Helium network and monitor your miner, you need three things. An antenna, a gateway and a Helium hotspot. When the network first began many people built their own hotspots. These home-built gadgets are still active today but are not eligible to earn HNT coins.
Antennas:
The antenna is the most important part of your Helium mining setup. If your hotspot cannot connect to the network, or see any other local hotspots, then it can't receive and take part in challenges. If you live in an urban area where there are a larger number of hotspots, then you don't need as powerful an antenna. However, if you live in a rural area, a long-range antenna is essential. All of our recommended antennas are able to receive Long-Fi as well as other signals.
We recommend:
The Crossbow 5G Antenna | Bolton Technical
Over 5 miles of range
Superior gain: up to +12 dB
N-Female connector ports, 50 Ohm
Works across the 617-3800 MHz cellular bands
Weatherproof, all-weather tested
The Crossbow has around 5 miles of range, meaning that as long as you have some cell signal, you can bring it directly to your hotspot. With up to +11 dBi of gain you'll see a marked difference when comparing it to the standard omni/whip antenna that comes with normal hotspots. This makes The Crossbow ideal for rural areas, as well as inside a metal building or other structure with difficult building materials which kill signal.
The Long Ranger - Ultra High Gain Parabolic Antenna by Bolton Technical
Perfect for long-range point-to-point and point-to-multipoint networks
Can send and receive a wireless signal from 10+ miles away (under perfect conditions)
Radiation pattern ranges between 4 to 20 degrees
Provides up to +28 dB gain
Sends and receives vertically or horizontally polarized sound waves.
Designed to withstand extreme weather conditions
The Long Ranger is the most powerful directional cellular antenna in the market. It's perfect for rural environments with faraway cell towers. When a standard Yagi can't get the job done, this bad boy will.
This antenna features ultra-high gains of up to +28 dBi, making it extremely directional, which allows for farther reach. It has a radiation beam of about 10°. Thus, installation may take some time because it must be pointing at your closest cell tower with such accuracy for best results. Under perfect conditions, it can reach cell towers found 10+ miles away. That's more than twice as far as a standard Yagi antenna.
The Arrow LPDA – High Gain Directional Antenna
Over 5 miles of range
Superior gain: up to +12 dB
N-Female connector ports, 50 Ohm
Works across the 698-2700 MHz cellular bands
Weatherproof, all-weather tested
With over 5 miles of range and compatibility with all North American carriers (including Verizon, AT&T, T-Mobile, Sprint, Rogers, Bell, Telus, and more), the Arrow LPDA antenna brings great signal directly from the tower to your home or business. Works with cell phone signal boosters, cellular modems, routers, and hotspots - Plug in to your cell phone signal booster, mobile hotspot, cellular modem, miner or range extender and see the difference.
Gateways:
To manage and monitor your hotspot device, it needs to be able to needs to be able to connect to your app. This can be done via cellular signal or WiFi. You can either use a gateway or a separate modem and router setup. The router does not need to be powerful, as the bandwidth and power requirements of the helium miner are low. Unmanned stations in areas where the signal is better can also be set up with a gateway to keep them in touch. You can also set up a miner system on a vehicle so that it moves around to get the best chance of witnessing challenges. A CAT 1 or a CAT 4 router will be quite sufficient to keep an eye your Helium mining operation.
We recommend:
Inhand Networks InRouter302 Compact Industrial LTE CAT1 Router
Speeds Up to 10 Mbps download and 5Mbps upload
Good for IoT Management
Remote Device Management
Easy installation
Use with AT&T, Verizon, & T-Mobile
The IR302 CAT1 router is great for IoT devices and machine-to-machine hardware like ATMs, kiosks, and access control. It has an up-speed of up to 10Mbps and keeps all your unmanned devices online easily without any upkeep or input from you.
Inhand Networks InRouter302 Compact Industrial LTE CAT4 Router
Certified for Use with AT&T, Verizon, & T-Mobile
Speeds Up to 150 Mbps
Dual-Sim Card Capabilities
Remote Device Management
Easy to Install, 3 year Warranty
The IR302 CAT4 from InHand is a great little LTE router that supplies steady internet connection for your home or vehicle. It has two ports as well as two SIM slots. The IR302 allows up to 150 Mbps download and 50 Mbps upload speeds, perfect for those who need a good internet connection at home or on the move.
*Data speeds depend on your carrier and cellular signal strength.
Inhand Networks InVehicle G710 High-Performance Vehicle Gateway
High-Speed LTE Cat 6 Connectivity
2.4GHz/5GHz Gigabit WiFi and Ethernet
Remote Device Management, Tracking, and More
Certified for Use with AT&T, Verizon, & T-Mobile
The IV G710 provides high-speed 2.4GHz/5GHz WiFi and Ethernet connectivity, ensuring you receive a reliable connection up to Speeds Up to 1000 Mbps*. With Dual-SIM capabilities, drivers and passengers will receive continuous data relatively everywhere for all connected devices. It can run in temperatures as low as -22°F and as high as 158°F. It's also splash, dust, shock, vibration, and humidity resistant. The G710 also supports Python3, Docker, AWS, Azure, and other IoT cloud services, enabling you to quickly develop and deploy custom applications.
*Data speeds depend on your carrier and cellular signal strength.
Miner:
A miner is a gadget that is designed to create your Helium hotspot. It receives challenges and proves that your node is online and active, and in return it earns HNT coins. To manage your coins as well as your miner, you need to download the
app
, which is available on both Google and Apple stores. There are quite a few miners available on the market, designed for different situations. You need to decide if you are going to keep it indoors or out, and if it is going to be an unmanned station, in your vehicle, or a part of your home network.
For miner options have a look at: Build The People's Network (helium.com)
Join the Helium Network Now
Since its start the Helium network has become one of the most popular ways to earn a passive income, for good reason. You don't have to put in much effort besides the building of your node, and it doesn't cost you anything to run. It's important to remember that this is a finite thing; eventually the network will be big enough that it doesn't need any more nodes and the opportunity to become a part of it will end.
If you have any questions about which devices will be the best to set up your Helium node, don't hesitate to call us at 1-800-470-6777.
Signal Boosters is a leading provider of cell phone signal boosters for < a href="https://www.signalboosters.com/consumer/home">homes, vehicles, and commercial buildings. We specialize in consumer-friendly kits as well as customized RF systems for cellular, public safety two-way radio, DAS, and WiFi.
Interested in Learning More? Check Out Our Cellular Info Hub / WiFi Info Hub