Do You Need a CAT1 or CAT4 Router for IoT and M2M?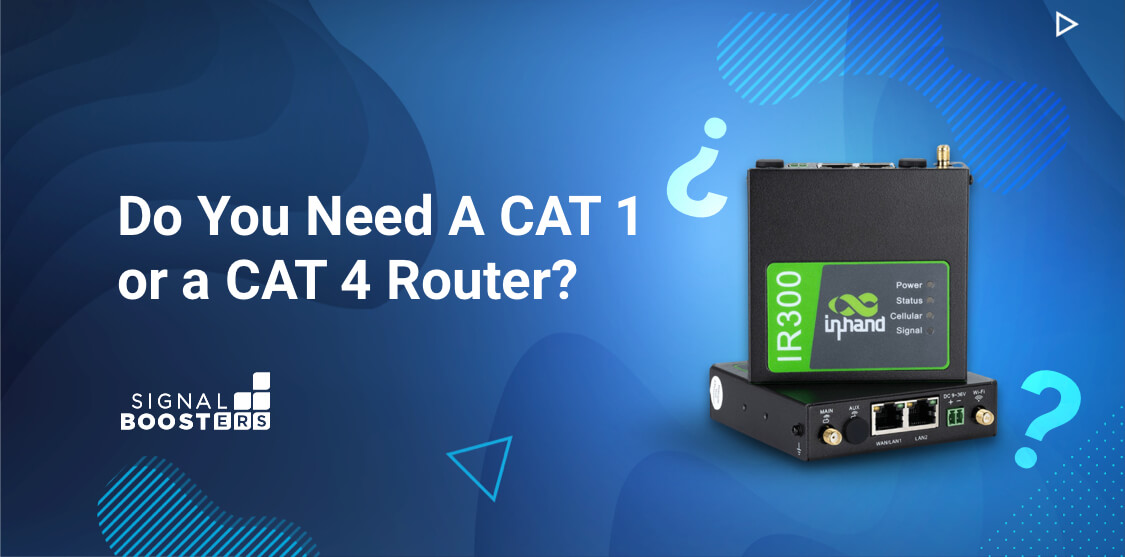 Buying a router can be daunting. There are all sorts of questions needing answers. Which one is the best for me? How fast does it need to be? Can I use a router for machines and my office or house? What if I need a router for unmanned machines? What are CAT1 and CAT4 routers, and what is the difference?
Read on for answers.
Shop WiFi
Attention Business & Property Owners,
Installers and Integrators
Take advantage of our system design and installation services. Learn more or call us for a free consultation: 1-800-969-8189
What is a CAT1 Router?
InHand makes both CAT1 and CAT4 routers. The CAT1 is designed for a specific purpose. With a much lower megabit-per-second (Mbps) speed than the CAT4, the CAT1 is best for IoT and other machine to machine applications. The CAT1 router tops out at 10Mbps in perfect conditions, so it's not a good choice for home or office internet. It has power saving capabilities - exactly what you need for unmanned devices. Since the router can run on batteries, power saving is essential. No one want to be changing batteries all the time and worrying about disconnected IoT devices. If the option is available, it can use an AC/DC power supply.
The CAT1 has both cellular and WiFi connectivity in order to stay connected and will switch between them to choose the best signal. You can also install two SIM cards, each from a different carrier to better your chances of always having great signal. The CAT1 is only single band however, offering a 2.4 GHz WiFi connection.
Deployment is unlimited, being both pole and rail mountable. It's great for outdoor use as it is durable and can work in temperatures -20°C and as high as 70°C (-4°F and as high as 158°F).
Inhand Networks InRouter302 Compact Industrial LTE CAT1 Router
Speeds Up to 10 Mbps download and 5Mbps upload
Good for IoT Management
Remote Device Management
Easy installation
Use with AT&T, Verizon, & T-Mobile
Pairs perfectly with the weBoost Signal 4G M2M
The IR302 CAT1 router is great for IoT devices and machine-to-machine hardware like ATMs, kiosks, and access control. It has an up-speed of up to 10Mbps and keeps all your unmanned devices online easily without any upkeep or input from you.
---
What is a CAT4 Router?
An InHand CAT4 router is much faster than a CAT1. Speeds of up to 150 Mbps in perfect conditions mean that you can use it both for home use or IoT devices. It also has two SIM card slots, WiFi and cellular capabilities and boasts double ethernet ports as well. This all means that is has several connections options available to get the best signal. The CAT4 can also be mounted in a vehicle, supplying stable internet connection for both passengers and monitoring devices. Security for sensitive data is provided by an encrypted VPN, firewall, and multi-level authorization. Like the CAT1, the CAT4 is single band offering internet only on 2.4 GHz.
Deployment is the same as the CAT1, being both pole and rail mountable. It can also withstand extreme temperatures and is weather-proof and dust-proof. It boasts fanless cooling, low electromagnetic levels and low vibration, making it good for home and office use.
Inhand Networks InRouter302 Compact Industrial LTE CAT4 Router
Certified for Use with AT&T, Verizon, & T-Mobile
Speeds Up to 150 Mbps
Dual-Sim Card Capabilities
Remote Device Management
Easy to Install, 3 year Warranty
Pairs perfectly with the weBoost Signal 4G M2M
The IR302 CAT4 from InHand is a great little LTE router that supplies steady internet connection for your home or vehicle. It has two ports as well as two SIM slots. The IR302 allows up to 150 Mbps download and 50 Mbps upload speeds, perfect for those who need a good internet connection at home or on the move.
*Data speeds depend on your carrier and cellular signal strength.
---
So Which InHand Router Do You Need?
That depends on what you want to do with it. If you are looking to get signal to several machine hardware devices like ATMs, kiosks, and access control then your best bet is the CAT1. It's low maintenance, low power, and fast enough to run unmanned stations reliably.
If you are looking to power your home or office, then the CAT4 is your best bet. Its faster and more able to provide the speeds you will need for streaming and surfing. Both of them are easy to install, and both of them have multiple connection options. The CAT4, however, can run IoT devices and supply an internet connection for a home at the same time. It's a great choice if you want a router that can be used to control your electric gate and smart appliances as well as provide a hotspot for mobile devices.
Boost your Router's Connection with A Signal Booster
Both the CAT1 and the CAT4 router's speed is dependent on outside conditions. These conditions can be influenced by various things such as the distance to the cell tower and building materials. To get the best out of your router you should consider pairing it with a signal booster, such as the weBoost Signal 4G M2M.
SignalBoosters.com is your go-to for the best range of cellular signal boosters, WiFi routers, range extenders and more. We specialize in custom made, consumer friendly kits, RF systems for cellular, public safety two-way radio, DAS, and WiFi. If you have any questions, or want to find out more about routers or signal boosters, don't hesitate to contact us at 1-800-470-6777.