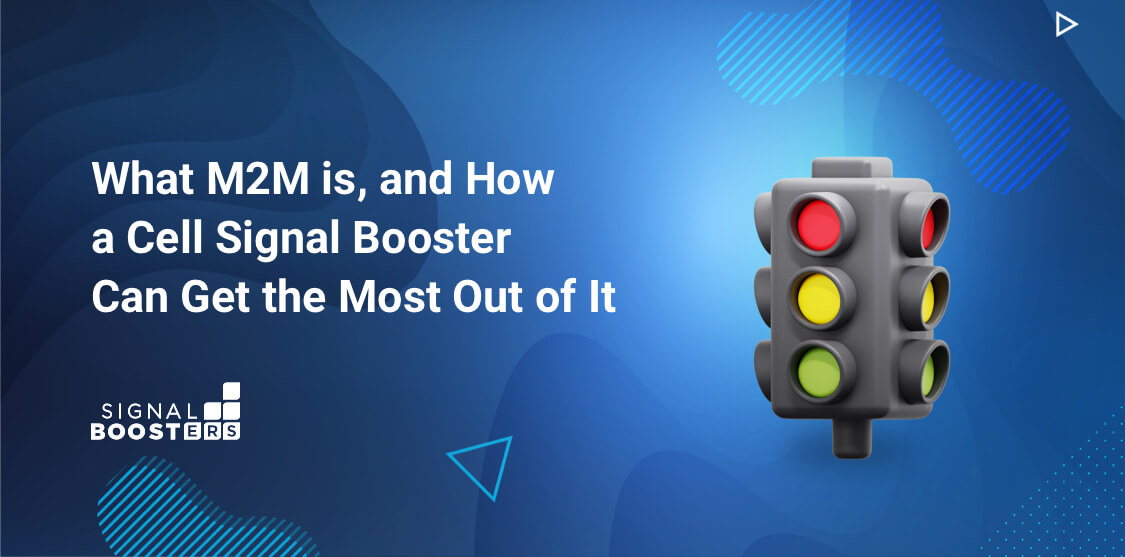 Technology is changing the world, and we believe in helping everyone to make the most of these changes. Two of the most exciting new systems are M2M (machine 2 machine) and IoT (Internet of Things). Both concepts revolve around autonomous devices that connect to the internet. They send and receive data, allowing them to perform tasks.
To do this, all M2M and IoT devices need to be connected either to the internet or a private network. The best way to set up this connection is for them to use cell signal. And the best way to make sure you have good cell signal, is to have a good cell phone signal booster.
We offer complete cell phone signal booster kits for any situation:
Attention business & property owners, installers and integrators
Take advantage of our system design and installation services. Learn more or call us for a free consultation: 1-800-969-8189.
What is M2M?
Machine to Machine (also known as M2M) involves direct communication between two or more devices without human interaction.
Think of a phone call. For us to make this call, we will need to actually do something, like asking Siri to make the call. Even though there are two phones and cell towers involved to make a call, this isn't M2M since we're starting the connection.
Traffic lights are a different story. Why do they change their timing during rush hour? How do they know when the street is busy?
Sensors in the streets judge the level of traffic and automatically send this information to traffic control software. This process has machine communication happening automatically, without human input. What do these machines do with the data? That's where IoT comes in.
What is IoT, and How Does it Work?
The Internet of Things (IoT) involves not only communication but also analytics, processes, and operations between machines without needing human input. Examples of IoT are everywhere, but let's again use traffic lights as our example.
Thanks to automatic sensors, traffic control systems can tell if a crowded street is in danger of collapse. How? Via the internet.
The software uses analytics data to change the timing of traffic lights around the busy road to avoid chaos. The data will tell the software how to keep the lights green or red, and how often to change them. After rush hour, the software then switches the lights back to their regular pattern.
This is what the Internet of Things is about; a single traffic light can't act by itself to make traffic run smoothly. It is just that, a traffic light. It needs info from other machines to know when to switch to its rush hour pattern. This is something that the internet and cell networks make possible.
SKU: 61IR302-FQ38-WLAN-IO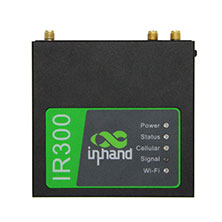 Buy Now For $176.00
Certified for Use with AT&T, Verizon, & T-Mobile
Speeds Up to 150 Mbps
Dual-Sim Card Capabilities
Remote Device Management
Easy to Install, 3 year Warranty
Pairs perfectly with the weBoost Signal 4G M2M
The IR302 CAT4 from InHand is a perfect router for bigger IoT or M2M requirements. Get up to 150 Mbps download and 50 Mbps upload speeds.
SKU: 61IR302-FQ33-WLAN-IO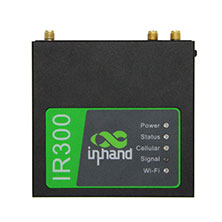 Buy Now For $164.99
Speeds Up to 10 Mbps download and 5Mbps upload
Good for IoT Management
Remote Device Management
Easy installation
Use with AT&T, Verizon, & T-Mobile
Pairs perfectly with the weBoost Signal 4G M2M
The IR302 CAT1 router is great for IoT devices and machine-to-machine hardware like ATMs, kiosks, and access control. It has an up-speed of up to 10Mbps. Connect many of these devices and manage them all from the cloud.
SKU: 80MAX-BR1-MINI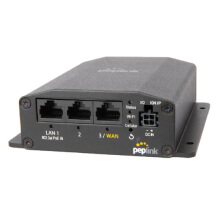 Starting at $349.99
100 Mbps download speed
Multiple connection options
Choose your BR1 Mini
Best for IoT and home office application
The Peplink BR1 Mini is compact, rugged, and designed to provide stable internet anywhere you need it. Get 100Mbps download speed. Heat, cold, vibration, and roll resistant. Choose from CAT7, CAT6, LTE/WiFi, and pure LTE Models. DC and AC power available.
What's the difference between M2M and IoT?
The difference between M2M and IoT is scope, or how much data is being transferred. Machine to Machine communication involves sending and receiving data, while the Internet of Things involves data communication, data analytics, and operations. If that still sounds complicated, know that you're not alone. Different industries use different terms to describe how machines talk to each other, which makes IoT terminology confusing.
Try not to think of M2M and IoT as totally different things, but as two parts of a whole. Machine to Machine communication is a subcategory of the Internet of Things. By machines, we're not only talking about phones, laptops, or tablets. We mean all sorts of machines and devices from vending machines, to security systems, to smart farming. The internet is making life easier not only for consumers but also for companies and industries.
Poor Cellular Service Affects M2M Communication
While the idea of linked machines automatically talking to each other and carrying out tasks is exciting, there are still challenges. For example, bad cell signal is a major issue when it comes to both IoT and M2M. Just as our phones and laptops sometimes drop calls when emailing or calling someone, other devices can also be affected by a bad network connection. This can be because of several things, including: distance to cell towers, building materials that block reception and transmission of data, and more. Bad connections can result in:
Poor Inventory Management: Losing track of how many units of certain items have been sold can be a disaster for logistics and operations teams in your company, not to mention your warehouse team.
Revenue Going Untracked: Losing track of the real-time spend tracked by M2M devices because of interrupted data transmission is bad for your bottom line. It can also dramatically affect the decision-making process in your business.
Lapses in Security: In any business, security is critical. If the signal from your monitors or camera drops, you'll experience blank spots that can cost you money - or worse - through no fault of your own.
SKU: WA460119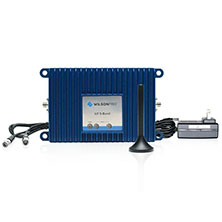 Buy Now For $399.99
5G/4G LTE for any IoT or M2M device
Designed to be attached to a M2M devices
Works for all US carriers
Complete kit: all parts included, easy install.
Pairs perfectly with the Inhand 302 Cat 1 router
Boost cell signal anywhere to your IoT or M2M devices. Remote areas are no problem, get more bars instantly.
Combating Poor Cell Signal for Your M2M Devices
An M2M signal booster amplifies the cell signal that M2M and IoT machine use to talk to each other. They're essential when devices work in locations with weak or spotty cell signal.
A wide variety of M2M appliances are smart enough to communicate with other computers but need a good, steady cell signal to be able to do so. Slow data speeds from bad cell reception make these machines either unable to work or too slow to be able to be much good. To keep speeds up and connection smooth, an M2M signals booster should be a consideration.
For instance, an M2M signal booster attached to vending machine will result in the perfect solution to keep the company up-to-date with stock, revenue information, and security.
It is important to note that they are different from other cell phone boosters. Regular cell phone boosters are designed for amplifying the cell signal -and therefore, the internet- of your phone, your laptop, or tablet. They usually come with three elements: an outside antenna, the amplifier, and the inside antenna. An M2M or IOT signal booster, on the other hand, doesn't come with these three elements separated, and their features cover machines able to work automatically. They DO NOT improve the signal received by your cell phone or amplify the signal in a general area - only for the machine they are attached to.
Not every booster will work with every machine. You need to know exactly what your IoT or M2M machine needs to match it with its perfect signal booster. Have a look at the product description for more info. You can also contact our team of signal-boosting experts, and we'll help you find the best solution for your situation.
To recap: M2M relates to automatic communication between devices. IoT is a broader term involving the greater network of interconnected devices combined with analytics and data. M2M devices are present in our businesses, homes, and vehicles to make our lives easier. Make sure your M2M device's spotty performance isn't due to weak signal and make sure they stay connected. Contact us, and we'll be happy to help you.
Related article: All About Antennas: Which Outside Antenna is Best For You?
Contact Us
We're here to assist with any issues you might be experiencing with both poor cell signal. Contact us today.
Interested in Learning More? Check Out Our Cellular Info Hub / WiFi Info Hub