Distributed Antenna Systems (DAS): Passive vs Active vs Hybrid
Poor cellular reception plagues tons of buildings. The main culprit is usually building material. Brick, metal, concrete, energy-efficient windows, and the like block and degrade cell signals. Cell tower distance also affects indoor cell reception. Thus, Distributed Antenna Systems (DAS) have become vital to businesses. With there being so many types of DAS, it can be hard selecting the best solution for your building.
This guide focuses on differentiating indoor DAS solutions: Passive DAS (aka cell phone signal boosters), Hybrid DAS, and Active DAS. For any DAS questions you may have, contact us at 1-800-420-3211 (Mo-Fri 8AM-6PM CST) to talk to one of our DAS experts.
We Fix Poor Cell Signal! See Complete Signal Booster Kits for Your Situation:
Attention business & property owners, installers and integrators
Take advantage of our system design and installation services. Learn more or call us for a free consultation: 1-800-969-8189.
What is a DAS?
A DAS is a network of spatially separated cellular antennas used to blanket buildings with reliable cellular signals. The distributed cell signal is generated from a signal source. Depending on the type of DAS setup, the signal source can be over the air, an on-site base transceiver station (BTS), or a small cell. Overall performance will vary depending on the equipment used.
Passive DAS or Cell Phone Signal Booster
A Passive DAS or cellular booster takes your outside cell signal and delivers it even stronger throughout your building using passive components (coaxial cables, splitters, and taps/couplers). To do so:
A donor antenna, installed on the roof, draws in over-the-air cellular signals from nearby towers. Depending on the system, it could be for one or multiple carriers. Via coaxial cable, the signal is relayed into the building, bypassing those signal-blocking materials. An amplifier takes those signals and boosts them if weak to ensure strong, reliable connectivity indoors. This is a key feature for buildings operating on the edge of the network. The amplified signal is spread across all indoor antennas through coax cables, splitters, and taps. It is then broadcasted into desired areas.
The cellular booster's performance heavily depends on:
Outside Signal Strength: If the starting signal strength is on the weaker end, the cell booster will yield reduced coverage. On the other hand, greater coverage is expected when the starting cell signal is on the stronger end.
Cell Tower Capacity: Since the signal source is over the air signals from cell towers, performance is at the mercy of the cell tower. During times of congestion, users may notice a slight change in cellular reception.
To maximize a cell phone booster's performance, careful system planning is essential, especially since signal loss occurs with passive components. Thus, Active or Hybrid DAS are a better option for extra-large buildings requiring long cable runs and more antennas.
Out of all the DAS options, Passive DAS or cellular boosters are the most affordable and the simplest to deploy.
There are a wide variety of cellular boosters available, each varying in how much coverage they can provide. Some are rated to cover a maximum of 1,500 sq ft, while others can cover up to 100,000 sq ft. If one system is not enough to cover the desired areas, more systems can be integrated. As a result, Passive DAS can be used to cover nearly any size building with reliable cellular reception.
Pros:
Cons:

Most affordable.
Fast deployment.
Fits most buildings.
Installation is less complicated.
Can support multiple cellular providers.
Does not require extra equipment to work with multiple carriers.
Does not need carrier approvals.

Coverage depends on existing outside signal strength.
Capacity is determined by cell tower.
Signal loss naturally occurs with passive components, so long cable runs are not ideal.
Here is our top Passive DAS solution:
Contact Us for Best Price
The WilsonPro 4300 is our most powerful passive DAS system. It's equipped with four independent amplifiers in one casing. Under optimal conditions, it can cover up to 100,000 sq ft with reliable 4G and 5G cellular signals.
Featuring industries-first three outdoor antenna ports, the WilsonPro 4300 can target multiple cellular towers to maximize performance. With up to 26 dBm uplink, antennas can reach distance cell towers. It also has four independent indoor antenna ports, but can support up to 20 with taps and splitters. This allows for wider in-building signal coverage and decreases signal loss due to fewer cable runs. And with XDR technology, you are guaranteed constant signal uptime without experiencing system shutdowns due to signal overload.
Unit is available in either rack-mount or wall-mount configurations.
Hybrid DAS
A Hybrid DAS uses active and passive components to cover a building with reliable cellular signals from one or multiple cellular carriers.
The signal source for a Hybrid DAS is typically analog off-air cell signals captured by a donor antenna. Another option for the signal source could also be:
A Small Cell – Connects to a broadband network. Business must have a strong broadband connection to maximize performance. Small cells are typically carrier specific. Multiple small cells from each carrier would be needed for a multi carrier solution.
A Base Transceiver Station (BTS) – Directly connects to the carrier's network. If cell tower does not offer enough capacity, a BTS can be used to add cellular network capacity. Carrier approval is needed to get a BTS. For a multi-carrier solution, a BTS from each carrier is needed.
The received signals are then sent to a Master Unit or Network Unit where they are converted to digital signals. Via fiber optical or ethernet cables, the digital signals are transmitted to Remote Radio Units (RRUs) located on each floor. The RRUs in a Hybrid DAS do not broadcast cell signals. Thus, fewer are used when compared to an Active DAS, making it less expensive than an Active DAS. RRUs convert the digital signals back to analog and push them out to the distributed antennas via coaxial cables, splitters, and taps.
Because Hybrid DAS makes use of fiber or ethernet cables, it's able to achieve longer cable runs than a Passive DAS, allowing for greater coverage. What's more, the broadcasted signal is much stronger than that of a Passive DAS because there is minimal signal loss. If your starting signal is on the weaker end, a Hybrid DAS can help provide you with the best results possible without spending so much money.
Pros:
Cons:

Cheaper than Active DAS.
Offers better results than Passive DAS.
Allows for long cable runs.
Carrier approvals are not needed in most cases.
Can add capacity.

Pricier than Passive DAS.
Carrier approval may be needed.
Installation is more complicated than Passive DAS.
Our top Hybrid DAS solution is the Cel-Fi QUATRA 4000c.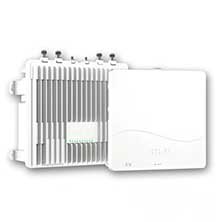 Get a Quote
The QUATRA 4000c is an extremely powerful and highly reliable Hybrid DAS solution. It's equipped with the highest gain possible, up to 100 dB. Other units support up to 70 dB, making the QUATRA 4000c 1000x more powerful. It'll cover up to 200,000 sq ft with superior LTE/4G/5G signal amplification for all major U.S. carriers.
It's composed of:
Network Unit (NU) – Receives analog cell signals from donor antenna, boosts them, and converts them to digital signals. Each NU supports up to 6 coverage units to provide a maximum coverage area.
Coverage Unit (CU) – Converts digital signals back to analog and pushes them out to the indoor antennas for broadcasting. Each CU supports up to 6 indoor antennas.
Rather than using coax cables, PoE (power over ethernet) through Cat5e and Cat6 cables is used, increasing signal quality and sustainability. This makes the QUATA 4000c the perfect choice for large buildings and long cable runs.
Featuring CBRS private network capabilities, businesses can expand their wireless connectivity strategy to include a private network alongside public cellular coverage.
Through the Cel-Fi WAVE app, you can monitor and manage the QUATRA 4000c.
With Zinwave, we can turn any WilsonPro system into a Hybrid DAS. Call us at 1-800-420-3211 for a free consultation with our signal experts.
Active DAS
In contrast to Passive DAS, Active DAS uses active components to distribute cell signals inside buildings. Depending on building needs, Active DAS setups vary.
Some Active DAS use a donor antenna, installed on the roof, to capture analog off-air cellular signals from cell towers. A small cell could also be used as the signal source. The signal is sent to a Master Unit, which converts the analog signals into digital signals. Rather than using coax cable, Active DAS uses fiber optic or ethernet cables to transmit the digital signals to RRUs. Depending on the system, RRUs are also sometimes called nodes or active antennas. The RRUs convert the digital signals back to analog and broadcast reliable cellular signals into desired areas.
Using fiber or ethernet cables allows for long cable runs without signal loss. Active DAS is able to provide wider coverage and stronger reception. With this setup, capacity still depends on the cell tower. In many cases, capacity is not an issue. For places that accommodate thousands of people, like airports, stadiums, hospitals, universities, and the like, extra capacity can be added with a Base Transceiver Station (BTS).
As mentioned above, the BTS is directly connected to the carrier's network. For a multi-carrier solution, a BTS from each carrier is needed. To get a BTS, carrier approval is required. They would determine if there is a true need for extra capacity. If so, the carrier will go in and install the BTS, which would be the signal source. A reoccurring fee is required by the carrier to service the BTS.
Due to the equipment needed, Active DAS is more expensive than Passive and Hybrid DAS. Deployment is much more complicated and can take months to a year.
Pros:
Cons:

Offers best results.
Can add capacity.
No limit to length of cable runs with no signal loss.
Ideal for very large buildings.

More expensive.
Carrier approval may be needed.
More equipment is needed for a multi-carrier solution.
Complex installation.
Lengthy deployment.
Contact us at 1-800-420-3211 for a free Active DAS consultation.
What's the Difference Between Signal Boosters, Hybrid, and Active DAS?
The main difference between the three are:
| | | | |
| --- | --- | --- | --- |
| | Passive DAS | Hybrid DAS | Active DAS |
| Components | All Passive | Passive and Active | All Active |
| Cost | Most Affordable | Mid-Range | Most Expensive |
| Installation Ease | Easiest | Slightly More Complicated | Most Complex |
| Deployment Time | Few Days to a Week | Few Weeks to a Few Months without BTS. Will take longer with BTS. | 6 Months to a Year |
| Cable Runs | Not Ideal for Long Cable Runs | Allows Long Cable Runs | Allows Long Cable Runs |
| Carrier Permission | Not Required | Not Required Unless Wanting BTS | May be Required |
| Performance | Good | Better | Best |
Ready to Talk DAS? Contact the Experts at Signal Boosters Today!
Signal Boosters can help supercharge your building with reliable cellular reception anywhere you need it with any Distributed Antenna System. Unsure of whether Passive DAS, Active DAS, or Hybrid DAS is best for your business? Call us (1-800-887-1961) or email us (pro@wilsonamplifiers.com) today for a free consultation with a signal expert. We can recommend a solution that will best fit your situation and budget.
Interested in Learning More? Check Out Our Cellular Info Hub / WiFi Info Hub