Best RV Antennas for Cellular, Internet, & TV
Whether you're a part-time or full-time RV'er, there is no need to sacrifice cellular connectivity, WiFi performance, or TV reception for adventure. The right set of antennas will get you the reception you need for utmost comfort in your rig.
We Fix Poor Cell Signal! See Complete Signal Booster Kits for Your Situation:
Attention business & property owners, installers and integrators
Take advantage of our system design and installation services. Learn more or call us for a free consultation: 1-800-969-8189.
Cellular RV Antennas
RV construction, cell tower distance, and surrounding topography affect the cellular reception you receive. When connected to a cell phone signal booster, cellular RV antennas resolve this issue. The outside antenna receives cellular signals from nearby cell towers and the inside antenna broadcasts them inside your RV, improving cellular connectivity. That means no more dropped calls, undelivered texts, or unreliable data.
Outdoor Cellular RV Antennas
There are two types of outdoor cellular RV antennas: omnidirectional and directional.
Omnidirectional cellular RV antennas capture cellular signals from every direction across multiple carriers. They continuously adapt to signal changes, making them ideal for mobile and stationary use. When traveling with friends and family subscribed to different cellular providers, everybody can stay connected at all times.
Frequenting the paths less traveled, the most popular omnidirectional cellular antennas for RVs are on the taller side. This allows them to rise above surrounding obstacles to capture the strongest cell signal available. Some magnet-mount antennas meet that requirement, such as the Wilson 12" Magnet-Mount Antenna (311125). However, while easier to install, it's best to get a cellular RV antenna that requires a fixed installation. This ensures it does not fall over if it gets hit by low-hanging branches and such.
Our top outdoor cellular RV antenna is the unique Bolton Technical Blade. It supports cellular frequencies ranging from 600 to 3750 MHz. Its sturdy mast ensures the antenna remains vertical even when driving at high speeds to minimize swaying and improve performance. That coupled with up to 4.4 dBi gain, which is higher than most, it's able to send and receive the strongest cell signals. While zooming down the highway, the exclusive whistle-free wrap eliminates the annoying whistling that is common among other RV antennas. Featuring multiple mount options, you can select the one that best fits your installation needs.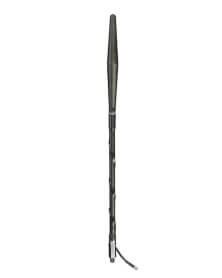 Buy Now: Starting at $99.95
Omnidirectional
Up to 4.4 dBi
23.5" tall
Heavy-duty, whistle-free construction
Customizable mounting options
Though, there are also more discrete omnidirectional cellular RV antennas. If you don't want to have a one- to two-foot-tall antenna attached to your RV, you don't have to. The Poynting PUCK antenna may be what you need. It stylishly fits any RV. Its small and sleek design ensures it does not stand out. With gains up to 7.5 dBi, it works where many other RV omnidirectional antennas can't. It can be magnet-mounted, hard-mounted, or pole mounted.
There are multiple PUCK antenna options available. PUCK 1 pairs best with RV cell phone signal boosters. PUCK 3 will also work for RVs. It features a cellular, WiFi, and GPS antenna in one casing. It can deliver strong cellular signals to your RV cell booster, broadcast WiFi signals when connected to a router, and keep your GPS receiver connected all at the same time. The other PUCK configurations work best with MIMO cellular routers, cellular hotspots, and telematics gateways.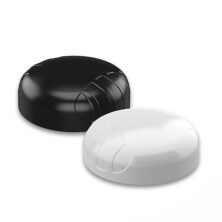 Buy Now: Starting at $61.12
Omnidirectional
Up to 7.5 dBi
About 1.4" tall
Small and low-profile design
Three mounting options
Directional cellular RV antennas, on the other hand, only capture cellular signals from a single direction. Having a more focused radiation beam makes them more powerful than omni antennas. They have greater reach to cell towers, allowing them to capture a stronger signal.
Installation is a bit more time-consuming than that of an omni. You must locate the direction of your closest cell tower and point the antenna at it for optimal results. The antenna will only capture cell signals from carriers within its radiation beam. Oftentimes, directional antennas only pick up signals from one to two carriers at a time. They will not provide a multi-carrier solution.
Set-up requirements prevent directional RV antennas from being used while on the go. They can only be used while stationary. The weBoost Home Outside Directional Antenna is a great option for RV use when you are parked. It comes standard with the weBoost Destination RV cell phone signal booster kit. It's both stylish and powerful. Sporting up to 9.2 dBi gain, it works great in remote campsites with weak cellular signals. You can mount it on an existing mast or a telescoping pole.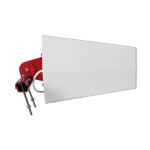 Buy Now: $99.99
Directional
Up to 9.2 dBi
Stylish, sleek design
Pipe/mast installation
Indoor Cellular RV Antennas
Indoor cellular RV antennas are also omnidirectional and directional. Omnidirectional ones broadcast boosted cell signals in all directions, while directional ones broadcast boosted cell signals in a single direction. The amount of coverage they provide depends on the antenna's specifications and your existing cell phone signal strength.
Patch antennas are the smallest indoor cellular antenna for RVs. Directional, they need to face the direction you're trying to cover. They are designed to be mounted on the dash of your RV. They are powerful enough to cover your RV's cockpit. In areas with weak cell reception, devices will need to get closer to the antenna. Patch antennas, like the Bolton Technical B-Flat, are best for those who are constantly on the move.
The B-Flat antenna is thin, flat, and unobtrusive. It comes standard with most Bolton Technical cell signal booster kits but can be used with any cell booster. It applies up to 3 dBi gain to cell signals in the 698-2700 MHz bandwidths.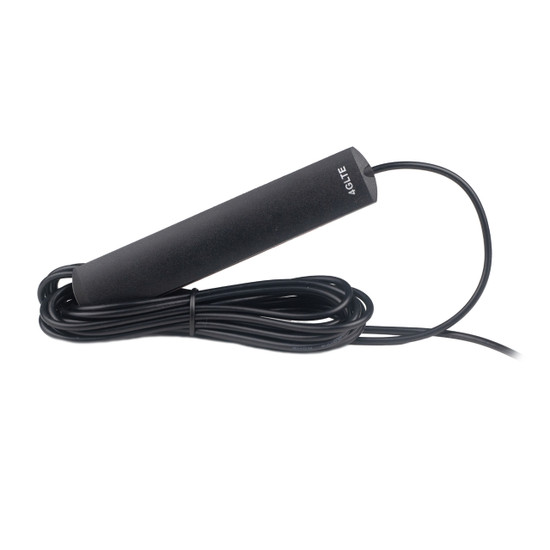 Buy Now: $12.99
Directional
Mounts on RV dash
Small, low-profile design
Up to 3 dBi gain
For reliable coverage mid-cabin, desktop and whip antennas for RVs are best.
Desktop antennas can be placed on any flat surface a few feet from the cell booster. With those couple of feet of flexibility, you can easily move it to get coverage wherever you need. The Bolton Honcho is a great desktop antenna option. It covers frequency bands 698 to 2700 MHz and offers up to 2.5 dBi.
Whip antennas, on the other hand, connect directly to the amplifier. It simplifies installation and eliminates the use of extra coax cables. Though, they tend to not be as powerful as desktop antennas. The SureCall Indoor Whip Antenna for example covers frequencies bands 698 to 2155 MHz and offers up to 2±1 dBi.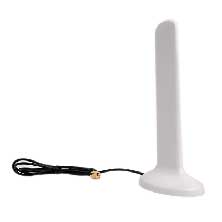 Buy Now: $21.95
Omnidirectional
Up to 2.5 dBi
Supports 698 to 2700 MHz
Fits on any flat surface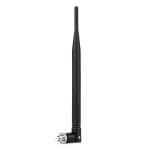 Buy Now: $10.40
Omnidirectional
Up to 2±1 dBi
Supports 698 to 2155 MHz
Direct connect antenna
Directional panel antennas are also sometimes used in RVs. They are the most powerful type of cellular indoor antenna for RVs, capable of providing bumper-to-bumper coverage. They are the ideal pair for outdoor directional cellular RV antennas.
The Bolton Indoor Board, standard with the Bolton Victory Cellular Signal Booster kits, broadcasts superior cell signal inside RVs. It features up to 8 dBi gain. That's about 3x more power than the other cellular indoor RV antennas mentioned. Wall mounted it will not take up any counter space.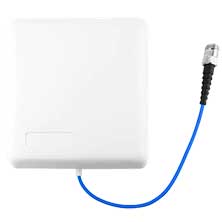 Buy Now: $61.95
Directional
Wall mounted
Up to 8 dBi
Supports 698 to 2700 MHz
Internet RV Antennas
Portable internet in RVs is available via cellular or satellite. Each service utilizes different RV antennas.
Cellular Internet RV Antennas
To improve performance on a cellular router or hotspot with antenna ports, you can upgrade the standard antennas to omnidirectional or directional MIMO ones.
MIMO stands for Multiple Input, Multiple Output. This technology allows antennas to send and receive multiple streams of data at the same time, improving performance, speed, and capacity.
The Poynting OMNI-600 is a popular wideband outdoor omnidirectional antenna for cellular routers and hotspots. It supports 5G/4G/LTE cellular signals ranging from 410 to 3800 MHz. Your router will receive the best of the best signals anywhere you are. It has up to 6.2 dBi of gain, making it one of the best on the market. Just over two feet tall, it rises above surrounding obstacles for best results. Extreme caution must be taken while driving.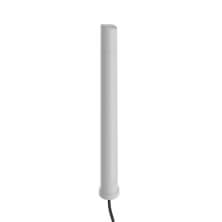 Buy Now: $249.00
Omnidirectional
2x2 MIMO
Up to 6.2 dBi
Supports 410 to 3800 MHz
Pole mounted
A more low-profile outdoor antenna for MIMO cellular routers and hotpots is the Poynting PUCK 2. It applies up to 6 dBi gain to 5G/4G/LTE cellular signals ranging from 617 to 4200 MHz. About 1.4 inches tall, you don't have to worry about it colliding with low-hanging branches, low overpasses, and the like. Installation is simple. It can be magnet, hard, or pole mounted.
If you'd like to use a single antenna to feed cellular signal to your router as well as broadcast WiFi, the PUCK 5 is for you. It can also connect to GPS systems that support external antennas.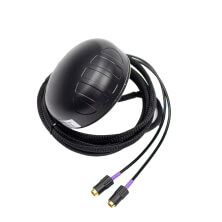 Buy Now: $85.62
Omnidirectional
2x2 LTE MIMO
Up to 6 dBi
Supports 617-4200 MHz
Three mounting options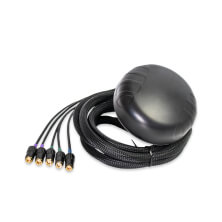 Buy Now: $153.01
Omnidirectional
2x2 LTE MIMO, 2X2 WiFi MIMO, GPS
Up to 6 dBi
Supports 617-4200 MHz
Three mounting options
For directional MIMO antennas, the Bolton Technical Crossbow 5G is the best. It features up to 11 dBi of gain and can communicate with cellular towers located up to 5 miles away. When camping in remote areas, you won't have to give up internet connectivity. With a frequency range of 617 to 3800 MHz, it captures 5G/4G/LTE signals.
For optimal results, it must point at your carrier's closest cell tower. Thus, it can only be used while stationary. When you move to a different campsite, antenna position will have to be modified. Pole mounted, you can easily adjust orientation.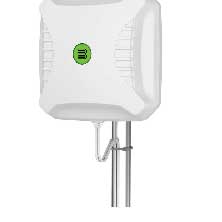 Buy Now: $161.46
Directional
Cross polarized, 2x2 MIMO
Up to 11 dBi gain
Supports 617-3800 MHz
Pole-mounted
Satellite Internet RV Antennas
Usually, satellite internet providers provide you with a satellite dish antenna when you sign up for their service. It can either be mounted to your RV or on a tripod.
Mounted satellite dishes stay in one place and can be folded down when on the move. These are best for those full-timers. Tripod internet satellite dishes tend to be smaller. They can be moved around to obtain the best internet connection. These are best for part-timers.
TV RV Antennas
The right TV antenna for your RV lets you and your family watch your favorite shows when traveling without the need for cable hookups. Depending on your needs, you can opt for an outdoor TV antenna or an indoor TV antenna. Some things to consider when searching for the perfect TV antenna for your RV are size, picture quality, and programing capabilities. Some can also provide WiFi.
Outdoor TV RV Antennas
Installed outside your RV, outdoor RV antennas offer stronger and better reception. Their design allows them to have more reach to their signal source.
One of the best over-the-air outdoor TV antennas for RVs is the Winegard RVW-395 Sensar IV. It receives VHF and UHF programming within a 55-mile radius. You'll be able to enjoy tons of SD and HD channels. The built-in amplifier boosts weaker television signals giving you crystal-clear reception. Though, it does not feature WiFi capabilities.
Buy Now on Amazon: $133.99
Universal fit
VHF and UHF programming
Range up to 55 miles
Standard and high definition capable
Durable design
Outdoor satellite dish TV antennas are also an option, but they require subscriptions with a satellite TV provider.
Indoor TV RV Antennas
Indoor TV antennas for RVs are cheaper and extremely easy to install. Though, they have less range. You may not get crips pictures or all the channels you desire.
A popular and affordable indoor TV antenna for RVs is the Luxtronic Portable HDTV Antenna. Omnidirectional, it can receive signals from any direction from up to 50 miles. Supporting 1800p and 4K, you can enjoy crystal clear pictures from UHV and VHF programming. Small, the antenna can fit snugly anywhere you need it. Its magnetic base allows for easy mounting inside your RV, as well as outside for better reception.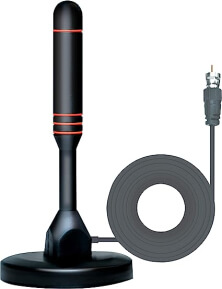 Buy Now on Amazon: $17.99
360° reception
Range up to 50 miles
Magnetic mounting base
Designed for indoor or outdoor use
1080P and 4K capable
RV Antenna FAQs
What is an RV antenna?
An RV antenna allows you to improve cellular, internet, or TV connectivity without the need for cable hookups.
How do RV antennas work?
While there are many different types of RV antennas, their underlying functionality is the same. Outdoor RV antennas capture signals from a signal source and send them to a receiver. The receiver can be a signal booster, router, hotspot, or TV. Indoor cellular antennas broadcast signals into your RV. They improve signal and reception, particularly when paired with a booster or amplifier.
How do I choose the best RV antenna?
Choosing the best RV antenna for your needs depends on application.
If searching for RV signal booster cellular antennas, consider:
Outdoor RV Antenna Height – Usually, the taller, the better. This minimizes obstructions and gets you the best possible signal. However, this can add height clearance challenges.
Gain – Measured in dBi, it represents how much power the antenna can transmit. In areas with poor cellular reception outside, high-gain antennas will help you get the best signal reception inside your RV.
Mounting Options – For best results, outdoor RV booster cellular antennas should be fixed to the RV. This keeps the antenna secure while driving through tough terrain.
Coverage Requirements – Knowing which areas of your RV need superior coverage will help you choose the best indoor antenna. Some are installed in the cockpit, while others can be placed mid-cabin.
If searching for RV internet antennas, consider:
Satellite vs Cellular – Both use very different RV antennas for better internet connectivity. Satellite internet providers usually provide you with one of their antennas that fits your needs. Cellular antennas serve as an upgrade to standard cellular router antennas.
Gain – Measured in dBi, it represents how much power the antenna can transmit. In areas with poor cellular reception outside, high-gain cellular antennas will help you get the best signal needed for superior internet connectivity.
MIMO – With most cellular routers featuring MIMO technology, MIMO cellular antennas are recommended.
If searching for RV TV antennas, consider:
Satellite vs Over-the-Air – Satellite TV antennas need a subscription. The antenna plus the service is more expensive than over-the-air. Though, you will get better reception and more channels. Over-the-air antennas are much more affordable and can be purchased anywhere. Reception reliability may vary depending on where you are.
Application – Outdoor antennas offer better TV reception, but are more expensive and slightly harder to install. Indoor antennas are cheaper and easier to install but don't have the best range.
Range – Typically, TV antennas with higher range capabilities offer better reception.
Picture Quality – To enjoy great resolution, the antenna will need to be HD-compatible. If you don't care much about picture quality, you can get away with a cheaper standard-definition antenna.
Supported Signals – TV antennas that support both UHF (channels 14 to 51) and VHF (channels 2 to 13) signals can receive all available channels in the area. Antennas that only support either or will cost less but will receive fewer channels.
Can you use RV antennas in your home?
It depends on the type of RV antenna. Those designed for RV cell phone signal boosters are required to be used on RVs. Those for cellular routers and TVs can be used in your home. Satellite internet and TV providers may provide different antennas for RVs and homes.
What are the benefits of using RV antennas?
They help keep you connected by improving reception for your phones, internet, or TV.
Contact Us Today for Better Reception in Your RV!
SignalBoosters is a leading provider of cellular antennas and cell phone signal boosters for homes, vehicles, and commercial buildings. We specialize in consumer-friendly kits as well as customized RF systems for cellular, public safety two-way radio, DAS, and WiFi.
We're here to assist with any issues you might be experiencing with poor reception. Contact us today, or call us at 1-800-470-6777.
Interested in Learning More? Check Out Our Cellular Info Hub / WiFi Info Hub