Read Featured Reviews From Actual Customers
Read All Reviews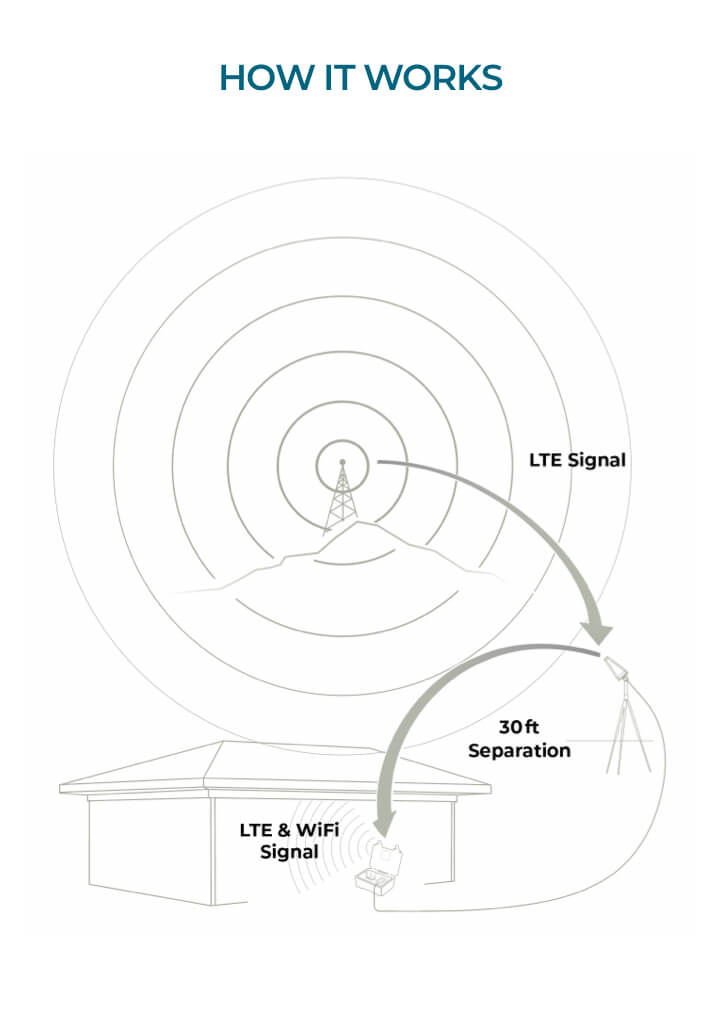 Deliver Enhanced Cellular and WiFi Without Electricity
Up to 18 hours of uptime with two included lithium batteries. Get up and running in five minutes or less, with even faster teardown.
Powered by Bolton Technical and Peplink
Utilize the included Bolton Victory signal booster and Peplink BR1 Mini CAT7 cellular router for portable cellular and internet on-the-go. Plug it in or run it off battery*.
Battery charger sold separately*
Boost Cell Signal Wherever You Go
Equipped with the Bolton Victory Cellular Signal Booster, enhance cellular signals by up to +72 dB for all nearby devices using any US carrier anytime, anywhere.
Get WiFi Everywhere
Keep up to 60 internet-dependent devices connected with the Peplink BR1 Mini CAT 7 Cellular Router. Delivers speeds up to 300 Mbps down and 150 Mbps up. Dual-SIM allows always-on connectivity.
Countless Applications
Traveling salespeople. Inspectors. Remote job sites. Agricultural workers. More. Everyone needs reliable cellular and WiFi. The PSU provides.
About the Portable Signal Unit
The Portable Signal Unit is intelligently designed to provide fast WiFi and reliable cellular connectivity anywhere using the sheer power of batteries. Gone are the days where connectivity uncertainty limited the way you live, work, play, and learn.
Everything you need is conveniently packaged in a high-impact, watertight, dustproof, custom-built Pelican 1620 Protective Case. While not lightweight, the extendable handle and wheels make it easy to haul around. PSU is available in different versions to fit any situation. This model comes with a Bolton Victory Signal Booster and a Peplink BR1 Mini CAT7 Cellular Router.
The Bolton Victory signal booster enhances existing cell signals from any carrier by up to 72 dB.
Since the router uses the cellular network to operate, it also benefits from the amplified signal to deliver reliable internet. Performance will be significantly better than what a portable hotspot could provide. Connect multiple wireless devices and up to three wired devices and enjoy a reliable internet connection with speeds up to 300 Mbps. If you're constantly on the move, the dual-SIM feature can help you stay connected without interruptions.
So easy to set up, you'll be good to go in minutes. Built-in LED lights further simplify set up and take down in dark spaces.
Standard with two M18 lithium batteries, the PSU offers up to 18 hours of operation. Built-in USB ports and a power strip give you the option to keep additional equipment on. The voltage meter allows for easy battery power monitoring. Use the AC plug socket to power the unit when electricity is available.
Easy to set up and use, you'll be good to go in minutes. Built-in LED lights further simplify set up and take down in dark spaces. For optimal performance, the lid must remain open during operation. To protect all electrical components from the elements, place the PSU in a secure area.
Portable LTE CAT 7 router and signal booster

Battery powered, up to 18 hours of operation

Reliable cellular connectivity

Fast dual-band WiFi and Ethernet connectivity, up to 300 Mbps

Supports multiple wireless devices and up to 3 wired devices

Dual-SIM failover

Easy to read voltage meter

Built-in power outlet, USB ports, and power strip

Easy to set up and use
How Does it Work?
The PSU is powered by M18 lithium batteries, or by an external power source. When turned on:
The Yagi antenna captures your existing outside cell signal and feeds it to the Bolton Victory.
The Bolton Victory boosts the signal and sends it to the panel antenna.
The panel antenna on the lid broadcasts the boosted signal to all nearby cellular devices. This includes the cellular router.
The Peplink BR1 Mini CAT7 Cellular Router uses the boosted signal to deliver strong wired or wireless internet.
Kit Includes
Pelican Protective Case

Peplink BR1 Mini CAT 7 Cellular Router

Bolton Victory Cell Signal Booster

Cellular Panel Antenna

Cellular Yagi Antenna

2x WiFi Whip Antennas

2x Cellular Whip Antennas

2x Lithium Batteries

30ft LMR 240 Coax Cable

7ft Tripod

LED Light System

Lock Key Latch

15 Amp AC Port Plug

Voltage Meter

USB Port

Power Strip
Technical Specifications
ROUTER STUFF
Manufacturer
Peplink BR1 Mini CAT7
Number of Ports
WAN = 1x 10/100M Ethernet Port + 1x Embedded LTE Modem with Redundant SIM Slot. LAN = 1x 10/100M Ethernet Port
Port Speeds
1 Gbps
Peek Data Speeds
DL 300 Mbps, UL 150 Mbps
Technologies
CAT7 LTE
Dimensions
4.6 x 4.2 x 1.4 inches
Sim Capabilities
Dual
Antennas
1x GPS Antenna (ACW-232), 1x Wi-Fi 2.4G Antenna (ACW-304), 2x LTE Antenna (ACW-813)
BOOSTER STUFF
Manufacturer
Bolton Victory Signal Booster
Frequency Bands
2, 4, 5, 12, 13, 17
Gain
72 decibels (dB)
Impedance
75 Ohm (Outdoor) / 50 Ohm (Indoor)
Input Power
Input AC 110 V, 60 Hz / Output DC 5-15 V
Connector Type
F-Female (Outdoor) / N-Female (Indoor)
Dimensions
7.875 x 5 x 1.188 inches
Weight
2.0 lbs
Booster Color
Black
WHATS IN THE BOX
Protective Case
Pelican #1620
Cellular Router
Peplink BR1 Mini CAT 7
Panel Antenna (Indoor)
50 Ohm
Yagi Antenna (Outdoor)
50 Ohm
40 Ft. LMR 240 Cable
N-Connectors
Batteries
2x Rechargable Batteries
LED Lighting system
BOX DIMENSIONS
Weight
45 lbs
Dimensions
24" X 15" X 18"
Case Color
Black
LEGAL STUFF
Router FCC ID
N7NMEM74B
Booster FCC ID
RSNF4HOME3
FCC NOTICE:
This is a CONSUMER device. BEFORE USE, you MUST REGISTER THIS DEVICE with your wireless provider and have your provider's consent. Most wireless providers consent to the use of signal boosters. Some providers may not consent to the use of this device on their network. If you are unsure, contact your provider. You MUST operate this device with approved antennas and cables as specified by the manufacturer. Antennas MUST be installed at least 20 cm (8 inches) from any person. You MUST cease operating this device immediately if requested by FCC or a licensed wireless service provider.
Installation
Assemble tripod and add weight if needed.
Mount Yagi antenna
Point Yagi antenna at your closest cell tower
Connect coaxial cable to the Yagi antenna and PSU control panel
Make sure Yagi and panel antennas are facing opposite directions and that there is at least 30 ft of separation between them
Lift router's LTE and WiFi antennas
Turn on PSU
Enjoy enhanced WiFi and cellular signals
For assistance, please call us at 1-800-470-6777.
Frequently Asked Questions
Why Should I Buy the Bolton Technical Portable Signal Unit?
If you want reliable cellular and WiFi connectivity on the job or out in the world, the PSU will provide it. There are many reasons to consider the PSU:
For reliable streaming of data or video anywhere
As a mission-critical backup during power outages
To avoid difficult installations of a booster or WiFi network in a building
If you travel a lot and need reliable signal
It looks cool
To name a few. It gives great internet and cell phone service, where you need it, when you need it, with few if any compromises. What's not to love about that?
Where Can I Use the PSU?
Use the PSU anywhere cell signal is available, even if faint. Applications include trade shows, off-the-grid living or camping, command centers, temporary job sites, pop-up shops, and more.
You'll get the best results when used indoors, but even outdoors you will receive some signal as long as you remain near the PSU.
Does the PSU Need Cell Signal to Work?
Yes. The Bolton Victory Signal Booster and Peplink BR1 Mini Cellular Router both need cellular reception to keep you connected. Having no signal at all will mean the Home Room won't work, which means the router won't, either.
Is the PSU Weatherproof?
The PSU is weatherproof when closed. Dust, water, or hail aren't a match for the heavy-duty case. However, the components inside the case are not weatherproof. Since it must remain open for optimal performance, make sure PSU is in a safe spot when in use.
Why Must the PSU Lid Remain Open During Operation?
Three reasons:
The directional panel antenna that broadcasts the boosted signal is mounted on the lid. For optimal results, the antenna must face the direction in which reliable cell signal is needed.
You need room to lift the LTE router's antennas, allowing it to send and receive the best signals.
Having the lid open adds the necessary space needed between the panel and whip antennas to avoid oscillation.
Are there any monthly fees associated with the Bolton Technical PSU?
The only monthly fee associated with the PSU is the data plan needed to keep the Peplink BR1 Mini online. There are no monthly fees associated with any Bolton equipment.
Customers Are Also Buying: