Find Out What's Going On with the Global Chip Shortage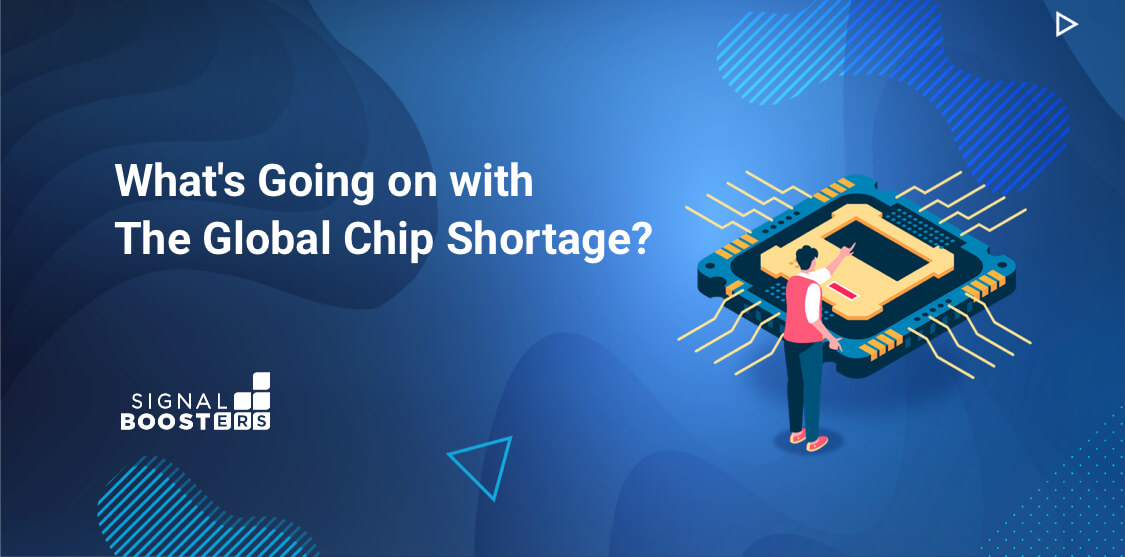 Almost every electronic device uses a chip to make it run. "Chips," or semiconductors, are little pieces of silicon that together form integrated circuits. These circuits allow devices to process information. Whether it's your Bluetooth speakers, your phone, or even your car, they all need chips to work. Everyone knows by now there's a chip shortage, but why is that, and what does that mean for you?
We Fix Poor WiFi! Shop Now:
Attention Business & Property Owners,
Installers and Integrators
Take advantage of our system design and installation services. Learn more or call us for a free consultation: 1-800-969-8189
What Is A Chip?
We have all heard of "Silicon Valley". What you may not know is that the Silicon part of that name refers to chips. Silicon is an incredible material that has the ability to both conduct and insulate. It can be used to "turn off" or "turn on" electric circuits. These circuits together form a larger integrated electronic circuit.
Chips are black or grey squares or rectangles. The base material is silicon, on top of which are layers of wires made of copper or aluminum. These wires form the circuits that the electronic signals travel along. To process data and make decisions, signals travel through particular wires. Complex chips which process data in a more sophisticated way are used in devices such as laptops and phones. Simpler chips that only control one thing, for example the fuel injectors in your car, can be found pretty much everywhere.
A "motherboard" is the green circuit board found in every device. There could be several chips on the board, forming complex circuits and controlling different functions. The most common chip that you are familiar with is likely the CPU (central processing unit) in your computer or phone. This is the brain of your device, allowing it to process millions of pieces of information per second. Surrounding each chip, you will see endless circuits. These are the "data highways" that a chip controls. Imagine a human brain with electric energy firing through various synapses. A chip does the same thing for synthetic brains, telling which circuits or synapses to fire and where the energy should go.
Why is There A Chip Shortage?
Aside from the fact that the demand for chips is so immense that keeping up with it is almost impossible, a combination of events contributed to the shortage. The COVID-19 pandemic shut down much of the world's industry, including semiconductors. Many more people were working from home, and they needed devices of all kinds. The demand for chips increased, while the actual number being produced drastically decreased. Sony was supposed to bring out a brand-new vlogging camera just before March 2020 but had to put it on ice because there weren't enough chips to produce them.
Since then the supply chain has tried to right the ship, so far without much success. When a commodity becomes scarce, it increases in value, driving up its price. When chips become more expensive, that drives inflation. Inflation affects how many chips can affordably be made.
Not only this, but chips use an astonishing amount of water to make. 60% of the world's chips are made in Taiwan, and they are having a drought. The factories producing chips can't get enough water to make them fast enough. Add to that the sanctions that the US imposed on China (who also produces many of the world's chips) and you have a perfect storm of semiconductor scarcity in America.
How Will the Chip Shortage Affect You?
Have you tried to buy a PS5 recently, or a digital camera? Odds are, you won't find one. As chips are used in pretty much anything that has batteries or plugs into something, manufacturers are fighting tooth and nail over available supply.
One of the hardest hit industries is the automotive field. Toyota, Ford and Volvo all had to either reduce or halt their car production. Even signal boosters are affected as some brands became hard to find. Blockchain miners are particularly hard hit as they use great amounts of processing power. While many people were experiencing a loss in income, they were looking for new ways to make money, and blockchain mining was the answer. To this day buying a Helium Miner comes with a waiting period.
What Is The Prognosis For Chips In 2022?
As we move into the second quarter of 2022, experts warn that the shortage won't let up soon. Capacity is starting to normalize, but it may take a while for factories to ramp up to full production. The 5th Covid wave as well as sanctions continue to limit the number of chips available for the American market.
There's a few bright lights at the end of the tunnel, and they aren't trains. Global giants such as Tesla, Meta, Apple and Amazon are starting to build their own chips in-house. This will fragment the market, driving prices down as more stock becomes available. Ford and Genereal Motors have also issued statements saying they don't foresee chip issues toward the end of the year.
One thing experts have cautioned about is the prospect of panic buying. Much like the great toilet paper rage of 2020, manufacturers may buy as much stock as they can to avoid future issues.
The End Is In Sight
Whatever happens we can expect the global chip shortage to slowly come back to normal over the next few months, or at worst few years. Newer more powerful chips such as the 3-nanometer semiconductor from TSMC will eventually be released despite delays due to backlog. So if you are keen to get your hands on a new PS5 or a Helium miner, just be a little patient.
SignalBoosters.com is your go-to for the best range of cellular signal boosters, WiFi routers, range extenders and more. We specialize in custom made, consumer friendly kits, RF systems for cellular, public safety two-way radio, DAS, and WiFi. If you have any questions or want to find out more about routers or signal boosters, don't hesitate to contact us at 1-800-470-6777.
Interested in Learning More? Check Out Our Cellular Info Hub / WiFi Info Hub