What M2M is, and How a Cell Signal Booster Can Get the Most Out of It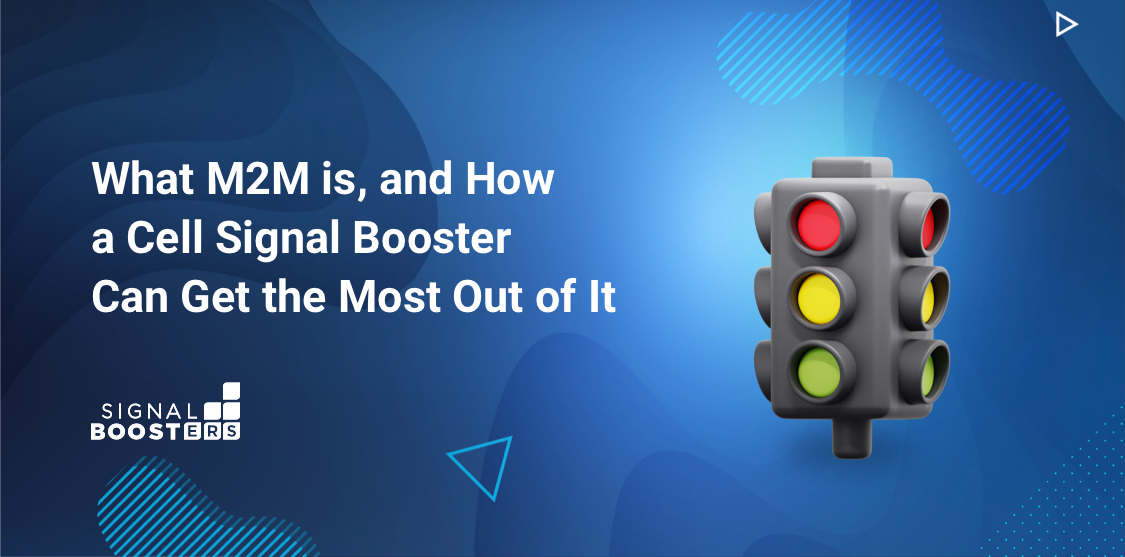 Technology is changing the world, and we believe in helping those left behind by the big companies get what they're missing.
If you're keen on improving data speed in your business, consider two concepts shaped by new technology: Machine to Machine and Internet of Things. These concepts involve retrieving real-time results and securing correct functionality across all the devices you need to get the job done - automatically. They are both related to each other and allow us to interpret automatic operations that don't require our direct intervention. In this post, you can smoothly go through the basic concepts, how they work, and what we can do to make them secure our companies' operational goals.
We offer complete cell phone signal booster kits for any situation:
Attention business & property owners, installers and integrators
Take advantage of our system design and installation services. Learn more or call us for a free consultation: 1-800-969-8189.
What is M2M?
Machine to Machine (also known as M2M) involves direct communication between two or more devices without human interaction.
Think of a phone call. In order for us to make this call, we will need to interact, at least by asking Siri to do so. Even though there are two phones and cell towers involved to make a call, this isn't M2M since we're taking actions to set up the communication process.
Traffic lights are a different story. Why do they change their frequency during rush hour? In this situation, some cities count on traffic control systems to better organize commuters. Sensors in the streets judge the level of traffic and automatically send this information to traffic control software. This process has machine communication happening automatically, without human intervention. What do these machines do with the data? That's where IoT comes in.
What is IoT, and How Does it Work?
The Internet of Things (IoT) involves not only communication but also analytics, processes, and operations between machines without requiring human interaction. Examples of IoT are everywhere, but let's once again look at traffic lights.
Thanks to the automatic sensors, traffic control systems are able to tell if a particularly crowded street is in danger of collapse. How? Via the internet. The software uses analytics data to change the frequency of traffic lights surrounding the road to avoid chaos. Once this process is done, the software will send back information to change the frequency of traffic lights.
This is what the Internet of Things is about; a single traffic light can not act by itself to make traffic run smoothly. It is just that, a traffic light. It will need from other machines with appropriate information before switching to the green light in the heaviest hour of the morning; it's something that the internet and cell networks make possible.
What's the difference between M2M and IoT?
The difference between M2M and IoT is scope. Machine to Machine communication involves sending and receiving data, while the Internet of Things involves data communication, data analytics, and operations. If that still sounds complicated, know that you're not alone. Different industries have adapted different terms to describe the interaction between machines, which makes IoT terminology confusing an decentralized.
Try not to think of M2M and IoT as opposing terms, but complimentary ones. Machine to Machine communication is a subcategory of Internet of Things. By machines we're not only talking about phones, laptops or tablets: from vending machines, to security systems, to smart farming, the internet is making life easier not only for consumers but also for companies and industries.
Poor Cellular Service Affects M2M Communication
While the idea of interconnected machines automatically performing menial tasks is exciting, there are still challenges. In particular, poor cellular network coverage is proving to be a major speedbump in M2M deployment. Just as our phones and laptops sometimes drop calls when emailing or calling someone, other devices can also be affected by interrupted communications. This can be due to a variety of factors, including: distance to cell towers, building materials that block reception and transmission of data, and more. Some of the typical consequences are:
Poor Inventory Management: Losing track of how many units of specific articles have been sold can result in disaster for logistics and operations teams in your company, not to mention your warehouse team.
Revenue Going Untracked: Losing track of the real-time spend tracked by M2M devices because of interrupted data transmission can dramatically impact the decision-making process in your business.
Lapses in Security: In any sphere, security is critical. If the signal from your monitors or camera drops, you'll experience lapses that can cost you money - or worse - through no fault of your own.
Combating Poor Cell Signal for Your M2M Devices
An M2M signal booster amplifies the cell signal used by any machine to communicate with other machines without requiring human intervention. They're essential when devices work in locations with weak or spotty cell signal.
A wide variety of M2M appliances are smart enough to communicate with other computers and, but face problems of data transmission due to poor cell networks. More examples include healthcare devices, measurement systems, or home appliances that already exist in our homes. In these and other scenarios, M2M is involved, so M2M signals boosters should be a consideration.
For instance, an M2M signal booster attached to vending machine will result in the perfect solution to keep the company up-to-date with stock, revenue information, and security.
It is important to note that they are different from other cell phone boosters. Regular cell phone boosters are designed for amplifying the cell signal -and therefore, the internet- of your phone, your laptop, or tablet. They usually come with three elements: an outside antenna, the amplifier, and the inside antenna. An M2M or IOT signal booster, on the other hand, doesn't come with these three elements separated, and their features cover machines able to operate automatically. They DO NOT improve the signal received by your cell phone, or amplify the signal in a general area - only for the machine they are attached to.
Not all M2M boosters are suitable for every type of machine. Sometimes, a 3G signal booster can meet the required performance for a specific device, but other times, a 4G booster will be needed. When in doubt, get a 4G booster: it has all the capabilities of a 3G booster and more.
For this and other technical considerations, we recommend you read the product's description before making any decision. You can also contact our team of signal boosting experts, and we'll help you find the best solution for your situation.
To recap: M2M relates to automatic communication between devices, and IoT is a broader term involving the greater network of interconnected devices combined with analytics and data. M2M devices are present in our businesses, homes, and vehicles to make our lives easier. Make sure your M2M device's spotty performance isn't due to weak signal and make sure they stay connected. Contact us, and we'll be happy to assist you.
Related article: All About Antennas: Which Outside Antenna is Best For You?
---
Contact Us
We're here to assist with any issues you might be experiencing with both poor cell signal. Contact us today.