SureCall Releases New Cloud Service for Remote Monitoring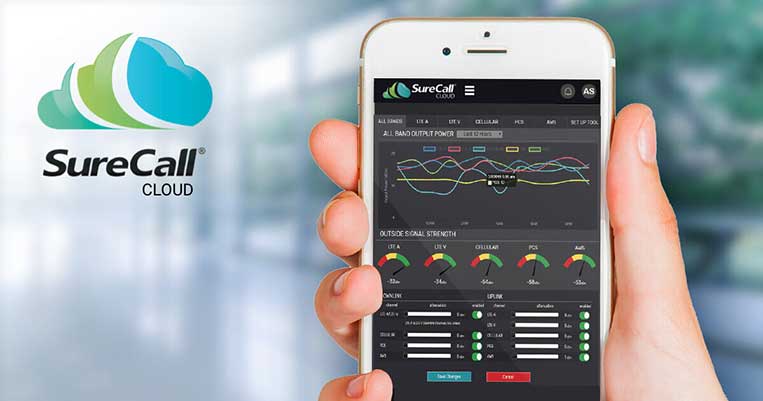 Managing your SureCall commercial boosters just got a whole lot easier.
Just released and completely free of charge, the SureCall Cloud app syncs with any SureCall amplifier using the patented Sentry hardware, which include the SureCall Force5 2.0, Guardian4 Public Safety Booster, Force8, and can be added onto the Fusion5X 2.0 or Fusion5S signal boosters.
We offer complete cell phone signal booster kits for any situation:
Attention business & property owners, installers and integrators
Take advantage of our system design and installation services. Learn more or call us for a free consultation: 1-800-969-8189.
SureCall Cloud Features
The SureCall Cloud allows users to connect directly with the 4G signal booster to monitor performance in real-time and adjust settings from anywhere at anytime via a mobile app.
The SignalBoosters.com team is trained in remote monitoring, so we are proud to offer this service to our customers with the support of SureCall.
Features at a glance:
Easily observe the status of all boosters at a glance
Capture a custom baseline performance report at your discretion
Easy to read and understand graphs which detail each booster's settings and performance
Allows real-time readings of outside signal and ability to adjust booster performance, including band, uplink, or downlink
Create custom alarms with email and SMS notifications, with separate message for each alarm
See history of triggered alarms
SureCall Cloud Interface
Dashboard
The Dashboard is the default interface of the SureCall Cloud app. In addition to News Updates, it shows you your Alarms, Locations, Boosters, and a Location Map.
Location Manager
Allows you to manage your boosters by location. This helps keep your boosters organized and gives easy access in the future from the map on the Dashboard.
Booster Manager
Where you will see all your current booster readings, performance history, and where you can make changes remotely.
Baseline
Gives the ability to capture a snapshot of all bands power output. This allows you to see at a glance how the cellular repeater's current performance compares to the baseline.
Alarm Manager
Allows you to set customizable email and SMS notification for multiple users.
---
Contact Us
We're here to assist with any issues you might be experiencing with both Verizon signals and your Verizon signal booster. Contact us today.
Interested in Learning More? Check Out Our Cellular Info Hub / WiFi Info Hub