Introducing our Brand New 5G Vehicular Antennas, the Bolton Blade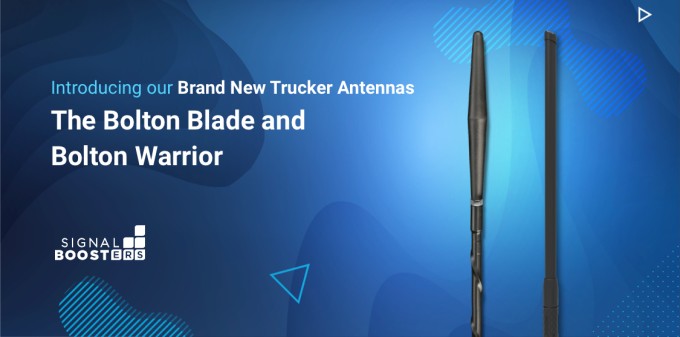 Introducing the Bolton Blade and : 5G and Cellular Antenna for Vehicles
Staying connected on the road is an essential part of driving a truck. And an essential part of that is your antenna. No matter what signal booster system you are running, it needs to be able to pick up outside signal to work. We have brought two exciting new products to the market, designed especially for truckers, to keep you connected no matter where you are.
Introducing the Bolton Blade.
We Fix Poor Cell Signal! See Complete Signal Booster Kits for Your Situation:
Attention business & property owners, installers and integrators
Take advantage of our system design and installation services. Learn more or call us for a free consultation: 1-800-969-8189.
Bolton Technical Blade – 5G Cellular Vehicular Antenna
The Blade is a versatile cellular antenna for ALL cars, SUVS, and trucks. Whether you use a pick-up or sedan for everyday use or drive a monster 18-wheeler, this bad boy will keep you in touch when it counts most.
The Blade connects directly to your signal booster system in your truck, amplifying outside signal. It works with any booster system, across all US carriers.
One of the main complaints that we come across is that truck antennas whistle. Hours on the road with a whistling pole above your cockpit can drive you mad, so we fixed the problem. The Blade is whistle free, even at high speed. Its robust build reduces swaying too, keeping it steady in all conditions.
Magnet mount antennas are one of the best ways to stick your antenna to your roof. If your cab is metal, then it's hard to beat the performance of a magnet-mounted antenna. You can attach your antenna to the highest part of your truck's roof, meaning that it will get the best signal possible. This is very good in low signal or wooded areas where you need every advantage.
The Blade can also be mounted via mirror mount, tool box mount, or another version that is particular to your truck. True versatility means that you can get it on up there, no matter what you drive. Accessories make everything better, even with a trucker antenna, and the Blade doesn't disappoint here either. Add-ons like a quick disconnect and a 90-degree layover give you even more choice with installation.
The Bolton Blade pairs beautifully with any signal booster of your choice. It's 5G and also supports 4G and LTE. It's a truly beautifully designed antenna, with truckers' specific needs kept in mind at every step.
Bolton Technical Blade – 5G Cellular Truck Antenna
Bolton Blade Overview:
High-gain omnidirectional
Wideband
Weatherproof
Commercial-grade, whistle-free design
3/8 x 24 threaded base with quick disconnect coax cable
The Bolton Technical Blade is a high-performing, commercial-grade, 5G-capable cellular truck antenna. At just over two feet tall, it's discreet but very functional for all signal environments. Extremely customizable, it's perfect for any sized truck – from pickups to 18-wheelers and everything in between.
We Have Everything You Need To Stay Connected
We know how important it is to stay connected on the road. Not just for emergencies, but to keep an eye on your fleet as well. Whether you are a weekend warrior who needs to keep your 4X4 on the right track or running a fleet of 18-wheelers, we want to give you the best signal-boosting options available. Our trucker antennas promise everything you need, strength, innovation, hassle-free installation, and power.
Need Help Finding the Best Antenna for Your Needs? Contact Us
Signal Boosters is a leading provider of cell phone signal boosters for homes, vehicles, and commercial buildings. We specialize in consumer-friendly kits as well as customized RF systems for cellular, public safety two-way radio, DAS, and WiFi.
We're here to assist with any issues you might be experiencing with poor cell service. Contact us today, or call us at 1-800-470-6777.
Interested in Learning More? Check Out Our Cellular Info Hub / WiFi Info Hub