Everything You Ever Wanted to Know About the Bolton Victory Home Cell Signal Booster
The Bolton Victory has recently launched, and we're already becoming huge fans of its ability to deliver crisp, reliable cellular signal to homes and businesses. But many cell phone signal boosters do that. What is it about the Bolton Victory kit that has us so excited?
Cell Signal Booster Kits Need Synergy
All consumer cell phone signal boosters must be sold as complete kits. Thus, when you're browsing around, looking at cell phone signal boosters, you are actually looking at a booster, an inside antenna, an outside antenna, and cables to connect them. These are critical components in how a cell signal booster works.
Despite this, signal booster manufacturers across the globe refer to their kits by the name of their boosters, leading most consumers to believe the booster (or amplifier) is the most important component.
To some extent, this makes sense. The power and specifications of a signal amplifier are major components to any kit, and these are the pieces manufacturers spend the most time and money designing and optimizing. The other components can be found in a variety of other applications, so there's little incentive for manufacturers to emphasize them.
Yet, the greatest cell signal booster in the world will do nothing if its other components aren't up to snuff. Most manufacturers provide adequate accessories – cabling that will do the job, an antenna which can be mounted and pointed, etc. They are, to paraphrase the Simpsons, perfectly cromulent and will get the job done.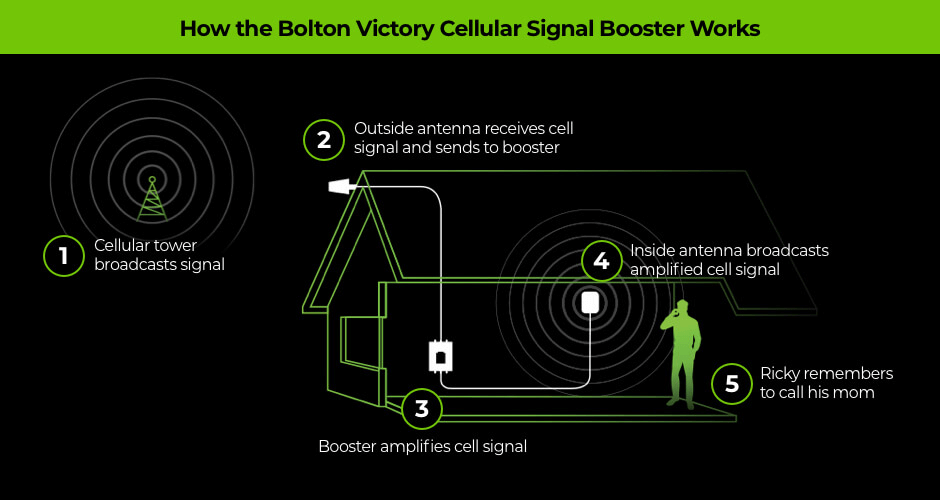 It's here where the Bolton Victory separates itself. Each component in a Victory kit is of the highest quality, providing the maximum amount of power to the booster.
Outside Antennas: Better Signal at Capture Point
Let's face it. Most people with signal troubles have weak outdoor signal. Sure, a substantial number of you are here because building materials are killing your cell reception, but weak outdoor signal is the #1 cause of poor cellular reception.
Given this, have you ever wondered why so many cellsignal booster pages make it a point to explain that weaker outdoor signal equals less coverage indoors? The strength of your outside signal is paramount: nearly as important as the strength of the booster itself.
That's where the outdoor antenna comes in. See, the antenna picks up signal at point of contact, but certain antennas are better at it than others. For instance, in weak outdoor signal areas, we almost always recommend using a yagi antenna at the very least.
Why? Because a yagi is better able to home in on faraway cell towers than an omni can. Most yagi antennas boast a range of about five miles.
But that's most yagis. Bolton's yagi antenna, the Quicksilver, is different. It reaches even farther than typical yagis (between 6 and 7 miles, typically), and, most importantly, provides a greater power increase to the signal at the point of capture. This difference greatly increases the performance of the booster.
Even when it comes to Bolton's omnidirectional antenna option – the All 'Rounder - the Bolton option performs better. We recommend omni antennas formost decent signal areas, and with the All 'Rounder we recommend it more than ever.
Inside Antennas: Stronger Output, Better Coverage
The inside antenna is what you put in your building to propagate the boosted signal. It is the last touchpoint of a cellular signal booster system before releasing it into your home. Thus, it's critical for the indoor antenna to provide as much power as it can if your system is handling weaker signals.
Bolton Victory cell boosters come kitted with an Indoor Board panel antenna, the single most powerful consumer indoor cellular antenna. This will enable your system to provide the largest coverage area possible.
Bolton also carries the Cowboy dome and the Rondo low-profile dome antenna options. These are extremely powerful omnidirectional indoor antennas, but are not currently kitted with the Victory. However, they are completely compatible.
Cable: The Underrated Workhorse
Alright, you've got your three main components. But there's a secret one, a hidden piece of the puzzle which can drastically help or hinder your signal booster's performance. That piece is the cable used to connect it all together.
Low-quality cable can cripple your system, which is why we appreciate the effort Bolton has made to ensure their cable is the highest quality. The cabling on the ends of their antennas is Low-PIM (passive intermodulation), a fancy way of saying "reduces interference." It allows the antennas to only output the absolute best signal they can.
Bolton Victory kits come with two types of cable: ordinary RG-6 coaxial cable, and Bolton's proprietary BT240 low-loss coaxial cable. Not much is special about the RG-6, but the 240 coax is LMR® spec, ensuring your run from your booster to the inside antenna loses almost none of its power.
Variants of the Victory
If you're in need of a cell signal booster, the Victory has our highest recommendation. It's affordable, it's powerful, and as a total package it can't be beat. At the time of this writing (May 2023) there are two variants:
Boosts Talk, Text, and 4G/5G Data
Covers Up to 4,000 Sq Ft
Up to 72 dB Gain, with Up to 26 dBm Uplink
Includes Powerful Outside Yagi Antenna and Inside Panel Antenna
Works with All Cellular Devices and U.S. Carriers
The Goldilocks, or "just right" building kit. The Victory Yagi / Panel covers up to 4,000 sq ft in best conditions. Useful for most home and small office applications.
Boosts Talk, Text, and 4G/5G Data
Covers Up to 4,000 Sq Ft
Up to 72 dB Gain, with Up to 26 dBm Uplink
Includes Outside Omni Antenna and Inside Panel Antenna
Works with All Cellular Devices and U.S. Carriers
Our top pick for strong signal areas and multi-carrier setups. The Victory Omni / Panel kit can cover up to 4,000 sq ft, and is easier to install than the Yagi / Panel setup. However, coverage area is likely to be less under similar conditions.
Signal Boosters is the Preferred Distributor of Bolton Technical in the US
Shop the Velocity Vehicle, Velocity Trucker, Victory Omni/Panel or Victory Yagi/Panel here.
Give us a call on 1-800-470-6777 or mail info@signalboosters.com. We can't wait to get you hooked up with your own Bolton Technical cellular signal booster kit.