Bolton Technical Signal Boosters are Here!
We are proud to announce the new line of cell phone signal boosters from Bolton Technical are now available at SignalBoosters!
The Bolton Difference
Bolton Technical is known around the cellular signal boosting realm for their high-quality cellular accessories and coaxial cable. Now they've developed their own line of signal boosters to ensure superior coverage for homes, offices and vehicles.
While Bolton has developed kits for every situation, they focus on two major lines: the Bolton Victory – covering midsize homes and offices – and the Bolton Velocity, covering vehicles of all types.
Bolton boosters:
Are carefully crafted by Bolton experts to deliver maximum signal amplification in any situation.
Keep all cellular devices connected no matter the carrier.
Offer superior signal boosts by featuring the FCC's highest allowable max gain for multi-carrier units.
Possess great uplink powers enabling the boosters to send and receive information over longer distances.
Are paired with the highest-quality cellular antennas and cabling to create outstanding cellular coverage and a larger cellular footprint.
Bolton Victory Cell Phone Booster Kits Provide Reliable Cellular in Buildings
Bolton Victory kits stand apart due to the strength of their components, designed to squeeze every bit of power from your signal environment.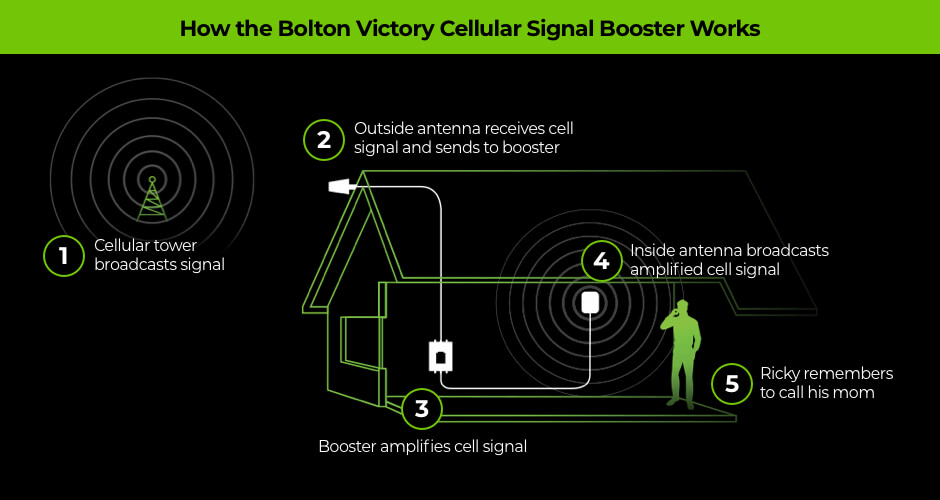 As you can see, all cell phone signal booster kits are made up of 4 major components:
Cell signal booster, also known as an amplifier or repeater
Indoor antenna
Outdoor antenna
Coaxial cable connecting the parts
Bolton's Victory Kits have:
The most powerful in-building signal booster allowed by the FCC
Use high-gain indoor and outdoor antennas to maximize existing signal
Thick, low-loss coaxial cable to minimize signal loss
These factors create the most reliable cellular signal booster kits on the market in their niches.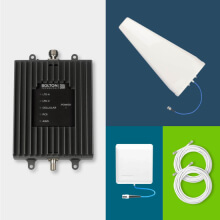 Buy It Now: $499.99
Boosts Talk, Text, and 4G/5G Data
Covers Up to 4,000 Sq Ft
Up to 72 dB Gain, with Up to 26 dBm Uplink
Includes Powerful Outside Yagi Antenna and Inside Panel Antenna
Works with All Cellular Devices and U.S. Carriers
Bolton's bread-and-butter building kit, covering up to 4,000 sq ft in best conditions. Useful for most home and small office applications.
---
Bolton Velocity Mobile Cell Phone Booster Kits Give Unbreakable Cellular for Any Vehicle
Bolton Velocity kits have been built with the same design mentality as the Victory: highest-quality booster matched with the highest-quality accessories equals the greatest possible cellular coverage. It's elementary.
That said, there are more Velocity kits due to the wide variety of vehicle types needing coverage.
---
Signal Boosters is the Preferred Distributor of Bolton Technical in the US
Shop the Velocity Vehicle, Velocity Trucker, Victory Omni/Panel or Victory Yagi/Panel here.
Give us a call on 1-800-470-6777 or mail info@signalboosters.com. We can't wait to get you hooked up with your own Bolton Technical cellular signal booster kit.
Interested in Learning More? Check Out Our Cellular Info Hub / WiFi Info Hub