AT&T MicroCell: Do You Need It?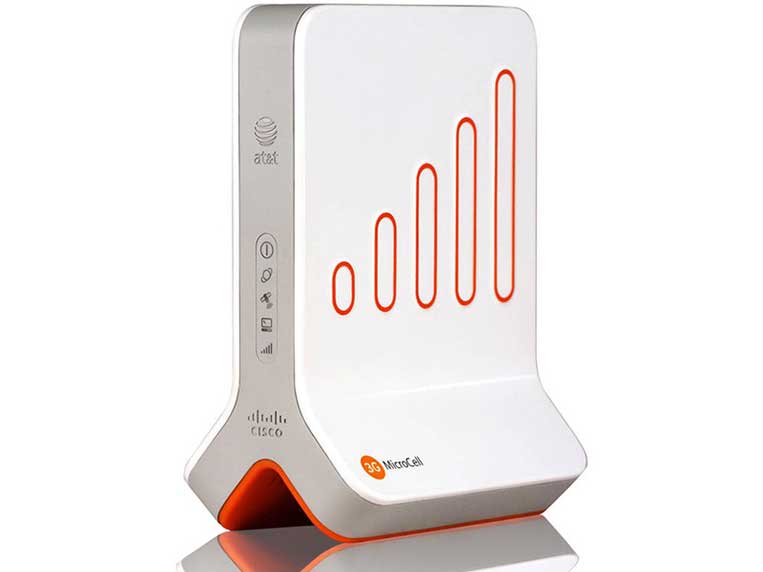 What exactly is an AT&T MicroCell? Well, despite having the strongest 4G LTE network in the nation, having reliable AT&T service isn't always a guarantee. Things like distance from cell tower and building material often can disrupt your cell signal and weaken your cellular service.
The result? Dropped calls. Stuck text messages. Slow internet. Spotty reception. Poor coverage.
An AT&T MicroCell acts like a mini-cell tower, radiating signal from inside the home or office to give you more bars. It increases you signal strength and is compatible with 2G, 3G, and 4G LTE. At $300-400 retail and with no monthly fees, it seems like a viable solution.
But there's a catch.
The MicroCell needs to be connected to a landline internet service to work. In short, it converts your Wi-fi to cell signals, which is a little hard to swallow considering T-Mobile offers Wi-Fi calling without additional hardware. And even if you can use your landline internet to boost your cell signals, this leads to reduced speeds for all Wi-Fi routers and internet devices since it has to share bandwidth with the MicroCell.
And considering that an AT&T Microcell is carrier-specific, if you ever change carriers, it won't be compatible with your Sprint, Verizon, T-Mobile or any non-AT&T carrier.
But there is another solution, it's called an AT&T Signal Booster.
See the Top 6 AT&T cell phone signal boosters right now.
An AT&T Signal Booster takes the existing weak signal, amplifies it multiple times, then rebroadcasts the boosted signal to an area in need in your home or car. Stronger signal, more bars, and reliable connection.
An AT&T cell phone signal booster DOES NOT require landline internet connection to help enhance your service nor does it requires monthly fees. If you have any type of signal, it will boost it and give you more bars. The typical signal booster amplifies signal up to 32X.
So, if you're truly looking to cut the cord, an AT&T Signal Booster is your answer.
The best signal boosters are created by weBoost, a leader in cell phone signal boosters for over 10 years.
Getting an AT&T Signal Booster from weBoost is a very good all-in-one solution for more bars, constant connection, and reliable service.
Besides extending your AT&T cell phone coverage, it'll eliminate dropped calls, stuck text messages, and slow internet. Even better, voice quality is greatly improved so no more repeating. It saves you time and provides you with convenience whether for play, business, or emergency.
All weBoost cell phone boosters are approved for use by AT&T and approved by the FCC. Even better, these cell phone signal boosters are also compatible with Verizon, Sprint, T-Mobile, and other major carriers. They work on ALL phones (iPhone, Android, Samung, LG, etc.).
Whether you're in a remote rural area or the big city, our recommended AT&T cell phone boosters get the job done. They'll extend your AT&T network signal with low cost options for 1-2 rooms up to commercial coverage (10,000 sq ft) depending on your model and outside signal.
An AT&T booster from weBoost is the gold standard. Whether it's a cabin or farm in the valley surrounded by mountains, whether it's a multistory metal building in the big city, or maybe just an RV in the park, weBoost cell phone signal boosters are a necessity when you need to know how to boost your cell phone signal.
So what's the better value? An AT&T MicroCell or AT&T Signal Booster? It depends. If you already pay for landline internet and don't plan on changing carriers soon, an AT&T MicroCell is a good option. But if you don't have landline internet and already have signal (even though it's spotty) and might change carriers in the future, an AT&T Signal Booster is the better option.
Signal Boosters is here to help you select the right AT&T signal booster. There's absolutely no risk to you. Free consultation (ask us anything) with our US-based customer support (sales@signalboosters.com). Free shipping. 30 Day test drive. If you're not happy with your AT&T cell booster, simply call or email us, and you'll get your money back. Guaranteed.
Completely new to signal boosters? See our Support Center to Cell Phone Signal Boosters.
If you are satisfied, we provide lifetime technical support and a 2 year warranty. And again, our US-based customer support is second to none. We understand there's no one-size-fits-all strategy and we listen to all the details before suggesting ways to get you better signal.
We offer best and realistic outcomes from years of experience dealing with weak reception and solving tens of thousands of happy customers. Our motto: "Provide solutions. Don't sell boxes." Read real reviews from our customers. It's because of our goal to provide the best AT&T wireless network extenders that have led us to #424 on the Inc 5000 Fastest Growing Companies List in 2015.
Below are the six most popular AT&T wireless boosters, ranged from good, better, and best. These are ranked in two categories, cell phone booster for home and cell phone booster for car. Why be a servant to the cell tower? Bring the cell tower inside your home!
---
AT&T Cell Phone Signal Booster For Home
Good
weBoost Home 4G for AT&T (470101)
Our review:
The cheapest AT&T signal booster for home. Depending on the outside signal, you may get 1-2 room coverage under best conditions. But you're not here because of best conditions, so it's more realistic to say desktop to small room coverage. Most customers have told us they're much closer to the inside antenna than anticipated for better signal. Great option for single office, home office (SOHO) and small areas like cabins and apartments. Find information and customer reviews about the weBoost Home 4G here.
Better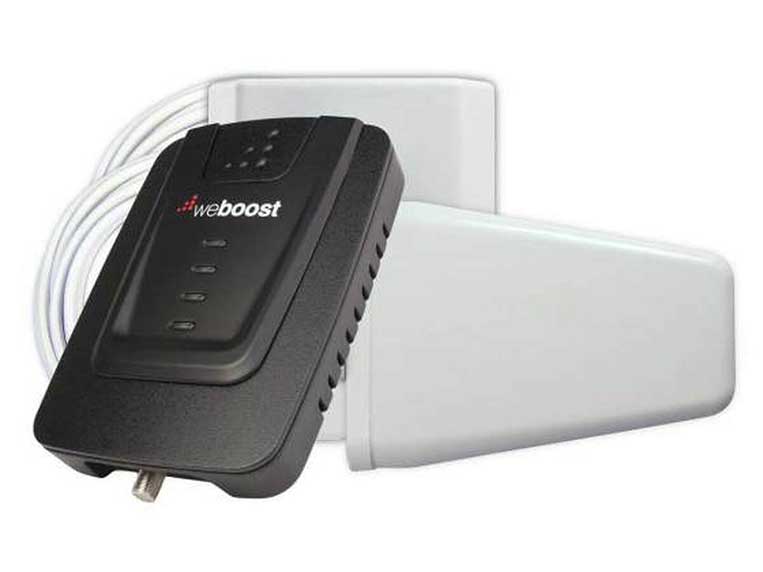 weBoost Connect 4G for AT&T (470103)
Our review:
This is a very popular AT&T repeater. You may get 5,000 sq ft under best conditions depending on your current outside signal. Our customer reviews and surveys puts an average of 2,500-3,000 sq ft. Great option for most homes, small offices, farm houses, and buildings under 5,000 sq ft wide. If you're getting some spotty reception, we'd recommend to start with this first. Read more info and customer reviews about the weBoost Connect 4G.
Best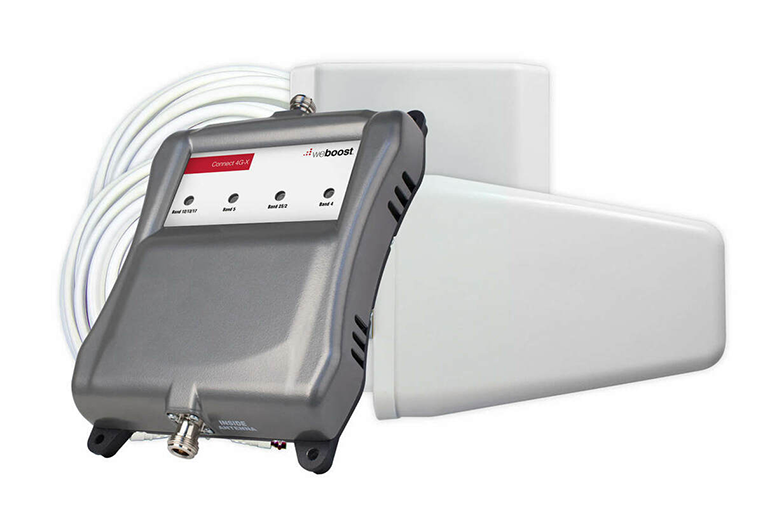 weBoost Connect 4G-X for AT&T (471104)
Our review:
This is absolutely the most powerful AT&T 3G & 4G signal booster, extending coverage & service range up to 10,000 sq ft. Users with poor to mediocre outside signal can at least expect 5,500 sq ft of coverage although if you're on the fringe of a dead zone, you could expect less. If you have extremely poor signal (remote area) or need wide coverage (multistory buildings), the weBoost Connect 4G-X is your new best friend. Read more details about the weBoost Connect 4G-X here.
---
AT&T Cell Phone Signal Booster For Car
Good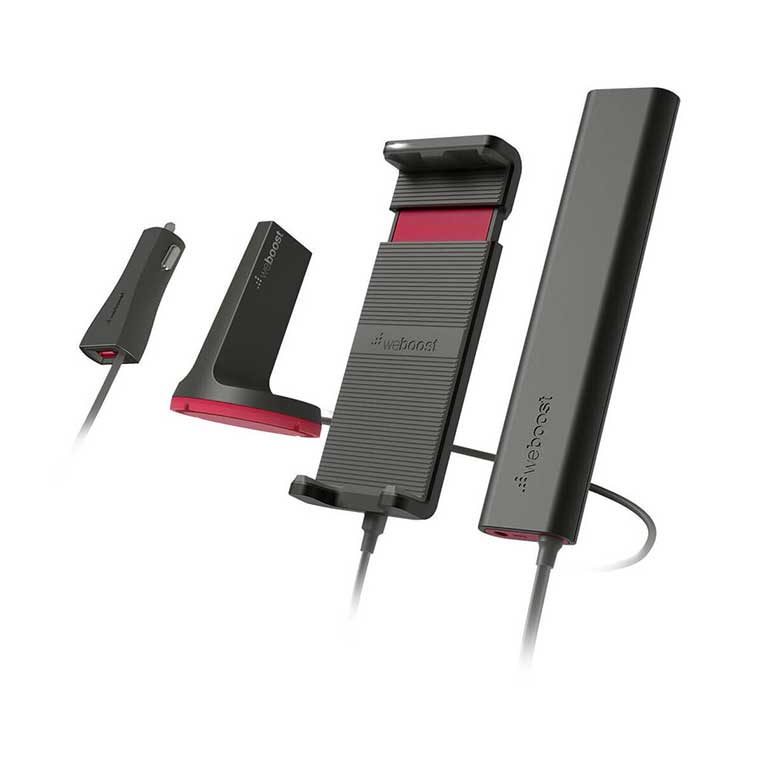 weBoost Drive Sleek for AT&T (470135)
Our review:
Very versatile car cell phone signal booster. Cheap price. Can be placed on the dashboard. When paired with a bluetooth headset, it really shines. Smartphone has to be in the cradle for maximum signal boost. Might be a tight fit on wider smartphones. Read more details about the weBoost Drive Sleek here.
Better
weBoost Drive 4G-M for AT&T (470108)
Our review:
The most popular car signal booster. Slim outside antenna to pick up signal. Indiscreet inside antenna to broadcast signal. Majority of customers say they're getting at least 2 to 3 more bars. A few did say they have to be closer to the inside antenna than anticipated to get more bars and amplified signal. Read more details about the weBoost 4G-M here.
Best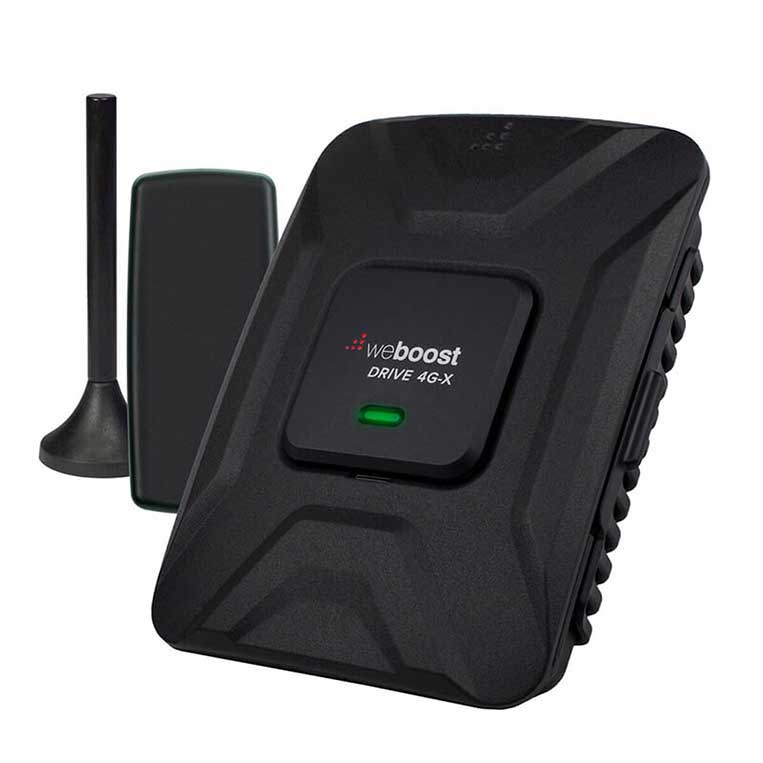 weBoost Drive 4G-X for AT&T (470510)
Our review:
You probably did a double-take. What's the difference between the Drive 4G-X and Drive 4G-M other than a letter change? Three words: maximum output power. Yes, both models have a cap at +50 dB gain. However, the weBoost Drive 4G-X has more output power. In fact, it's right at the edge legally allowed by the FCC. These results in more reach from the outside antenna to the cell tower. Perfect for extremely rural areas. Read more details about the weBoost 4G-X here.
[Article Originally Published By Wilson Amplifiers]
---
Find more information about signal boosters for home and cell phone antenna boosters for cars.
Email us today ( sales@signalboosters.com) and explain your situation and a certified signal booster expert will figure out the best options to help you. Or call us 1-800-568-2723 and listen to our sweet Texan accent.
And if you'd like to read more information about cell phone boosters check out our Support Center.
Interested in Learning More? Check Out Our Cellular Info Hub / WiFi Info Hub