What is a Public Safety DAS: NFPA, ERRCS & AHJ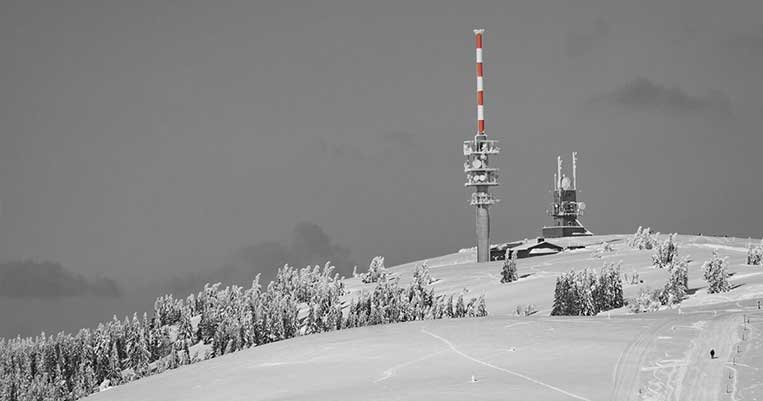 Everything You Need to Know About Public Safety DAS
Public Safety DAS: Everything You Need to Know
First responder radio systems are lifelines. Strong wireless DAS radio signals keep emergency crews in lifesaving contact with one another.
As a property owner or manager, you want a safe experience for every visitor to your building and grounds. When disasters of any type strike at or near your property, seconds count. The performance you're counting on every day from your building's public safety distributed antenna system is now on the line. And you're the one responsible. Those first responder radio frequencies at your site must be strong, clear and ever in readiness around the clock.
Additionally, those same public safety DAS requirements that serve first responders rushing to your property are of equal importance to your building's tenants, staff, and visitors. Everyone facing the crisis at hand needs clear, steady cellular communication across and throughout your building and all of its structures. The National Fire Protection Association (NFPA) sets -95dB as the minimum standard for the wireless signal strength powering any building's ERRCS, emergency responder radio communication system. This standard now applies to all first responder radio systems. In short, all DAS radio systems. Those operating in a currently occupied building or ones planned for a new building, either on the drawing board or under construction.
Just to Review, Exactly What is a DAS System?
The DAS system at a commercial property is any public safety distributed antenna system. It may be as simple a system for managing emergency response communications as a single antenna and a series of enhanced cellular signal boosters joined by coaxial cabling
This type of system for emergency communication may meet the needs of smaller properties quite well and be in full compliance with the Authority Having Jurisdiction (AHJ) for that type of building. Particularly structures less than 3 stories in height with no basement or attached parking garage.
Factors that affect the performance of your existing responder system began with its design. The cellular signal equipment selected and installed in the original design of your ERRCS set the scope for its performance. Distributed antenna system designers made life safety decisions at that time for the layout of the building, density of its walls, use of concrete and reinforcing materials, and whatever energy efficient choices in glass and insulation were available at that time.
Many of the building materials likely used in constructing your present building are known to dampen, restrict, or obstruct completely the radio signal bands assigned to emergency responders. Most public safety first responder agencies and departments in the United States operate exclusively on UHF and VHF signals in the radio frequency ranges of 700 and 800 MHz.
DAS Requirements
The International Fire Code (IFC), reviewed and updated every three years, sets the minimum standard in the U.S. for a building's radio communications: 95% signal coverage for all portions of a building. A further requirement for your building's wireless signal coverage is set by the National Fire Protection Association (NFPA) and is enforced by local fire marshals. That requirement calls for 99% coverage of your project's first responder radio frequencies across all areas of the property deemed "of vital importance". This standard, enforced by the local fire department, applies to your building, its common areas, stairwells, basements, storage areas, and parking garages.
Know your Authority Having Jurisdiction (AHJ)
Knowing how International Fire Code is applied in your state by the local authority having jurisdiction (AHJ) is the start of your path to DAS compliance. Testing the radio signal strength of the existing, or planned, distributed antenna system starts the data gathering.
To be clear on the specific requirements for compliance of your building's ERRCS, consult the local authority having jurisdiction (AHJ) for the location of your building.
This is a daunting task in some instances. Crossover jurisdictions occur in some states across cities, counties, municipalities, and annexed areas.
At Signal Boosters, we're knowledgeable about AHJ's and ready to assist you with tracking down which governing codes apply to your building. This is step one of the testing necessary to establish coverage levels, dead zones, and areas of improvement for public safety communications at your site.
If you're ready now, call us to set a field visit and consultation: 800-470-6777. Technicians specializing in emergency responder requirements will answer your questions and set testing for your location. We can get you underway fast in bringing your building into mandatory compliance for public safety DAS as defined by local jurisdiction.
Need More Specifics about ERRCS DAS?
To understand how the DAS radio components at your building function, start with an understanding of the equipment.
Directional Antenna
If your site has a directional antenna system, there's a single antenna on or nearby your premises working with a series of cellular signal boosters. This type of public safety DAS is often sufficient for low rise office buildings and smaller commercial structures. It may provide the signal strength and coverage required for a larger, open area building as well.
Again, a quick call to Signal Boosters makes a site visit to evaluate and test your building happen fast. Call 888-427-1136 to speak with a qualified DAS technician. We verify compliance to the specifications of your project's AHJ.
Bi-Directional Antenna
Verticals such as high rise office buildings, hospitals, and hotels often require the saturation of bi-directional amplifiers. A "bda system" is a "passive DAS". It uses a series of antennas and signal boosters linked by coaxial cabling to blanket a large or unusually shaped space. Buildings with hard to reach alcoves, stairwells, storage spaces, parking garages and any other type of coverage gap or dead zone unique to the shape of that building benefit from bi-directional antenna amplification.
Quite large venues pose special challenges to clear cellular reception. Airports, transit depots, hotels, hospitals, and large retail malls must be in readiness for emergency situations. They put public safety first with the benefit of a well designed and maintained "bda".
Getting and Keeping Certificates of Occupancy
Providing emergency responders with top-notch wireless 'round the clock wireless coverage at your location is no longer just a good idea. It's mandatory for all U. S facilities leasing space. To be able to secure a Certificate of Occupancy, and to qualify for its renewal, the codes in force by your local AHJ must be met and maintained.
Make sure that reliable testing from Signal Boosters is the first step to compliance at your building. Our reputation as an ERRCS design, DAS installation, and maintenance group is strong. Our DAS for Public Safety team is experienced and up-to-the-minute on regulatory code.
We are the group to call.
Signal Boosters: 888-427-1136
---
Contact Us
We're here to assist with any issues you might be experiencing with both poor cell signal. Contact us today.
Interested in Learning More? Check Out Our Cellular Info Hub / WiFi Info Hub