Tenda EX12 AX3000 Nova MX12 WiFi Mesh Network Review: Extending Your Range
The Tenda EX12 AX3000 is a neat little gadget which has, over the last two weeks, really improved our lives. It's both a router and a WiFi mesh network which has given ample network coverage to my 4,000 sq ft, multi-story home.
Despite its extremely techy, convoluted name, it's worth strongly considering if you're looking to have faster, more reliable internet throughout your home. Below is my own story.
---
The Situation
My girlfriend and I recently moved in together, and transitioning all our things from two separate homes into one larger home was a trial. We're still not totally done as of this writing!
One of many major issues we ran into was internet. Like many of you, our one and only cable connection was in a lousy place: on the bottom floor, tucked into the farthest corner of the dining room. While our cable plan promised good speeds, with our only connection so far away from the rooms we spend most of our time in those speeds would be dramatically reduced. Worse, we both have work-from-home options relying on constant network uptime.
Installing the Tenda AX3000 Nova MX12 Wi-Fi Mesh Network completely fixed our network problems.
---
What You Get for Your Money
The Tenda EX12 AX3000 isn't just a mesh network, but also a high-speed router, with the ability to transmit signals up to 2.5 gigabits.
That's a big deal. If you're trying to upgrade your internet connection, a decent router can easily run you upwards of $100. Heck, Tenda's own AX3000 WiFi 6 router will run you $129.99. You're essentially getting one of those in the purchase with a sleeker form factor.
The rest of the EX12 Mesh Network consists of two other nodes you can place anywhere else in your building, for up to 7000 sq ft of coverage. That's about twice the area of a tennis court and can absolutely help reach second or even third stories of a house.
It might be best to think about it like having three routers on a single network. This has a lot of benefits, as you're able to plug in a lot more devices directly with ethernet cable to any individual nodes.
Each node comes with its own power supply, so they'll need to be plugged in to the wall to work.
---
The Tenda EX12 AX3000 Nova MX12 WiFi Mesh Network Unboxed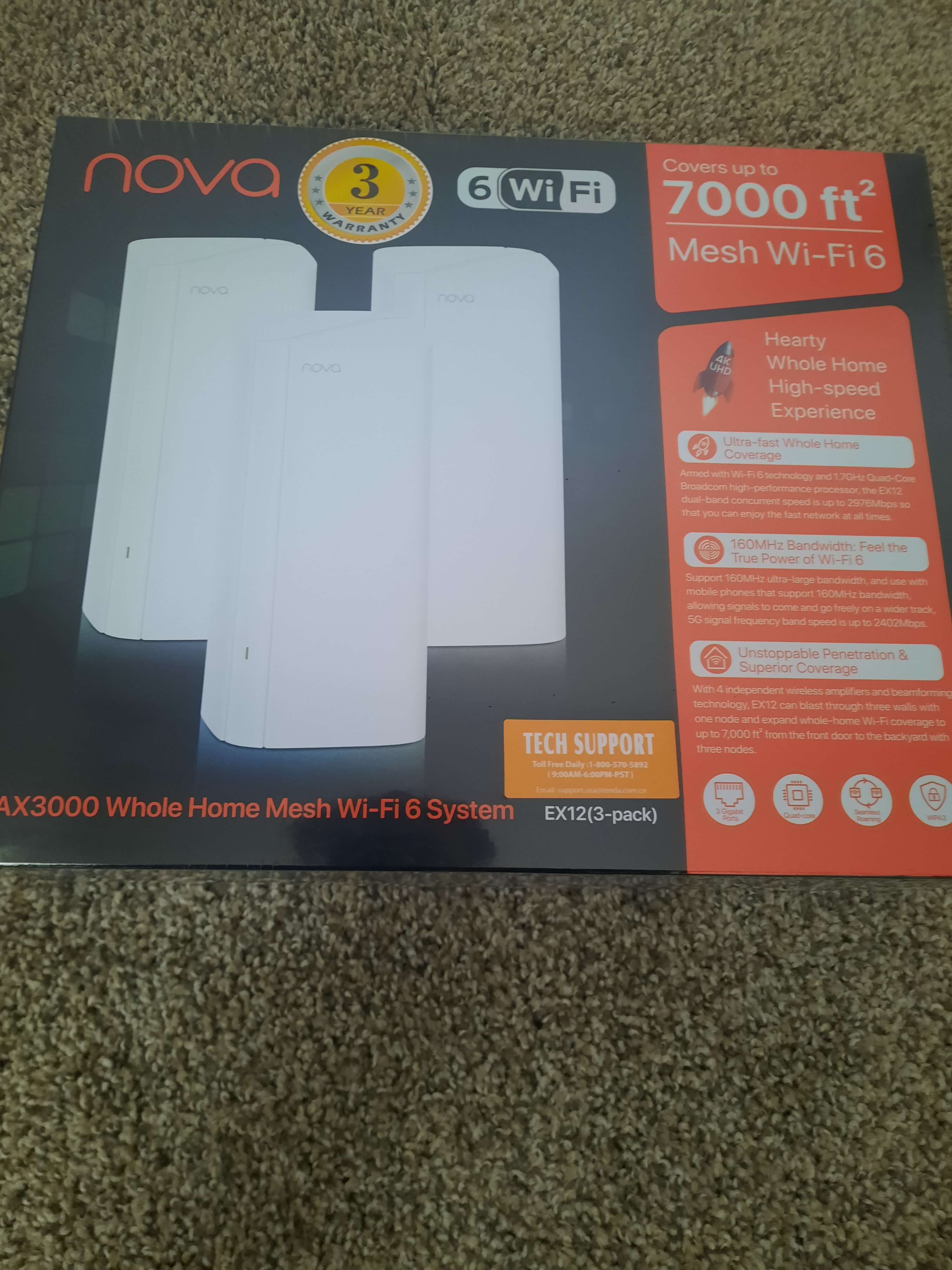 The mesh network comes nicely packaged, with the nodes layered on top of the power cables, quick start guide, and ethernet cable.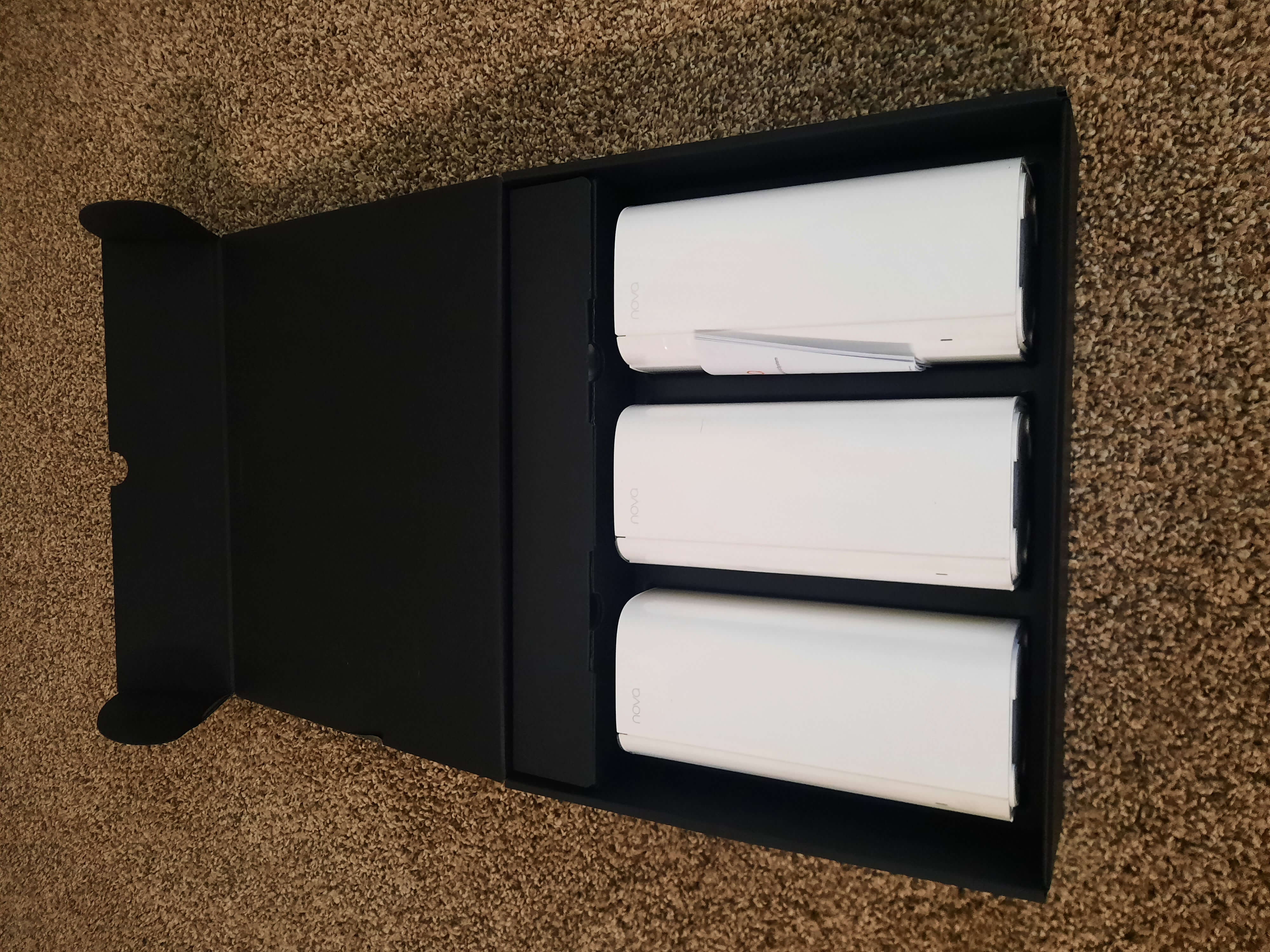 As pictured, each node is paired with its own power supply. The box also contains a single ethernet cable, allowing direct connection to a cable modem. Finally, the included quick start guide provides a guide for installation.
---
Ease of Setup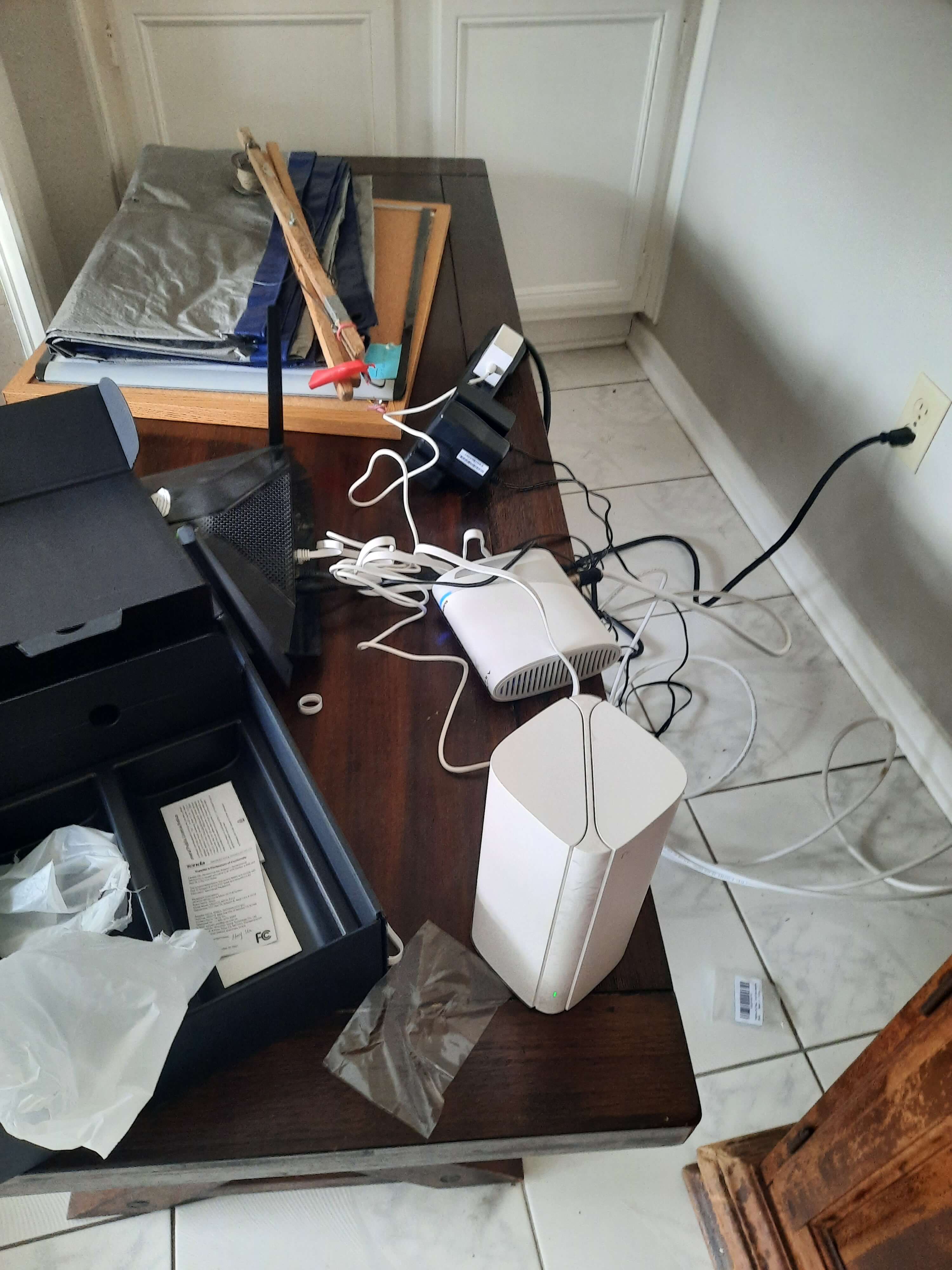 Setting up the entire system took around 20 minutes and can be accomplished in a handful of steps.
Plug primary node into your existing modem via included ethernet cable.
Power primary node on.
Download the Tenda WiFi App onto your mobile device by searching for Tenda WiFi in Google Play or App Store or by scanning the QR code and install app.
Connect the mobile phone to the WiFi network of the primary node. The SSID and password can be found on the bottom label of the device.
Run the Tenda WiFi App and follow the onscreen instructions to connect the device to the internet. You can rename the network and change its password at this stage.
Plug in the rest of the nodes and place them within 3 feet of the primary node.
Wait for the LED light to be a stable green. This means the secondary nodes are now part of the network.
Move your nodes to your desired positions, ensuring they are within 33 feet of another node.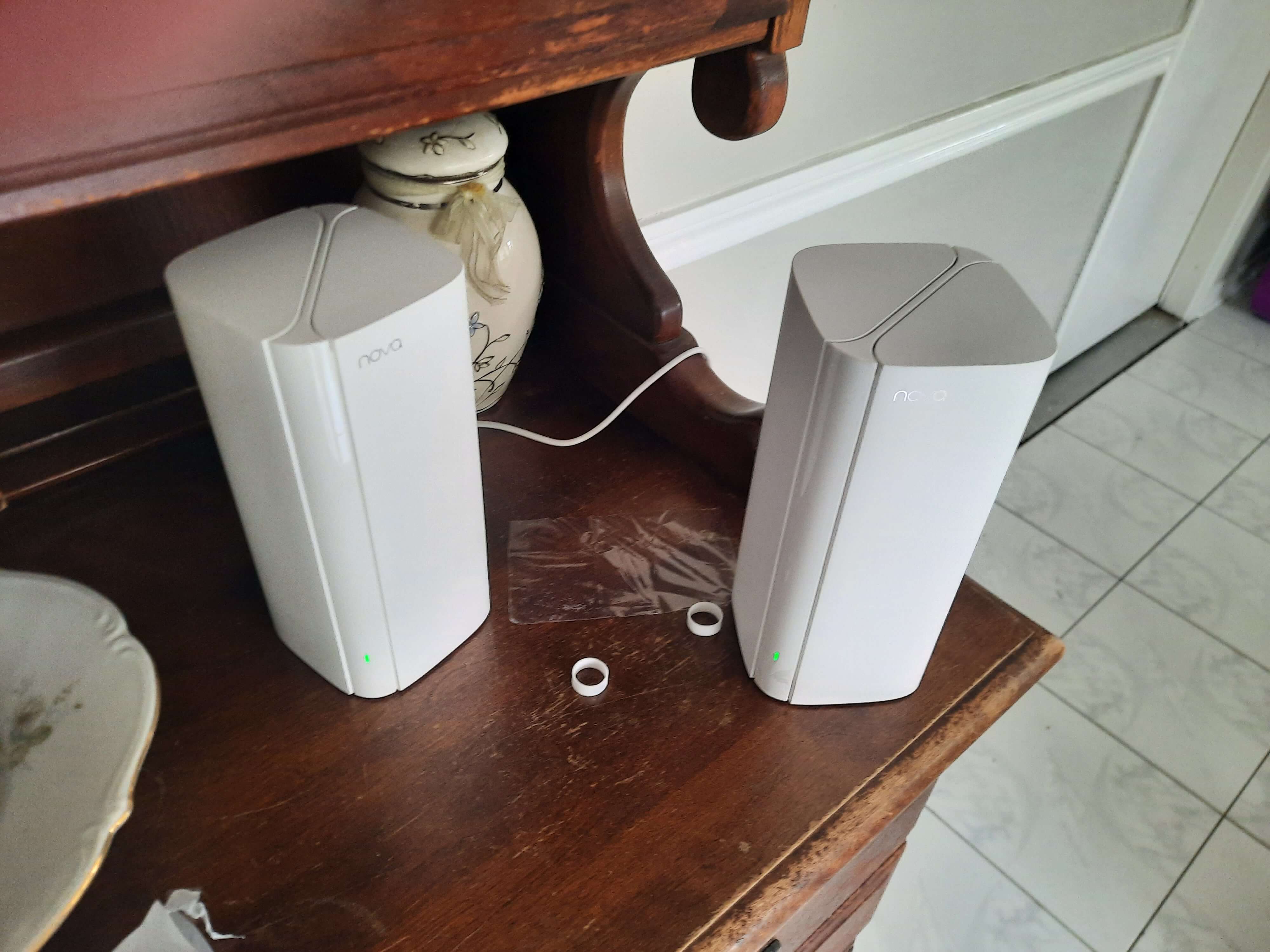 As the nodes power on, they will blink green before settling into their final color. Once they settle, you can check the status of the network using the Tenda app.
---
How We're Using It
Our new house is a two-story, four-bedroom home. The first story includes a large dining area (where the cable connection is), a kitchen and a living area. The upstairs includes a large central room with four bedrooms and a bathroom coming off it.
The three nodes are spread about in strategic locations where they can extend our network coverage and be used to wire areas requiring a heavier network load.
The first node is being used as our primary router, placed in the dining room. This serves the same function a typical router would in any ordinary WiFi setup: attached directly to our modem, it creates the wireless network our house enjoys.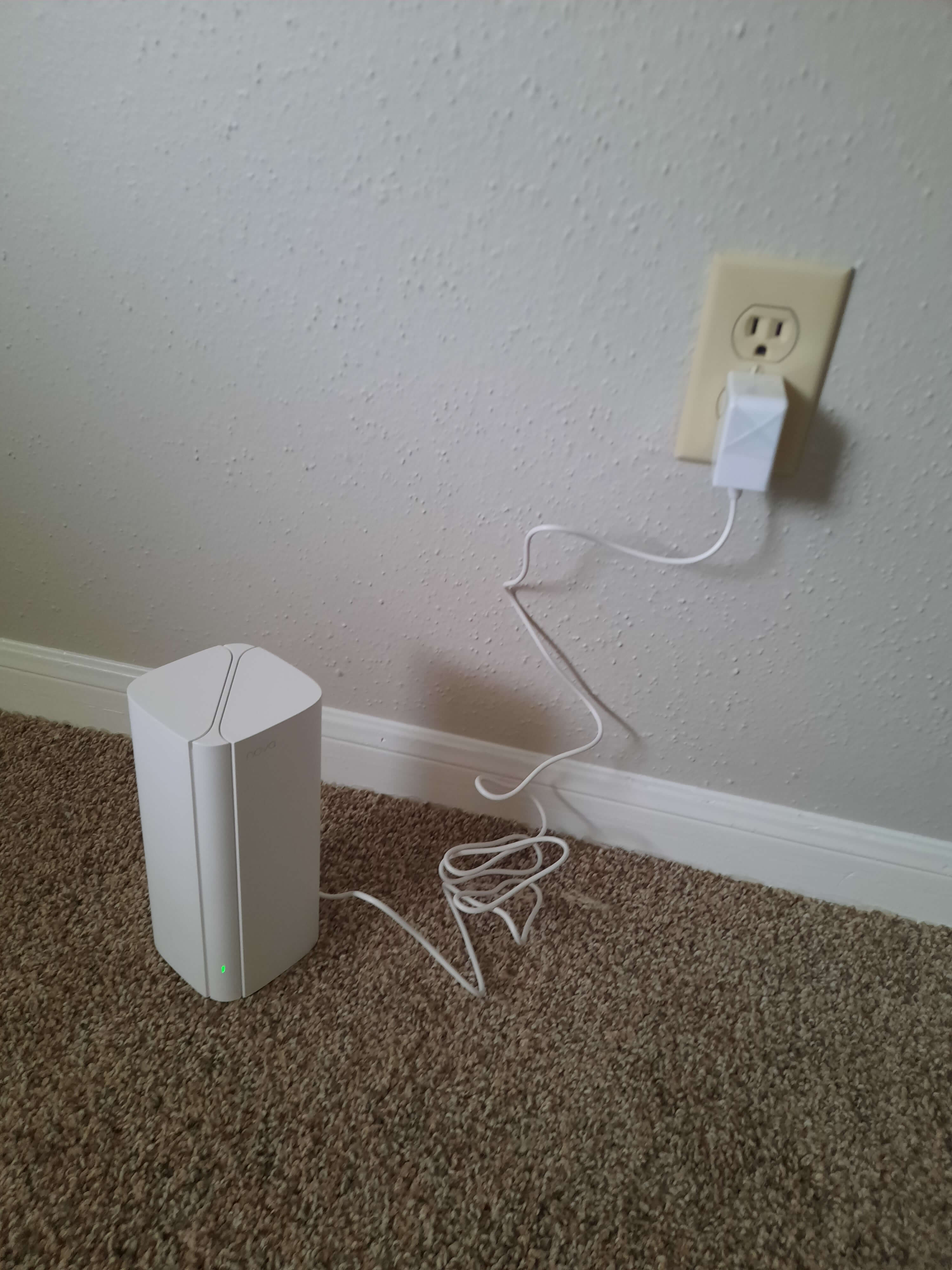 The other two nodes can be easily moved around once activated. For example, the TV in our living room area used to struggle. Originally, I had put both nodes upstairs to ensure consistent uptime while we worked. However, downstairs, our streaming service frequently buffered, and my girlfriend would complain. To fix this, I picked up one of the nodes upstairs, moved it next to the TV, plugged it in, and attached an ethernet cable. Once set up, those buffering issues disappeared. This is now the second node's permanent location.
The other node sits in my office upstairs, where it covers my girlfriend's office (just next door) and plugs in to my gaming setup. Certain old video game consoles I still use won't connect to the internet without a direct connection. Otherwise, I would have been forced to place those systems in a place which is heavy in pet traffic to get their full functionality.
The option to have numerous ports to connect to ethernet is game-changing, as it means I don't have to run cable through my walls or call an expensive contractor to redo my house's wiring to get the speeds we need. I just need to move the nodes around, or perhaps buy a standalone node if I really need one.
---
Downsides of the Tenda EX12 AX3000 Mesh Network
The biggest downside to the system is the requirement to download an app to get the full system to work. Without downloading the app, only one of the nodes will provide any value (as the router).
Those with poor connectivity on their phones or weak cellular service should consider improving their cell service in their homes with a cell phone signal booster, an invaluable companion to a wide-ranging mesh network.
---
How Can We Help?
We're Signal Boosters, the largest dedicated retailer of cellular and network signal solutions in North America. The Tenda EX12 AX3000 Nova MX12 is just one of the products we carry that can help improve your life. If you have any questions about them or the Nova MX12 mesh network, email us at sales@signalboosters.com or call us at 1-800-470-6777. We're here to help.