weBoost Drive 4G-M vs SureCall Fusion2Go vs HiBoost Travel 4G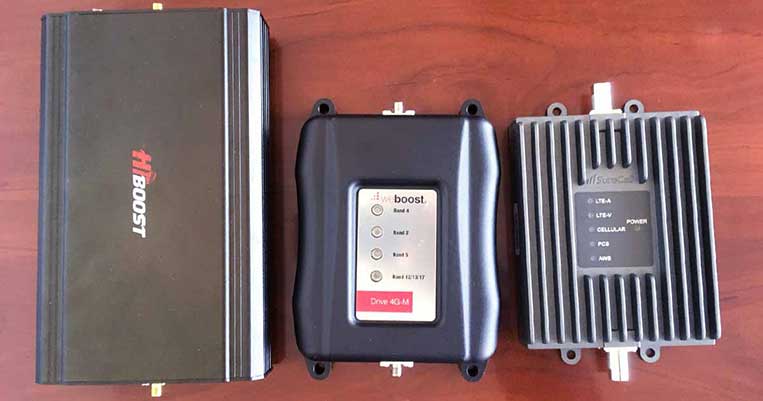 (From left to right: HiBoost Travel 4G, weBoost Drive 4G-M, and SureCall Fusion2Go 2.0)
Battle of the Car Boosters
After receiving several questions about brand comparisons, we've decided to roll up our sleeves and do some field testing on some popular cell phone boosters for cars.
The three units tested in this roundup are the weBoost Drive 4G-M, HiBoost Travel 4G, and SureCall Fusion2Go 2.0.
To briefly summarize for newcomers, car cell phone boosters amplify 3G & 4G LTE in weak signal areas. So people experiencing dropped calls, slow internet, and interrupted service on the road often find value in owning a car signal booster.
They come in 3 major parts:
1.

The Outside Antenna to pull in weak signal.

2.

The Amplifier to boost signal.

3.

The Inside Antenna to broadcast enhanced signal
How We Tested
We tested in two very distinct locations to see how well the boosters performed in downtown Houston (urban) and the outskirts near the sticks (rural).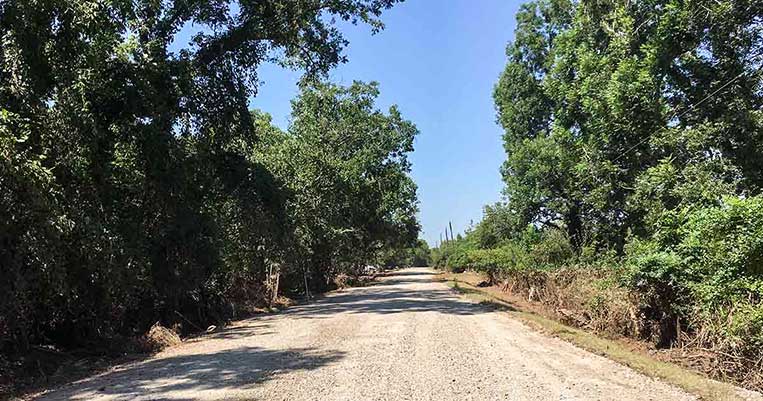 (Dirt roads and barely any signal during our off-the-grid test)
Because of the erratic nature of RF signal, we performed a minimum of 5 different before-and-after readings with T-Mobile on iPhone per location looking for a "resting" dBm range and an "active boosting" dBm range
While bars are a fairly subjective way at looking at signal strength, dBm readings are the most accurate way to read cell phone signal strength. Basically, cellular signals operate within a -50 dBm to -120 dBm standard. -50 dBm is great signal (full bars) and -120 dBm is poor signal (dead zone). So the closer to -50 dBm, the better the signal.
While results may differ with another carrier such as AT&T and Verizon and on a different phone, we're generally looking to see improved dBm readings and download speeds as a benchmark.
With only a set of 10 tests per booster, this comparison isn't a definitive review without our lab testing but a thorough real-world first look while on the road.
Now on to the results:
Urban dBm Test Results:
| | | | |
| --- | --- | --- | --- |
| Carrier | dBm Range Before | dB Range After | dB Gain Range |
| HiBoost Travel 4G | -100 to -108 dBm | -94 to -105 dBm | +3 to +14 dBm |
| weBoost Drive 4G-M | -100 to -108 dBm | -73 to -91 dBm | +9 to +35 dBm |
| SureCall Fusion2Go 2.0 | -100 to -108 dBm | -75 to -90 dBm | +10 to +33 dBm |
Rural dBm Test Results:
| | | | |
| --- | --- | --- | --- |
| Carrier | dBm Range Before | dB Range After | dB Gain Range |
| HiBoost Travel 4G | -114 to -118 dBm | -109 to -112 dBm | +2 to +9 dBm |
| weBoost Drive 4G-M | -114 to -118 dBm | -104 to -109 dBm | +5 to +14 dBm |
| SureCall Fusion2Go 2.0 | -114 to -118 dBm | -91 to -101 dBm | +13 to +27 dBm |
What It All Means
In general the SureCall Fusion2Go 2.0 performed better than the weBoost Drive 4G-M and HiBoost Travel 4G in terms of dB gain range.
While the weBoost and SureCall signal boosters performed equally as well in the urban testing, the Fusion2Go showed it's muscle in the rural setting as it was able to bring nearly unworkable service to easily checking emails and YouTube videos.
Let's look at some download speeds:
HiBoost Travel 4G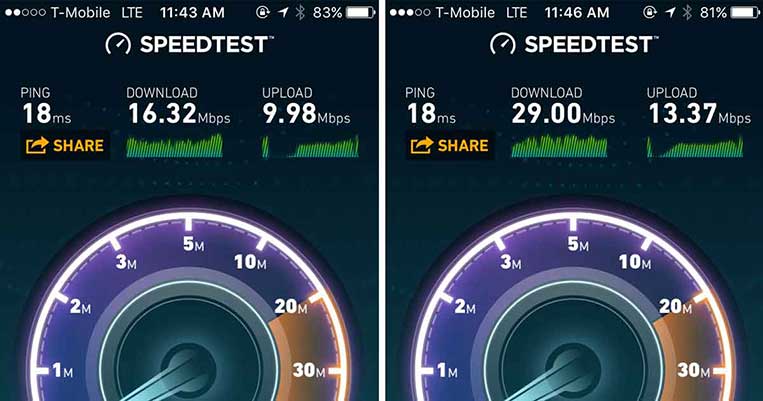 weBoost Drive 4G-M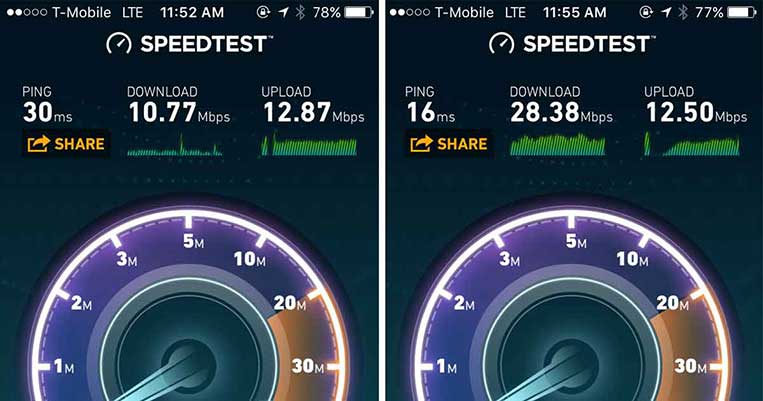 SureCall Fusion2Go 2.0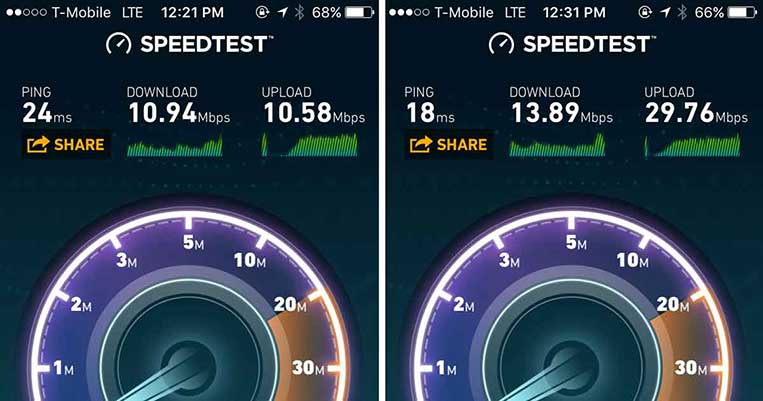 The HiBoost Travel 4G improved download speeds (DL) by 77% and upload speeds (UL) by 34%. The weBoost Drive 4G-M improved DL speeds by 163% but UL decreased by -3%. Fusion2Go 2.0 saw DL go up by 27% and UL by 181%.
This only one set of download tests but represents a generalized outlook when combined with the other tests. The HiBoost improves DL and UL speeds and looks to be a jack of all trades, whereas the weBoost does DL and SureCall does UL like a king.
What We Liked & Didn't Like
Outdoor Antennas
The HiBoost Travel 4G (picture left) uses a 10 inch whip antenna with a slightly outdated style considering newer outdoor car antennas tend to be much shorter. The weBoost Drive 4G-M (middle) and SureCall Fusion2Go 2.0 (right) are 3 inch antennas. However, the Fusion2Go's performs better.
The only knock on the Fusion2Go 2.0 antenna is that we noticed during rainy weather, it slid a bit from its original location unlike the other two. That's because despite the wider base, it houses a 1/2 inch antenna similar to the weBoost & HiBoost, so when water got beneath the base, it allowed for slippage.
Indoor Antennas
All three indoor antennas were good. weBoost and SureCall uses a velcro solution while HiBoost uses a 3m adhesive.
Power Cords & Cables
Both weBoost & SureCall's power cords are generous in length at 7 feet with a on/off switch at the head plug-in unit. The HiBoost uses a retractable coil cord that doesn't give much slack after 4-5 feet and does not feature an on/off switch, which is an inconvenience when you need to pull out the power adaptor to turn if off.
Body Design & Build
Both SureCall and weBoost are noticeable smaller than the HiBoost by about 40%. All three units use metal for their casing but the SureCall just edges the weBoost in terms of build quality. It just "feels right" in the hand and its industrial design allows for better heat dispersion.
We offer complete cell phone signal booster kits for any situation:
Attention business & property owners, installers and integrators
Take advantage of our system design and installation services. Learn more or call us for a free consultation: 1-800-969-8189.
Conclusions
For the price and value conscious customer, the HiBoost Travel 4G is capable of improving 3G & 4G LTE speeds. In bar talk, you should expect 1-2 extra bars during normal use. It's a no-thrills booster but gets the job done at a cheaper price compared to the competition.
For the everyday or urban customer, the weBoost Drive 4G-M is a very good performer. We constantly saw better download speeds, which is generally the biggest problem in urban environments. While the Drive 4G-M is one of the bestselling car boosters in USA, there is an upgraded version called the Drive 4G-X which performs very well in the off-the-grid areas.
For the rural customer, the SureCall Fusion2Go 2.0's strong upload speeds indicates that it reaches farther out to the cell tower which helps in bridging the distance between the cell tower and your phone.
Have any thoughts, comments, or questions? Let us know in the comments section below.
Interested in Learning More? Check Out Our Cellular Info Hub / WiFi Info Hub