SureCall Guardian3 Quick Response Public Safety Bi-Directional Amplifier
In stock. Ships in 1-2 business days.
SureCall Guardian 3 Quick Response Tri-Band Radio Communications Bi-Directional Amplifiers for Public Safety Bands
Quick Summary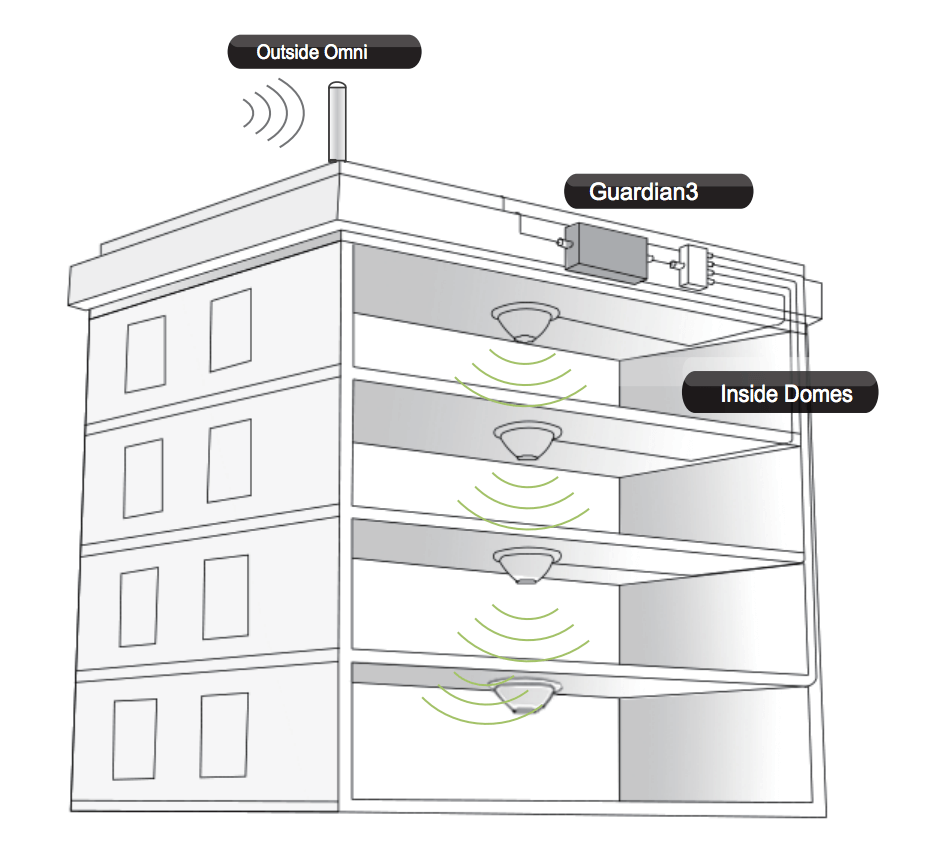 Tri-band bi-directional amplifier for public safety band that meets NFPA requirements
80 dB Wideband and 3W EIRP for Public Safety Bands
Linear Design increases number of simultaneous users to 100+ per band
Features built-in SureCall Sentry remote monitoring system with ethernet port
Integrated 7-pin alarm and UPS port for external battery backup
NEMA 4 rated amplifier housing. No additional NEMA enclosure(s) needed
Meets Chapter 24 Emergency Communications System of NFPA72
Overview
SureCall's latest innovation, the Guardian 3 QR, is a Tri-Band Bi-Directional Amplifier that services the full Public Safety 700MHz and 800MHz bands as well as the 900MHz SMR (Specialized Mobile Radio Service). This booster significantly improves the quality of crucial First Responder communications in buildings with weak signal strength.
Founded in 2001 and based out of Silicon Valley, SureCall has been solving frustrating cell phone reception problems with certified signal boosters for weak signal commerical areas. Satisfied clients include Chrysler, HP, Exxon Mobile, Stanford University, and many more.
WARNING: This is NOT a CONSUMER device. It is designed for installations by FCC LICENSEES AND QUALIFIED INSTALLERS. You MUST have an FCC LICENSE OR express consent of an FCC Licensee to operate this device. Unauthorized use may result in significant forfeiture penalties, including penalties in excess of $100,000 for each continuing violation. Please contact customer/tech support (1-800-969-8189 or sales@signalboosters.com) regarding this product.
How Does It Work?
The NFPA-Guardian3 QR Bi-Directional Amplifier boosts signals from the nearest radio tower to a building and from those radios back to the tower to compensate for weak reception caused by distance, topography, building structure etc. The BDA receives the signal from an outside antenna, amplifies that signal, and then rebroadcasts it via the interior antenna(s) where it is picked up by radios. The interior antennas also pick up signals from radio devices and pass them to the amplifier. It amplifies these signals and passes them to the exterior antenna for rebroadcast back to the tower. You will need addtional external and internal antennas, cables, lightning surge protector and other accessories for a complete installation.
Kit Includes:
Guardian3 QR Bi-Directional Amplifier
NEMA enclosure - Meets NEMA 4 type requirements
Mounting Kit
DC Power Supply
Wall Anchors
Additional Items Needed:
The Guardian3 BDA requires the following additonal components for a complete installation:
External antenna
Lightning protector
Multiple antennas (omnidirectional domes and/or panels by SureCall)
Cable splitter if installing multiple antennas
Sufficient SC-400 ultra low loss interior/exterior cable of 50 ohm
Grounded surge suppressor for DC power supply
Detailed Summary
Powerful in-building Bi-Directional Amplifier with 31dB of adjustable gain level.
For police headquarters, hospital and other first responders
Suitable for large areas up to approximately 80,000 square feet depending on outside signal strength.
Up to 80 dB (decibel) gain!
Power control maintains maximum output power at 3 watts EIRP
Automatic oscillation detection and protection system powers down the amplifier to prevent harmful radio interference.
Built-in safeguards eliminate interference to public safety network
7-pin alarm, UPS and Ethernet port for remote monitoring
Energy-saving operation allows bands to remain dormant when not in use
Automatic gain control (AGC)
Independently adjustable frequency attenuation for uplink and downlink
3 year warranty
Lifetime product support
SureCall Guardian3 Bi-Directional Amplifier Tech Specs
UPLINK FREQUENCY
788-805 / 806-824 / 896-901 (Including D Block)
DOWNLINK FREQUENCY
758-775 / 851-869 / 935-940 (Including D Block)
SUPPORTED STANDARDS
Public Safety 700 and 800 and SMR 900
MAX GAIN
80 decibels (dB)
POWER
Input AC 110V, 60Hz; 50W
GAIN ADJUSTMENT
31 decibels (dB)
NOISE FIGURE
≤ 8 dB
MAXIMUM RF OUTPUT POWER
26dBm
P1DB
31.5dBm
CONNECTORS
N-Female
DIMENSIONS
21.5"X17"x6"
WEIGHT
19lbs
FCC (USA)
RSNFORCE3-PSB
Resources
Signalboosters.com is an official reseller of SureCall. Email us at sales@signalboosters.com or call 1-800-470-6777 if you have any questions or comments. Our friendly Texas-based certified customer support is ready to help and serve.
User Guide
Data Sheet
This is NOT a CONSUMER device.
It is designed for installation by FCC LICENSEES and QUALIFIED INSTALLERS . You MUST have an FCC LICENSE or express consent of an FCC Licensee to operate this device. You MUST register Class B signal boosters as defined in CFR 90.219. Unauthorized use may result in significant forfeiture penalties, including penalties in excess of $100,000 for each continuing violation.
This is a 90.219 Class B Device.
Under Section 90.219(d)(5) of the Commission'Ç'_''''ÇΎs rules, all Part 90 Class B signal booster installations must be registered with the FCC. In February 2013, as part of the Commission'Ç'_''''ÇΎs efforts to support the continued use of signal boosters in the Private Land Mobile Radio Services and Public Safety Radio Services, the Commission adopted a registration requirement for existing and future Part 90 Class B signal booster installations. The Commission found that a Class B signal booster registration system would be a valuable tool to help resolve interference should it occur.
There are no fees to register your device. SignalBoosters provides a free service to help you along the way. Our Cell Phone Signal Boosters Registration Page should help get your started.