SureCall Fusion4Home Cell Phone Signal Booster, Omni/Whip Antennas
In stock. Ships same or next business day.
Surecall Fusion4Home Cell Phone Signal Booster
More bars, better signal. Say goodbye to dropped calls, poor voice quality, and super slow internet.
Quick Overview: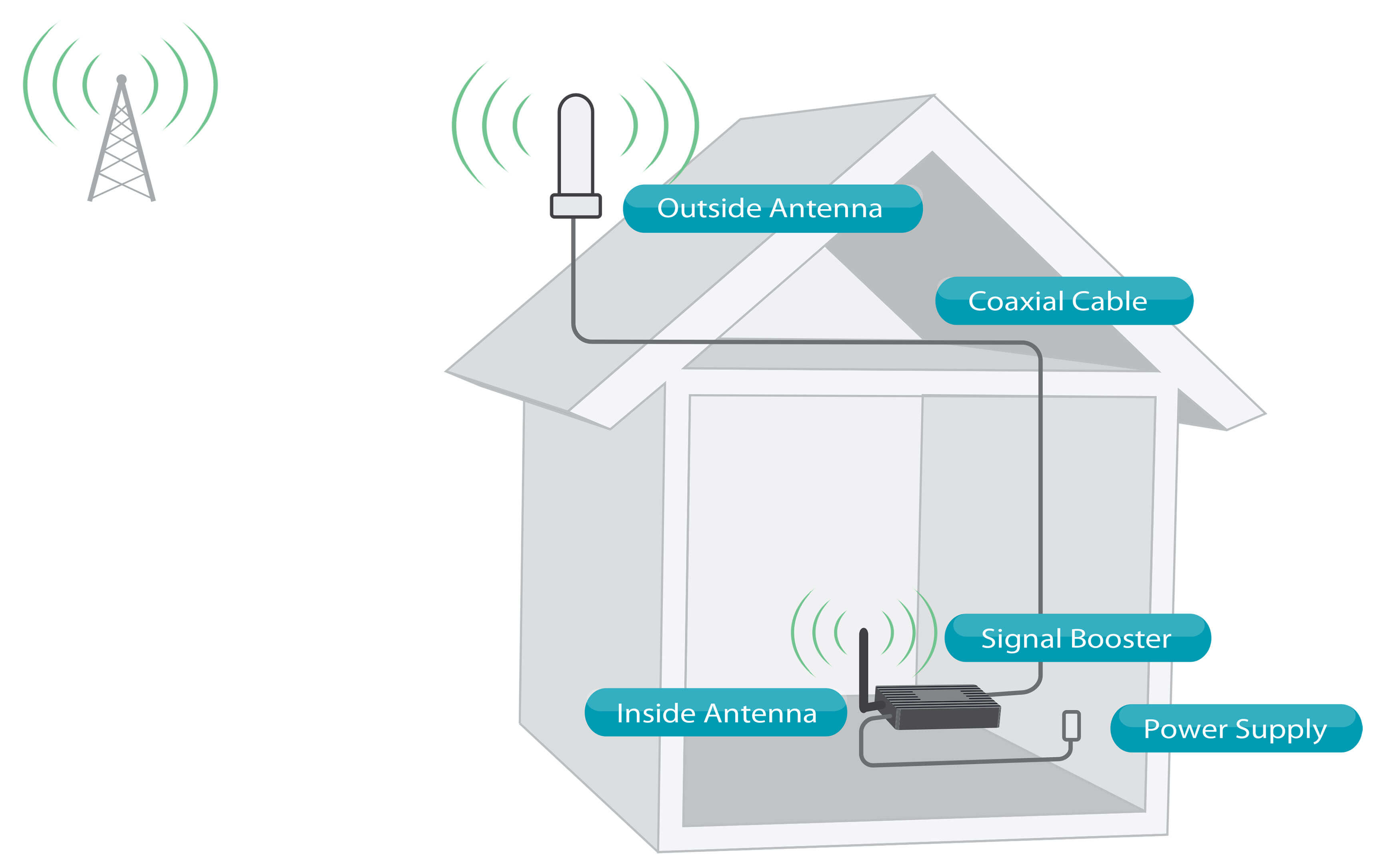 Boosts 3G & 4G LTE signals for 1-2 Rooms
Auto Gain Control (AGC) for simplified antenna placement
Best for locations with marginal outside signal (3+ bars)
Works for all phones, all carriers (AT&T, Verizon, Sprint, T-Mobile, etc.)
Industry leading 3 year manufacturer's warranty

The SureCall Fusion4Home is an all-carrier cell phone signal booster designed for home and small oce use. The booster produces enhanced voice, text and 4G LTE data signal where signal is weak due to distance from tower, topography or building materials. Fully congurable for all indoor environments, Fusion4Home signal boosters ensure enhanced call clarity for simultaneous users.
Depending on the outside signal, it is capable of amplifying 3G & 4G LTE cell signals for about 1-2 rooms. Improved talk, text, uploads, downloads, and internet speeds instantly.
Features & Benefits:
Reliable connection & service
Wider coverage area
Improved call quality & reception
Faster uploads, downloads, and streaming internet data
Longer battery life for your cell phone
No landline internet required
No monthly fees
More bars!
Best For:
1-2 Rooms. Small office, home office (SOHO). Apartment. Condo. Cabin/ Cottage. Desktop or workspace area.
Carrier Compatibility
US Carriers:
Verizon, AT&T, Sprint, T-Mobile US Cellular, Leap Wireless, C Spire, Metro PCS, etc.
Canadian Carriers:
Rogers, Bell, Telus, Fido, Wind, etc.
Frequencies:
700 MHz (Bands 12/17 and 13), 850 MHz (Band 5), 1900 Mhz (Band 2), and AWS 1700/2100 MHz (Band 4).
Compatible with all 2G, 3G, and 4G services and cellular-enabled devices such as cell phones, tablets, iPhone, iPad, Samsung Galaxy, Android smartphones, and others.
How the Surecall Fusion4Home Works
The SureCall's Fusion4Home is a high-quality bidirectional signal booster that enhances cellular signals to areas that are prone to weak cellular coverage. It does this with two antennas.
An inside antenna that communicates with your cell phone.
An outside antenna that communicates with the cell tower
And that's it!
Signals sent from a cell tower are received by the outside antenna, amplified by the booster and then sent to your phone via the inside antenna. When your phone transmits, the signal is sent to the inside antenna, and then sent to the cell tower via the outside antenna.
Main Causes of Your Poor Cell Phone Signal
The majority of poor signal inside your home or car are caused by 3 problems:
Distance from the cell tower (especially in rural, remote areas)
Dense material such as thick concrete, brick, and metal. Energy-efficient material such as radiant barrier and low-energy glass.
External obstructions such as trees, hills, mountains, and other tall structures like buildings and urban development.
Any combination of these problems weaken and interrupt cell signals from reaching your phone. This is why a cell phone signal booster is important for getting better coverage. It takes the existing signal, enhances it, and bypasses building obstructions to deliver consistent service.
What's in the Box?
Fusion4Home Signal Amplifier
Outside Omni Antenna
Inside whip antenna
50 feet of RG6 cable
Technical Specifications
Surecall Fusion4Home
FREQUENCY
BAND 17
700 MHz
BAND 13
700 MHz
BAND 5
850 MHz
BAND 4
1700/2100 MHz
BAND 25/2
1900 MHz
MAX GAIN
72 decibels (dB)
POWER
Input AC 110V, 60 Hz; Output DC 5-15V
CONNECTORS
F Female (outside), N Female (inside)
DIMENSIONS
7.875 x 5 x 1.188 inches
WEIGHT
2 lbs. 3 oz.

Buyer's Guide
End dropped calls, stuck text messages, and slow internet today! Our cell signal boosters improve reception, coverage, and delivers reliable service when you need it.
Call us today at 1-800-568-2723 or email us at sales@signalboosters.com. A certified signal boost customer support expert will assist you in every step of the way.
User Guide
Datasheet
This is a CONSUMER device.
BEFORE USE, you MUST REGISTER THIS DEVICE with your wireless provider and have your provider's consent. Most wireless providers consent to the use of signal boosters. Some providers may not consent to the use of this device on their network. If you are unsure, contact your provider.
You MUST operate this device with approved antennas and cables as specified by the manufacturer. Antennas MUST be installed at least 20 cm (8 inches) from any person.
You MUST cease operating this device immediately if requested by the FCC or a licensed wireless service provider.
WARNING. E911 location information may not be provided or may be inaccurate for calls served by using this device.
Please note, the four largest carriers - AT&T, T-Mobile, Verizon and Sprint - and more than 90 regional carriers have given blanket consent for use of all boosters certified to the new FCC standards.
There are no fees to register your device. SignalBoosters provides a free service to help you along the way. Our Cell Phone Signal Boosters Registration Page should help get your started.