Read Featured Reviews From Actual Customers
Read All Reviews
HiBoost SLW Commercial Signal Booster
Boost your bars.
The HiBoost SLW commercial cell phone booster increases voice, text, and 4G LTE data for all North American cell carriers, including AT&T, Verizon, Sprint and T-Mobile. It greatly enhances 4G, LTE, and 3G cell service for all your wireless devices (smartphones, notebooks, hotspots, etc.). Furthermore, it works regardless of phone model (iPhone, Android, Samsung Galaxy, etc), and is 5G ready.
The HiBoost SLW is a fantastic option for large homes and medium sized commercial spaces, capable of boosting the signal of any carrier by up to +72 dB of gain across a coverage area of up to 30,000 sq ft.
We offer several configurations for the HiBoost SLW. In general, if your area has strong outside signal, an omni antenna should work for you. If the signal outside your building is weak, go for a yagi antenna. Dome antennas are best placed on a ceiling and radiate signal outward in all directions, so they're best placed on the ceiling in the center of a large room. Panel antennas shoot signal outward, so they're best placed on a wall. Choose the antenna configuration that's best for your situation - if you have any questions, feel free to call us at 1-800-969-8189 for a free consultation.
Never drop a call again. Stop waiting for loading screens. No more searching for reception. Get faster internet & updates on your apps. Send emails and text messages with zero delay. Stream video & audio with little to no buffering.
HiBoost is the reliable name in industrial & commercial solutions. When you need coverage, Hiboost has you covered.
Remote Monitoring: HiBoost's Signal Supervisor app allows you to check the status of your system anytime, anywhere.

LCD Display: Clear LCD display allows real-time adjustment of various bands and intuitive monitoring.

High Capacity: Works for hundreds of users simultaneously.

Industrial Strength: High heat components are fastened directly to the aluminum chassis to prevent overheating.

No monthly fees, no need to be connected to wifi, it just works.

HiBoost Quality: Better signal or 30-days money back & 3 year warranty
30 Day Money Back Guarantee
Who is this for?
Those who live in a large home with strong outside signal and want whole home coverage.
Those who live in a midsize home with weak outside signal and want whole home coverage.
Those who have a large office or midsize commercial space with strong outside signal and have capacity concerns.
Those who have a midsize office or small commercial space with weak outside signal and have capacity concerns.
How Does It Work?
A HiBoost commercial signal booster for buildings improves 3G & 4G LTE by amplifying existing outside signal. It does this with 3 main components:
1
Outside Antenna pulls in weak signal
2
Amplifier boosts signal up to 32X
3
Inside Antenna rebroadcasts better signal
Compatible With all Major North American Networks
The HiBoost SLW Commercial Booster amplifies talk & text, 3G, and 4G LTE for all major carrier networks except WiMax and iDen.
All US carriers (4G LTE & 3G): AT&T, Verizon, Sprint, T-Mobile, US Cellular, Leap Wireless, C Spire, MetroPCS, etc.
All Canadian carriers (4G LTE & 3G): Rogers, Bell, Telus, Fido, Wind, etc.
Kit Includes:
View as gallery
HiBoost SLW Commercial Booster
12V/3A, AC/DC Power Supply
Tech Specs
HiBoost SLW Commercial Signal Booster
Working Bands
698-716 / 776-787 / 824-849 / 1850-1915 / 1710-1755
UL FREQUENCY RANGE
728-746 / 746-757 / 869-894 / 1930-1995 / 2110-2155
DL FREQUENCY RANGE
Band 12 / Band 13 / Band 5/ Band 25-2 / Band 4
SUPPORTED STANDARDS
CDMA, WCDMA, GSM, EDGE, HSPA+, EVDO, LTE and all other cellular standards
MAXIMUM GAIN
72 dB
CONNECTORS
N-Female
DIMENSIONS
8.7 in×7.3 in ×2.2 in / 220 mm×185 mm×55 mm
WEIGHT
8.8 lbs / 5 kg
FCC NOTICE:
This is a CONSUMER device. BEFORE USE, you MUST REGISTER THIS DEVICE with your wireless provider and have your provider's consent. Most wireless providers consent to the use of signal boosters. Some providers may not consent to the use of this device on their network. If you are unsure, contact your provider. You MUST operate this device with approved antennas and cables as specified by the manufacturer. Antennas MUST be installed at least 20 cm (8 inches) from any person. You MUST cease operating this device immediately if requested by FCC or a licensed wireless service provider.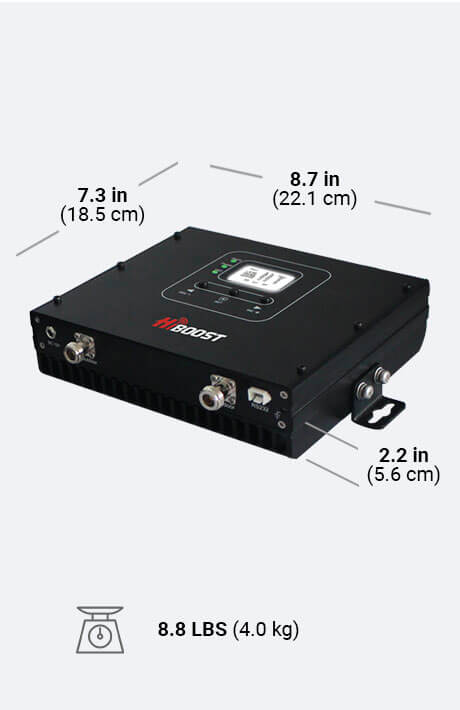 Support
With proper installation, you can expect a significant increase in indoor signal (anywhere from 1-4 bars). If you do not find that, you can take advantage of our 60-day return policy. Contact our dedicated enterprise solutions team (1-800-969-8189 or pro@signalboosters.com) to assist you in every step of the way.

Customers Are Also Buying: