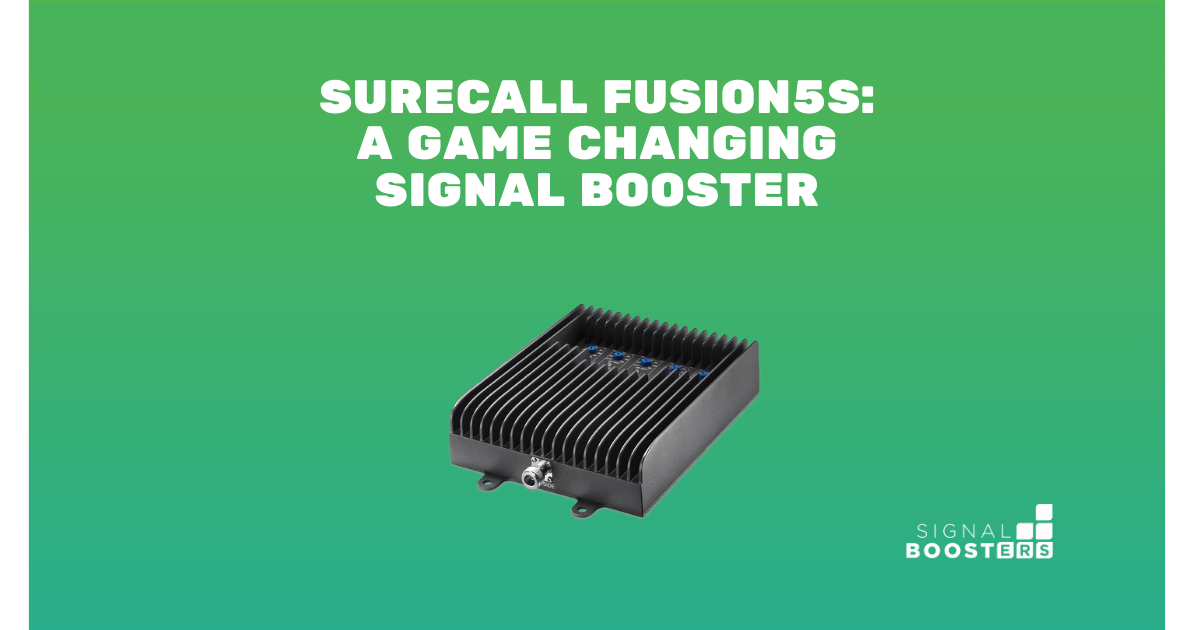 Ever heard of the SureCall Fusion5s? It's an incredibly powerful cell phone booster that boosts cellular signal strength in any building - from large homes to home offices and big businesses. Despite all the cell towers popping up all over the country, cell signals still need to reach inside your home or office (since many of us make our calls and use our phones indoors).
However, building material like concrete, glass, metal and energy-efficient construction weaken cell signals. So if you're deep inside your office building or home, getting good signal is a bit of a challenge. That's why companies like Chrysler, HP and Exxon Mobile depend on a cell phone signal booster to get better reception.
The SureCall Fusion5X 2.0 is one the more powerful and popular solutions. Not resting on their laurels, SureCall has managed to bring that same power that big businesses require to your home for a much lower price.
What the Fusion5s can do
SureCall signal boosters have a reputation for great engineering. All their boosters are made of metal and not plastic. This helps with dissipating heat which helps internal components last much longer and avoids overheating issues. Hold a SureCall amplifier in your hands and you'll definitely feel the robust weight and construction.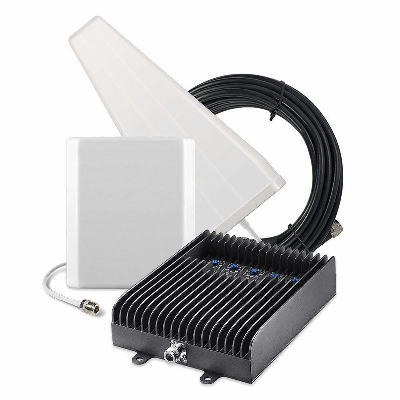 View Product Details
Overview of the SureCall Fusion5s:
Boosts Talk, Text, Internet, 4G, LTE, and 3G Data - 5G Ready
From 7,000 to 10,000 sq ft coverage (large homes or mid-sized office buildings)
Up to +70 dB Gain
Numerous configurations for any home layouts
$849.99
The booster also features adjustable gain knobs for precise dB (decibel) gain. This is a nice feature, because some signals may be stronger than others and don't need to be boosted as much. Think of a concert and the audience members in it. If you're in the front row and near the singer, do you need the speakers to be on full blast (unless you like not hearing for a full week)? However, if you're in the back row, full blast would be perfect.
With adjustable gain knobs, let's say if the Verizon signal is ok, you only need to boost it a little. If the AT&T signal is terrible, then it needs the maximum boost. But I know what you're going to ask, why not give maximum boost to all signals good or bad?
One word: overload.
It's the same reason why you don't dump a whole box of soap in the washing machine. The same reason you don't use a whole tube of toothpaste to brush your teeth. The same reason you don't use a beach towel to wipe up a small spill. More isn't always better. It's about precision.
In the case of signal boosters, too much signal creates a feedback loop. In laymen's terms, it means the inside antenna is broadcasting so strongly that the outside antenna starts to pick up signal from it instead of the cell tower. So think of a snake eating its own tail. Pertaining to signal, this is called oscillation or feedback.
Comparisons
From a DIY home signal booster standpoint, there are two that compares to the SureCall Fusion5s. The first is the weBoost Home MultiRoom, which is more a midsize home solution with coverage up to 5,000 sq ft, but a much lower price point. The second is the HiBoost Home 15K SmartLink, which is at a similar price point and value.
The true deciding factor here is budget. The Fusion5s is more expensive, but more powerful than the weBoost Home MultiRoom. The HiBoost Home 15K claims to offer more coverage, but remains more expensive.
The Fusion5s hits a really great sweet spot in price and performance.
---
Contact Us
We're here to assist with any issues you might be experiencing with poor cell service. Contact us today, or call us at 1-800-470-6777.