All You Should Know About International Fire Code (IFC) Regulations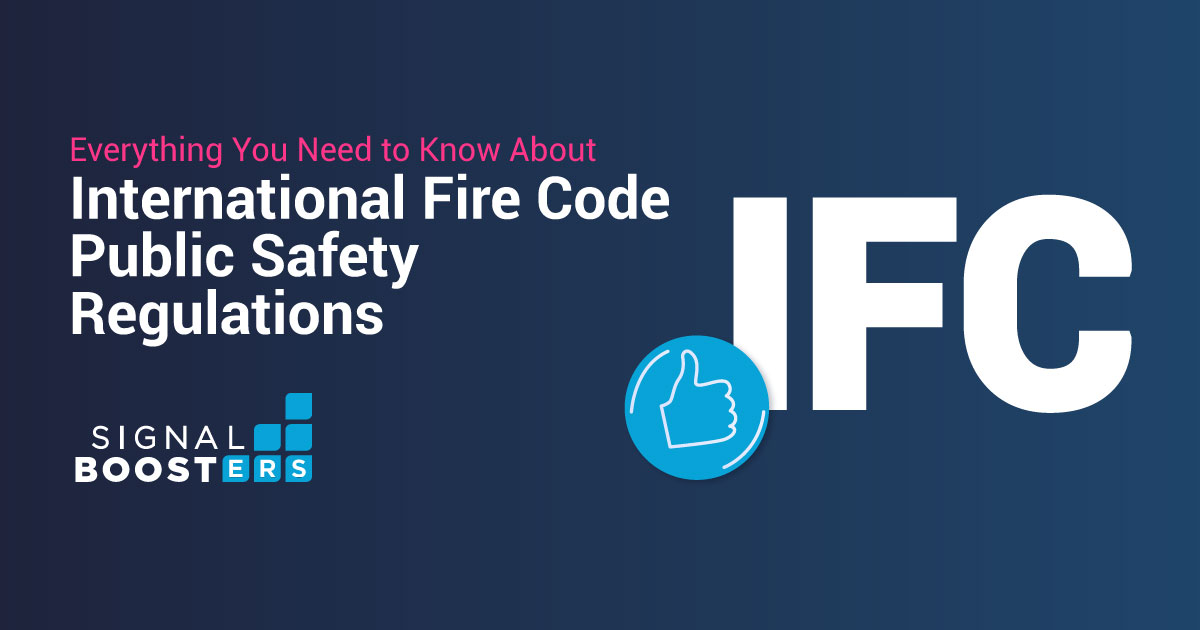 What is the International Fire Code (IFC)?
The International Fire Code (IFC) sets rules and regulations for life and property hazards associated with buildings, structures, and premises. Their mission is the protection of public health, safety and welfare from fire, explosion, or other dangerous conditions. The IFC is produced by the International Code Council (ICC), a U.S. organization that publishes codes and standards related to the design, build and operation of structures.
---
What do the International Fire Codes cover?
The codes are standards that governmental entities may choose to adopt in their rules. The codes are only recommendations. The IFC has been adopted as a legal regulatory standard in 42 states, DC, NYC, Guam, and Puerto Rico. Many of the codes work in conjunction with other standards. For example, IFC complies with more than 90 National Fire Protection Association (NFPA) Codes The codes cover anything related to protection from fire and similar hazards. Once codes are adopted, fire code officials are responsible for enforcing the codes in their jurisdiction. They may choose to enforce all or some of the codes, so it's best to check with local officials to ensure compliance.
---
What is the International Code Council (ICC)?
As mentioned, the authors of the IFC are the ICC. The International Code Council is a nonprofit organization that provides building safety solutions including product evaluations, certifications, accreditations, codifications, and training. Established in 1994, its goal is a single set of national model construction codes. Code Development Committees review and evaluate code change proposals. There are 64,000 members, coming from governmental entities, building owners, designers, insurance companies, private inspection agencies, academics, builders, contractors, manufacturers, and distributors. These member categories have voting rights related to the codes.
---
How are the codes adopted?
Code changes are submitted on a regular basis to the ICC. Staff reviews each proposal and assigns them to a Code Development Committee. There are committee hearings where the codes are discussed and approved, disapproved, or approved with modifications. Participants may challenge committee actions. If the code is approved (with or without modifications), the codes are put on the website for public comment. Voters who work for government agencies, but do not have a financial stake in the outcome, can discuss and vote on code proposals. Finally, there is a final vote online, a Validation Committee reviews, and the ICC Board confirms the results. An updated edition of the codes is published every 3 years.
---
How often is the International Fire Code updated?
New revisions of the International Fire Code come roughly every three years, with the latest version of the code being 2018. Due to new developments in the field of public health due to the recent worldwide pandemic, the 2021 version is likely to contain a great deal of new requirements.
---
Which version of the International Fire Code does my jurisdiction use?
That depends. Individual jurisdictions typically adopt all, part, or none of the new requirements. So certain areas are up-to-date with their adherence to the 2018 revision of the IFC, while others might be lagging three or even four revisions. A jurisdiction's fire code is typically a hodgepodge between IFC and NFPA standards.
---
IFC 510
IFC 510 is the code that addresses Emergency Responder Radio Coverage Systems (ERRCS) and Distributed Antenna Systems (DAS). Buildings are required to have approved radio coverage for emergency responders to be able to communicate inside and outside the building to provide services.
These are the requirements:
Signal strength must be 95% in all areas of the building
The minimum inbound and outbound signal strength should be sufficient to provide usable voice communication through the building as specified by the fire code official. -95 dBm is required for adequate coverage
Buildings that cannot support the required level of radio coverage must be equipped with systems and components (such as a two-way radio amplifier) to enhance the radio signals and achieve the required level of radio coverage
Radio frequency (RF) devices and cabling should be approved by the fire code official. Cables used in the installation of the system, as well as the room, the equipment is housed in, must meet a 2 hour fire rating
The battery backup power supply should be capable of operating the emergency responder radio coverage system for at least 24 hours
Your building inspector will be checking for these five elements, which are required in most jurisdictions to receive a Certificate of Occupancy.
---
Signal Booster/ERRCS Requirements
If a signal booster or Emergency Responder Radio Coverage System is needed to enhance radio signals, they must meet these requirements:
Must be contained in a NEMA 4-type waterproof cabinet
Battery systems should be contained in NEMA 3R or higher rated cabinet.
Equipment should have FCC or other radio licensing authority certification
Donor antennasshould be isolated from all inside antennas to not less than 20dB greater than the system gain of other antennas
Bi-directional amplifiers shall have oscillation prevention circuitry
Amplification systems must not cause interference with the emergency responder radio coverage
Monitoring systems must sound alarms at any malfunctions or low batteries, and frequencies must be capable of modification or expansion.
---
Ready to Install?
Installation must follow National Fire Protection Association (NFPA) 1221 guidelines as well, which includes:
Approval of installation by the local fire code official
The operator of the system must have an FCC issued general radio operator's license and proper training
Testing of the system must be done on a regular basis
We would be happy to perform an evaluation of your building, structure or premises and recommend a solution that complies with any local, or federal rules and regulations.
---
Contact Us
We're here to assist with any issues you might be experiencing with poor cell or two-way radio service. Contact us today, or call us at 1-800-470-6777.