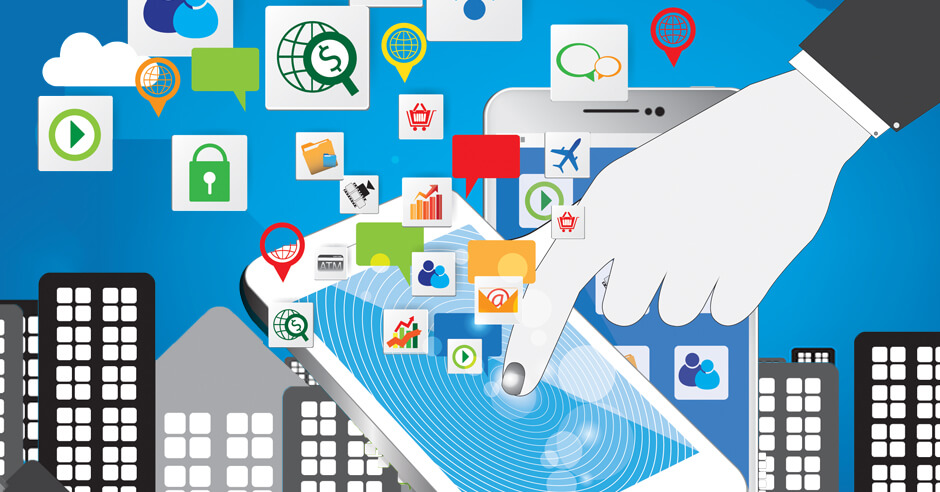 A Distributed Antenna System (DAS) is an enterprise solution that boosts 2G, 3G, and 4G cell signals inside a large building.
They provide boosted reception and coverage inside venues such as multi-story buildings, convention centers, stadiums, underground complexes, and airports.
DAS systems are network of antennas connected by fiber-optic cables and linked to an amplifier (repeater). These amplifiers are handled by a monitoring system that has a direct connection to either one or multiple wireless service carriers such as AT&T, Verizon, Sprint, T-Mobile, etc.
By having direct access to a provider's core network, the inside of the building acts like a mini-cell tower, improving internet connection for cellular devices such as smartphones, tablets, and laptops.
By having a strong signal broadcasting inside the complex, this ensures a constant connection in all covered areas where signal usually can't be found.
Top benefits of a distributed antenna system installation:
Increased bandwidth for faster cellular data speeds
Enhanced wireless coverage for many building designs and types
Supports up to thousands of mobile devices & cell phones simultaneously
Automated monitoring systems maintain optimal performance and detect any problems
Reduces broadband Wi-Fi network strain & landline dependency
Scalable and upgradable for future-proof technology and expansion
With a majority of cell phone use made indoors and the rapid demand and growth of video, streaming real-time data, and other mobile essentials, DAS technology is the most powerful wireless solution for all enterprises and businesses.
The end result is simple.
More productivity, efficiency, and seamless workflow. And the end of dropped calls, poor voice quality, stuck text messages, slow internet, and long loading screens.
List of Distributed Antenna System Companies, Vendors, Manufacturers:
Companies
[Note: These descriptions come from each company's About Us page and are of no way an endorsement or review from Signal Boosters]
Accu-Tech and its manufacturer partners continue to distribute and deliver the latest comprehensive solutions available to the market. Partnering with Accu-Tech provides you with the peace-of-mind that the systems installed in your facility will be high-performance and reliable. Over 30 years of voice and data distribution.
We believe that we are at the center of an exciting global transition of mobile communications from voice and basic data to true high-speed broadband. Our Global Portfolio of approximately over 99,000 sites is composed of towers in advanced, evolving and developing wireless markets, in various stages of wireless network deployment. We have selectively expanded internationally to complement our core U.S. operations, as we believe that the network development trajectory we have seen in the U.S. will ultimately be replicated overseas.
Since 1990, our team of highly skilled designers, engineers, and installers has served clients throughout the United States. We offer premium products, such as signal boosters and cellular repeaters. Most importantly, we provide turnkey solutions for your wireless enhancement needs. Whether you need installation or distributed antenna systems monitoring services, we are here to serve your needs.
AFL provides industry-leading solutions, products and services to the electric utility, broadband, communications, OEM, enterprise, wireless and transit rail markets as well as the emerging markets of oil and gas, mining, nuclear, avionics, medical, renewable and intelligent grid.
Vendors & Manufacturers:
Corning Optical Communications is considered a pioneer in passive optical networks, developing many of the product innovations now considered industry standards in both the Enterprise and Carrier markets. Building on our understanding of the unique requirements for these markets we have developed complete solution sets specifically designed to meet your needs, whether you are bringing fiber to the desktop or to the home.
As high-speed data services become commonplace fixtures in homes all over the world, CommScope solutions will continue to scale and innovate to meet growing demand and power the networks of tomorrow.
Reliable performance. Flexible deployments. Managed costs. Dependable migration paths. When your business depends on information to run, it can depend on CommScope to help it succeed.
As user data demand continues to grow, wireless operators can trust CommScope to deliver the solutions that keep their networks ahead of the curve.
With over 20 years of Distributed Antenna System innovations and 30,000 deployed systems, TE keeps your network ahead of the rest.
Our connected world is rapidly changing. It's a densification evolution and revolution. SOLiD is helping build our wireless future through a portfolio of innovative RF Amplifier, RF Radio and Optical Transport solutions. SOLiD is battle-tested by global wireless operators at some of the world's best-known venues and densely-populated places.
As a key contributor to the wireless densification evolution, SOLiD Distributed Antenna Systems (DAS) empower cellular coverage and capacity at hospitals; sports and entertainment venues; government, university and corporate buildings and campuses; international airports and metropolitan subways; and other high-profile sites.
DAS Alternatives:
A cheaper solution to get more cell signal inside a building is a commercial-grade cell phone signal booster.
Although generally not as powerful as DAS systems, they are 3 to 8 times less expensive and faster to install (weeks compared to months).
The majority of cell phone calls and use are made inside buildings. And the majority of weak cell phone signal inside buildings isn't caused by distance from the cell tower, but interference from building material.
This is especially true in the city and other places around urban development.
Building material like thick concrete and brick, metal, steel, glass, radiant barrier, and other conductive applications (electric, magnetic or energy-efficient) disrupt and weaken cell signals before even reaching to cell phones inside offices and buildings.
So while 3G & 4G signal may be already strong or adequate on the outside, it's impeded by building material.
Cell phone boosters take the existing cellular signal, amplifies it up to 32X, and bypasses the interruption then rebroadcasts the boosted signal inside the building.
Depending on the outside signal, coverage ranges from 10,000 sq ft to 50,000 sq ft.
So if your building or coverage area is less than 50,000 sq ft and you're currently receiving mediocre or better cellular signals, a cell phone signal booster is capable of providing excellent coverage for a fraction of the price of DAS.
If you would like to know how a cell phone signal booster can provide better signal for your business, contact us and provide as much details as you can and we'll respond in less than 24 hours.
Best Commercial Cell Phone Signal Boosters for Large Buildings
Wilson Electronics Pro Signal Boosters:
Wilson Pro 70 Signal Booster (465134)
For large buildings and areas (up to 25,000 sq ft coverage)
Boosts all 2G, 3G, 4G services (5-band support)
All US carriers, all phones & cellular devices
Supports 100+ people simultaneously
Up to +72 dB gain
Wilson Pro 70 Plus Signal Booster (463127)
For large buildings and areas (up to 50,000 sq ft coverage)
Boosts all 2G, 3G, 4G services (5-band support)
All US carriers, all phones & cellular devices
Supports 100+ people simultaneously
Up to +72 dB gain, maxed downlink power
SureCall Pro Signal Boosters:
SureCall Fusion5s Signal Booster
For small buildings and areas (up to 6,000 sq ft coverage)
Boosts all 2G, 3G, 4G services (5-band support)
All US carriers, all phones & cellular devices
Up to +65 dB gain
SureCall Force5 Signal Booster
For large buildings and areas (up to 25,000 sq ft coverage)
Boosts all 2G, 3G, 4G services (5-band support)
All US carriers, all phones & cellular devices
Supports 100+ people simultaneously
Up to +72 dB gain
.
Email us today ( sales@signalboosters.com) and explain your situation and a certified signal booster expert will figure out the best options to help you. Or call us 1-800-568-2723 and listen to our sweet Texan accent.
And if you'd like to read more information about cell phone boosters check out our Support Center.