SignalBoosters.com Supports Work From Home & Distance Learning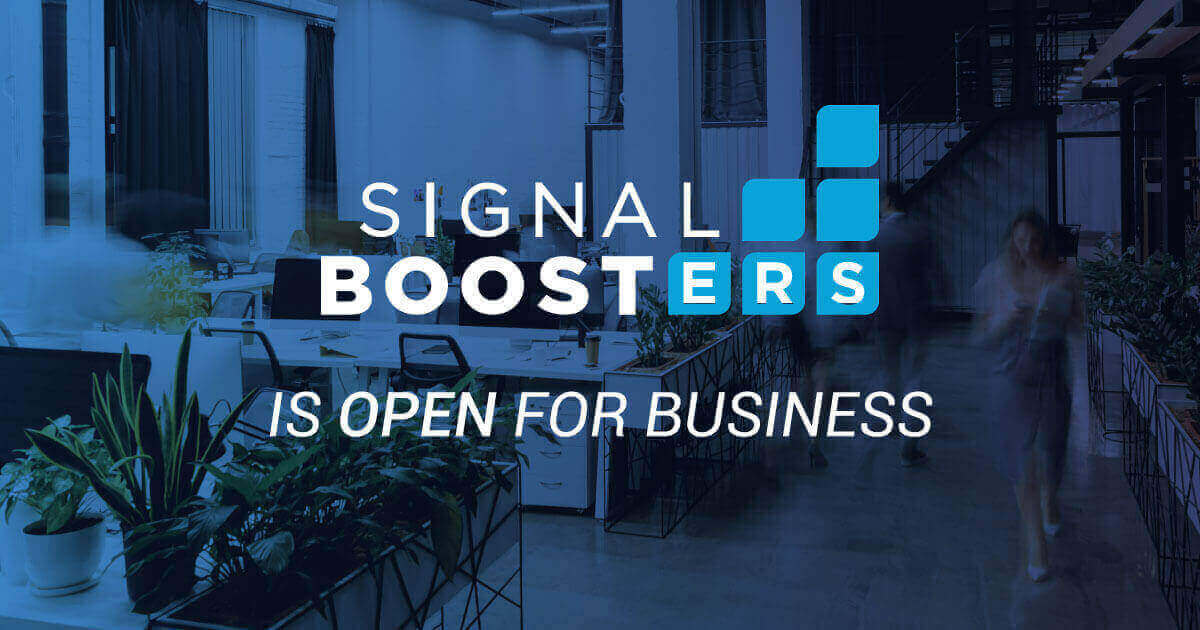 We're Still Here!
While we are all still dealing with the effects of COVID in a wide variety of ways, we want to inform our customers that Signal Boosters remains open for business and committed to keeping you connected.
Whether you are...
Returning to work
Working from home
Returning to school
Distance learning
We hope that you are all managing to stay safe and healthy during these uncertain times.
We offer complete cell phone signal booster kits for rural areas:
Attention business & property owners, installers and integrators
Take advantage of our system design and installation services. Learn more or call us for a free consultation: 1-800-969-8189.
The way we access data, stream, and stay connected has changed this year. We are here to support those changes. Experiencing poor cell phone signal, dropped calls, and slow data is no longer an option for many.
With more people working and learning from home, it's predicted that traditional internet connections may be strained due to a larger volume of users. Not having a reliable connection can be frustrating, especially now when we are dependent on it. Fortunately, cellular provides a solution to busy WiFi networks.
Whether you're working from home, taking online classes, or waiting for the pandemic to end, Signal Boosters provides one of the best solutions for improving your cellular network. You will be able to avoid crowded WiFi connections and improve your overall signal strength. As a result, you and your families will have a reliable way to work from home, your kids will be able to attend their online classes, and you will be able to communicate, for business or pleasure, without having to stressing about dropped calls.
We're working around the clock (literally) with our partners and suppliers to figure out ways to make these products more accessible.
Currently, our most popular work-from-home signal boosters are the weBoost Home MultiRoom and the SignalBoosters.com-exclusive SureCall Fusion4Home Yagi/Dome kit.
Overview of the weBoost Home MultiRoom:
Boosts Talk, Text, 3G and 4G Data
Coverage up to 5,000 sq. ft.
Up to 21 dBm in Uplink Output Power
Up to 12 dBm in Downlink Output Power
Great for Homes and Offices
Complete Kit: All Parts Included
Overview of the SureCall Fusion Professional:
Boosts Talk, Text, and 4G LTE Signal
Improves Cell Signal in Areas up to 8,000 sq. ft.
Up to +72 dB Gain
Great For Large Homes and Offices
Complete Kit: All Parts Included
As long as delivery services (US Postal Service, UPS) continue to operate, we will continue to supply the United States with legal, FCC-approved cell phone signal boosters. These Do-It-Yourself kits are very easy to install. Our products will keep everyone in your household connected and ready to enjoy their newly boosted cell phone signal.
---
Contact Us
SignalBoosters.com is a leading provider of signal booster solutions for homes, vehicles, and commercial buildings. They specialize in consumer-friendly kits as well as customized RF systems for cellular, public safety two-way radio, DAS, and WiFi.
We're here to assist with any issues you might be experiencing with poor cell service. Contact us today, or call us at 1-800-470-6777.