Win a HiBoost RV 2.0 Signal Booster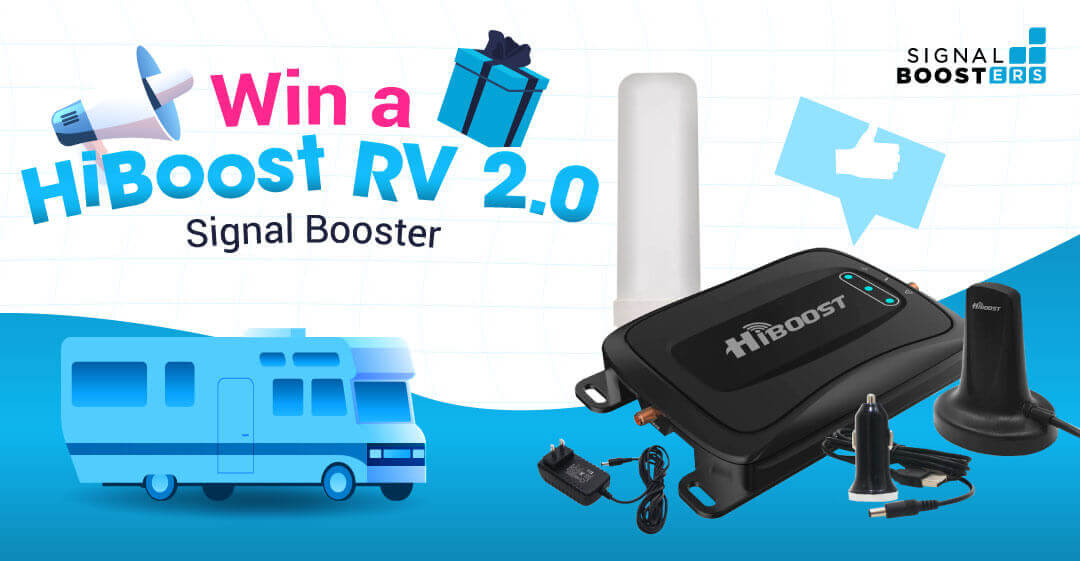 RV Signal Booster Giveaway
'Tis the holiday season and Signal Boosters wants to spread holiday cheer by gifting a HiBoost RV 2.0 Signal Booster. Enter to win now through December 22nd.
We can improve your in-building cellular signal in any setting.
Attention business & property owners, installers and integrators
Take advantage of our system design and installation services. Learn more or call us for a free consultation: 1-800-969-8189.
The HiBoost RV 2.0 booster works great in rural, suburban, and urban areas. There is no place you can go that this puppy won't work in -- unless you're in the middle of nowhere without cell towers for miles. It boosts 3G, 4G, and LTE signals on multiple devices for all U.S. carriers, such as AT&T, T-Mobile, Verizon, Sprint, and more.
It's equipped with a powerful omni-directional antenna to provide you with the best signal possible. HiBoost RV 2.0 offers +50 dB gain, which is the maximum allowed by the FCC for mobile signal booster systems. It also supports up to 24 dBm in uplink output and up to 10 dBm in downlink output.
Through the Signal Supervisor App, you can remotely monitor the gain and output performance of the booster whenever you want. The app also helps you find the best position for your outdoor antenna and makes the installation process extremely easy.
Stay connected on the go this holiday season with a HiBoost RV 2.0 Signal Booster.
---
How to Win a HiBoost RV 2.0 Signal Booster
If you want to win, there are many ways to enter:
Subscribe to the Signal Boosters newsletter and get awesome updates on products and promos
Check out our homepage to see the latest top-selling products and pricing
Follow us on Twitter @signalboosters
Head over to our Facebook page to check out our photos and announcements (you can even like us if you want)
Visit our YouTube channel
Complete one action to unlock the secret code for an additional chance to win
The more actions you complete, the more chances you have to win!
SignalBoosters: HiBoost RV 2.0 Giveaway
---
Contact Us
Signal Boosters is a leading provider of cell phone signal boosters for homes, vehicles, and commercial buildings. We specialize in consumer-friendly kits as well as customized RF systems for cellular, public safety two-way radio, DAS, and WiFi.
We're here to assist with any issues you might be experiencing with poor cell service. Contact us today, or call us at 1-800-470-6777.