SureCall Fusion2Go Max: Next Generation Booster Technology in Vehicles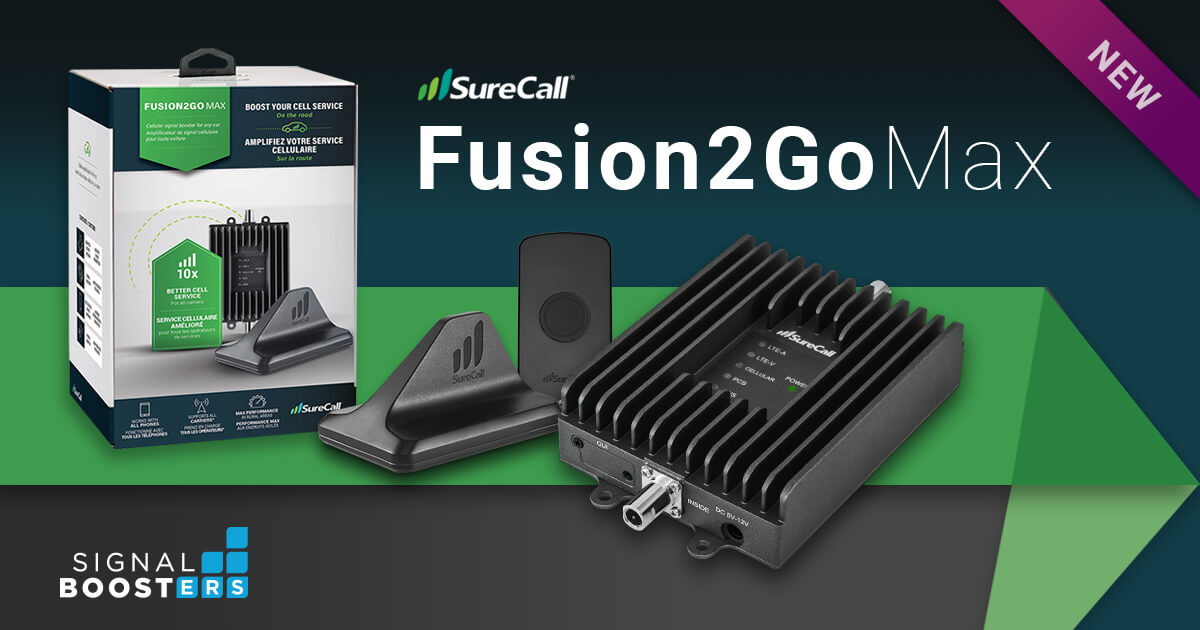 ---
SureCall has released the new Fusion2Go Max to compete with the weBoost Drive Reach, and it's no slouch in the vehicle signal booster space. The Fusion2Go Max boosts 4G, LTE, and 3G cellular signal throughout a vehicle for multiple users simultaneously, and works for all phones and all carriers. Priced competitively at $499.99, the Fusion2Go Max offers great value next to its rivals.
For starters, it has the highest power output of any vehicle booster on the market. The booster provides up to +50 dB of gain, but due to its power output of 1 watt, it has 29.0 dBm of uplink-output power across all bands, giving the maximum amount of reach to your nearest cell tower. It bears repeating that this uplink-output power is consistent across all cellular bands, which differentiates it from its competition. As a result, the Fusion2Go Max really shines in rural areas, bringing forward the greatest amount of boosted signal you can muster.
The Fusion2Go Max uses Extended Range Technology (ERT) to capture cell signals at their strongest point outside the vehicle, improving signal quality and speed. It uses a more powerful version of the booster from the Fusion2Go along with the easy-to-install ERT antenna setup of the N-Range to great effect. The ERT antenna provides an instance of signal boosting, which is then further amplified by the interior booster, providing two separate boosts to the existing outdoor cellular signal.
In short: this new booster reaches farther, pulls signal more effectively, is easier to install, which all translates to clearer, more reliable service than you could ever have gotten before. Another great perk of having better cell signal is increased battery life, which really helps on those long drives or commutes.
We offer complete cell phone signal booster kits for any situation:
Attention business & property owners, installers and integrators
Take advantage of our system design and installation services. Learn more or call us for a free consultation: 1-800-969-8189.
---
What's In the Box
1x Magnetic-mount antenna and cable
1x Fusion2Go Max signal booster
1x Multi-device inside antenna with cable
1x DC power adapter
---
View Product Details
Product Details
Exceptional Reach to and From Cell Tower with 29 dBm gain on all bands
Double Boosting Power with ERT
Up to +50 dB gain
And more!
---
Contact Us
We're here to assist with any issues you might be experiencing with both Verizon signals and your Verizon signal booster. Contact us today.