About This Product
Commerical 3G & 4G LTE signal boosting solution.
The WilsonPro Pro 1000C passive distributed antenna system is a wall mounted cellular amplifier designed to provide enhanced in-building cellular coverage for all commercial spaces, including large homes, hospitals, hotels, warehouses and offices.
The WilsonPro Pro 1000C amplifies weak cellular signals to provide reliable voice and data coverage–including 4G – to inside spaces where signals may not penetrate and With new eXtended Dynamic Range (XDR) technology, the amplifier never shuts off due to a strong outside signal or changes in outside signals.
Like all WilsonPro cellular signal boosters, the WilsonPro Pro 1000C features cell site protections that auto-detect and prevent any cell tower interference.
More bars instantly from Wilson Pro, the leading enterprise cellular signal booster name in the business.
Boosts 3G & 4G LTE for any building or office up to 35,000 sq ft.

Industry-best +15 dBm maximum downlink power

XDR technology: never shuts down, even with very strong outside cellular signals

Better talk, text & internet guaranteed
30 Day Money Back Guarantee
For a more powerful signal booster (coverage up to 100,000 sq ft), please consider the Wilson Pro 4000
Installation & Deployment
At Signal Boosters we provide full turnkey integration of in-building wireless (IBW) systems that amplify signal indoors, delivering the signal you need to get the job done. From the first call to post-project, Signal Boosters handles every detail personally in-house. Our team of RF engineers, system integrators, designers, and certified signal boost specialists take complete ownership of your project.
2. System Design
Data analysis
Floor plans
Equipment & Pricing
3. Installation
Installing equipment
Optimization
4. Support
Documentation
Monitoring & support
Wilson Pro 1000C Product Benefits
Virtually eliminates dropped calls
Crystal clear voice quality
Quickly send & receive text messages and emails
Faster internet data (uploads, downloads, and streaming)
Wider coverage area & improved reception
Consistent service throughout the office
Reliable connection
More bars
Longer battery life for phone
Always on, always connected
How Does It Work?
A WilsonPro commercial signal booster for buildings improves 3G & 4G LTE by amplifying existing outside signal. It does this with 3 main components:
1
Outside Antenna pulls in weak signal
2
Amplifier boosts signal up to 32X
3
Inside Antenna rebroadcasts better signal
Compatible With all Major US and Canadian Networks
The Wilson Pro 1000C amplifies talk & text, 3G, and 4G LTE for all major carrier networks except WiMax and iDen.
All US carriers (4G LTE & 3G): AT&T, Verizon, Sprint, T-Mobile, US Cellular, Leap Wireless, C Spire, MetroPCS, etc.
All Canadian carriers (4G LTE & 3G): Rogers, Bell, Telus, Fido, Wind, etc.
Kit Includes:
View as gallery
Wilson Pro 1000C Amplifier
Tech Specs
Wilson Pro 1000C Cell Phone Signal Booster
Frequency
698-746 MHz; 746-787 MHz; 824-894 MHz; 1850-1995MHz; 1710-1755/2110-2155 MHz
Max Gain
70 decibels (dB)
Power
110 - 240 V AC, 50 - 60 Hz, 30 W
Connectors
N-Connector 50 Ohm
Dimensions
3.75 x 11.5 x 18 in
Weight
TBD
UPC
811815027843
FCC NOTICE:
This is a CONSUMER device. BEFORE USE, you MUST REGISTER THIS DEVICE with your wireless provider and have your provider's consent. Most wireless providers consent to the use of signal boosters. Some providers may not consent to the use of this device on their network. If you are unsure, contact your provider. You MUST operate this device with approved antennas and cables as specified by the manufacturer. Antennas MUST be installed at least 20 cm (8 inches) from any person. You MUST cease operating this device immediately if requested by FCC or a licensed wireless service provider.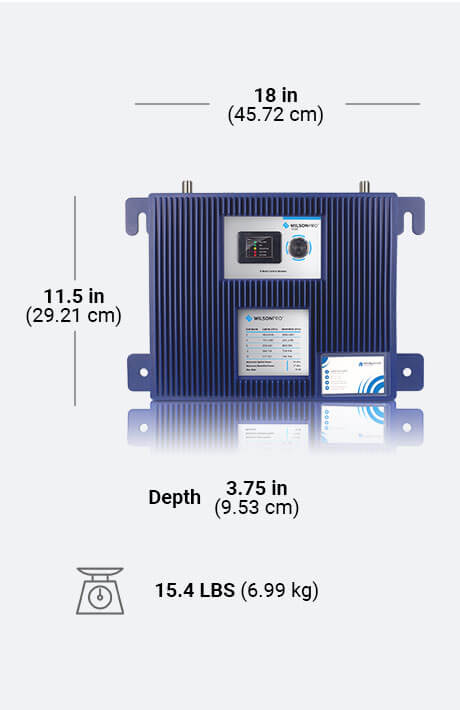 Installation
The Wilson Pro 1000C is easy to install, everything included in the kit, and trained customer/tech support
(1-800-470-6777 or sales@signalboosters.com) to assist you in every step of the way.
Pro 1000 Amplifier

Item # 460242

Outside Directional Antenna

Item # 314411

Inside Dome Antenna

Item # 304412

100 ft Wilson400 Cable

Item # 952300

75 ft Wilson400 Cable

Item # 952375

2 ft Wilson400 Cable

Item # 952302

50 Ohm Lightning Surge Protector

Item # 859902
Recommended Add-ons
Indoor, wall-mount directional antenna
Works with 50 Ohm amplifiers and accessories
Fixed installations
Three antennas provides extra signal coverage
Up to +10.6 dB Gain
Indoor, wall-mount directional antenna
Works with 50 Ohm amplifiers and accessories
Fixed installations
two antennas provide extra signal coverage
Up to +10.6 dB Gain
Indoor, wall-mount directional antenna
Works with 50 Ohm amplifiers and accessories
Fixed installations
One additional antenna provides extra signal coverage
Up to +10.6 dB Gain