SureCall Fusion5X Signal Booster Kit with 1 Omni & 4 Indoor Antennas
In stock. Ships same or next business day.
SureCall Fusion5X Cell Phone Signal Booster w/ 1 Outside & 4 Inside Antennas
Quick Summary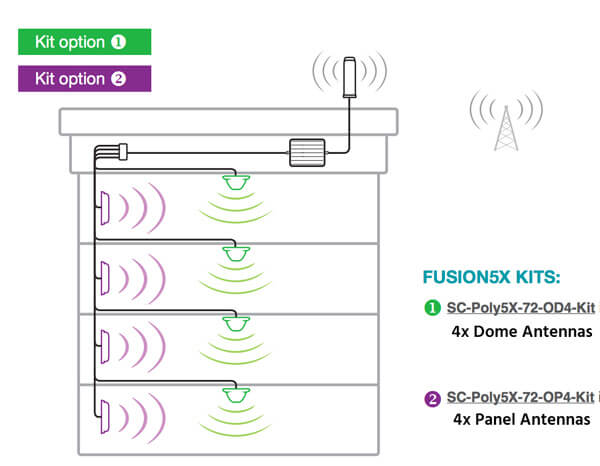 Boosts 3G & 4G LTE in a building (up to 20,000 sq ft)
Best for commercial or industrial coverage
Durable metal housing provides long-term reliability
Includes 4 dome antennas for multiple floors
Automatic dB gain/attenuation optimizes booster performance without dials
Compatible with SureCall Sentry remote monitoring system
Overview
Designed for offices or buildings up to 20,000 square feet the Fusion5X booster enhances voice, text and 4G LTE data for all North American carriers. Configurable for all indoor environments the Fusion5X provides call clarity and increased data speed for 20+ simultaneous users.
The Fusion 5X amplifier wirelessly enhances cell signals for cellular devices (smartphones, tablets, laptops, etc.). No more dropped calls, lost connections, and slow internet. Founded in 2001 and based out of Silicon Valley, SureCall has been solving frustrating cell phone reception problems with certified signal boosters for weak signal commercial areas. Satisfied clients include Chrysler, HP, Exxon Mobile, Stanford University, and many more.
Easy to install, everything included in the kit, and trained customer/tech support (1-800-470-6777 or sales@signalboosters.com) to assist you in every step of the way.
Who is this for?
You need reliable signal for talk & text and high-speed 4G LTE internet for wide area or multi-story building (spanning up to 20,000 sq ft). You can't deal with dropped calls, fish tank voices, stuck text messages, slow email delivery, and internet slower than a checkout line.
With this signal booster, get better talk & text. Perfect for people needing fast uploads and downloads for streaming apps such as Google Chrome, Safari browser, YouTube, Netflix, Pandora, Spotify, and other data-heavy apps and net surfing.
Includes 4 inside dome/panel antennas for multiple floor coverage
Get the signal you deserve to get the job done.
Which carriers does it work for?
The SureCall Fusion 5X amplifies talk & text, 3G, and 4G LTE for all major carrier networks.
All US carriers (3G & 4G LTE): AT&T, Verizon, Sprint, T-Mobile, US Cellular, Leap Wireless, C Spire, MetroPCS, etc.
All Canadian carriers (3G & 4G LTE): Rogers, Bell, Telus, Fido, Wind, etc.
Frequencies: 700 Mhz, 850 Mhz, 1900 Mhz, and AWS (1700/2100 Mhz)
How Does It Work?
It works by pulling in the existing weak signal with an outside Omni antenna, amplifying it multiple times with SureCall's cellular boosting technology. The improved signal strength bypasses all exterior and interior obstructions and interference directly to the whole building.
Straight from the cell tower to your phone. Clear calls, faster 4G internet, wider coverage, and longer battery life. Say goodbye to interruptions.
Kit Includes:
Fusion5X 72dB Cellular Amplifier/ Repeater
Inside Dome Antenna(x4) or Panel Antenna (x4)
SC-WS-4 Four Way Splitter
AC Power Supply
10 ft + 50 ft (x4) + 75 ft SC400 Cables (Black)
Fusion5X Installation Manual / Instructions
Detailed Summary
Boost 3G, 4G LTE, talk & text, and high-speed internet on all phones with all carriers
For large buildings: commerical or industrial
Up to 20,000 sq ft coverage depending on outside signal
Four interior dome antennas help with multi-floor coverage
Up to 72 dB (decibel) gain!
Easy to install, complete DIY (do-it-yourself) kit
Extends battery life of your cell phone
SureCall's latest cell phone signal booster for large buildings
No tax charged outside Texas
Free shipping within 48 contiguous states
3 year warranty
Lifetime product support
Product Comparison
SURECALL
SIGNAL BOOSTERS
KITS
Fusion5S
Fusion5X
Force5
COVERAGE AREA
Up to 6,000 sq feet
Up to 20,000 sq feet
25,000+ sq feet
SIMULTANEOUS USERS
Up to 10
20+
100+
4G LTE
3G
TALK & TEXT
CARRIER
All Major U.S. & Canada Carriers
All Major U.S. & Canada Carriers
All Major U.S. & Canada Carriers
Tech Specs | Fusion5X
FREQUENCY
BAND 17
700 MHz
BAND 13
700 MHz
BAND 5
850 MHz
BAND 4
1700/2100 MHz
BAND 25/2
1900 MHz
MAX GAIN
72 decibels (dB)
POWER
Input AC 110V, 60Hz; Output DC 19V
CONNECTORS
N-Female
DIMENSIONS
9"X6.4"x1.4"
WEIGHT
10lbs
Resources
Signalboosters.com is an official reseller of SureCall. Email us at sales@signalboosters.com or call 1-800-470-6777 if you have any questions or comments. Our friendly Texas-based certified customer support is ready to help and serve.
User Guide
Data Sheet
This is a CONSUMER device.
BEFORE USE, you MUST REGISTER THIS DEVICE with your wireless provider and have your provider's consent. Most wireless providers consent to the use of signal boosters. Some providers may not consent to the use of this device on their network. If you are unsure, contact your provider.
You MUST operate this device with approved antennas and cables as specified by the manufacturer. Antennas MUST be installed at least 20 cm (8 inches) from any person.
You MUST cease operating this device immediately if requested by the FCC or a licensed wireless service provider.
WARNING. E911 location information may not be provided or may be inaccurate for calls served by using this device.
Please note, the four largest carriers - AT&T, T-Mobile, Verizon and Sprint - and more than 90 regional carriers have given blanket consent for use of all boosters certified to the new FCC standards.
There are no fees to register your device. SignalBoosters provides a free service to help you along the way. Our Cell Phone Signal Boosters Registration Page should help get your started.